Kids have unforgettable time at Pitch, Hit & Run event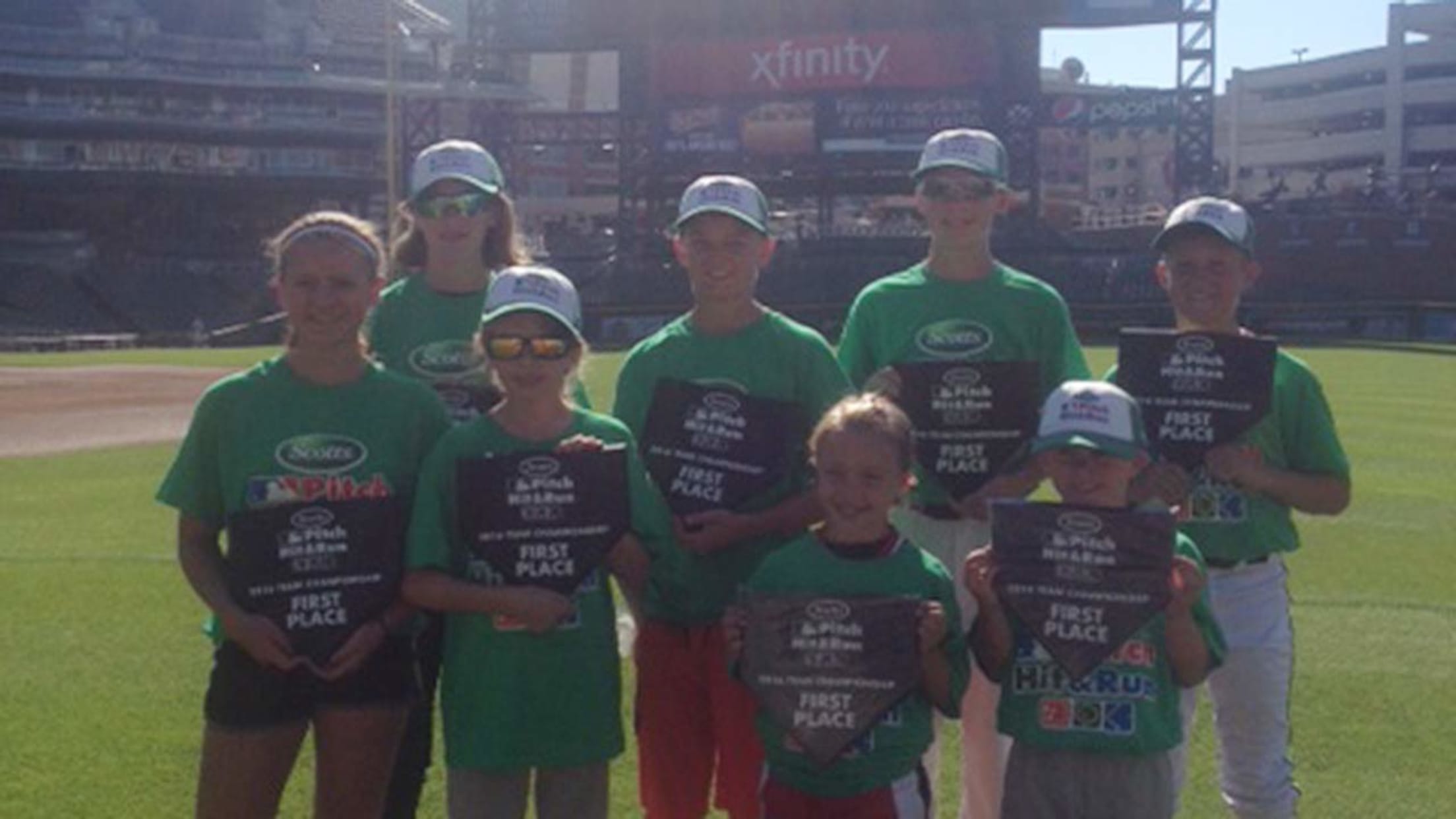 Saturday's winners show off their hardware at Comerica Park. (Detroit Tigers)
DETROIT -- Ten-year-old Drew Potter of East Lansing, Mich., lived out a dream two years ago when he got to run the bases at Comerica Park after a Tigers game. He took that a step further when he competed in the Scotts Major League Baseball Pitch, Hit & Run team
DETROIT -- Ten-year-old Drew Potter of East Lansing, Mich., lived out a dream two years ago when he got to run the bases at Comerica Park after a Tigers game. He took that a step further when he competed in the Scotts Major League Baseball Pitch, Hit & Run team championship at Comerica on Saturday.
Potter, along with 22 other Michigan kids, had advanced to the championship level after winning local and sectional competitions, with a chance to make it to the national finals at Petco Park in San Diego during All-Star Week.
Competitors took part in throwing six pitches, taking three swings off a tee and running from second to home.
• Complete Youth Baseball coverage
Alyson Peterson (7-8-year-olds softball division), Elizabeth Henegar (9-10-year-olds), Cali Bourdos (11-12-year-olds) and Kaitlyn Brannstrom (13-14-year-olds) won titles at their respective divisions. Peyton Coldicott (7-8-year-olds Baseball Division), Ryan Torok (9-10-year-olds), Luke Janack (11-12-year-olds) and Glenn Miller (13-14-year-olds) won on the boys' side.
The winners of each division will now wait until early next week to find out if their scores are good enough to earn them a trip to the national finals during All-Star Week in San Diego.
Potter took second place in the 9-10-year-old baseball age division Saturday, but said it was an experience he will never forget.
"It's kind of like powerful being out there where all the greats have been," Potter said. "It was awesome."
Potter's dad, Hugh, said he and his son have gotten the chance to run the bases at Comerica, Wrigley Field, U.S. Cellular Field, and Cooley Law School Stadium, home of the Class A Lansing Lugnuts. The Potters have taken home infield dirt from each of those stadiums, and now they can add Saturday's competition to their list of ballpark memories.
"We were saying, 'How cool would it be to throw or hit around on the field [at Comerica Park]?" Hugh Potter said. "I didn't think he'd get this far, but it's been so cool for him to get this far."
The competition is part of the "PLAY BALL" initiative between Major League Baseball and USA Baseball, which encourages widespread participation in all forms of baseball activities among all age groups, especially youth. The program highlights the many ways baseball can be played, including outside of the traditionally organized baseball leagues and tournaments, ranging from playing catch, stickball and Wiffle ball to participating in skills competitions like Pitch, Hit & Run. The initiative also provides players, parents and coaches with information and resources to help find events and leagues, as well as proper play and instruction through PlayBall.org.
Kyle Beery is a reporter for MLB.com based in Detroit.