Tuesday's top prospect performers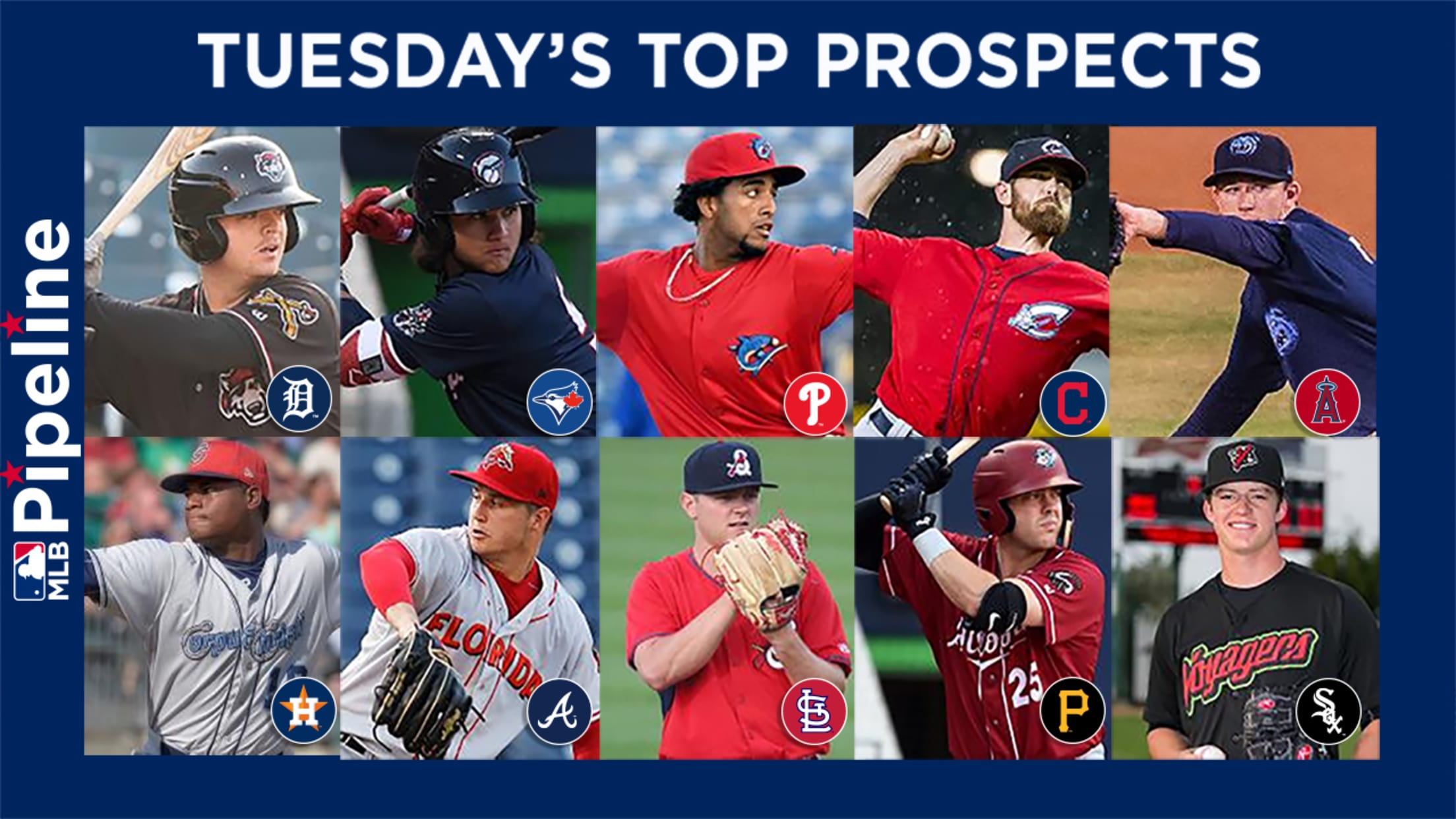 Here's MLB Pipeline's roundup of the top prospect performances in the Minor Leagues on Tuesday.:: Complete prospect coverage ::Tigers' prospects Jake Rogers and Kyle Funkhouser put together dominant performances at the plate and on the mound as Double-A Erie cruised to a 12-0 win over Hartford.Rogers, the Tigers' No. 5
Here's MLB Pipeline's roundup of the top prospect performances in the Minor Leagues on Tuesday.
:: Complete prospect coverage ::
Tigers' prospects Jake Rogers and Kyle Funkhouser put together dominant performances at the plate and on the mound as Double-A Erie cruised to a 12-0 win over Hartford.
Rogers, the Tigers' No. 5 prospect, entered the game hitting just .169, but those struggles looked like a distant memory as he clubbed a career-high three homers. The catcher, who has seven homers this season, went deep in the second, fifth and ninth innings on his way to a 3-for-4, four-RBI night.
While Rogers provided plenty of run support, Funkhouser (No. 6) needed just one run as he threw six scoreless innings to pick up his second with of the season. Funkhouser, who threw 56 of his 89 pitches for strikes, didn't issue a walk for the first time this season and struck out seven while giving up just three hits.
Other top prospect performances from Tuesday's action:
• No. 9 overall prospect Bo Bichette (Blue Jays' No. 2) put Double-A New Hampshire on the board with a two-run homer -- his fifth -- in the fourth inning. Bichette, who later added a sacrifice fly, is 4-for-8 with five RBIs over his past two games and hitting .285 overall through 61 games.
MILB Video - Title: Bichette hits two-run homer - Url: http://www.milb.com/r/video?content_id=2149030783
• No. 77 overall prospect Adonis Medina (Phillies' No. 2) was stuck with a no-decision despite spinning six scoreless frames for Class A Advanced Clearwater. After a rough start to the season, Medina, who struck out five and surrendered five hits, hasn't given up an earned run in two of his past three starts.
• No. 98 overall prospect Shane Bieber (Indians' No. 3) lowered his ERA to 1.38 with another solid outing for Triple-A Columbus. The right-hander struck out five and walked one as he threw 66 of his 99 pitches for strikes over 7 1/3 innings. Bieber yielded five hits and gave up two runs, although just one was earned.
• Angels' No. 7 prospect Griffin Canning continues to impress for Double-A Mobile. The right-hander put together another scoreless start -- his sixth over his past eight games -- as he struck out six over 5 2/3 innings. Canning, who has a 1.97 ERA through 10 starts with Mobile, walked one, hit one and gave up two hits.
• Astros' No. 15 prospect Framber Valdez notched a season-high 10 strikeouts in a rare relief appearance for Double-A Corpus Christi. Pitching out of the bullpen for the fourth time this season (compared to nine starts), Valdez gave up one run on three hits over five innings.
• Braves' No. 22 prospect Tucker Davidson had everything working in what was arguably his best start of the season for Class A Advanced Florida. Davidson fired 60 of his 95 pitches for strikes over seven innings in what was his second scoreless start of the season.
• Cardinals' No. 19 prospect Connor Jones was nearly unhittable in his first scoreless start with Double-A Springfield this season. Jones, who walked one and threw 59 of his 96 pitches for strikes, struck out six as he yielded just one hit over seven strong innings.
• Phillies' No. 12 prospect Enyel De Los Santos lowered his ERA to 1.47 with another quality start for Triple-A Lehigh Valley. De Los Santos threw a season-high 115 pitches and struck out seven - bringing his season total to 76 through 73 1/3 innings -- as he cruised through seven scoreless innings. The 22-year-old right-hander has gone at least six innings in eight straight starts and have given up one earned run or less in six of those outings.
• Pirates' No. 17 prospect Will Craig matched his career-high with five RBIs as part of a 3-for-5 night for Double-A Altoona. Craig went hitless in his first two at-bats, but finished the game on a tear as he collected an RBI single in the fifth, hit a three-run homer in the sixth and finished with an RBI double in the eighth.
• White Sox No. 26 prospect Lincoln Henzman put together his best start of the season in a win for Class A Kannapolis. The 22-year-old, a fourth-round pick from the 2017 Draft, put together the first complete game of his career as he fired seven scoreless innings. Henzman surrendered just one hit and struck out six while throwing just 67 pitches (52 strikes).