Jimenez learning on the job in Tigers' bullpen
Young right-hander takes loss in walk-off defeat vs. White Sox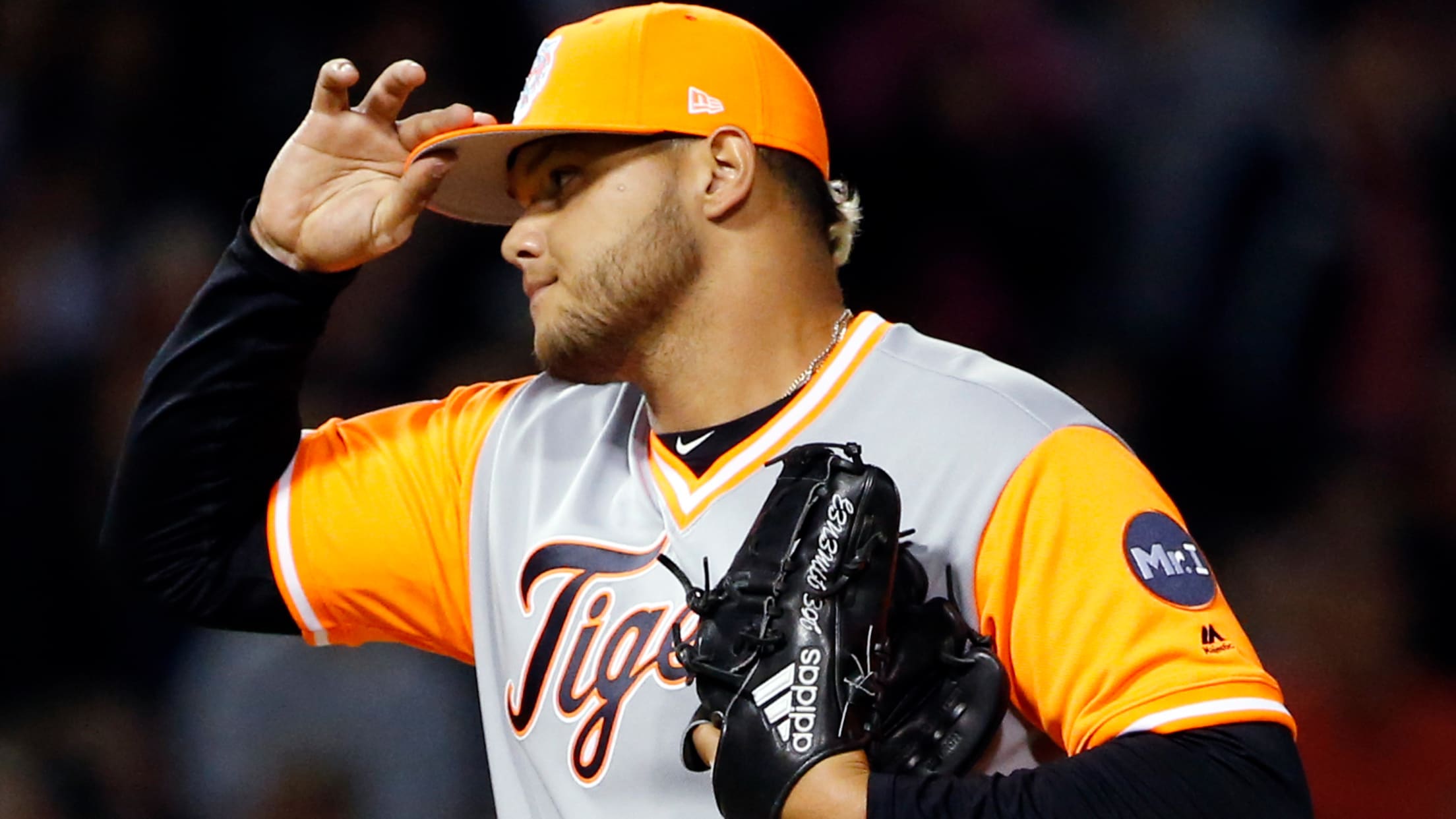 Tigers reliever Joe Jimenez had a 1.44 ERA in 26 appearances for Triple-A Toledo this season but has struggled in the Majors. (AP)
CHICAGO -- This is where Joe Jimenez was expected to be pitching at this point in the season, in the big leagues, facing big hitters with the game on the line. He went into the season as the Tigers' closer of the future.Yet as Jimenez faced White Sox infielder Yolmer
CHICAGO -- This is where Joe Jimenez was expected to be pitching at this point in the season, in the big leagues, facing big hitters with the game on the line. He went into the season as the Tigers' closer of the future.
Yet as Jimenez faced White Sox infielder Yolmer Sanchez with a tie game in the ninth inning Friday night, neither the Tigers' season nor his had gone as some might have hoped. This isn't about strengthening the bullpen, but learning in it, as it is for a lot of Tigers relievers these days.
"These opportunities are really important," Jimenez said through translator Bryan Loor-Almonte.
Sanchez's ensuing walk-off single, sealing a 3-2 loss, meant little to the Tigers' fate this year; that was decided a while ago. With both teams out of contention, this is about the future, even with Justin Verlander on the mound for Detroit and trade rumors still slowly simmering.
Verlander and Miguel Gonzalez essentially pitched to a draw with seven and eight innings of two-run ball, respectively. They both threw 104 pitches, 71 for strikes. The game came down to a battle of bullpens. Once Alex Wilson delivered a scoreless eighth, inducing a Kevan Smith double play with the potential go-ahead run on second, manager Brad Ausmus had to either to go to his closer or pick a youngster.
"We've got some young guys down there who are going to get opportunities," Ausmus said. "He's pitched at the back of games in the Minor Leagues. It was the bottom part of their lineup, and we thought we'd give Joe an opportunity to come into a tight game in the ninth inning and see what he can do."
The opportunity didn't last long. Jimenez's first-pitch fastball came in at 96 mph, but it was over the plate, and Tim Anderson lined it into left field for a lead-off double. Jimenez used a good fastball-changeup combination to put Sanchez in an 0-2 count, then induced him to chase another changeup down and out of the strike zone.
However, Sanchez made contact and lined a single to right, sending Anderson home.
Jimenez said he felt like he threw everything he wanted, and felt Sanchez was looking for a fastball.
"He just dug it out and got a hit off of it," Jimenez said. "Good at-bat from him."
He'll get another chance soon enough. With Wilson and Shane Greene as the lone veterans in the bullpen, somebody has to cover the other innings, some of them in close games. After 52 strikeouts and 28 hits over 40 2/3 Triple-A innings, Jimenez has shown enough at Toledo that it's finally time to learn up in the Majors. And sometimes, no matter how much talent he has, he'll take his lumps.
"Most young players do," Ausmus said. "Very few young players come up and are All-Stars. He'll be fine. We've got some young guys in the bullpen that are going to get some opportunities, and it may not always work out roses, but they'll certainly learn from it."