Pipeline Preview: Funkhouser makes debut for Lakeland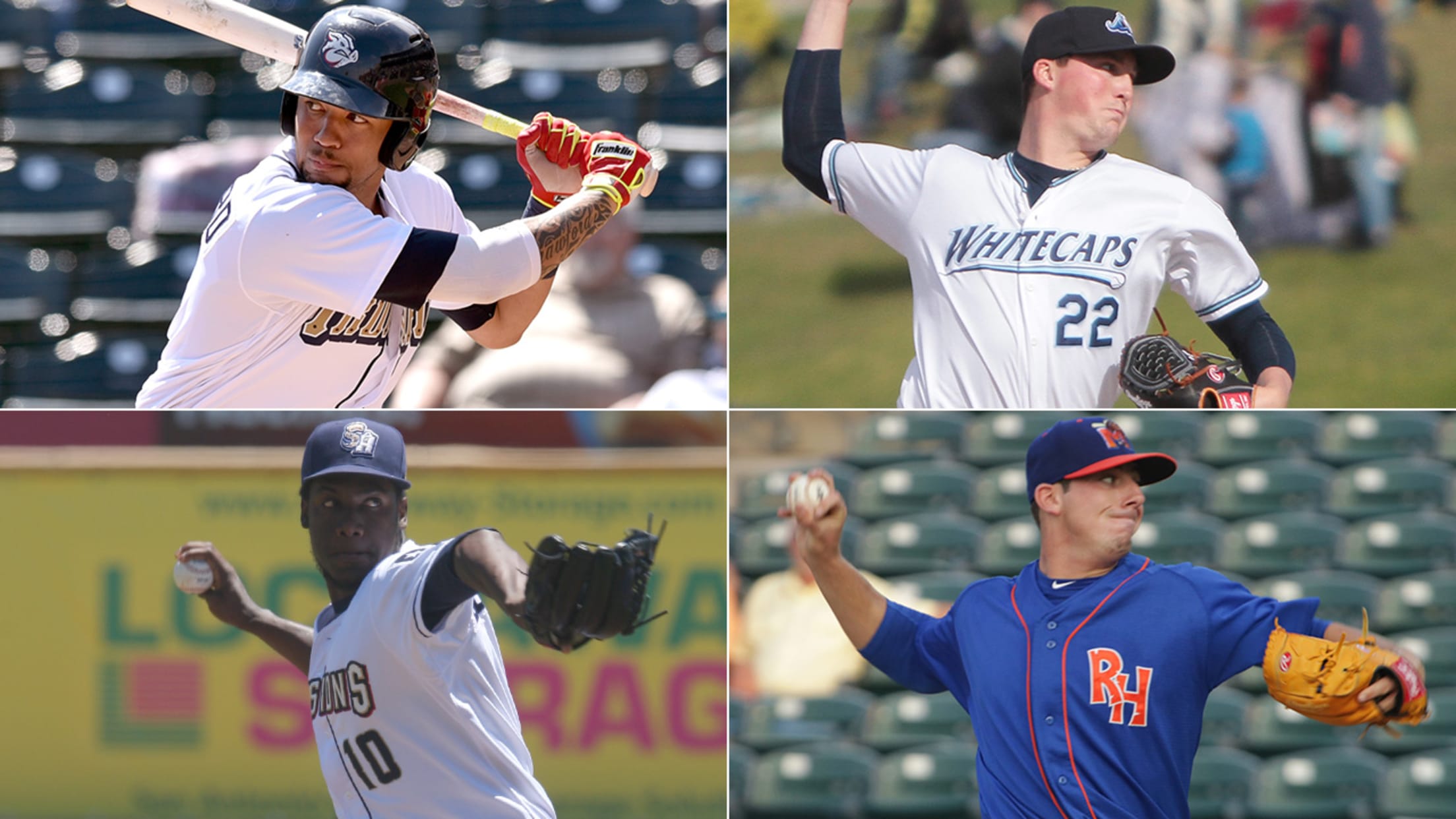 Here's a look at top prospects to watch in today's Minor League action:Hitter to watch: J.P. Crawford (Phillies' No. 1), Lehigh Valley vs. Syracuse (1:05 p.m. ET on MiLB.TV)The No. 4 overall prospect is starting to get on a track after a rough start to the season. Crawford hit just
Here's a look at top prospects to watch in today's Minor League action:
Hitter to watch: J.P. Crawford (Phillies' No. 1), Lehigh Valley vs. Syracuse (1:05 p.m. ET on MiLB.TV)
The No. 4 overall prospect is starting to get on a track after a rough start to the season. Crawford hit just .145 in 21 games in April, but he is batting .258 in May (17 games) and has notched a hit in six straight games. Crawford has used the hit streak to bump his average up to .196, the highest it's been all season, and is coming off of a 2-for-4 performance on Saturday.
Pitcher to watch: Kyle Funkhouser (Tigers' No. 6), Lakeland vs. Clearwater (1 p.m. ET)
Funkhouser will be making his Class A Advanced debut after beginning the season with Class A West Michigan. The 2016 4th-rounder went 4-1 in seven starts with the Whitecaps and gave up one earned run or fewer in five of those starts. Funkhouser threw six scoreless in his last turn and has surrendered just one earned run over his past 11 frames.
Duel of the Day:Enyel De Los Santos (Padres' No. 15) vs. Heath Fillmyer (Athletics' No. 12), San Antonio vs. Midland (3 p.m. ET on MiLB.TV)
De Los Santos threw a season-high 100 pitches (65 strikes) in his last outing, giving up two earned runs over seven innings. The 21-year old was tagged with a loss, his first, in his last start, but he gave up just three hits and struck out seven, matching his season high.
Fillmyer picked up his first win of the season in his last start, despite allowing a season-high four earned runs. With the exception of his last start, Fillmyer has thrown the ball well this season. The right-hander has allowed one earned run or fewer in six of his nine starts.
Sunday's Top 100 prospect probables
No. 26 overall Brent Honeywell (Rays' No. 2), Durham vs. Gwinnett (5:05 p.m. ET on MiLB.TV)
No. 38 overall Jeff Hoffman (Rockies' No. 2), Albuquerque vs. Colorado Springs (3:35 p.m. ET on MiLB.TV)
No. 39 overall Reynaldo Lopez (White Sox No. 4), Charlotte vs. Norfolk (1:05 p.m. ET on MiLB.TV)
No. 50 overall Triston McKenzie (Indians' No. 3), Lynchburg vs. Potomac (2:00 p.m. ET)
No. 56 overall Sean Reid-Foley (Blue Jays' No. 2), New Hampshire vs. Reading (2:05 p.m. ET on MiLB.TV)
More top prospect probables
Steven Brault (Pirates' No. 8), Indianapolis vs. Toledo (Triple-A)
Ryan Merritt (Indians' No. 23), Columbus vs. Louisville (Triple-A)
Jordan Johnson (Giants' No. 9), Richmond vs. Harrisburg (Double-A)
Teddy Stankiewicz (Red Sox's No. 24), Portland vs. Trenton (Double-A)
Sam Howard (Rockies' No. 16), Hartford vs. Akron (Double-A)
John Means (Orioles' No. 24), Bowie vs. Binghamton (Double-A)
Luis Ortiz (Brewers' No. 4), Biloxi vs. Chattanooga (Double-A)
Spencer Adams (White Sox No. 11), Birmingham vs. Tennessee (Double-A)
Keury Mella (Reds' No. 18), Pensacola vs. Mobile (Double-A)
Osmer Morales (Angels' No. 22), Mobile vs. Pensacola (Double-A)
Vladimir Gutierrez (Reds' No. 11), Daytona vs. Tampa (Class A Advanced)
Angel Perdomo (Blue Jays' No. 20), Dunedin vs. St. Lucie (Class A Advanced)
Jake Woodford (Cardinals' No. 17), Palm Beach vs. Florida (Class A Advanced)
Shaun Anderson (Red Sox's No. 17), Salem vs. Myrtle Beach (Class A Advanced)
Franklin Perez (Astros' No. 6), Buies Creek vs. Down East (Class A Advanced)
Pedro Payano (Rangers' No. 27), Down East vs. Buies Creek (Class A Advanced)
Corbin Burnes (Brewers' No. 20), Carolina vs. Winston-Salem (Class A Advanced)
Ofelky Peralta (Orioles' No. 16), Frederick vs. Wilmington (Class A Advanced)
Brady Aiken (Indians' No. 5), Lake County vs. West Michigan (Class A)
Garrett Davila (Royals' No. 17), Lexington vs. Rome (Class A)
Bryan Hudson (Cubs' No. 24), South Bend vs. Lansing (Class A)
Merandy Gonzalez (Mets' No. 14), Columbia vs. West Virginia (Class A)
Jordan Hicks (Cardinals' No. 18), Peoria vs. Beloit (Class A)
Nick Wells (Mariners' No. 26), Clinton vs. Burlington (Class A)
Alex Wells (Orioles' No. 15), Delmarva vs. Greensboro (Class A)