Parrish embracing new role as Class A skipper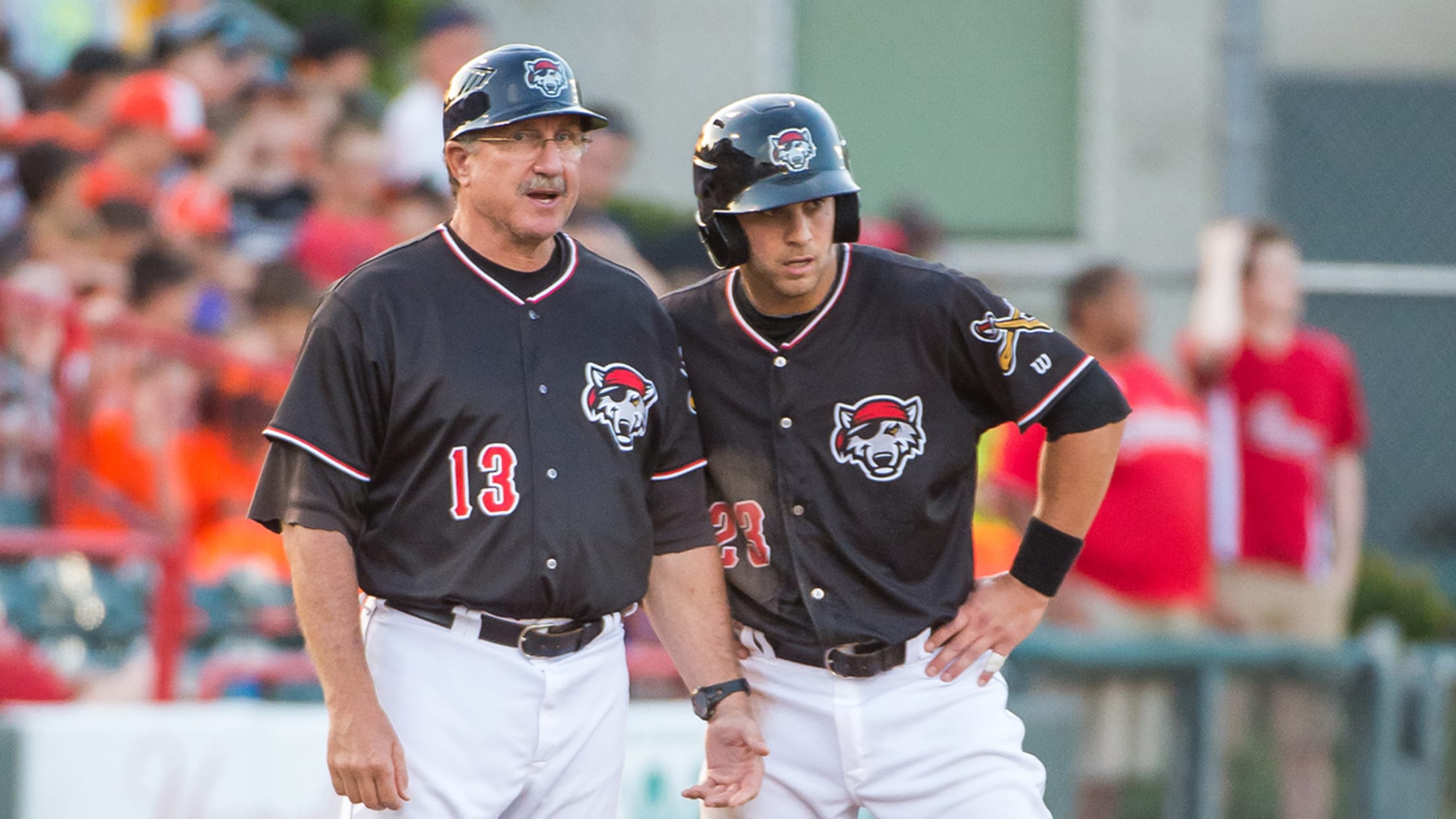 Lance Parrish managed Double-A Erie to a 65-75 record in 2017. (Courtesy Erie SeaWolves)
DETROIT -- Lance Parrish was back in his element last weekend, working with young catchers at the baseball camp he holds with longtime friend and former teammate Alan Trammell at Wayne State University in midtown. It was Parrish's chance to teach the skills of a position he feels is undervalued
DETROIT -- Lance Parrish was back in his element last weekend, working with young catchers at the baseball camp he holds with longtime friend and former teammate Alan Trammell at Wayne State University in midtown. It was Parrish's chance to teach the skills of a position he feels is undervalued among athletes gravitating to baseball as a sport.
"I think guys are afraid to do it because they don't want to get beat up," Parrish said. "They'd rather be in another spot, playing the infield or outfield. But actually, catching's really rewarding, and usually the guys that either get talked into it or forced to do it or whatever, they actually enjoy doing it."
Working with young players for the two-day camp was also maybe a glimpse of Parrish's next task with the Tigers. After four seasons of managing at Double-A Erie, Tigers player development last month shifted Parrish down the organizational ladder, naming him manager at Class A West Michigan. It was an unexpected move for Parrish, who had been looking to move in the other direction, but it's a move he's embracing.
#ThrowbackThursday to 2012 when Lance Parrish was at @FifthThirdBPark for a Tiger Friday!

Former @tigers catcher will be the Whitecaps manager in 2018! #tbt pic.twitter.com/cG4ZFPmfco

— West Michigan Whitecaps (@wmwhitecaps) November 9, 2017
Parrish managed in the Midwest League a decade ago in the Dodgers' organization with the Great Lakes Loons, whose players included a couple of young catchers and future Major Leaguers named Carlos Santana and Kenley Jansen, plus a promising teenage lefty Clayton Kershaw. Parrish knows what the job entails, and he knows the challenges at that level.
"You have guys that aren't as advanced or polished," Parrish said. "They're still good athletes. There's just a little bit more teaching involved, a little bit more patience involved. I mean, that's kind of a standard at any level. But I'm part of the organization. I still have a job, and I'm excited about that, and I enjoy working with these guys. So whether it's at Double-A or A-ball or wherever, I'm basically doing the same thing. It's just a different age group of guys.
"Would I have liked to have moved up? Sure, but it's not the end of my world. They asked me if I would do that, and I said yeah. My ego's not that big."
The shift for Parrish came out of the promotions for Andrew Graham and Mike Rabelo to Erie and Class A Advanced Lakeland, respectively. The important part for the 61-year-old Parrish at this point is being involved in the game, much like it is for Trammell in his role as a special assistant and instructor, and being involved in the organization where he starred as a player from 1977-86. Whether Parrish is in camp or in the dugout, he wants to teach.
"I do enjoy the teaching," Parrish said. "I enjoy just being around the guys and having an opportunity to advance their careers, pass along some of the things that I've learned along the way. I'm accumulating more and more things as I go and better ways to dish that out.
"It's actually been a fun process for me, and I imagine as long as I keep doing it, I'll continue to evolve as a coach or manager and hopefully communicate things that I know a little bit better. It's a fun time to be out there during the season, having the opportunity to work with these guys and mix it up with them and be in the dugout and all that."
Trio of new #Tigers prospects banded together after being dealt from Houston for Justin Verlander: https://t.co/p1R0EN5Ubj pic.twitter.com/JfJRtc2tXj

— Minor League Baseball (@MiLB) December 4, 2017
When Parrish steps into the dugout at West Michigan, he will likely not be short on talent to mold. As the Tigers embark on what is expected to be a long-term rebuilding project, West Michigan is going to be a pivotal location. It's where the organization placed slugging infielder Isaac Paredes upon his arrival from the Cubs in the Alex Avila-Justin Wilson trade in July, and where outfielder Daz Cameron finished his season after coming over from the Astros in the Justin Verlander deal. Former top pick Matt Manning, the Tigers' No. 2 prospect in MLBPipeline.com's rankings, ended his season there.
With the top pick in next year's Draft, the Tigers could have more talent on the way.
"I think [the] talent pool's a little deeper, so I think the expectations might be a little higher," Parrish said. "But honestly, every year my expectation of myself is to try to get the very best out of everybody that comes through wherever I'm at. If I can help somebody improve on something or improve enough on that to get them to the next level or get them to the big leagues, then I feel like I've done my job. …
"Our talent pool in the organization is starting to get a little bit better, and I know that there are some very talented players coming up to that level or were at that level last year. I'm excited about it. It's all good."