Tigers maintain focus on arms to wrap up Draft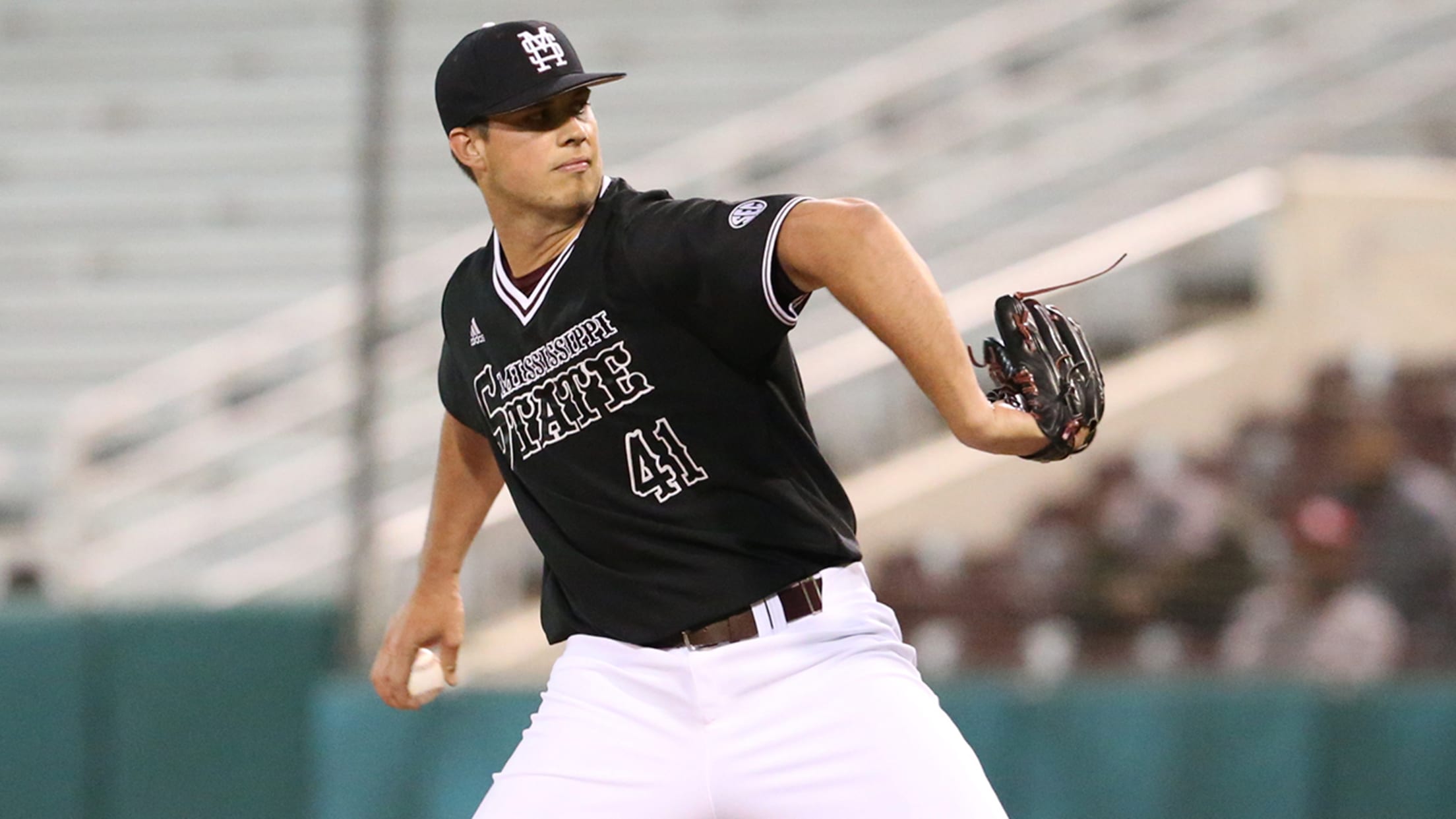 The Tigers selected Mississippi State right-hander Zac Houston in the 11th round Saturday. (Miss. St.)
DETROIT -- The Tigers' front office has changed a little bit. The Tigers' strategy of drafting arms has not.The theme that began Thursday night and Friday afternoon with pitchers for Detroit's top five Draft picks continued into Saturday. Add up the picks, and 18 of Detroit's first 31 selections were
DETROIT -- The Tigers' front office has changed a little bit. The Tigers' strategy of drafting arms has not.
The theme that began Thursday night and Friday afternoon with pitchers for Detroit's top five Draft picks continued into Saturday. Add up the picks, and 18 of Detroit's first 31 selections were pitchers. Aside from top pick Matt Manning, the selections were college pitchers.
• Tigers take cancer survivor Schmidt
Some came from big schools, including three each from schools in the ACC and SEC. Others were smaller schools, including NAIA. The vast majority of the arms come with reports of throwing around the mid-90s and up.
:: Complete 2016 Draft coverage ::
The Tigers started their last day of the Draft by picking the hot hand, selecting Mississippi State right-hander Zac Houston in the 11th round. After pitching out of the Bulldogs' bullpen most of the spring, the 6-foot-5, 250-pound junior delivered 8 2/3 innings of one-run ball against Alabama in the SEC Tournament, then struck out 10 over six shutout innings against Louisiana Tech last weekend in the NCAA Regional. His combination of mid-90s fastball and slider might project better as a reliever.
Much like the previous day, relief arms were a theme for the Tigers in Day 3. John Schreiber, their 15th-round pick, was an honorable-mention NAIA All-American closer at the University of Northwestern Ohio. Their 17th-round pick, Brandyn Sittinger, used a mid-90s fastball to his advantage at Ashland University. Burris Warner, a 22nd-round pick, saved 11 games for Marshall University this past spring and throws a 92-95-mph fastball that belies his 5-foot-11 frame. John Hayes, a 6-foot-6 senior right-hander from Wichita State, led the Shockers with six saves and struck out 43 batters over 36 2/3 innings before going to the Tigers in the 25th round. Right-hander Colyn O'Connell, the Tigers' 26th-round pick, held opponents to 10 hits over 27 innings out of Florida Atlantic's bullpen this season. Conner O'Neil, a 32nd-round pick out of Cal State Northridge, saved 22 games for the Matadors over the past two seasons and racked up 134 strikeouts over 120 2/3 innings.
The Tigers had one local pick on the third day, drafting University of Michigan left-handed starter Evan Hill in the 24th round. He grew up in Mt. Pleasant, Mich. Hill went 5-5 with a 4.26 ERA in 16 games, 12 starts, as a senior for the Wolverines this spring.
Detroit also took a couple chances on talented but injured pitchers. Alex Cunningham has been a key starter for NCAA tournament upstart Coastal Carolina this year, going 9-3 with a 3.68 ERA, and he has a 17-4 record and 3.30 ERA for his career. But this is also his first healthy season, having missed a year and a half with a stress fracture in his elbow before his 2015 season ended early with tendinitis.
Auburn right-hander Keegan Thompson missed this season recovering from Tommy John surgery, but was selected in the 33rd-round by the Tigers. He was a freshman All-American in 2014 and led the SEC in wins when his elbow started bothering him last year.
Both Cunningham and Thompson are juniors.
When the Tigers did draft position players, they tended to look up the middle. Three catchers wer selected, including Towson's Braden Policelli and Minnesota's Austin Athmann in the 13th and 14th rounds. Mississippi State's Jacob Robson (eighth round), Creighton's Daniel Woodrow (12th) and Cal State Bakersfield's Dustin Frailey (19th) were all center fielders in college.