Tigers skipper Gardy battles nerves on Day 1
New manager addresses group; Wood battles finger injury; prospect Garcia to have Tommy John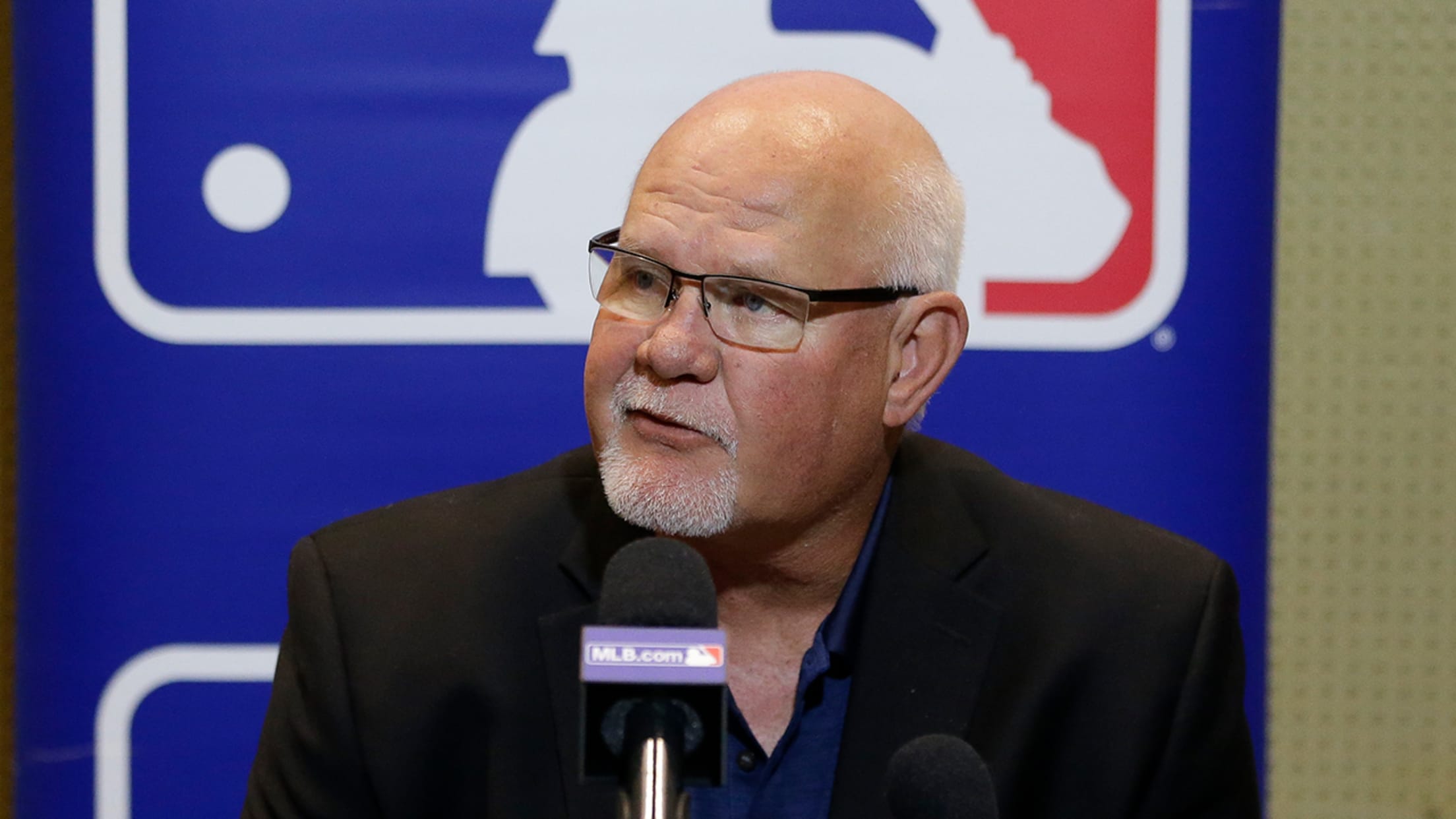 LAKELAND, Fla. -- The Tigers have plenty of first-time arrivals to their Major League camp, many of whom are likely battling nerves as workouts begin and they try to make an impression. Their manager can relate; he's one of them.As Ron Gardenhire talked with Tigers pitchers and catchers on Wednesday
LAKELAND, Fla. -- The Tigers have plenty of first-time arrivals to their Major League camp, many of whom are likely battling nerves as workouts begin and they try to make an impression. Their manager can relate; he's one of them.
As Ron Gardenhire talked with Tigers pitchers and catchers on Wednesday morning prior to their first official workout, describing the club as a family, he realized his nerves were getting to him as he addressed a team as its manager for the first time since 2014.
"Honestly, I kind of had the jitters when I walked in there," Gardenhire said. "I just caught myself speaking really fast to the team. I said, 'This is going to be short and sweet,' but I knew I was really talking fast, and that was part of my anxiety, ready to go and excited.
"When I finished, I don't even remember what I stinking said. Normally I remember what I said. I hope it was good. I normally try to keep myself calm, and it was hard, because I was really excited to be in front of a group again."
Gardy is getting in on the drills too! #BaseballIsBack pic.twitter.com/yFu2vzXaDP

— Detroit Tigers (@tigers) February 14, 2018
Gardenhire took grounders at first base during pitchers fielding practice and joked with players as they scrambled to cover the bag. He heard the relative silence across the fields and told general manager Al Avila that they could use some music.
"Birds are flying by, and [the players] not even talking," Gardenhire said. "We always kind of have music playing at the ballparks. We're Detroit. We need some Motown, so we're going to get a little music out there -- under-control music, a lot of my choices rather than a lot of other people's choices, just to get a little flow. There's sound in baseball all the time, so we want to have sound."
The coaches will take requests from players, Gardenhire said, so long as the language is acceptable.
:: Spring Training coverage presented by Camping World ::
It might even help him learn some of the players.
"I already told them I've got a card with all their names on it that I've got in my pocket," Gardenhire said, "and if you don't wear a jersey or a number, I won't know your name, and it might be all the way to the start of the season. If I call you, 'Hey, buddy,' then I probably don't know your name. This is a learning curve."
Wood slices finger in crossbow incident
Some pitchers report to Spring Training able to catch but unable to throw while recovering from injuries. Non-roster invite Travis Wood is in the opposite situation.
While the former Cubs and Royals left-hander threw a bullpen session on the back mounds at Tigertown on Wednesday, he could not catch the ball being thrown back to him. Bullpen catcher John Murrian helped out on Wednesday. A day earlier, Tigers assistant strength and conditioning coach Yousef Zamat was catching throws for Wood.
The reason was obvious: a large splint covering the index finger on his right hand. The cause was another story.
"It was a crossbow accident," Wood said. "It went off when it wasn't supposed to, and the string went through my finger."
The accident happened a month ago in his backyard, Wood said, as he was testing the crossbow for his son. The injury required a pin in his finger and stitches all the way up.
"I got to keep all of it," Wood said of the finger. "But I did ask them what was the quicker recovery time, just to take [the finger] or [not]."
Wood was a follow-up appointment later this week. If the finger has recovered sufficiently, he'll be cleared to remove the splint.
"Luckily, it was the right hand," he said.
Quick hits
• Tigers relief prospect Bryan Garcia will undergo Tommy John surgery on Thursday after tests confirmed a complete tear of the ulnar collateral ligament in his right elbow. Noted orthopedic surgeon Dr. James Andrews will perform the procedure. Garcia, a sixth-round pick in the 2016 Draft who ended last season ranked No. 23 among Tigers prospects according to MLB Pipeline, is expected to miss the 2018 season after rising from Class A West Michigan to Triple-A Toledo last year.
• Michael Fulmer had no issues or limitations Wednesday in his first Spring Training bullpen session, throwing 40 pitches as he continues his road back following surgery late last season to reposition the ulnar nerve in his right elbow.
"I kind of just proved to myself that there's no mental block there," Fulmer said. "I've let it eat for the last week and a half, two weeks. Everything feels good right now."