Tigers to keep eyes on non-tendered players
Club swooped up Fiers, Martin last year, before dealing them for prospects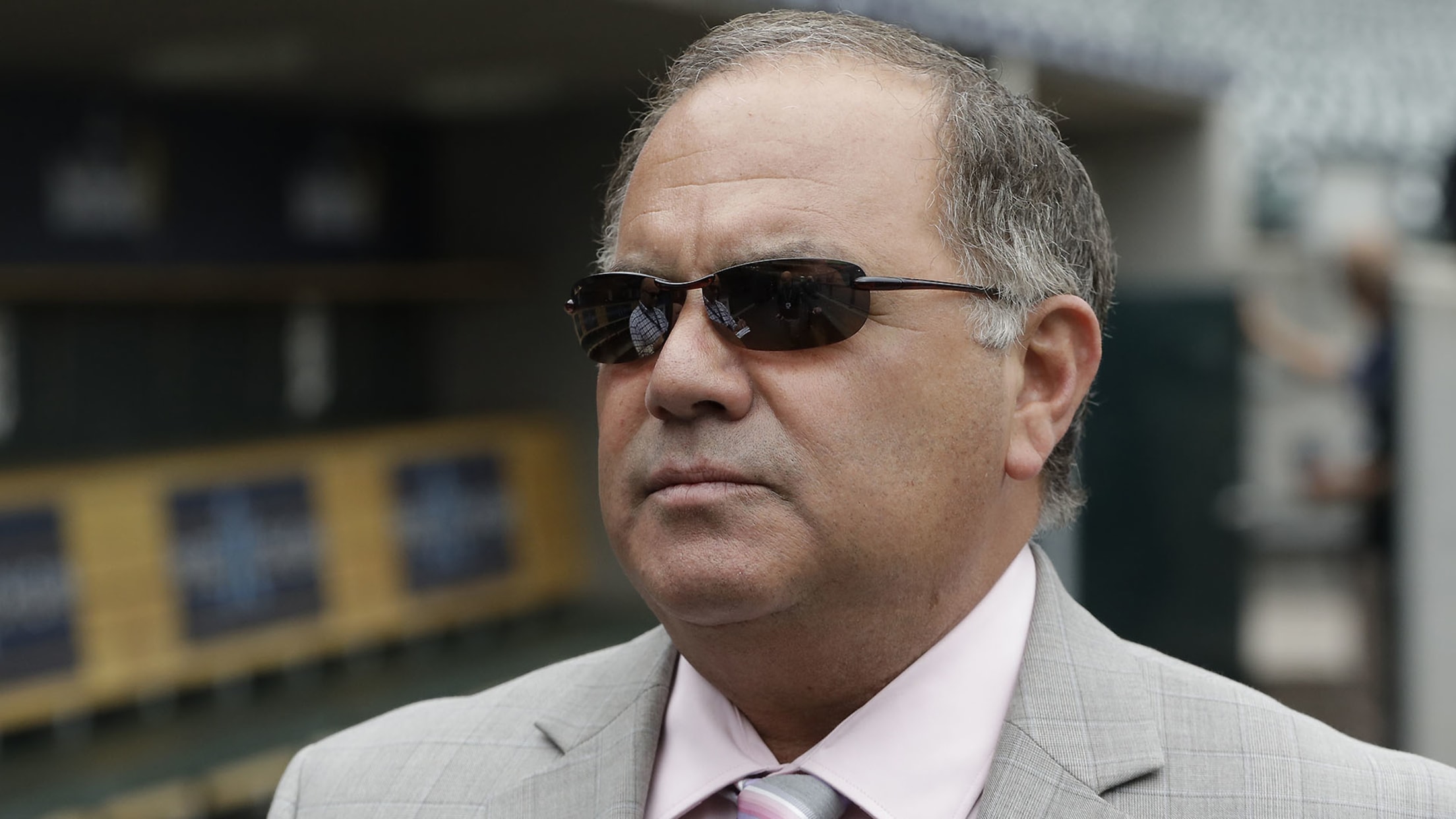 In a photo from Friday, May 19, 2017, in Detroit, Tigers' general manager Al Avila is seen during an interview in the dugout. (AP Photo/Carlos Osorio) (Carlos Osorio/AP)
DETROIT -- The Houston Astros opted not to tender a contract to pitcher Mike Fiers on Dec. 1 last year, declining to go through the arbitration process. Within a week, he was a Detroit Tiger, signed to an incentive-laden one-year contract. Eight months later, the Tigers traded him to Oakland
DETROIT -- The Houston Astros opted not to tender a contract to pitcher Mike Fiers on Dec. 1 last year, declining to go through the arbitration process. Within a week, he was a Detroit Tiger, signed to an incentive-laden one-year contract. Eight months later, the Tigers traded him to Oakland for two prospects, his extra year of team control serving as a bonus for the A's.
As the Tigers search for upside and potential trade value on the free-agent market, they'll look for opportunities to do the same this offseason. While Detroit has decisions to make with eight arbitration-eligible players, team officials will take a close look at the transactions wire once Friday's 8 p.m. ET non-tender deadline passes.
The Tigers have two extra pitching prospects in their rebuilding effort thanks to the deal with Fiers. They also have their potential shortstop of the future, Willi Castro, thanks to a similar flyer on speedy outfielder Leonys Martin last offseason and ensuing trade to Cleveland on July 31. They've been seeking similar potential on the market already, but the non-tender deadline offers particular value for some good reasons.
Both Fiers and Martin were cut loose by their previous teams for arbitration purposes, before they were eligible for free agency. Though the Tigers signed them to one-year contracts, they essentially purchased two seasons of control, since neither will be eligible for free agency until after next season. An acquiring team can either sign them for another year, go through the arbitration process, or simply non-tender them again.
That extra year makes a difference to interested clubs, notably for the A's with Fiers, who went 5-2 with a 3.74 ERA in nine late-season starts and a relief appearance for Oakland. Though Martin played in just six games for Cleveland before a life-threatening bacterial infection ended his season, the Indians hope to have him for next season as they rebuild their outfield.
By contrast, the Tigers didn't have an extra year to offer teams on Francisco Liriano, who signed a one-year deal last Spring Training and stayed in Detroit through season's end. It helped that Fiers and Martin are both younger than Liriano, which tends to be the case with non-tenders compared with many traditional free agents.
The fact that Fiers actually tied Nicholas Castellanos for the Tigers' lead in Wins Above Replacement, according to Baseball-Reference, speaks to the turnaround he made in Detroit. While his strikeout rate dropped and his hit rate remained unchanged from his up-and-down 2017 season in Houston, Fiers slashed his walk rate almost in half and kept the ball in the park more often. As a result, his Fielding Independent Pitching improved by nearly three-quarters of a run.
"I can't say enough for the coaching staff and all the players that helped me along the way," Fiers said the day of the trade. "I can't do all this on my own."
Meanwhile, hitting coach Lloyd McClendon worked to get Martin away from a launch-angle-focused approach that doomed him in 2017. His .251 average and .731 OPS in Detroit weren't stellar, but were marked improvements from the previous season, enough to add value to his standout defense in center field.
This is the work of the Tigers' coaching staff, as much as developing young talent -- maybe more so, in some cases, until Detroit's highly touted young pitchers arrive in a year or two. The Tigers need to keep stockpiling prospects to make this rebuild work, and they've fared well doing that in such trades. It won't net Detroit any top prospects, but for the investment the Tigers put into it, it's a good value. Thus, keep an eye on which players teams non-tender Friday; the Tigers certainly will.
If the Tigers make such a signing, it'll likely be for a pitcher. Detroit continues to look for starting depth after reaching an agreement with traditional free agent Matt Moore on a one-year contract earlier this week. The Tigers could have room for depth in their bullpen, having removed Louis Coleman from their roster last month. A non-tendered shortstop or second baseman would present an opportunity to fill a gap, as well.