Fulmer puts injury in past with spring debut
Detroit ace spent offseason rehabbing elbow following surgery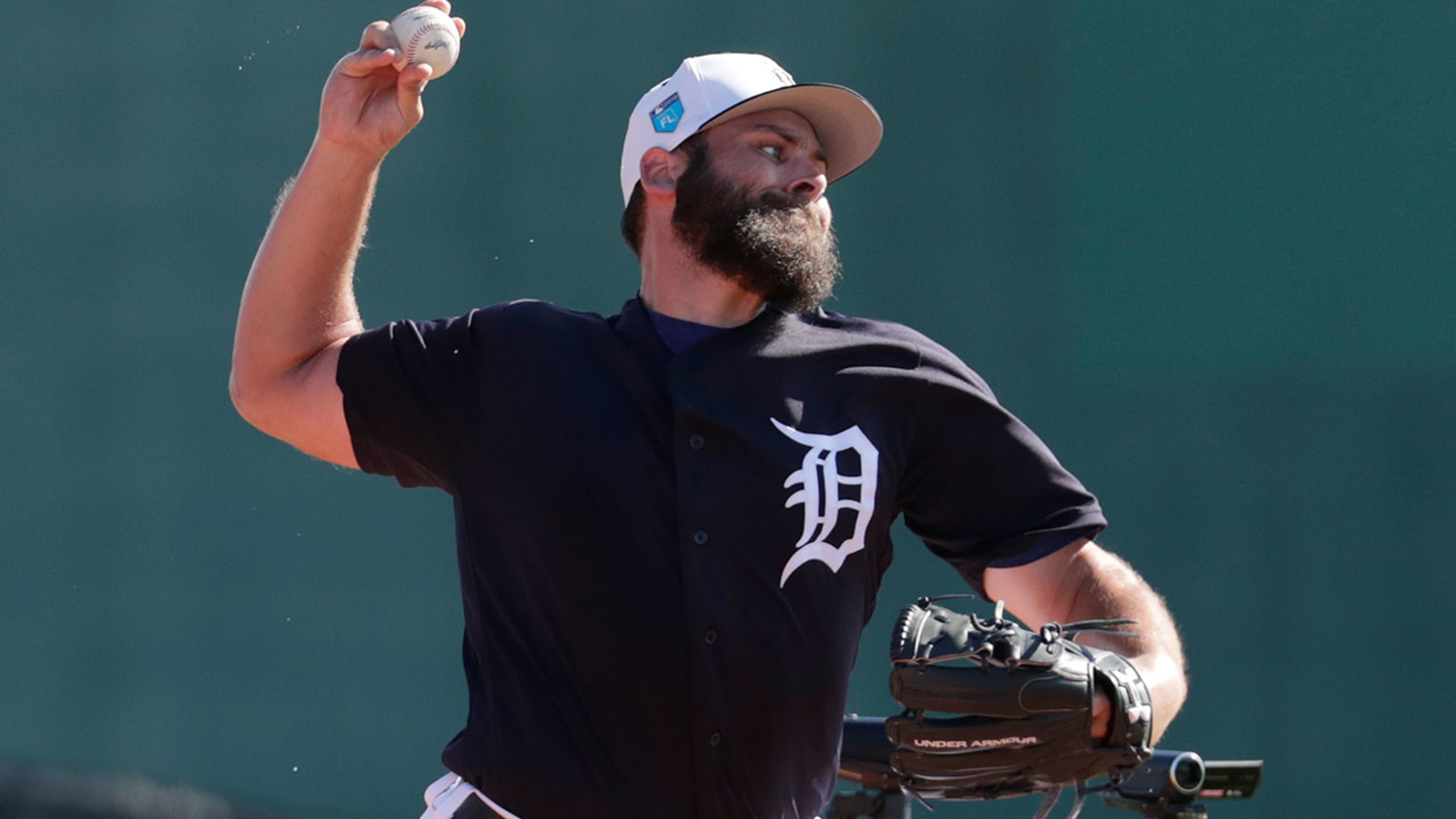 SARASOTA, Fla. -- The sign from Tigers catcher James McCann called for a slider down, over home plate. Michael Fulmer delivered it on the plate, forcing McCann to block it with his arm. McCann grumbled as home-plate umpire Will Little stepped out to give him a minute to gather himself."The
SARASOTA, Fla. -- The sign from Tigers catcher James McCann called for a slider down, over home plate. Michael Fulmer delivered it on the plate, forcing McCann to block it with his arm. McCann grumbled as home-plate umpire Will Little stepped out to give him a minute to gather himself.
"The umpire comes out," Fulmer said, "and I said, 'Tell [McCann] don't complain about that ball in the dirt, because that's where he asked for it.' He pointed on the plate. I got it down there. I made the adjustment."
:: Spring Training coverage presented by Camping World ::
After an offseason of physical therapy and workouts in Lakeland following surgery to move the ulnar nerve in his right elbow, Fulmer was back to joking with his catcher and burying sliders -- aside from the hanger that Trey Mancini hit out for a first-inning solo homer.
"I wish it was a changeup, but it was a slider," Fulmer said. "It was a little slider, and it didn't really do anything."
With two innings in Monday's 8-6 win over the Orioles, Fulmer felt back to normal. The numbness that had bothered him the past two years and eventually sidelined him last summer is now seemingly in the past.
"It feels weird not feeling anything, you know?" Fulmer said. "Today was just [a culmination of] all the work that the trainers went through and I went through [with the] strength and conditioning coaches, physical therapy back home in Oklahoma. It all just kind of paid off today.
"I got out of the second inning and it was just kind of a deep breath of relief that we could finally say the rehab's over. It was over a long time ago, but this was kind of the turning point. Rehab's done, and we can focus on what we can do to get ready for the season now."
Fulmer threw 14 pitches, including 10 strikes, in the opening inning, his sinker sitting at 94 mph on the Ed Smith Stadium radar gun. After a long break for a five-run Tigers rally in the bottom of the first, Fulmer returned and efficiently retired the middle of the O's lineup in order, capped by a 93 mph sinker for a called third strike on Mark Trumbo.
"I almost was a little nervous, I don't know why." Fulmer said. "Not really anxious, but more trying to see all the work that I put in over the offseason and being in Lakeland for most of the winter working out every day, doing my throwing program, my shoulder stuff. After all the work, honestly, it's great to see that kind of pay off today."
It was also a payoff for the Tigers, who now know they should have their ace in line for the start of the season. Detroit's rotation has plenty of questions, from Jordan Zimmermann's neck and back to Daniel Norris and Mike Fiers starting out slightly later than usual, but Fulmer isn't an issue.