Manning's journey a model for Tigers' top pick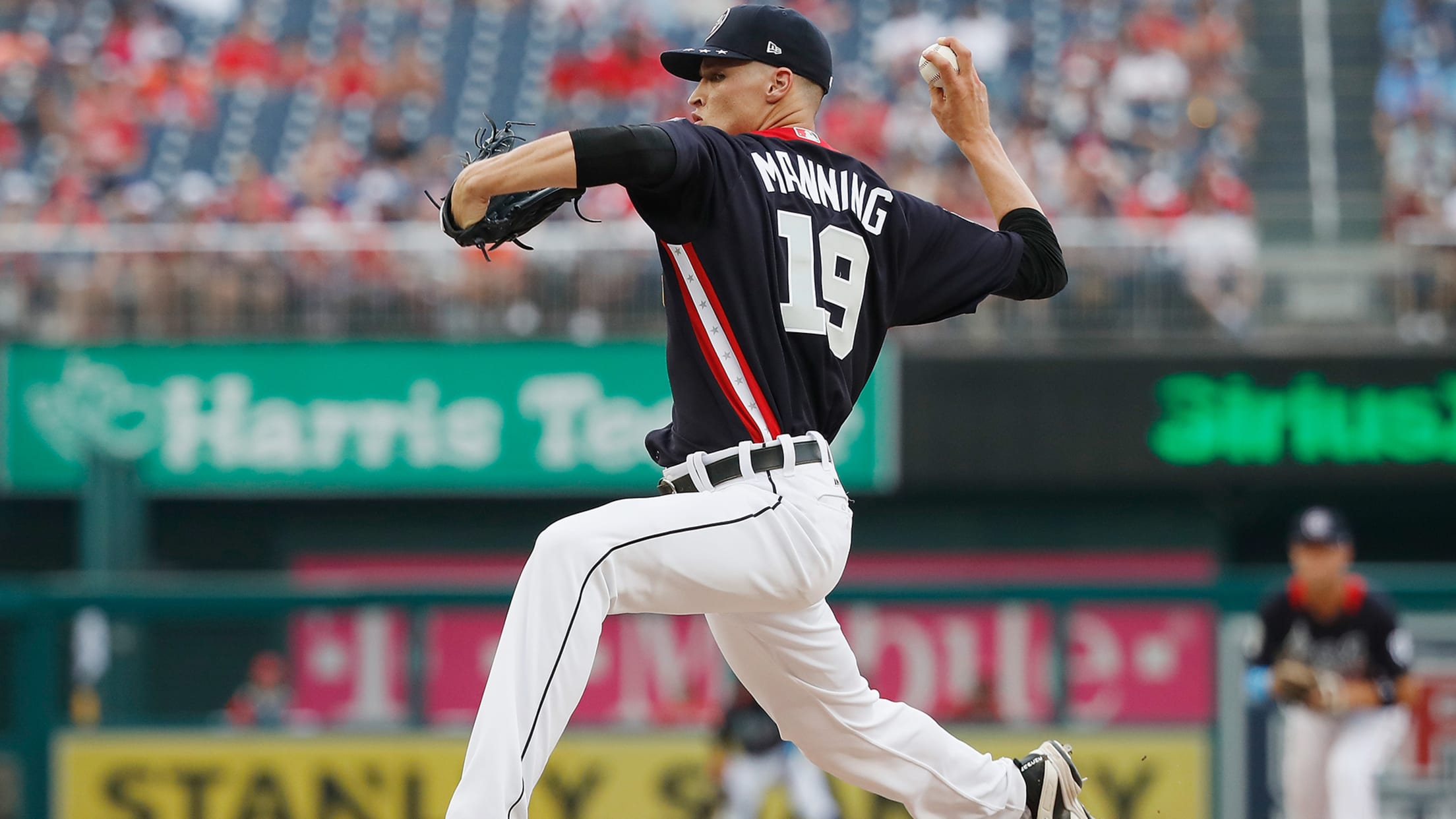 Matt Manning has been where Riley Greene is now, a high-school graduate joining pro ball as a top-10 Draft pick, with a big contract and similar lofty expectations heading into the rookie-level Gulf Coast League. As Manning -- the Tigers' last first-round pick out of high school back in 2016
Matt Manning has been where Riley Greene is now, a high-school graduate joining pro ball as a top-10 Draft pick, with a big contract and similar lofty expectations heading into the rookie-level Gulf Coast League.
As Manning -- the Tigers' last first-round pick out of high school back in 2016 -- looks back on those days from his current perch at Double-A Erie, where he won Tigers Minor League Pitcher of the Month honors for May, his advice is simple.
"If I had any advice for him, it would be to take one day at a time and not let any outside stuff affect you," Manning, the Tigers' No. 2 prospect according to MLB Pipeline, said on a Monday conference call. "I think it was very difficult going in [the system] at such an early age. But I knew the Tigers did a good job of pointing me in the right direction."
• Top pick Greene puts on show in BP
The Tigers had a slow, deliberate timetable with Manning for his first couple seasons as a pro. He spent the summer of his Draft year in the Gulf Coast League, opened the next season in extended spring camp and didn't see full-season ball until he closed out the 2017 season at Class A West Michigan.
Not until last year did the Tigers push the timetable with Manning according to how he pitched. After 11 starts at West Michigan, he spent nine summer starts at Class A Advanced Lakeland, then closed out the season with Erie. With each turn through the SeaWolves rotation this year, he looks like a more polished pitcher, despite being nearly 3 1/2 years younger than the average age of the Eastern League rosters.
While the baseball world continues to keep a close eye on Tigers top prospect Casey Mize, his Erie rotation mate continues to put in similar work. Manning, who ranks 44th among MLB Pipeline's top 100 prospects, held opponents to five earned runs in 31 1/3 innings over five May starts, striking out 34 batters.
A look at those starts, and the opponents involved, shows why those numbers were particularly impressive. Four of Manning's five May outings came against Altoona and Bowie, the Pirates and the Orioles Double-A affiliates. Four of his five starts in April were also against Altoona and Bowie.
It was a quirk in the Eastern League schedule that brought out a particularly good test for Manning, facing the same lineups repeatedly and having to adjust as hitters adjusted to him with each look. That's the adversity the Tigers want their pitching prospects to encounter along the road to Detroit.
Three weeks after Manning tossed seven scoreless innings with 10 strikeouts against Altoona on April 10, he was hit for five runs on just four hits in the rematch despite nine strikeouts. Manning's lone loss in May came against the same squad, though he allowed two runs on six hits over 5 2/3 innings.
By contrast, the Bowie Baysox were never able to hit him; he put up 19 innings of three-run ball in three outings against them in May, striking out 19.
"It was a good challenge for me to go against that team after they've seen me a couple times, still be able to adapt and not let them sit on pitches," Manning said.
To that end, his pitching has adapted. While his curveball continues to be a big out pitch for him, its break improving with the warmer weather, Manning has worked on his changeup to punish hitters sitting on his power fastball.
"Now I'm getting the movement I want with it, velocity differential, and now I feel comfortable with it when I'm behind in counts or ahead," he said of the offspeed.
"Right now I have a good feel with all three of my pitches. Probably my go-to right now is my changeup early in the game and then flip my curveball in after. But it's all part of pitching and getting a feel for the game."
While Manning is a different style of pitcher than Mize or fellow top pick Alex Faedo, he continues to learn from his rotation mates, from the analytical side to grinding through innings.
"Pitching with them has been a lot of fun," he said. "We've gotten to know each other well the last couple months. We're all pretty different."
Depending on how the summer progresses, they could all end up on a similar track to Triple-A Toledo. When general manager Al Avila was asked last week about Mize's next step, he put Manning and Faedo into the same category.
"I can't give you a timeline," Avila said last week, "but most likely at some point this season, you might see if not all three, a couple of those guys in Toledo."