Here are Detroit's Players' Weekend nicknames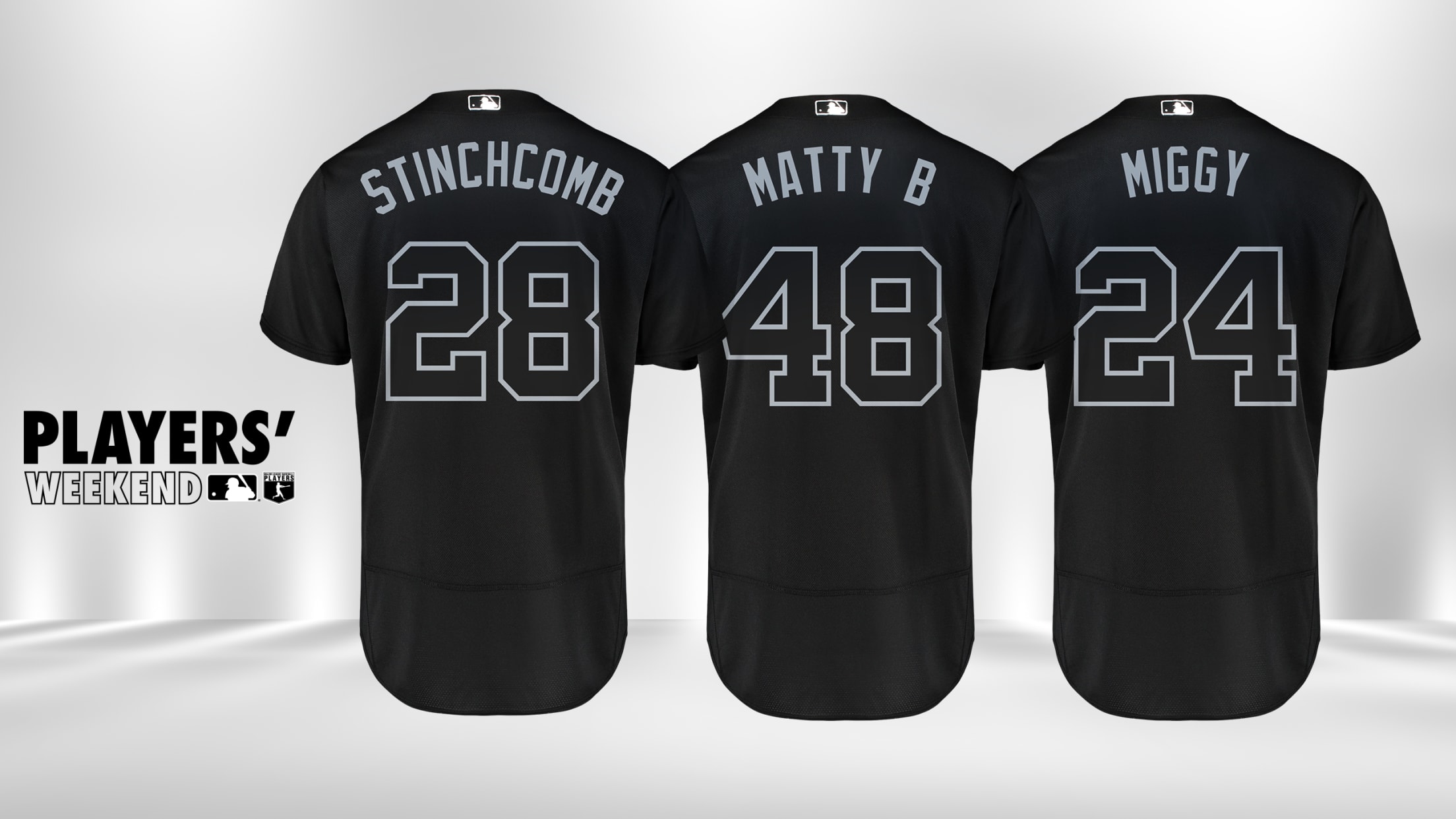 For the third consecutive year, Tigers players will wear their personalities on their backs when they don special jerseys for Players' Weekend, Friday through Sunday during their series in Minnesota. This year's jerseys are monochromatic versions of their regular jerseys, but the names on the back are customized by each
For the third consecutive year, Tigers players will wear their personalities on their backs when they don special jerseys for Players' Weekend, Friday through Sunday during their series in Minnesota. This year's jerseys are monochromatic versions of their regular jerseys, but the names on the back are customized by each player.
• Every team's Players' Weekend nicknames
Here's a list of the nicknames and other selections the Tigers will wear:
Gordon Beckham: "GORDO"
Matthew Boyd: "MATTY B"
Jeimer Candelario: "CANDY"
Harold Castro: "CASTY"
Though Castro's nickname sounds like it could apply to a certain recent former Tiger, Nicholas Castellanos never used it. He used "NICK" for his "nickname" every Players' Weekend.
Jose Cisnero: "GUI"
Brandon Dixon: "BANDIT"
"That was kind of an accidental nickname," teammate John Hicks explained. "One day we were sitting on the bench together, and [bench coach Steve] Liddle looked over and goes, 'Dixie!' Me and Dixon both looked over, because Dixie [sounds like] Hicksy."
Realizing the confusion, Liddle called out Dixon's first name, but in his Tennessee accent.
"He goes, 'Bandon,'" Hicks said. "And I'm like, 'Did he just call you Bandit?'"
• Shop for Players' Weekend gear
Buck Farmer: "GEORGE"
George is actually Farmer's first name. His middle name is Runie.
Niko Goodrum: "STINCHCOMB"
Goodrum will wear the last name of his great-grandmother, a lifelong baseball fan who would keep score of Braves games while watching or listening back home in College Park, Ga.
"Huge baseball fan," Goodrum said. "She was a die-hard Braves fan, but she was my biggest fan. She died in 2014, so I didn't get to the big leagues [before that], but she can have her own jersey now. I'll frame that jersey."
John Hicks: "JAZZ"
"When I was a kid, anytime music would come on, I would start dancing," Hicks explained. "It started out like, 'You're a little jazz man. You've got the moves.' And then, it just got shortened to Jazz. When I'm back home in Virginia, probably 80 percent of the people that I'm close with at home call me that."
Eduardo Jimenez: "JIMMY"
Joe Jimenez: "JO JO"
Jordy Mercer: "THE ROOK"
Mercer's nickname dates back to his collegiate career at Oklahoma State.
"I was one of the few freshmen that played, and the coaches just started calling me The Rook," Mercer said. "The players caught on. A lot of guys today, when I go back there, will still call me Rook."
Daniel Norris: "D. NO"
Nick Ramirez: "RAMMER"
Victor Reyes: "VIC"
Ronny Rodriguez: "EL FELINO"
While Rodriguez has been a pro baseball player for eight years, he's also a singer and rapper in his native Dominican Republic. "El Felino" is his stage name, but it comes from a term fans in the Dominican would use to describe his cat-like instincts in the field.
Jake Rogers: "ROG"
Gregory Soto: "CAPIRO"
Spencer Turnbull: "ORANGE BULL"
Turnbull's nickname is actually "Red Bull," due to his hair color, but he couldn't go with that given the energy drink of the same name.
Drew VerHagen: "DUTCH"
Last year, VerHagen used "Vergy," the nickname his summer ball coach gave him in seventh grade. This time, he went with a nickname he received at Double-A Erie on his way up the Tigers' farm system.
"Vergy's my nickname; everyone calls me that," VerHagen said. "But Dutch was my nickname in Double-A for a while, just because of my last name, Dutch heritage. Our manager there, Chris Cron, called me that. I liked it, and it stuck for a little bit. I just figured I'd switch it up a little bit, since I have a couple jerseys with Vergy."
Jordan Zimmermann: "J Z"