It's back to Omaha for these Tigers and Royals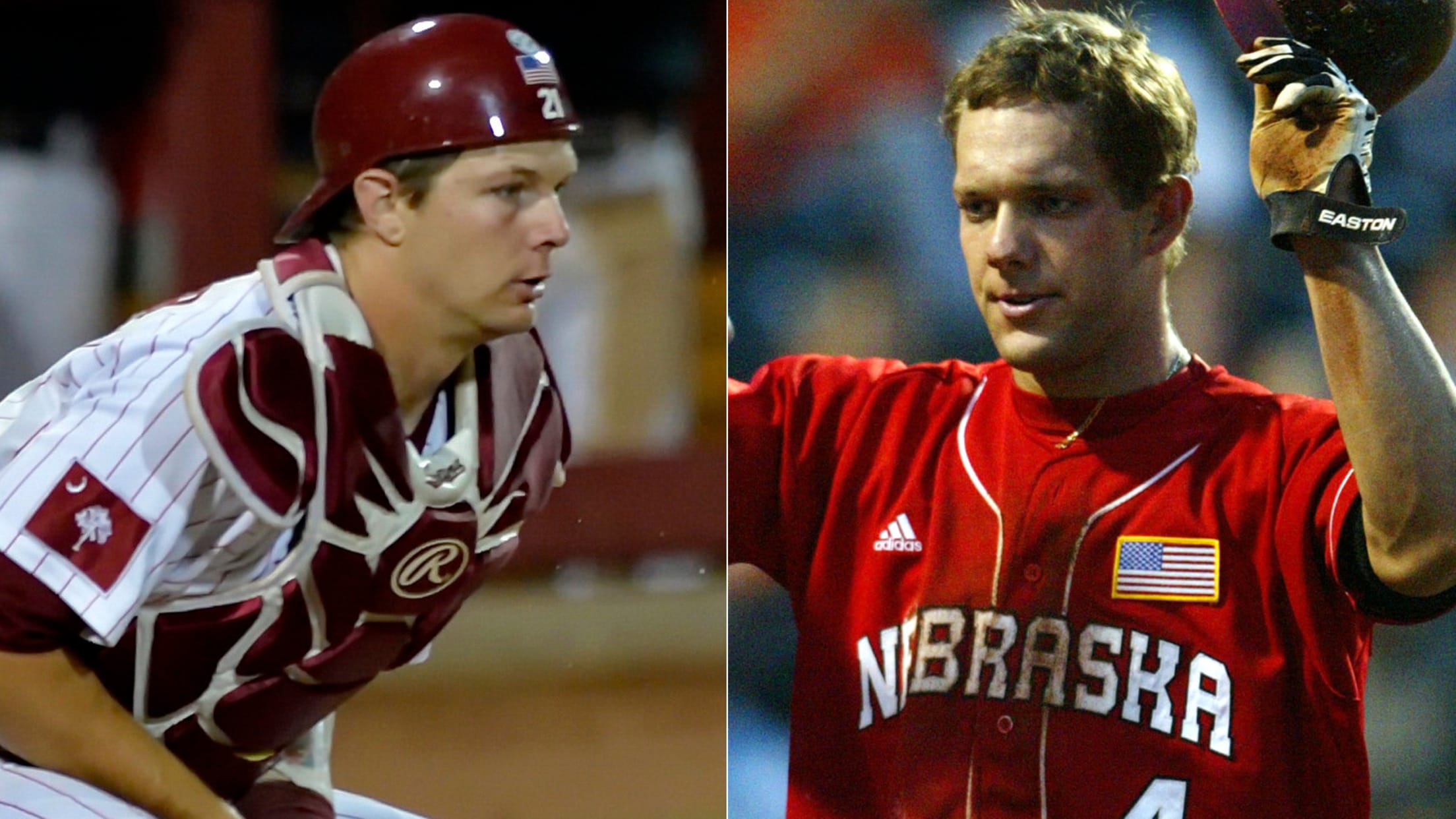 The photo came up on an app that notes the anniversaries of when pictures were taken. This one had Matthew Boyd and his then-girlfriend, Ashley, standing in front of TD Ameritrade Park in Omaha during the 2013 College World Series. Boyd was a senior starter for Oregon State, the third
The photo came up on an app that notes the anniversaries of when pictures were taken. This one had Matthew Boyd and his then-girlfriend, Ashley, standing in front of TD Ameritrade Park in Omaha during the 2013 College World Series.
Boyd was a senior starter for Oregon State, the third seed in the tournament. The Beavers had an off-day between games and were staying a short walk from the ballpark, so Matthew and Ashley went over as fans to watch LSU, which had a second baseman named JaCoby Jones.
"So we just went and walked over and we watched LSU play, because I knew JaCoby at the time," Boyd recalled Sunday. "We played against each other in college in summer ball, and played together once sometime before. We watched LSU play, and it's just like a small-world moment. JaCoby was out there, and we're just sitting in the crowd in the bleachers watching the game with my girlfriend at the time, now married going on five years and two kids.
"It's cool thinking back on it, and it's cool how baseball is a very special game in that sense."
• FAQ: Thursday's Tigers-Royals game in Omaha
The lasting memory many have of Boyd came on the mound the next day. With Oregon State's season -- and Boyd's college career -- hanging in the balance, the lefty matched up inning for inning with an Indiana squad that featured future Cubs slugger Kyle Schwarber and had a 6-foot-10 pitcher named Aaron Slegers.
Both Boyd and Slegers went nine innings. Boyd took a lone run of support -- a fourth-inning sacrifice fly -- and rolled with it, holding onto a no-hit bid into the fifth inning and ending up with a four-hit, 11-strikeout shutout in a 1-0 win.
"It was a lot of fun," Boyd said. "It was the last time I took the mound in an Oregon State uniform, so it was a special game. It's kind of what you dream of, right? You go pitch your best game, and the other guy Slegers did all he could, and it's win or go home. You can't ask for a better situation to leave it all out there."
As it turns out, it will no longer be the last time he took the mound at TD Ameritrade Park. When the Tigers and Royals play the first Major League game in Omaha on Thursday night, Boyd will be the Tigers' starting pitcher.
It's a quick trip in and out at the end of a three-game series, but it's an exciting time for the many Tigers and Royals who played in the College World Series.
"I think it's going to be an awesome opportunity," Boyd said.
Here's a look at the other players and coaches heading back to Omaha, some of whom have College World Series memories, some of whom have other roots there.
TIGERS
INF Gordon Beckham (Georgia shortstop, 2006 and 2008)
Beckham was named SEC Player of the Year his junior season at Georgia in 2008, but his real heroics came in the Bulldogs' run to Omaha. He hit a three-run homer to lead them past Louisville in a must-win regional game, homered twice in the winner-take-all Super Regional final against North Carolina State and then hit a two-run shot to spark an eighth-inning comeback against Fresno State in the first game of the finals. In his final college at-bat, he homered in Game 3 of the finals.
"The whole trip through the playoffs was really memorable," Beckham said. "Personally, I did some things that helped get us there, hit some big home runs, and in the Super Regional, just had a couple of huge highlights of my life really. For us to go to Omaha was really cool, was something I'll never forget. And to make the run that we did, we were one win away and probably could've easily won it. It could've gone either way. But that's baseball."
UTIL Brandon Dixon (University of Arizona infielder, 2012)
Dixon hit just .245 in the regular season as a platoon starter at first base, but the sophomore heated up in the postseason, batting .303 with seven runs scored and nine RBIs over 10 games. But after a quiet offensive trip to Omaha, Dixon came up big in the end, delivering the go-ahead double in the ninth inning to lift the Wildcats past South Carolina for their first national title since 1986 while ending the Gamecocks' bid for a three-peat.
"It stinks that Dixon's team knocked us out and kept us from getting three straight," his Tigers teammate and former South Carolina catcher Grayson Greiner said. "He always gives me huge grief about that. I always tell him I made the last out of a national championship, so I had to walk past the dogpile with confetti falling on me."
C Grayson Greiner (South Carolina catcher, 2012)
Greiner was the starting backstop as a freshman on a South Carolina team that had won the previous two College World Series. The Gamecocks made it all the way to the final before falling to Arizona, with Greiner making the final out.
"We had a really good team; a lot of guys that are in the big leagues were on that team," Greiner said. "It was 10 or 11 days that flew by like that. Being back in TD Ameritrade is going to bring back a lot of cool memories of teammates and coaches and just the journey it took to get there. It's going to be real cool to just sit in that dugout and reminisce on those times. It's going to be a good day."
1B/C John Hicks (Virginia catcher, 2009 and 2011)
Hicks owns a piece of College World Series history, having homered at both its old home at Rosenblatt Stadium and its current site at TD Ameritrade Park. He was a freshman slugger who played first base and catcher in 2009, the year the Cavaliers made a Cinderella run to Omaha before eventually losing to Arkansas (Hicks homered in that game off future Tiger Drew Smyly). Two years later, Hicks was an All-American catcher on a nationally seeded Cavs team that was one of the last three teams left before falling to eventual national champion South Carolina.
"In Rosenblatt, the old stadium, you could hit a ball off the knob of the bat and it would go over the fence," Hicks said. "It was like the best hitting park ever. It was incredible. I hit a homer there that I got jammed on, that should have never went over the fence, and it did. And in 2011, it was TD Ameritrade, so I got to play in both parks, which was awesome.
"Both places were incredible. I really loved Rosenblatt because of the history, but it's awesome that you go there and most of the crowd is from that area, and they have no affiliation with the teams there, and they're there at almost every game and they're cheering and yelling and they don't have a dog in the fight, but it's pretty cool."
CF JaCoby Jones (LSU second baseman, 2013)
Jones, who formed a dangerous double-play combo with Alex Bregman, was a big reason for LSU's return to Omaha, going 5-for-7 with four runs scored in their Super Regional win over Oklahoma. LSU was swept out of the series with two losses, but Jones singled as part of a last-ditch rally against North Carolina.
LHP Nick Ramirez (Cal State-Fullerton pitcher, 2009)
Ramirez was a freshman closer for the Titans, having pitched the last inning in their Super Regional sweep of Louisville that sent them to Omaha as the second seed. He tossed the final innings of losses to Arkansas and Virginia, but retired future Tigers teammate John Hicks.
Manager Ron Gardenhire (Texas shortstop, 1979)
Long before Gardenhire had managerial aspirations, he was an All-American shortstop who set a school record with 10 RBIs in a game in 1978. The next year, he led the Longhorns to Omaha, but a big injury hampered them before they arrived.
"My biggest memory is we lost our starter, Ricky Wright," Gardenhire said. "He was a big lefty, No. 1 pick for the Dodgers. After we won the regional, we were taking BP at the stadium in Texas and he dove for a ball in the outfield and blew his knee out. So we lost our ace. We had a great team, and he was really good. He blew out, and it just kind of knocked our socks off."
The Longhorns won their first two games handily before losing twice on the same day to an Arkansas team that included Kevin McReynolds and a Pepperdine squad led by Mike Gates.
"We got beat by Arkansas, of all teams," Gardenhire lamented. "We beat them in the conference tournament. They beat us in the College World Series in the winner's bracket.
"… It's going to be fun going there. It was a great experience. For the college experience, it's as good as it gets, going to the College World Series."
ROYALS
LHP Jake Diekman (Wymore, Nebraska native)
Diekman grew up about two hours from Omaha and now makes his offseason home down the road in Beatrice. His wife, Amanda, was named Miss Nebraska in 2014.
"I think it will be pretty cool," Diekman said. "That's an exciting place during the College World Series. I know we're going to have a lot of family there, so we're going to need a lot of tickets."
LF Alex Gordon (Lincoln, Nebraska native, 2005 University of Nebraska third baseman)
Gordon won baseball's prestigious Golden Spikes Award in 2005 and helped lead the Cornhuskers to their third College World Series appearance in five years. He walked and scored a run in the Huskers' series-opening win over Arizona State, and had an RBI single in a wild extra-inning loss to the Sun Devils that eliminated them.
"I had always watched the College World Series growing up and dreamed of playing in it," Gordon said. "It was definitely a great experience, very cool for someone who grew up so close to it."
INF Nicky Lopez (Creighton University infielder)
Lopez played his home games at TD Ameritrade Park for three seasons at Creighton. He hit .306 with 11 doubles, five triples, two home runs and 11 stolen bases as a junior before the Royals drafted him in the fifth round in 2016.
"To be back there and be comfortable in that environment will be cool," Lopez said. "I've never been to the College World Series, so that type of enthusiasm and excitement in town will be great. I'm looking forward to it. There'll be a lot of buzz around it. I'll have some friends there at the game. It will be a good atmosphere."
2B Whit Merrifield (South Carolina infielder, 2010)
Merrifield was the hero of the Gamecocks' first national championship, delivering a walk-off single in the 11th inning to beat UCLA in the final. He later went back to Omaha on his way up the Royals' farm system.
"It was a crazy run," Merrifield said. "We lost our first game in the regionals and then won six straight. Growing up, I watched the College World Series every year. You had an idea how it might be. But getting there and seeing how Omaha really embraces that tournament was pretty special to see. It was incredible the amount of support that town gives to eight random teams that show up every year. They always kind of adopt one team, and we were that team in 2010. We were the underdog. The story came out that we never had won a national championship in any sport, and the city adopted us."
3B coach Mike Jirschele (Triple-A Omaha manager 1995-97, 2003-2013)
Jirschele led the Royals' Triple-A club to Pacific Coast League titles in 2011 and 2013, and the Triple-A championship in 2013. His 995 wins there are the most in franchise history.
"I loved Omaha. It's really a great city," Jirschele said. "It's a very Midwestern city, which appealed to me, because the people are very down to earth. And they're good baseball fans. They really are, the way they supported us and the College World Series. We had some down years there before the Hosmers and Moustakases showed up and they supported us anyway."