V-Mart's return rained out, but veteran healthy
Martinez to play in Tigers' final three Grapefruit games; Holaday OK, but dilemma may loom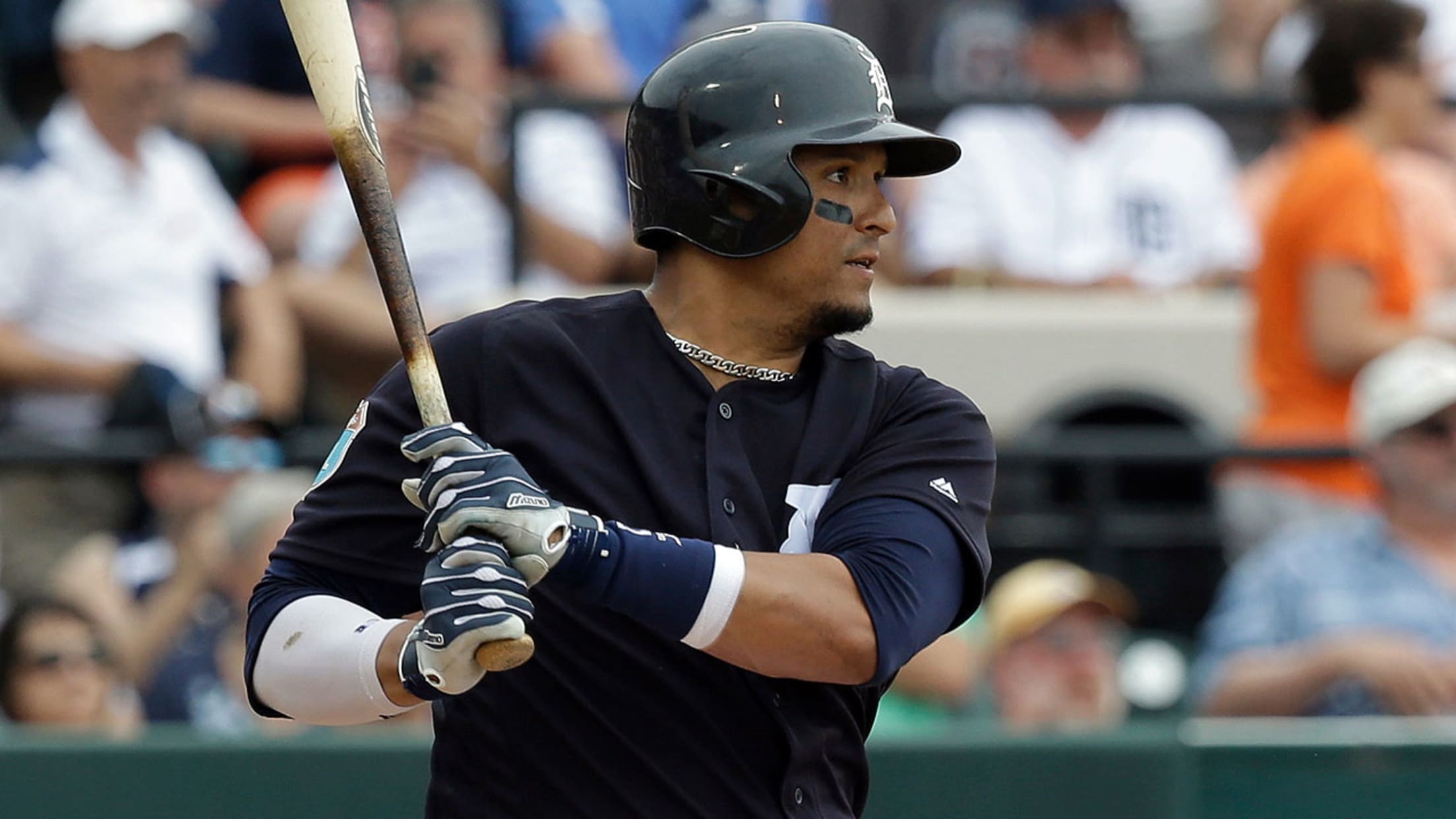 Victor Martinez bats against the Blue Jays on Tuesday before the game was rained out. (AP)
LAKELAND, Fla. -- Victor Martinez was a few batters away from a matchup with Blue Jays reliever Pat Venditte, which would've pitted switch-hitter against switch-pitcher, before rain washed out Tuesday's Grapefruit League matchup between the Tigers and Blue Jays. It would've left Martinez having to decide which side of the
LAKELAND, Fla. -- Victor Martinez was a few batters away from a matchup with Blue Jays reliever Pat Venditte, which would've pitted switch-hitter against switch-pitcher, before rain washed out Tuesday's Grapefruit League matchup between the Tigers and Blue Jays. It would've left Martinez having to decide which side of the plate to bat against Venditte.
That didn't happen, but it was a meaningful day regardless for Martinez, who returned from a left hamstring strain to play his first big league Spring Training game in two weeks. He lined out to short, so he didn't have to test the hamstring. His work in Minor League games over the previous three games, though, left him confident he'll be ready for next week.
"I felt good," Martinez said. "Didn't get to do much, but I felt good."
Martinez will not make Wednesday's trip to Sarasota to face the Orioles, but he is scheduled to play in each of Detroit's final three Grapefruit League games. The Tigers open the regular season next Tuesday with an Interleague matchup at Miami, which means Martinez need only be ready to pinch-hit.
Holaday fine after thumb injury
The notion of the Tigers keeping Bryan Holaday in their organization by placing him on the disabled list lasted less than 24 hours. The out-of-options backup catcher, who was held out of Monday's loss to the Yankees while he underwent tests on an injured left thumb, is fine.
"It's good," Holaday said Tuesday morning. "We just wanted to be cautious and have a doctor look at it."
Tests showed no structural damage to the thumb, which Holaday said he banged up taking a foul tip last Saturday against the Phillies. Manager Brad Ausmus said Holaday caught a bullpen session and hit in the cage Tuesday morning, and he was scheduled to play the later innings of Tuesday's game against the Blue Jays before rain washed out the game in the third inning.
Thus, the Tigers could face a dilemma in the coming days on Holaday, who cannot be sent to the Minor Leagues without clearing waivers. If switch-hitting veteran Jarrod Saltalamacchia wins the job to back up James McCann, Holaday would have to either go on waivers, where he's widely expected to be claimed, or be traded.
One team in search of a backup catcher solved its need Monday night, when the Astros acquired Erik Kratz from the Padres. That doesn't necessarily rule out Houston from acquiring Holaday, but it puts the Astros in a position of depth. The Texas Rangers are also reportedly seeking a backup catcher. Holaday grew up in Dallas and played at nearby Texas Christian University.
Quick hits
• With rain in the forecast, the Tigers pushed back Matt Boyd's scheduled start from Tuesday to Thursday so he could stretch out as a starter. Justin Wilson, Mark Lowe and Francisco Rodriguez each pitched a scoreless inning Tuesday against the Blue Jays before the game was rained out with the Tigers holding a 2-0 lead.
• Cameron Maybin hit soft-toss pitches in the cage Tuesday and hopes to take batting practice Wednesday as he works his way back from a fractured left wrist. "No hiccups, no issues," said Maybin, who is expected to open the regular season on the disabled list but is not expected to miss much time.
• Daniel Norris and Blaine Hardy, both sidelined with injuries, played catch Tuesday morning as they try to work their way back. Norris picked up a ball for the first time since he was diagnosed with non-displaced fractures in his spinous process. Hardy, shelved the past few days with shoulder soreness, has been throwing without issue, though he'll need to go through the throwing progression.
Up next for the Tigers
Shane Greene will make his final bid for the fifth spot in the Tigers' rotation when he gets the start against the Orioles in a 6:05 p.m. ET start at Ed Smith Stadium in Sarasota on Wednesday, live on MLB.TV. Chris Tillman gets the start for the O's.