Tigers hit road for Winter Caravan
2019 tour will stop to meet, greet fans in 8 Michigan cities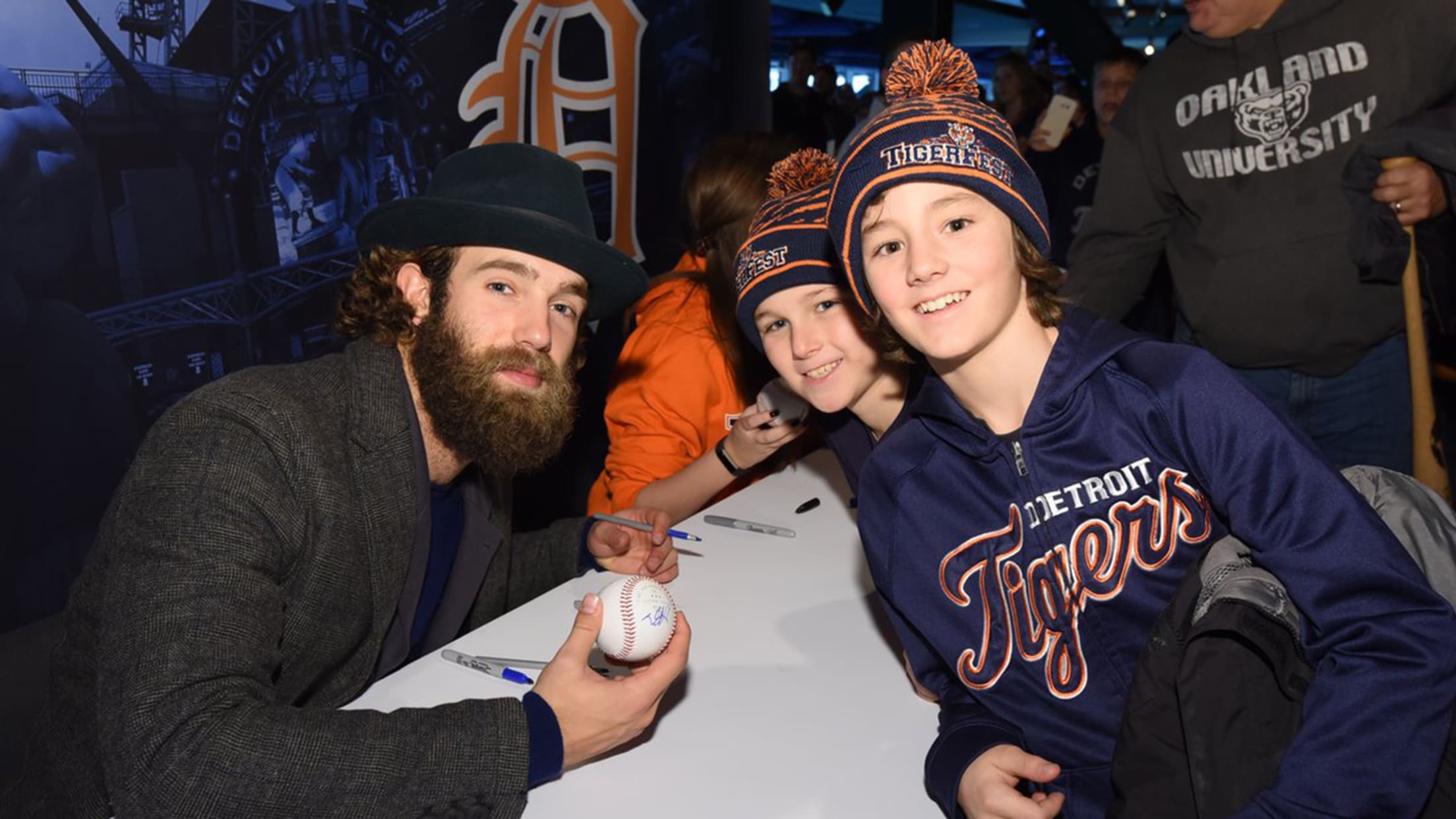 DETROIT -- Tigers players and coaches will serve breakfast at a National Coney Island, take part in a simulation exercise at Selfridge Air National Guard base, hang out with pets at the Michigan Humane Society, celebrate the 50th anniversary of Detroit PAL and check out new cars at the North
DETROIT -- Tigers players and coaches will serve breakfast at a National Coney Island, take part in a simulation exercise at Selfridge Air National Guard base, hang out with pets at the Michigan Humane Society, celebrate the 50th anniversary of Detroit PAL and check out new cars at the North American International Auto Show as part of the team's annual Winter Caravan on Thursday and Friday.
The tour each January serves as a buildup to TigerFest, and allows fans who can't make it to Comerica Park on Saturday a chance to see some of their favorite players in person before the season.
Many of the more than 40 current and former players and coaches who are scheduled to take part in TigerFest will hit the road on the Winter Caravan, which will make stops in eight Michigan cities. General manager Al Avila, assistant GM David Chadd, Hall of Famer Alan Trammell, executive vice president of business operations Duane McLean and mascot PAWS will also be in attendance.
Some will be on the road early to Toledo when the Triple-A affiliate Mud Hens hold their annual winter party known as The Flock on Wednesday evening. The trek begins in earnest on Thursday with a Metro bus venturing around the Detroit area while the West bus heads across the state.
Here are photos from #TigerFest last year just because.

Can't wait for January 26. #TBT pic.twitter.com/wiWTpGrsNM

— Detroit Tigers (@tigers) January 18, 2019
Tigers personnel will be the guest speakers at the Beavers club luncheon on Thursday at Detroit Athletic Club, helping celebrate the Beavers' 100th anniversary. Later Thursday afternoon, the Tigers are slated to visit the Novi Police Department and Novi Civic Center for a rally to celebrate the city of Novi's 50th anniversary.
On Friday, a few Tigers will be up early to work as servers at National Coney Island in Royal Oak around 10 a.m. ET. Others will be in Detroit at the Michigan Humane Society, which will offer free pet adoptions throughout the day. Tigers players will help interested guests pick out a new pet around 11 a.m.
Around the same time, another group of Tigers will be at the Arab-American National Museum in Dearborn to greet local community leaders and guests. They'll also announce a special ticket-package partnership for the upcoming season.
After visits to Children's Hospital of Michigan and Detroit PAL, the Tigers will visit three historic Detroit fire houses to celebrate their 110th anniversary. The Metro tour concludes around 6:30 p.m. at the Auto Show, where Tigers players will take part in a parade along the Auto Show before visiting the Chevrolet display area.
The West bus will visit the Lansing Police Department on Thursday afternoon to celebrate its 125th anniversary before heading to Grand Rapids, where the Tigers will be guests at the Class A West Michigan Whitecaps' annual Winter Banquet. Friday's West bus tour includes visits to Meijer headquarters, the Kentwood Police Department and General Motors' Flint assembly plant before the Tigers roll into Frankenmuth to see Zehnder's Snowfest around 5 p.m.