Tryout camp to Tigers? Bernard has chance
Padres' 35th-round Draft pick in '12 landed pro deal with Tigers in '14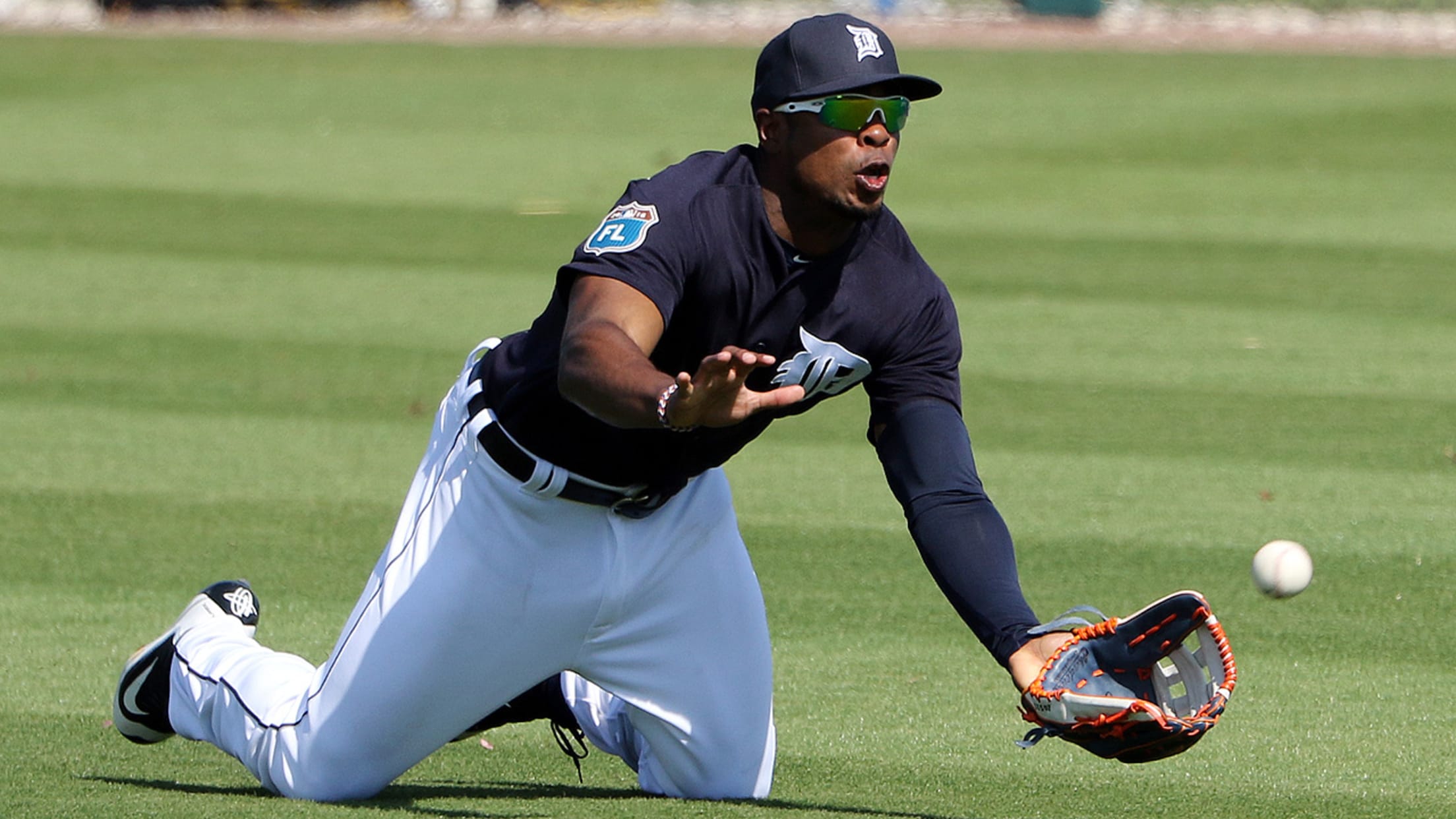 At a Tigers tryout camp in 2014, Wynton Bernard was the only player signed out of 120 candidates. (Getty Images) (Justin K. Aller/Getty Images)
LAKELAND, Fla. -- Two years ago, Wynton Bernard was trying out for the Tigers. Not the Major League club, but the Tigers' organization. He was a face in the crowd at tryout camp, invited by a scout to attend but with no guarantee of a pro contract.With Cameron Maybin questionable
LAKELAND, Fla. -- Two years ago, Wynton Bernard was trying out for the Tigers. Not the Major League club, but the Tigers' organization. He was a face in the crowd at tryout camp, invited by a scout to attend but with no guarantee of a pro contract.
With Cameron Maybin questionable at best for Opening Day with a fractured wrist, Bernard is now essentially trying out for the Tigers, for a big league spot.
• Spring:Tickets | Ballpark | 40-man roster | NRIs
It's an incredible story, and it just might happen.
"We've talked about it," manager Brad Ausmus said.
Bernard has thought about it. It was already a goal. Now, depending on how the Tigers decide to fill a potential void, it could happen a little sooner than expected.
"Even coming in, even when [Maybin] wasn't hurt, it's obviously a goal of mine," Bernard said. "I don't think anything else changed, really. It's just about me just trying to get better, improve myself every time out."
By now, Bernard's story has been well chronicled. A 35th-round Draft pick in 2012, Bernard was buried in the Padres' farm system until San Diego released him just before camp in '14. On the recommendation of Tigers scout Tim McWilliam, Bernard paid his own way from San Diego to Lakeland for tryout camp, where he was the only player signed out of 120 candidates.
Bernard went to Class A West Michigan, won Midwest League MVP honors, and showed enough for Detroit to protect him on their 40-man roster. He jumped to Double-A Erie last year and became an Eastern League All-Star, leading the league in hits, triples and stolen bases. Then he went to winter ball in Venezuela and hit well there.
Now, what looked like a distant big league dream could well be within reach.
Bernard is scheduled to start in center Thursday afternoon against the Phillies, a game that will be carried on MLB Network in Detroit and elsewhere. With Maybin down, Bernard has been splitting starts with Anthony Gose.
He won't just have a national audience watching. For good reason, he has the Tigers' attention.
If Maybin had a longer-term injury, Bernard might not be a consideration. While the 25-year-old continues to beat expectations, Tigers officials still see a lot of room for growth, which is why they want him playing regularly at Triple-A Toledo.
If Maybin's recovery timetable holds around four to six weeks as projected, he'd be back around mid-April. That scenario would make a fill-in stint for Bernard more like a detour en route to Toledo.
"In the short term, that's why we've talked about it, because I think it's something we should consider," Ausmus said. "Longer term, I think it's probably in his best interests to play on a regular basis."
Compared to winter ball, Bernard said, the pressure is relatively easy.
"In Venezuela, there's like 18,000 screaming in your ear," he said, "so right now is nothing. There's less fans, but they're loud every single game. People just screaming. It's intense. They want you do so well over there. If you strike out, they start booing you. You have pressure put on you, but if you feel any pressure, then you start not performing. So it kind of relaxes you almost. I got to the point where I was like, 'OK, I'm going to take this on. This is awesome.'"