Top college coaches flock to Aaron Invitational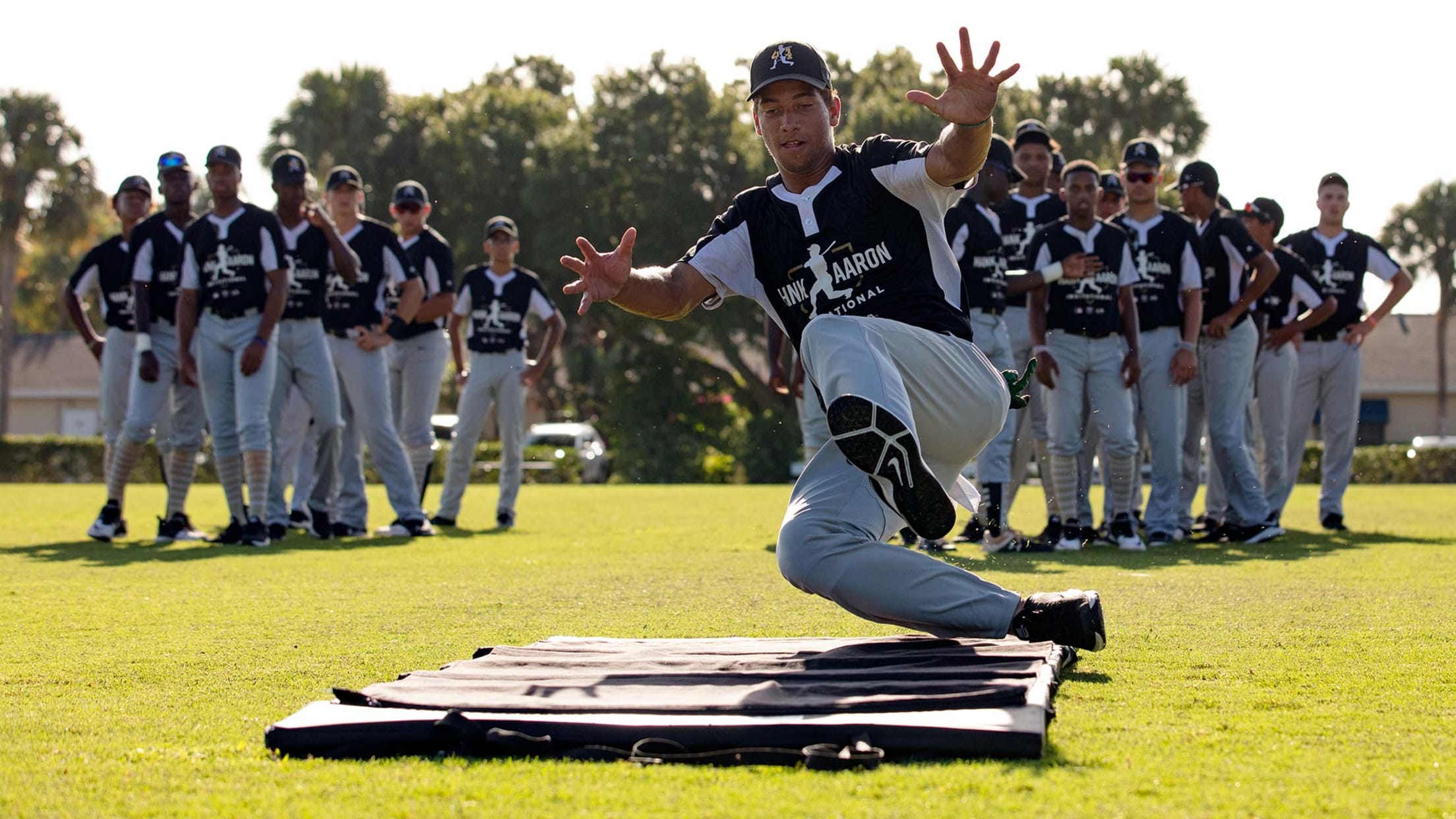 Find a high school baseball tournament exciting enough to draw keynote speakers by the names of Ken Griffey Jr. and Andre Dawson. Big enough to recruit coaches with MLB resumes noting 200-plus long balls (Marquis Grissom, Eric Davis, Reggie Smith). Meaningful enough to be held at the Jackie Robinson Training
Find a high school baseball tournament exciting enough to draw keynote speakers by the names of Ken Griffey Jr. and Andre Dawson. Big enough to recruit coaches with MLB resumes noting 200-plus long balls (Marquis Grissom, Eric Davis, Reggie Smith). Meaningful enough to be held at the Jackie Robinson Training Complex in Vero Beach, Fla. And legit enough that the legendary Hank Aaron let them name the whole darn thing after him.
Chances are, you've found the Hank Aaron Invitational -- formerly known as the Elite Development Invitational -- a five-day camp designed for a diverse group of student athletes to hone their baseball and life skills, and learn about college opportunities.
If you aren't yet sold on how special this program really is, just take it from four college coaches with a front-row seat to a week of action featuring some of baseball's stars of tomorrow.
Let's start at the top of the who's-who list of men a prospective college baseball player would want to meet. Tim Corbin, head coach of the defending College World Series champion Vanderbilt Commodores and the builder of a true NCAA dynasty, traveled to the Aaron Invitational to meet and mentor the talented attendees.
"It's just a welcome environment for kids 15, 16, 17, 18 years old. I have always wanted to get here," Corbin said.
"Aaron, as I told the kids, is someone I grew up adoring, and wanted to be like. … But then talking to [MLB EVP of baseball and softball development] Tony Reagins about it, and the background of it, and the connection of so many coaches to it, I felt like it was important for me to get down here. It is my passion from a coaching standpoint, to build the diversity of our school."
Facing Corbin in the opposite dugout during this year's College World Series was Erik Bakich, the head coach of the Michigan Wolverines. But down in Vero Beach, Bakich and Corbin were on the same side, looking for face time with prospective college recruits. And according to Bakich, those valuable interactions make a world of difference when filling out a roster.
"College coaches, pro scouts, they can all click stop watches and read radar guns and pick out who the best players are physically and evaluate tools. … It's all the other things that these guys can do. When they meet a pro scout, when they meet a college coach, and they smile and shake their hand firmly, and say their name convicted, that stands out."
The intangibles, Bakich noted, can be gauged only in person. And in the eyes of the Wolverines skipper, those who score well in the less quantifiable categories gain a leg up.
"How they compete, how they play. The energy, the hustle, the effort. When they hit a ball hard and it's a dead sprint to first base, and they're flying on and off the field. That's the energy and spirit that you want in a college program," Bakich said. "Pro scouts, college coaches, no matter who you are, you are just a fan of hustle and a fan of guys who compete."
One of the Aaron Invitational's key goals is to afford a diverse group of players the opportunity to showcase their talents. This critical mission, it turns out, never leaves the minds of Carlos James and Johnny Hernandez. The head coaches of the University of Arkansas at Pine Bluff Golden Lions and the Bethune-Cookman University Wildcats -- two historically black universities -- James and Hernandez served instrumental roles as Aaron Invitational event instructors.
"Baseball is a fraternity. And while we are not able to really get out and see all [of our recruits] … it kind of helps your recruiting when you don't have the budget," James said.
"It's been really good for us to be here to maximize what we have, to get the types of kids we need in our program from around the country. … It comes down to economics for me. What other place can you go and find [hundreds] of kids where you can watch them for four or five days?"
James very much appreciates how the week in Vero Beach helped shine the bright light of opportunity on students from underserved areas.
"It's kind of hard for the kids coming from smaller towns, for us to get to them," he said. "And with baseball being so expensive on the travel circuit, a lot of kids who can play are not able to afford to go to the bigger tournaments. But by coming here, you get to find a lot of diamonds in the rough, so to speak."
While virtually every player in attendance would readily admit to dreams of a Major League future, the odds of big league life are, statistically speaking, slim for most. Understanding this, coach Hernandez makes sure to stress the importance of "student" in "student athlete."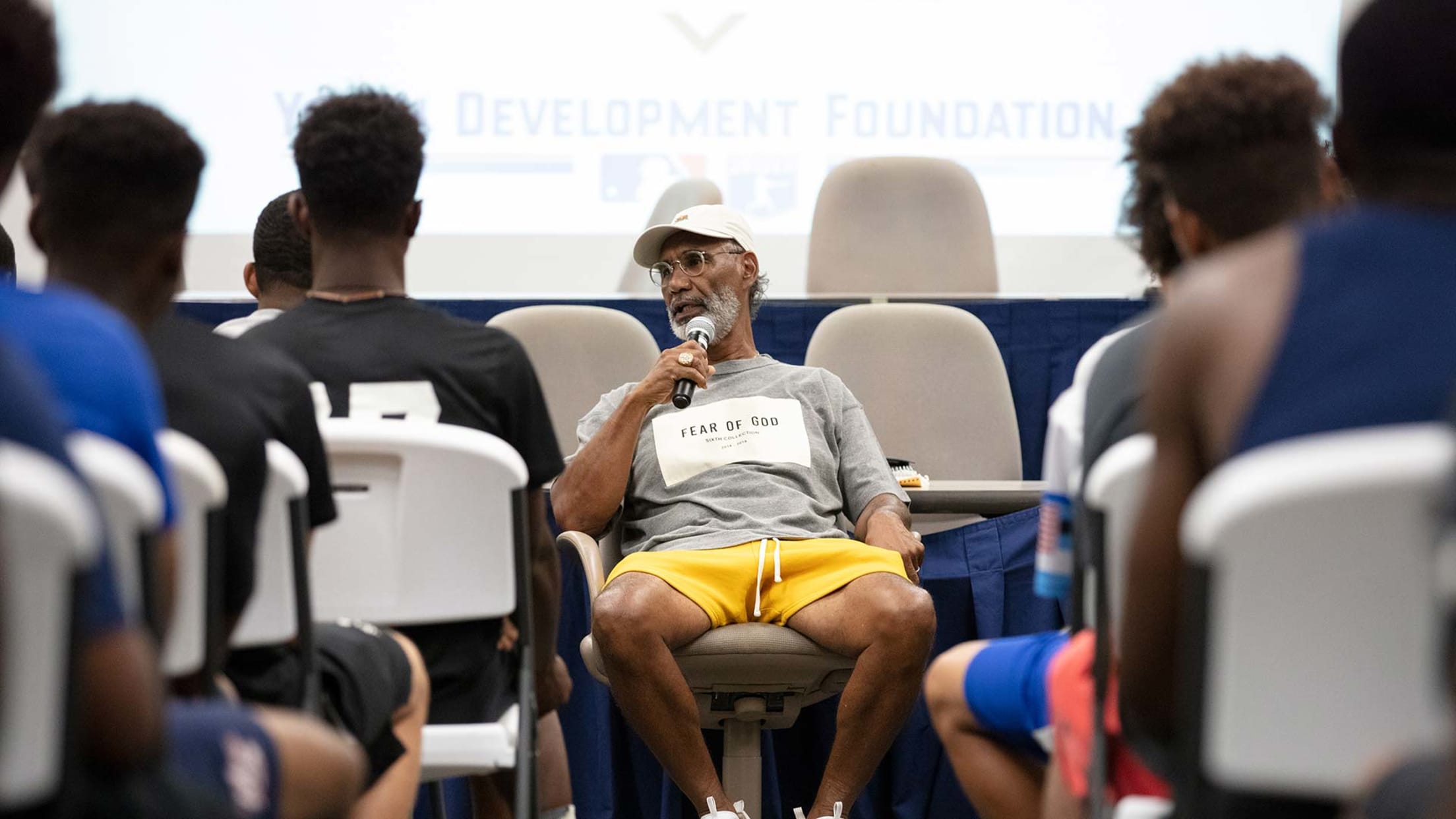 "With all the big league players that are here, [the high school players] want to play professional baseball, be a big leaguer. We all get that. One thing I tell guys all the time is that one day baseball is going to end, but education comes first," Hernandez said.
"Some of these kids are going to be first-generation college students like I was, and I have my coaches to thank for that. [Now], I am able to use baseball as a platform to impact these young men."
Participants in the Aaron Invitational are selected from the MLB Youth Academy network, Reviving Baseball in Inner Cities (RBI) program, Major League Baseball, the Major League Baseball Players Association, USA Baseball, the Buck O'Neil Scouts Association, MLB clubs & scouts and individual active and former players.
More than 100 alumni of the program are either playing professionally in Minor League systems or at the collegiate level. Among the notable alumni: Hunter Greene of the Reds, Osiris Johnson of the Marlins, Taj Bradley of the Rays and Bryce Bush of the White Sox.
As a new element of the event in 2019, the top 44 players from week two of the Aaron Invitational will play in a special showcase game at SunTrust Park, the home of the Atlanta Braves, on Saturday. "Hank Aaron Week" has included a variety of diversity- and culture-focused initiatives focusing on business networking, nostalgic history connected to Aaron's legacy, philanthropy, education and social justice.