Raines among HOF trio; Mussina climbs
Longtime leadoff star made brief stint in Baltimore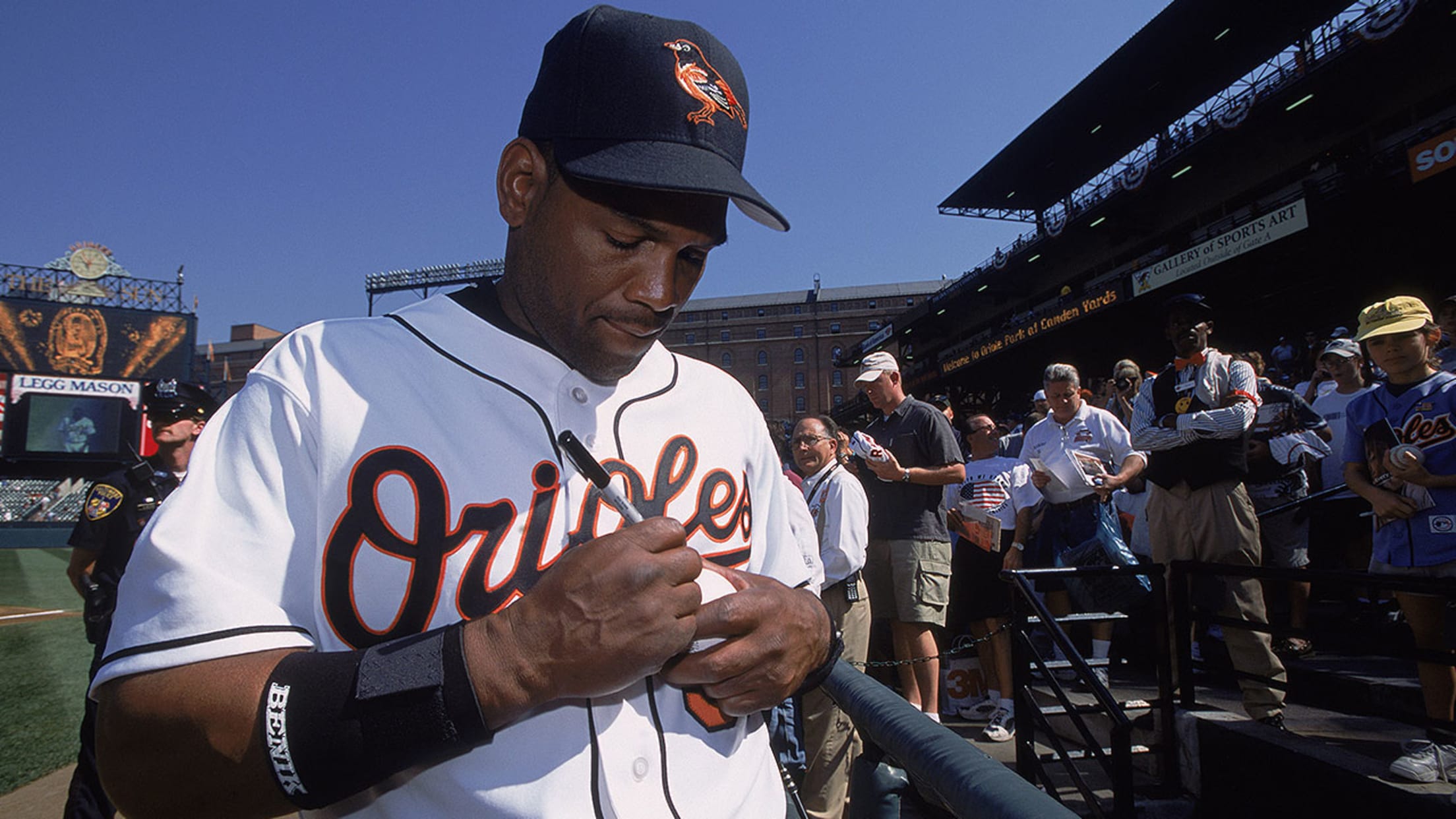 Tim Raines signs a baseball for a fan in Baltimore late during the 2001 season. (Getty)
BALTIMORE -- Tim Raines, who was in an Orioles uniform for just four games, was elected to the National Baseball Hall of Fame on Wednesday, his 10th and final chance on the ballot.Raines got 86 percent of the vote from eligible members of the Baseball Writers' Association of America, easily
BALTIMORE -- Tim Raines, who was in an Orioles uniform for just four games, was elected to the National Baseball Hall of Fame on Wednesday, his 10th and final chance on the ballot.
Raines got 86 percent of the vote from eligible members of the Baseball Writers' Association of America, easily eclipsing the 75 percent needed. He joined first baseman Jeff Bagwell and catcher Ivan Rodriguez as 2017 inductees, joining Commissioner Emeritus Bud Selig and Braves vice chairman John Schuerholz, who were elected last month by the 16-member Today's Game Committee.
:: 2017 Hall of Fame election coverage ::
Raines, who was traded to Baltimore at the end of the 2001 season to play with his son, Tim Raines Jr., was a seven-time All-Star in his prime with Montreal.
Perfectly cast as a leadoff man, the multitalented left fielder posted a .385 career on-base percentage, ranks fifth all-time in stolen bases (808) and tops the list in success rate among those with at least 400 attempts.
Former Orioles pitcher Mike Mussina saw an increase from 43 to 51.8 percent of the votes this year, while Vladimir Guerrero -- who played his final season with the O's -- received 71.7 percent. It was Guerrero's first year on the ballot.
Mussina, who has been on the ballot four times, spent 10 seasons with Baltimore before signing with the Yankees as a free agent.
Mussina posted a career 3.53 ERA with Baltimore and is third on the O's all-time win list with 147.