Timeline of memorable moments in Phils history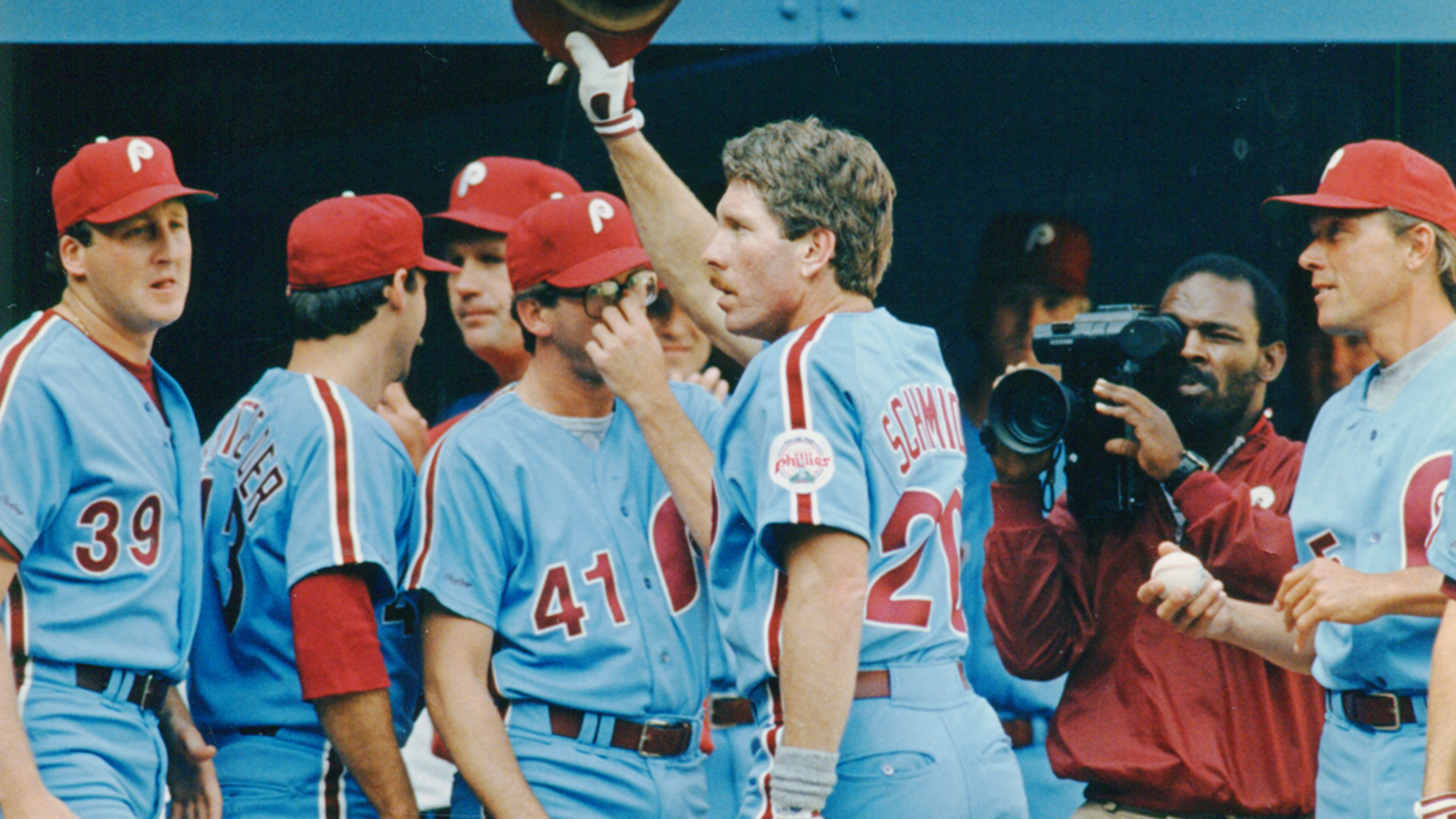 Mike Schmidt joined the exclusive 500-homer club on April 18, 1987. (AP)
Moments in Phillies history that will celebrate anniversaries during 2017 ... from the first game in Baker Bowl (1887), to a game when an umpire was pelted with snowballs (1907), Mike Schmidt's 500th home run (1987), Richie Ashburn's death (1997), to a National League East-clinching game (2007).Feb. 24, 1947 Phillies
Moments in Phillies history that will celebrate anniversaries during 2017 ... from the first game in Baker Bowl (1887), to a game when an umpire was pelted with snowballs (1907), Mike Schmidt's 500th home run (1987), Richie Ashburn's death (1997), to a National League East-clinching game (2007).
Feb. 24, 1947
Phillies hold their first Spring Training workout in Clearwater, Fla., at Athletic Field.
March 11, 1947
Phillies lose, 13-1, to Detroit Tigers in their first Clearwater game. Attendance was 1,766 at Athletic Field.
March 14, 1967
Phillies open a Minor League training complex, Carpenter Field, in Clearwater.
April 11, 1907
Following a heavy snowstorm the day before, large drifts of snow rimmed the outer edges of the Polo Grounds field where the New York Giants hosted the Phillies. With the Phillies leading, 3-0, fans began throwing snowballs and began rushing the field. When home-plate umpire Bill Klem was hit by a snowball, he called a forfeit in favor of the Phillies.
April 18, 1987
Schmidt homers at 4:53 p.m. ET on a 3-0 pitch from Don Robinson in Pittsburgh to become the 14th player in baseball history to reach 500 home runs. A dramatic three-run game-winning homer in the ninth beats the Pirates, 8-6.
April 19, 1937
Phillies win a doubleheader, beating Boston, 2-1, in 11 innings and 1-0 at Braves Field. It is the only time the Phillies started the season with a twin bill.
April 30, 1887
Phillies beat New York, 15-9, in the first game played at Broad and Huntington Streets Park, later known as Baker Bowl.
May 11, 1947
Largest Philadelphia Major League baseball crowd, 40,720, watches the Phillies sweep a pair from Brooklyn, 7-3 and 5-4, at Shibe Park.
May 12, 1987
Schmidt scores his 1,366th run to break Ed Delahanty's club record. Phillies drop 5-2 decision at the Astrodome.
May 13, 1997
RHP Garrett Stephenson makes Major League debut and strikes out the first five batters, a Phillies record for a rookie. Phillies win, 3-2, over St. Louis as Stephenson fans 12 in seven innings.
May 14, 1927
A section of Baker Bowl stands collapses during seventh-inning stretch, a game the Phillies won, 12-4, over St. Louis. Game is called and Phillies play next 12 home games at Shibe Park.
May 16, 1987
LHP Don Carman blanks San Diego on three hits, 9-0, but the big news: he gets his first Major League hit after going 0-for-48.
June 3, 2007
CF Shane Victorino hits a walk-off home run on Shane Victorino Hula Figurine Day, 9-8 over the Giants at Citizens Bank Park.
June 13, 1997
A revolutionary idea in Major League Baseball came to fruition, as Interleague Play makes its debut. The Phillies face the Toronto Blue Jays in their first Interleague game. RHP Wayne Gomes makes his Major League debut and wins in relief, 4-3.
June 22, 1977
Phillies (5) and Cincinnati (3) combine for a Vet-record eight home runs in a wild 15-9 win over the Reds. One of the eight is a grand slam by SS Larry Bowa.
June 27, 2007
1B Ryan Howard hits a 505-foot home run, setting records for the longest blast at Citizens Bank Park and the fastest player to 100 home runs (325 games). Phillies lose to the Reds, 9-6.
June 29, 1987
RHP Steve Bedrosian sets a Major League record with his 12th consecutive save in a 6-5 decision over Pittsburgh at the Vet. He extends the record to 13 the next day but sees the streak end on July 2.
June 30, 1967, Game 2
Playing his ninth position since joining the Phillies in 1963, super-sub Cookie Rojas pitches a scoreless ninth inning in a 12-3 loss to San Francisco, allowing one hit.
July 9, 1957
LHP Curt Simmons is the starting hurler in the All-Star Game at St. Louis. Between 1950-57, a Phillies pitcher started seven of the eight games (Robin Roberts 5, Simmons 2).
July 9, 1967
3B Dick Allen becomes the first player to hit a home run over the center-field fence between stands and flag pole at Connie Mack Stadium since the fence was raised to 32 feet in 1934. The blow comes off RHP Nelson Briles in the eighth inning of a 4-3 win over the Cardinals.
July 21, 1997
RHP Curt Schilling strikes out 15, the most by a Phillies pitcher since Steve Carlton's 16 in 1982, but loses, 3-2, to Pittsburgh. After 17 years with the organization, C Darren Daulton is traded to the Florida Marlins for Billy McMillon.
Aug. 5, 1977
Seven-run eighth lifts the Phillies to an 8-3 win over visiting Los Angeles and into first place for the first time this season. The victory is manager Danny Ozark's 400th.
Aug. 12, 1987
2B Juan Samuel becomes the first Major League player to reach double figures in doubles, triples, homers and stolen bases in his first four big league seasons as the Phillies sink visiting Chicago, 13-7. Eighth-inning grand slam is Sammy's 22nd homer, breaking Granny Hamner's club record set in 1953.
Aug. 16, 1977
Phillies extend their longest winning streak of the century to 13 games with a 7-5 decision in Montreal. The Phils hadn't won that many in a row since 1892.
Aug. 17, 1957
Ashburn, known for his ability to foul pitches off, hits spectator Alice Roth twice in the same at-bat. The first one breaks her nose; the second hits her while she is being removed on a stretcher. Ironically, she is the wife of Earl Roth, sports editor of the Philadelphia Bulletin.
Aug. 18, 1997
LF Billy McMillon and C Mike Lieberthal hit grand slams as the Phillies sink San Francisco, 12-4, at the Vet, the second time in club history they have two slams in one game. SS Ralph Miller and P Lee Meadows did it 76 years ago, April 28, 1921.
Sept. 9, 1997
Just hours after broadcasting a Phillies game, Ashburn dies in a New York hotel. Ashburn's passing produces a huge outpouring of affection from friends and fans. The Phillies win, 1-0, over the Mets. Ironically, as a player with the Phillies, he wore No. 1, and his final game was with the Mets.
Sept. 16, 1967
In the bottom of the 11th inning, Rick Joseph hits a one-out walk-off grand slam to give the Phillies a 8-4 win over Los Angeles. It's the only pinch-hit extra-inning grand slam in team history.
Sept. 16, 1997
Schilling fans nine in beating the Mets to become the first Phillies pitcher with 300 strikeouts in season and the 13th in baseball history.
Sept. 20, 1987
Schmidt hits 487th home run as a third baseman in a 4-1 win at Montreal to break Eddie Mathews' all-time record.
Sept. 27, 1977
RHP Larry Christenson wins his 18th game and drives in five runs as the Phillies capture their second NL East title, 15-9, over Chicago at Wrigley Field, their 101st win for the second straight year.
Sept. 29, 1907, Game 1
RHP George McQuillan's consecutive scoreless innings streak ends at 25 innings, a Phillies record for the start of a career.
Sept. 30, 2007
Phillies beat Washington, 6-1, at Citizens Bank Park and clinch NL East title in last game of season as the New York Mets, who were tied with Phillies for first place, lost to Florida, 8-1.
Larry Shenk is editor and writer of this Alumni page.