Brewers promote Johnson to amateur scouting director
Former Silicon Valley employee will run club's amateur Draft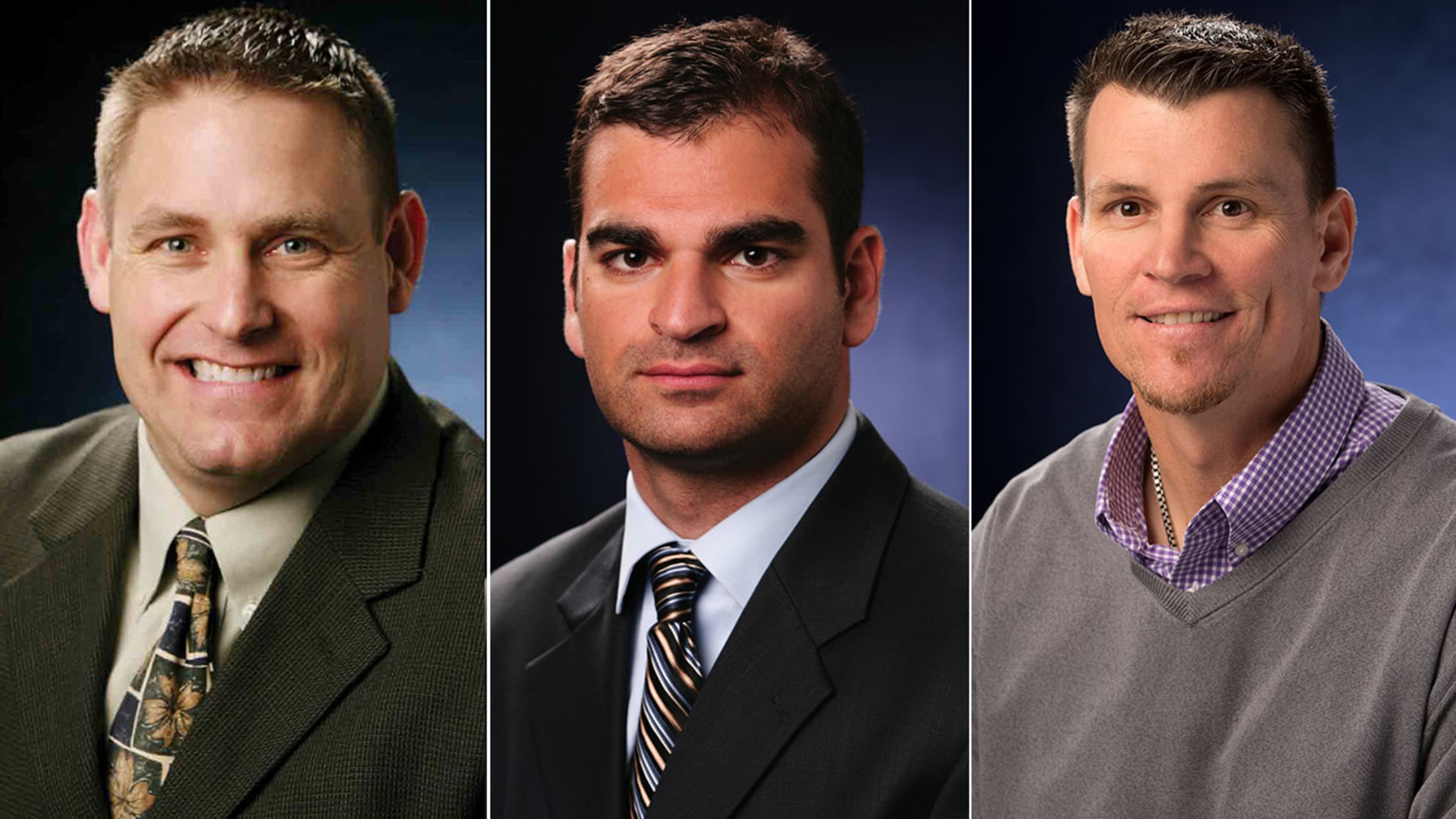 (Left to right) Tod Johnson, Zack Minasian and Ray Montgomery have assumed new roles. (Brewers)
MILWAUKEE -- The Brewers have promoted Tod Johnson, who worked for Microsoft and Hewlett-Packard before his career in baseball, to amateur scouting director in a move that further cements the club's commitment to analytics.Johnson, 43, takes over administration of the Draft from Ray Montgomery, who will have broader responsibilities as
MILWAUKEE -- The Brewers have promoted Tod Johnson, who worked for Microsoft and Hewlett-Packard before his career in baseball, to amateur scouting director in a move that further cements the club's commitment to analytics.
Johnson, 43, takes over administration of the Draft from Ray Montgomery, who will have broader responsibilities as vice president of scouting. Pro scouting director Zack Minasian is moving into an advisory role within the department.
"I think it's a re-evaluation on the whole of our scouting group, and trying our best to put our skill sets in the right spots," said general manager David Stearns, who inherited all three men from the Brewers' previous front-office regime. "A year into this, I've had the opportunity to learn a lot about our staff. I'm frankly very pleased with what I've seen."
That is reflected, Stearns said, by the fact Johnson emerged from a field of seven internal and external candidates for the amateur scouting director vacancy. Johnson is in his ninth season in Milwaukee's front office, the past six as assistant amateur scouting director. His media guide bio says part of Johnson's job was working with the baseball research and development department to set the direction for the usage of data and technology in baseball operations -- in other words, using objective metrics to evaluate amateur players in addition to the traditional scouting methods.
Johnson worked in Silicon Valley for a dozen years before joining the Brewers as an "application developer" in 2007, and he went to scout school in '08, according to a Baseball America story from '12. Johnson left the Brewers in '10 to serve as baseball systems architect for the Padres, then returned the following season as assistant amateur scouting director.
"When you go through a process like this and one of the in-house people proves to be the best fit, I think it's a good moment for the organization as a whole," Stearns said.
Montgomery, in his new role, "will serve as a lead evaluator across the entire spectrum of baseball operations, including professional, international and amateur scouting," according to a Brewers news release.
Stearns communicated Montgomery's new position to Brewers baseball operations officials and scouts last month, saying in an email that Montgomery would help the team blend objective metrics with traditional scouting methods. He will spend more time in Milwaukee around the Major League club, a significant change after traveling for most of the past two years in preparation for the annual MLB Draft.
The 47-year-old Montgomery is the Brewers' most senior staffer with professional playing experience. He was a 13th-round Draft pick of the Astros in 1990, and he played parts of 13 pro seasons as an outfielder -- including stints in the Major Leagues with Houston over three seasons from 1996-98 -- before getting into scouting with the Brewers in 2002.
Montgomery rose through the ranks to Brewers assistant scouting director from 2009-10. The D-backs hired Montgomery as scouting director in 2011, and he held that job until the Brewers hired him back in November 2014.
"It's really a broadening of his evaluation responsibilities, and I think probably a more representative of focus of what was originally intended when he came back from Arizona," Stearns said.
Minasian's new title is "special advisor -- scouting." He was responsible for assignments and scheduling for the Brewers' pro scouts in his previous role, a job that Stearns said he is still mulling how to best handle.
"One of the things that we're discussing internally -- and Ray and Zack are part of those discussions -- is what our pro scouting department is going to look like moving forward, and what skill sets are more important," Stearns said.