Wilhelmsen motivated to earn D-backs bullpen spot
Non-roster invitee has pitched well for his hometown team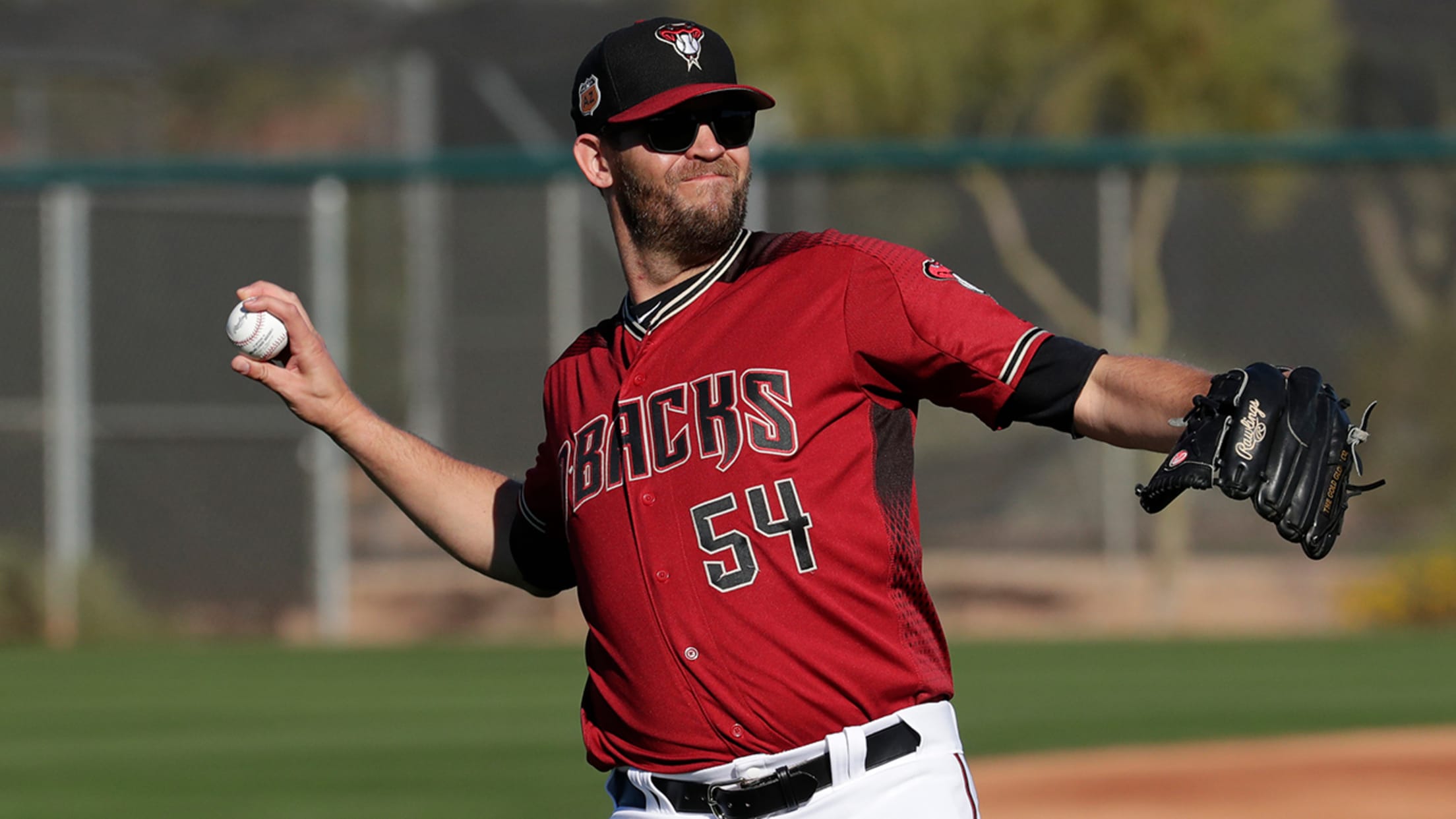 Tom Wilhelmsen posted a 6.80 ERA in 50 combined appearances for the Rangers and Mariners in 2016. (AP)
SCOTTSDALE, Ariz. -- Tom Wilhelmsen set a fire under himself eight years ago, when he decided to end a six-year hiatus and get back into baseball. Another fire was set this offseason, and the big right-hander is responding similarly.Wilhelmsen gave up the game in 2005 to hike national parks, backpack
SCOTTSDALE, Ariz. -- Tom Wilhelmsen set a fire under himself eight years ago, when he decided to end a six-year hiatus and get back into baseball. Another fire was set this offseason, and the big right-hander is responding similarly.
Wilhelmsen gave up the game in 2005 to hike national parks, backpack through Europe and bartend at a college bar, The Hut, in his hometown of Tucson. When he decided he wanted more -- plus a better opportunity to provide for a family he soon hoped to start -- Wilhelmsen found his way back to baseball in 2010 and was in the Major Leagues a year later.
• Spring Training:Info | Tickets | Schedule | Gear
The 6-foot-6, 220-pound Wilhelmsen posted a 2.97 ERA and 67 saves from 2011-15 with the Mariners.
The Disney-esque story ended quickly last season after Wilhelmsen was traded to the Rangers. He was designated for assignment midseason, then released by the Mariners in November after he posted a 6.80 ERA in 46 1/3 innings combined between the two organizations.
Interest this offseason was lukewarm, and Wilhelsem signed a Minor League deal with an invitation to Spring Training with the D-backs on the day pitchers and catchers reported in February.
Wilhelmsen found something in the uncertainty and challenge of vying for a spot in the bullpen among many candidates.
"A change in attitude, change in mindset that helped me find that fire again," Wilhelmsen said. "I think that's helped quite a bit, knowing that it's not given to you.
"It's a good thing. I look forward to the challenge and have always been a friend of competition. I believe in myself; I believe in my ability. So it didn't matter if they said on paper there was room or no room. I believe I can make the team."
So far, so good. After working around a walk and a single in a scoreless seventh inning Sunday in the D-backs' 4-4 tie with the Indians, he has allowed just one run in 6 1/3 Cactus League innings.
"I've sat in the [visiting] first-base dugout in Seattle and seen him lights-out," D-backs manager Torey Lovullo said. "So what he's doing right now, it's not a shock to me. I'm not sure what happened to him the last couple of years. But he's always had that type of stuff, and it seems like he's feeling good and really putting it together again."
Perhaps some of it can be explained this way: Wilhelmsen is with the right team.
He grew up a D-backs fan, and the valley resident even had a purple 2001 World Series championship flag on his '71 Ford pickup while at Tucson High. The pool games he played all offseason with his four-year-old daughter and two-year-old son didn't have to end when Spring Training began.
"I was really good at being a sea monster," he said.
"There were other similar offers on the table but it was easy to say 'Arizona.' We were winding down [in the offseason], and I said we need to give them a call and figure something out. I just trusted that something was going to happen, and it turned out it was with the team I wanted to be a part of.
"I'm having a lot of fun. I'm relaxed, but definitely here to compete."
Chris Gabel is a contributor to MLB.com.