Hutton feels 'like a rookie' in return to TV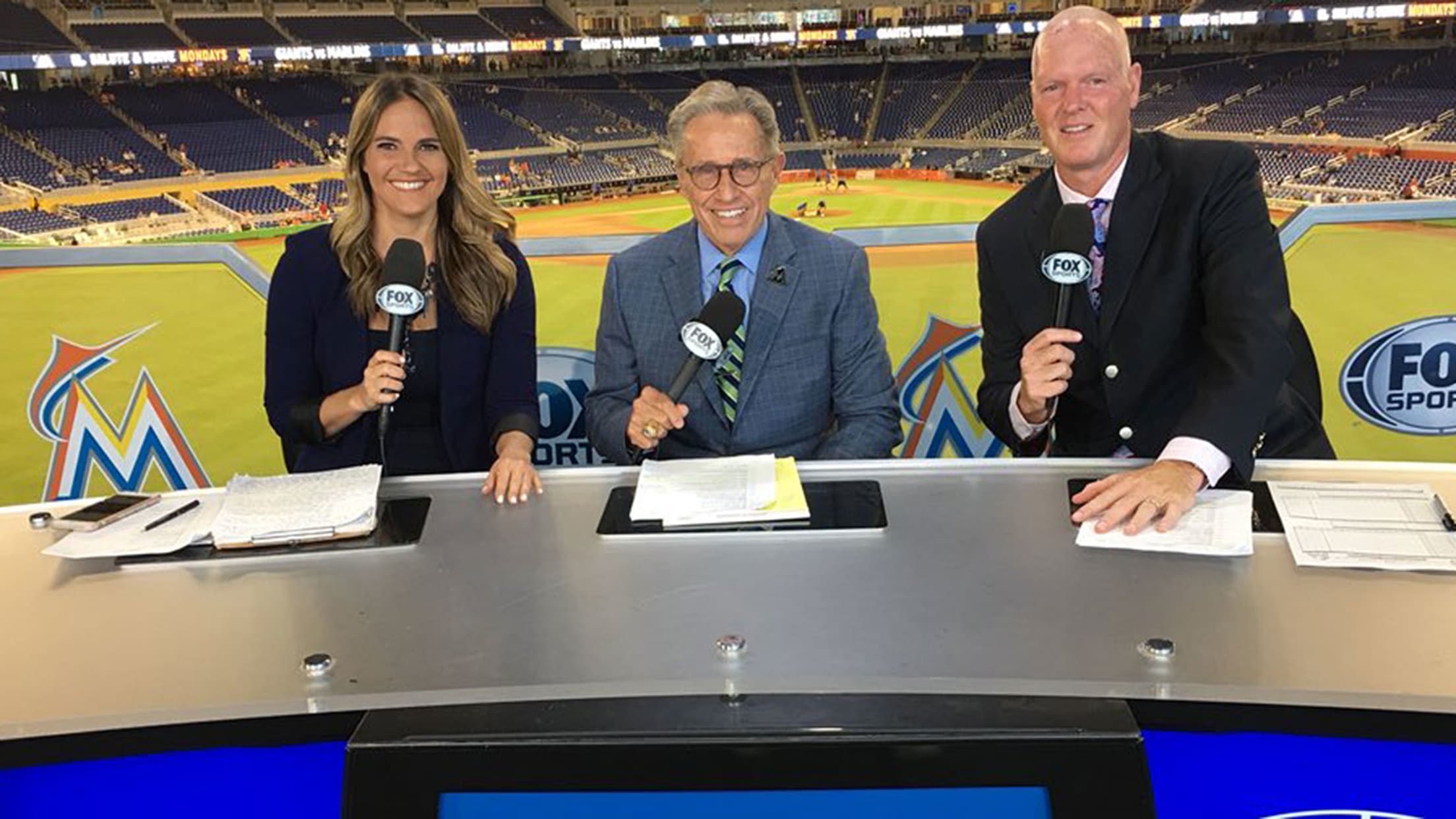 MIAMI -- A familiar voice is back on the air, offering his insights and opinions on Marlins telecasts.Tommy Hutton, the passionate and popular longtime game analyst from 1997-2015, made his return to Fox Sports Florida on Monday night as a pre- and postgame analyst of Marlins baseball.Hutton is with the
MIAMI -- A familiar voice is back on the air, offering his insights and opinions on Marlins telecasts.
Tommy Hutton, the passionate and popular longtime game analyst from 1997-2015, made his return to Fox Sports Florida on Monday night as a pre- and postgame analyst of Marlins baseball.
Hutton is with the network on a limited basis.
Hutton will be part of the telecast for all four of the Marlins' games against the Giants at Marlins Park. Total, Hutton said he will be part of 45 games, mostly after the All-Star break.
"I feel like a rookie," Hutton said. "It's like my rookie debut. Actually, the interesting part is, I'm a fill-in. I'm coming off the bench. I'm an extra man. That's what I was my whole career. It works out perfectly."
Hutton, 72, enjoyed a 12-year big league career as a reserve that started with the Dodgers in 1966. He was off and on in the Majors until 1981, also playing for the Phillies, Blue Jays and Expos.
In his return to Fox Sports Florida, Hutton is an addition to the broadcast team, and this will be his first time as a pre- and postgame analyst. For more than four decades, he has been in the broadcast booth.
"I said, 'You want to hire a guy who has no experience?'" Hutton joked of his new role. "I've never done studio, pre and post stuff. But I think I'll handle it."
The opportunity to return was presented about three weeks ago, when the Marlins approached Hutton about taking part in their 25th Anniversary Weekend, which was from Friday to Sunday against the Padres. On Saturday, Hutton was the emcee of the pregame ceremony, announcing former players and coaches.
For the past 2 1/2 years, Hutton spent time with his family.
"There were times I didn't watch much baseball," he said. "But you miss it. It's in my blood. It gets the juices going a little bit, doing some work, looking at some teams. It's fun."
Known for his passion, Hutton has long been a fan favorite. But after the 2015 season, he was informed he would not be retained.
In another switch for the series with the Giants, Craig Minervini will handle play-by-play for the four games, with Paul Severino getting the series off. As part of the agreement, Minervini is handling play-by-play for 10 games. Severino will be back Friday, when the Marlins open their weekend series at Baltimore.
With a young team like the Marlins, Hutton said he will be paying attention to which players are making strides in their development.
"Progress," Hutton said. "I think the whole plan is to build on this, build on that. And see how the progress goes, week by week, month by month and by the year's end."
Worth noting
• Third baseman Martin Prado (left hamstring strain) fielded ground balls Monday and took some swings in the cages. Prado also has begun light running. The 34-year-old remains several weeks away from returning.