Pham: Rays will be 'a force' in 2019
Duffy takes ground balls, could see game action soon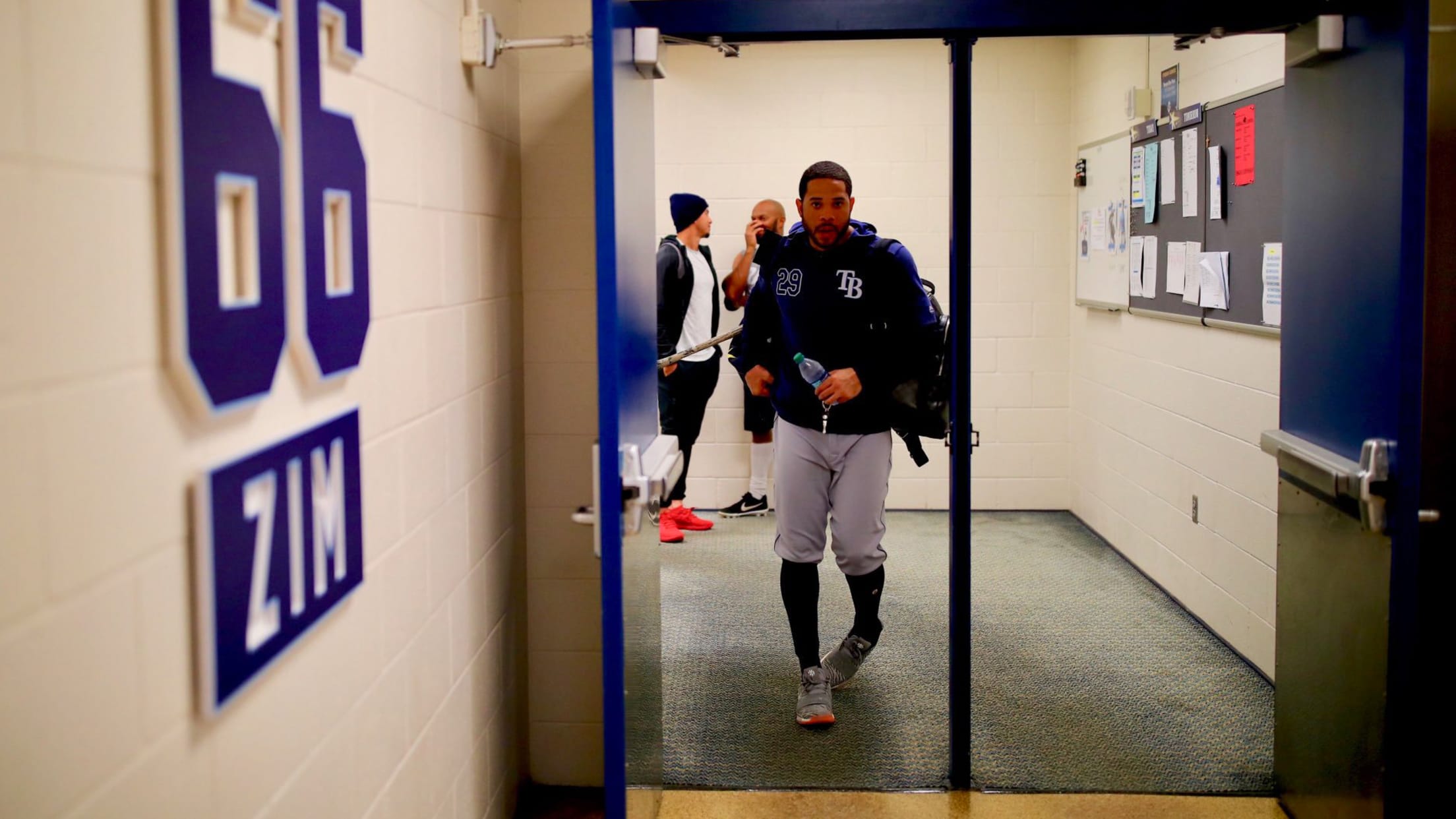 FORT MYERS, Fla. -- After winning 90 games in 2018, Tommy Pham knows the Rays won't sneak up on anybody this season. "We're not going to walk up on someone anymore," Pham said Sunday. "Teams know us. They know that we're young, and they know that we're good. We're going
FORT MYERS, Fla. -- After winning 90 games in 2018, Tommy Pham knows the Rays won't sneak up on anybody this season.
"We're not going to walk up on someone anymore," Pham said Sunday. "Teams know us. They know that we're young, and they know that we're good. We're going to have to bring it, because they're coming for us now."
Pham, who was acquired from St. Louis last season, is known for playing the game with maximum effort. In his short time with the team last season, he came away impressed with how hard the rest of the team played every game.
"We were a team that executed on the bases, and we grinded out at-bats," Pham said. "I believe those are the things that make us great, and if we continue to do this, we will continue to be a force in the league.
"A lot of teams don't play the game hard, especially like us. Last year, I said it over and over again that we were the hardest-playing team in the game."
Even though Pham is getting ready for just his third full big league season, the 31-year-old will be one of the veterans in the Rays' clubhouse. Over the final two months of the 2018 season, the Rays had a 27-12 record with Pham in the starting lineup, and they went 5-6 when the outfielder had to miss time due to a right foot fracture.
With the Rays starting the season with series against the Astros and Rockies, Pham wants his teammates to understand the importance of getting off to a strong start. Tampa Bay opened the 2018 season by going 3-12 in its first 15 games.
"I would say the first 10 games are crucial, because you can ride that wave for a little bit," Pham said. "As a member of this team and a guy with a little bit more service time, I want to make sure everyone understands that importance.
"We open up with a pretty tough schedule. We have two playoff teams back-to-back, and there's no surprise in this league. I think that's what everyone in the locker room has to understand."
Pham says the team is "trending in the right direction" this spring. As for his status, Pham is expected to be back in the outfield Monday after being limited to being just the designated-hitter role due to a sore right shoulder. In Sunday's 3-2 loss to the Red Sox, he went 0-for-3. Aside from getting back out in the outfield, Pham said he also wants to work on his plate discipline over the next week, while also getting better jumps on the basepaths.
"Those are my boxes," Pham said. "I have a week to work and go from there."
Duffy update
Matt Duffy took ground balls Sunday, and manager Kevin Cash said everything went well with the third baseman. If all goes well over the next couple of games, Duffy could get into some game action after Wednesday's off-day.
"Everything has been pretty good," Cash said. "I cannot imagine anything before Thursday."
Duffy is scheduled to run at 90 percent on Monday. He has appeared in just one Grapefruit League game this spring, but the team remains optimistic that he will be on the Opening Day roster.
Up next
Charlie Morton makes his penultimate start of the spring as the Rays host the Pirates at Charlotte Sports Park at 1:05 p.m. ET. Wilmer Font and Adam Kolarek, who are both competing for a roster spot, are also scheduled to pitch.
Juan Toribio covers the Rays for MLB.com. Follow him on Twitter @juanctoribio.