Patience pays off as Cubs activate Barnette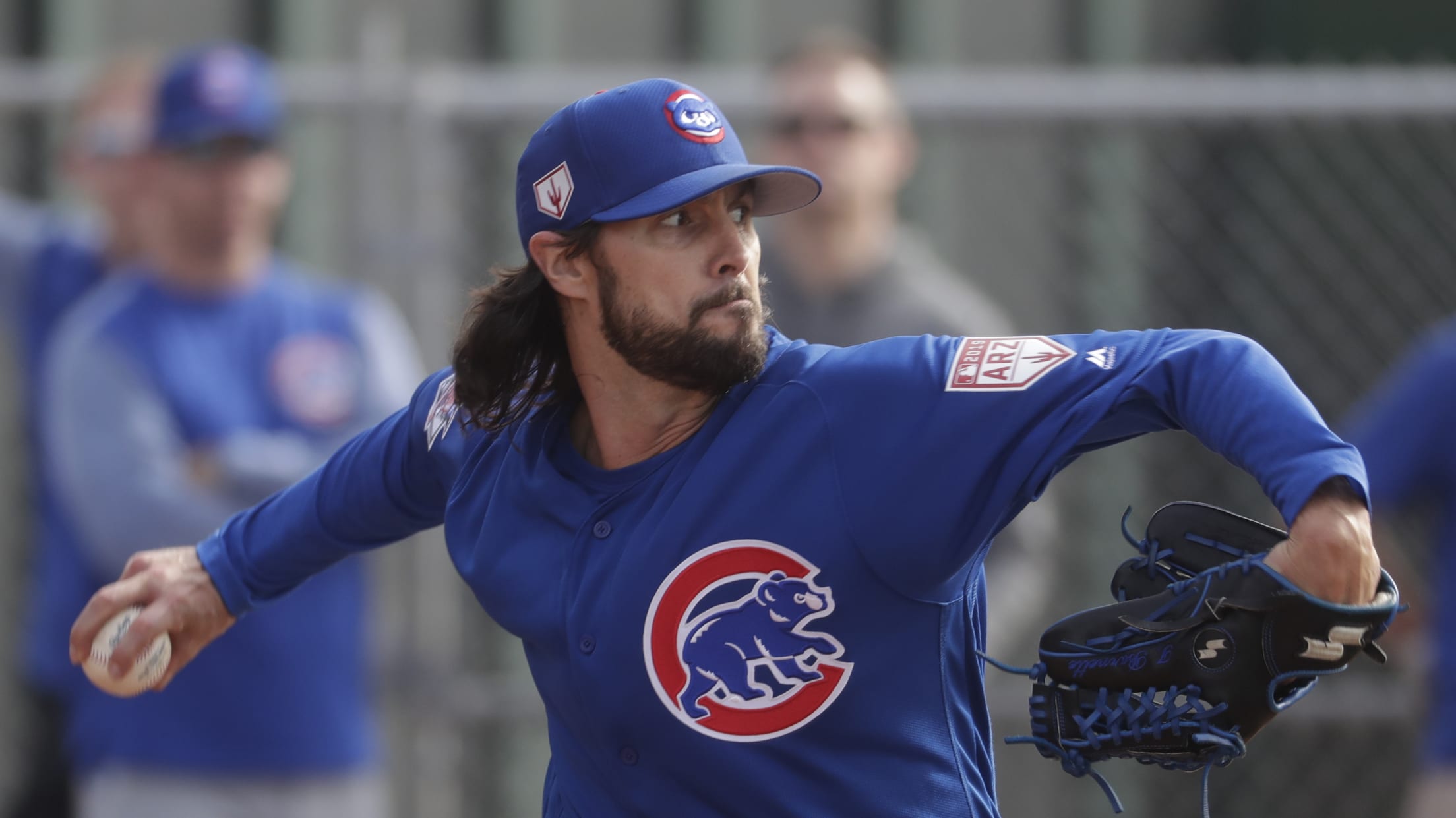 CHICAGO -- It has been nearly five months since Tony Barnette signed as a free agent with the Cubs. The reliever had hoped to walk into the home clubhouse at Wrigley Field long before Sunday morning, but all the reasons for coming to Chicago held true as he prepared for
CHICAGO -- It has been nearly five months since Tony Barnette signed as a free agent with the Cubs. The reliever had hoped to walk into the home clubhouse at Wrigley Field long before Sunday morning, but all the reasons for coming to Chicago held true as he prepared for his first stint with the ballclub.
"When Chicago calls, that's one of those calls you've got to pick up," Barnette said. "I was excited."
Barnette said he was also encouraged, because the Cubs were looking at this as potentially more than a one-year deal -- a team option for 2020 was included in the pact -- even though his 2018 season was shortened due to injuries. Then, Chicago showed patience as injuries again marred the start of this campaign, explaining why it took until Sunday for him to have a locker.
Prior to Sunday's game against the Mets, Barnette was activated from the 60-day injured list following a bout with right shoulder issues -- the same shoulder that ended his season in July last year. During his recent rehab stop with Triple-A Iowa, though, Barnette performed like the pitcher the Cubs felt they signed. Over 8 1/3 shutout innings, he struck out nine, walked one and held batters to a 1-for-26 showing.
"He can be really good against righties," Cubs manager Joe Maddon said. "It's not like he can't get out a lefty, but he's been really good against right-handers. He's a strike thrower. He attacks the zone. He's kind of a fearless guy."
The Cubs optioned righty Rowan Wick to Triple-A to clear a spot on the active roster. Chicago's 40-man roster is now at capacity.
Over the past three seasons with the Rangers, the 35-year-old Barnette posted a 3.50 ERA with 132 strikeouts against 43 walks in 144 innings (125 games). Last year, the right-hander spun a 2.39 ERA with 26 strikeouts and five walks over 26 1/3 innings for Texas. He held righties to a .209 average (.631 OPS) in '18 and has limited them to a .236 average (.652 OPS) over his MLB career.
Barnette initially started a rehab assignment with Iowa from April 21-May 1, but a sporadic throwing schedule -- due in part to poor weather while with Iowa -- led to him hitting the reset button. The reliever headed back to Arizona to continue a throwing program and ensure that his shoulder was healthy and ready for a regular workload. Barnette then went on a second rehab stint on June 1 and has not looked back.
"I went back to Arizona, took a step back, made sure everything was right," Barnette said. "Patience is a virtue, you know? And it's hard to be patient in this game, especially when you're expected to be logging innings at the Major League level. Patience was something that I really had to work on and stay with. I stayed patient, trusted the process, worked with the training staff and just made sure I was right. And I am."
Worth noting
• Maddon confirmed on Sunday that Cubs closer Craig Kimbrel will have at least one more Minor League appearance before coming to Chicago. The current plan calls for Kimbrel to be off on Sunday and Monday with another outing slated for Tuesday with Triple-A Iowa. The Cubs will assess Kimbrel's schedule again after that step.
"And then, again, we'll just talk afterwards," Maddon said.
• Right-hander Kendall Graveman, who is on the 60-day injured list and has been in Arizona while working his way back from Tommy John surgery on his throwing elbow, has been with the team in Chicago over the past few days. Graveman threw long toss in the outfield on Sunday and noted that he has already completed a handful of bullpen sessions. July 30 will be the one-year mark since his surgery.
"He gets out of the isolation unit," Maddon said. "He's very happy. He's a good guy. He's a very good young man. In spite of not being able to play, he's really ingratiated [himself] among the group. He's an entertaining conversation. So, it's good for him to get out of there. It makes him feel a part of what's going on."
• The losses to the Mets on Friday and Saturday included some poor defense, baserunning mistakes and lapses with situational hitting. Maddon called the latest defeat "terrible" on Saturday and again addressed the team's uncharacteristic play of late on Sunday morning.
"That's just not who we are," Maddon said. "We do normally play clean games of baseball. We normally do run the bases well without mistakes out there. Defensively, on any given day, I like the team on the field to prevent runs. We're better than that. But, of course, you have to show it. I do think it's an anomaly moment."