Gwynn family addresses media following suit
Wife, children allege that tobacco company contributed to Padres Hall of Famer's death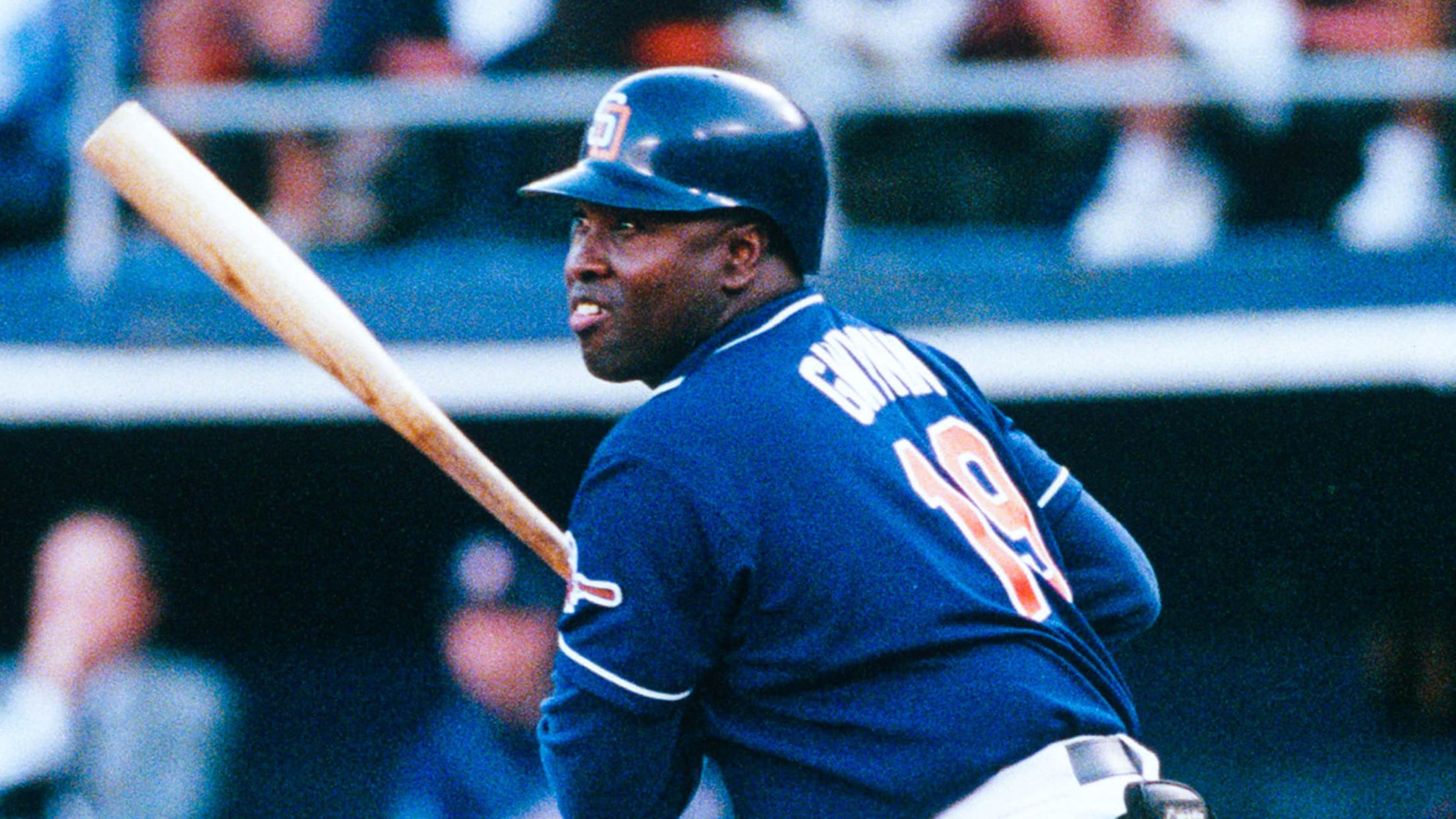 Tony Gwynn began using smokeless tobacco as a college player at San Diego State. (Ron Vesely/Getty) (Ron Vesely/Getty)
SAN DIEGO -- Tony Gwynn's family spoke with the media on Tuesday, one day after filing a lawsuit against a tobacco company.Gwynn, the Hall of Famer and Padres legend who died at the age of 54, was a heavy user of smokeless tobacco. His family alleges that the Altria Group
SAN DIEGO -- Tony Gwynn's family spoke with the media on Tuesday, one day after filing a lawsuit against a tobacco company.
Gwynn, the Hall of Famer and Padres legend who died at the age of 54, was a heavy user of smokeless tobacco. His family alleges that the Altria Group Inc., the former Philip Morris Co. and others among the world's biggest tobacco companies, were aware of the harmful repercussions of using its product.
By not alerting Gwynn to that danger when he started chewing, according to the suit, the tobacco industry contributed to Gwynn's death. The lawsuit was filed in San Diego Superior Court on behalf of Alicia Gwynn, his wife of 33 years, and their two children, Anisha Gwynn-Jones and Tony Gwynn Jr., a former Major Leaguer.
"Second to only my family, my dad loved the sport of baseball," said Gwynn Jr., who also played for the Padres. "He loved competing, he loved the Padres, he loved the fans and he loved his teammates.
"Our dad was an elite athlete who didn't drink or smoke because he cared about his health and performance. If he had known how addictive and harmful to his health dip was, he would not have started using it in college, become addicted, and died so young."
Gwynn succumbed to salivary gland cancer on the right side of his face in June 2014, ending a four-year battle against the disease. He used smokeless tobacco since playing at San Diego State as a teenager, and he continued to do so until his passing.
The lawsuit contends that Gwynn wasn't alerted to the dangers of smokeless tobacco. According to David S. Casey, the Gwynn family attorney, warning labels were not placed on the smokeless tobacco products until 1986.
Altria didn't return a message left by MLB.com seeking comment.
Gwynn starting chewing in 1977 as a 17-year-old freshman at San Diego State.
Gwynn's habit, which Casey said the outfielder couldn't quit, would accelerate to Gwynn using between 1 1/2 and 2 tins of smokeless tobacco daily. Gwynn would insert tobacco under his right cheek the first thing in the morning; he often fell asleep with dip in his mouth.
Gwynn, who played 20 seasons for the Padres (1982-2001), was a San Diego icon because of his engaging personality, loyalty to the city, community endeavors and the way he swung a bat.
Affectionately known as "Mr. Padre," Gwynn was a 15-time All-Star and tied the National League record with eight batting titles. He retired with a .338 career batting average and 3,141 hits.
Gwynn later returned to his alma mater as its baseball coach.
It was as a player at San Diego State, his family states, that Gwynn was targeted as a potential marketing tool. Gwynn was supplied with free smokeless tobacco and became, in his daughter's words, a "walking billboard" for the company's products.
Gwynn-Jones added: "He wouldn't want to see another player, or person, have to get sick and die because of what tobacco companies did to him."
Jay Paris is a contributor for MLB.com based in San Diego.