Wolters working his way into routine
Keeping things consistent key for Rockies catcher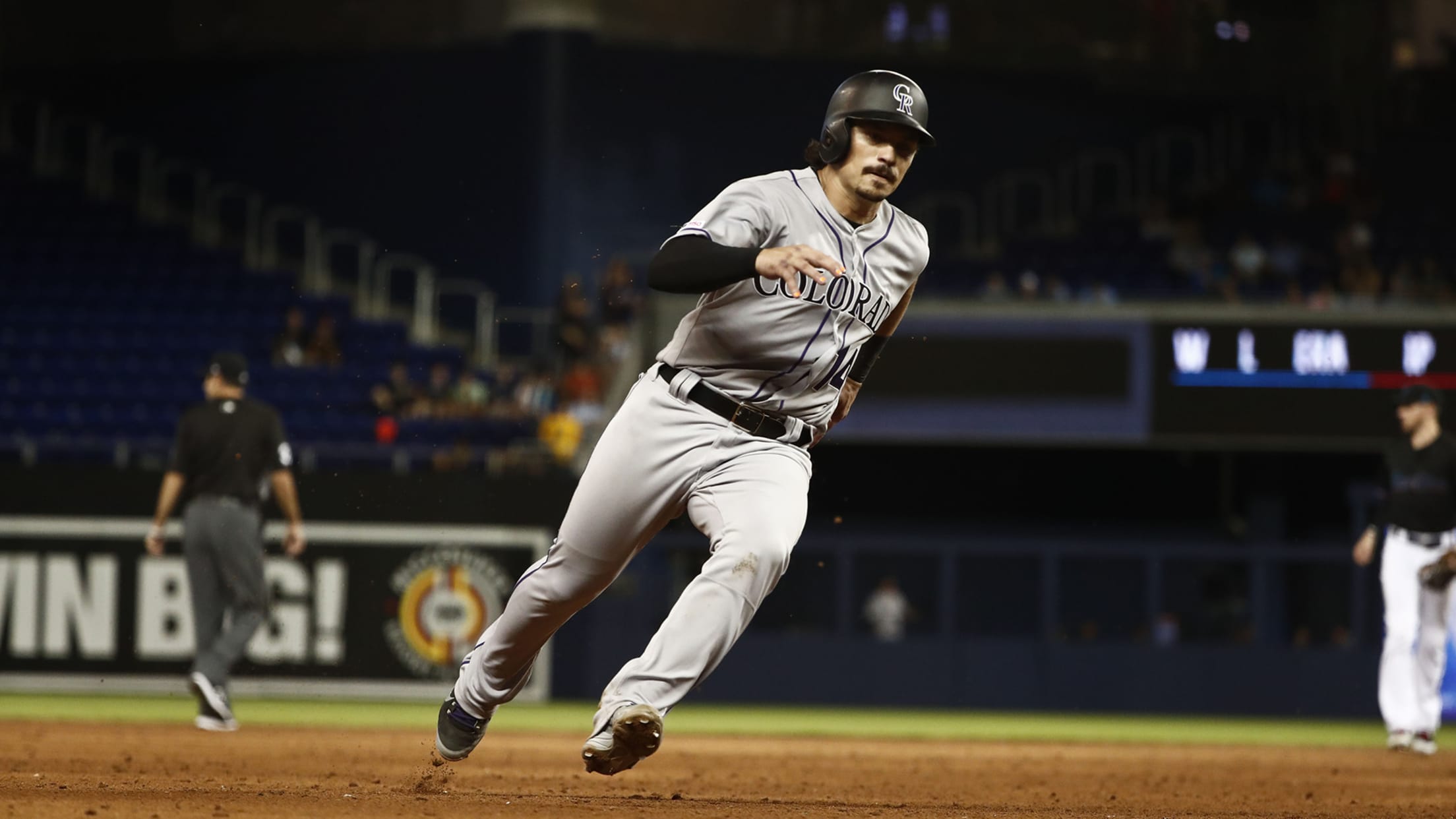 MIAMI -- The Rockies and catcher Tony Wolters agree that his keys to hitting have to stay on a consistent loop inside his head. The problem has been Wolters has a tendency to want to remix them, or switch to a different tune altogether. Last year, Wolters changed paths so
MIAMI -- The Rockies and catcher Tony Wolters agree that his keys to hitting have to stay on a consistent loop inside his head.
The problem has been Wolters has a tendency to want to remix them, or switch to a different tune altogether. Last year, Wolters changed paths so much that his offense went nowhere, as evidenced by a .170 batting average in irregular playing time.
But if Wolters can parlay his strengths -- solid pitch-calling and uncanny athletic ability that results in some game-turning plays -- into regular duty, he has to pick an offensive approach and trust it.
"In general, Tony will tinker quite a bit with a lot of the things that he does," Rockies manager Bud Black said. "We're trying to keep him away from that, keep him more isolated on certain key things that we think are fundamentally sound as far as his swing and his approach, and to stay consistent with that each and every day, and not worry about results if things don't go his way.
"You have to hang in there a lot of times and fight through things that don't feel right. Eventually they'll feel right because they're the right things to do. That's the thing with Tony that got away from him last year."
The Rockies hope Wolters, 26, can hit well enough to lessen the load on Chris Iannetta, who turns 36 in April. Rockies catchers hit .207 last year, 13th in the National League, and their weighted runs created-plus was also 13th, at 67. Those figures are low in the grand scheme, but the NL median was .241 with a WRC+ of 87, the Cubs in both cases.
Approaching the median could be a case of maximizing Iannetta by reducing his playing time and building Wolters to something around the .240 he hit in 83 games in 2017.
Wolters went 2-for-4 with an RBI double Friday in his first 2019 start -- a 6-1 victory over the Marlins in which he also ushered righty German Marquez through six two-hit innings. Last year, Marquez posted a 3.02 ERA in 23 starts while throwing to Wolters, while Iannetta had success in 32 games with Kyle Freeland. It behooves them to hold down those jobs. The Rockies also have veteran Drew Butera, who joined the team last August, waiting in the wings at Triple-A Albuquerque.
For Wolters, who loves process and strategy as evidenced by his pitch-calling, keeping a limited checklist might suit him fine. Wolters spent the offseason and Spring Training working with new hitting coach Dave Magadan, assistant hitting coach Jeff Salazar and Triple-A Albuquerque hitting coach Tim Doherty.
After dealing with stomach and upper-respiratory illnesses during the preseason, Wolters worked on keeping his sights and swing straight to the middle, after feeling he was directing everything toward shortstop.
"I've got to stick with it," Wolters said. "My personality is, 'I need better.' But I have a routine now. It's been around 100 days that my routine has been the same every day. And my goal sheet, I write it down every day.
"I'm going to have those [bad] times. Every hitter does. But I feel my routine is pretty ingrained. I only have three things I think about. I write those down every day. There was one time I had to change one of the sayings, the phrase, to make it stick in my head a little bit more. But other than that, it's the same three."
Wolters didn't want to give away exactly what those methods are, but they have to do with working from his feet up.
Dahl growing
Black said left fielder David Dahl, who had three hits in the 6-3 Opening Day victory over the Marlins and an RBI double in Friday's win, not only looks more mature than last year when he came up for his first extended duty for a contending club, he also sounds it.
"The more mature conversations, the adult conversations, are the things that stand out to me," Black said. "How he's talking to coaches, how he's talking to his teammates, how he's talking to the media, I think it's much more mature. That just comes from getting older.
"He's always been a confident player, which I love about David. He has great confidence in his ability."
Injury updates
Black said right-hander Antonio Senzatela (infected right heel blister) threw a simulated game "the other day and did fine," and lefty reliever Chris Rusin has a side session scheduled for Saturday.