We start Padres' top 100 list with SS Gomez, C Cannizzaro
Counting down the top 100 Padres contributors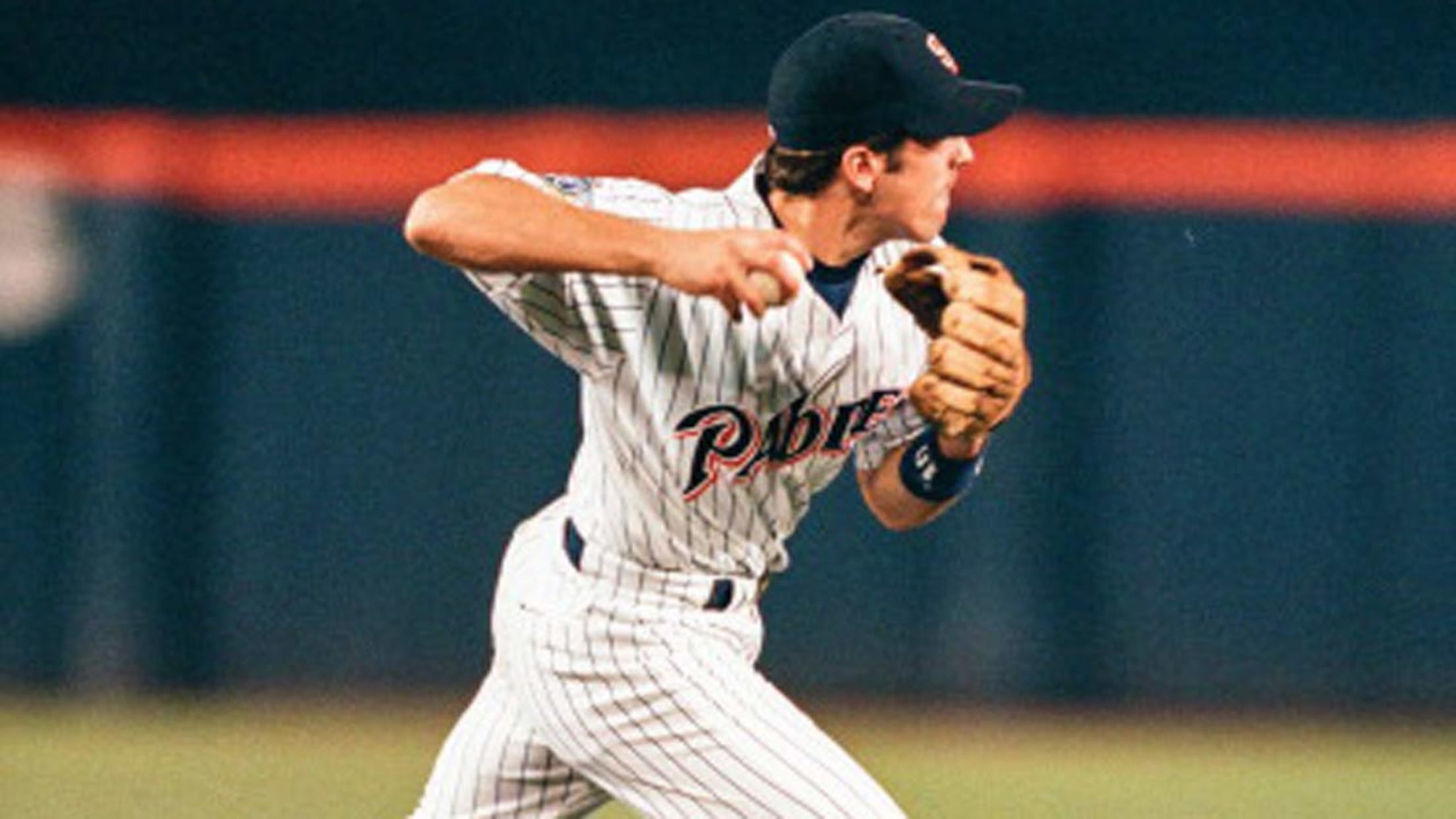 Chris Gomez was part of the 1998 National League Championship run. (San Diego Padres)
Bill Center, longtime sportswriter for U-T San Diego, is an employee of the Padres.We're starting a new list, looking at 100 players, officials and media members who have done the most for the Padres over the ballclub's first 48 seasons in the National League.This is not a composite list. It
Bill Center, longtime sportswriter for U-T San Diego, is an employee of the Padres.
We're starting a new list, looking at 100 players, officials and media members who have done the most for the Padres over the ballclub's first 48 seasons in the National League.
This is not a composite list. It is mine, and I invite you to disagree.
We'll work in reverse order, discussing two entries per day, Monday through Friday, for the first month of the year, then one per day until we reach No. 1.
Let's begin with Nos. 100 and 99:
100. Shortstop Chris Gomez
The nickname teammates gave Gomez speaks volumes. "Steady Eddie" played for the Padres from 1996 through 2001.
He was not the greatest shortstop the Padres ever had, nor the most productive. But Gomez, who did not enjoy the spotlight, had a knack for being in the right place at the right time and making the right play -- offensively and defensively -- with little fanfare.
During the Padres' National League West title run in 1996 and National League pennant drive in '98, the sure-handed Gomez made clutch plays in the field as well as delivering a number of clutch hits, particularly during the '98 season. Gomez batted .253 in San Diego with a .331 on-base percentage. He had 13 homers, 147 RBIs and 179 runs in 533 games with the Padres, but every one of those seemed to come in a clutch situation.
99. Catcher Chris Cannizzaro
Cannizzaro was far more than the Padres' first All-Star. Working with pitching coach Roger Craig, Cannizzaro helped develop a group of young pitchers into a staff that improved greatly during the Padres' first three seasons.
Cannizzaro, who died Thursday at the age of 78, joined the Padres for their inaugural season -- coming from Pittsburgh on March 28, 1969 with pitcher Tommie Sisk, in exchange for first baseman Ron Davis and second baseman Bobby Klaus.
We are deeply saddened to learn of the passing of the first #Padres All-Star, catcher Chris Cannizzaro. Our thoughts are with his family. pic.twitter.com/3Ovf5tJ87m

— San Diego Padres (@Padres) December 30, 2016
Cannizzaro immediately became the Padres' starting catcher and hit .220 with four homers and 33 RBIs in a career-high 134 games as a 31-year-old. But it was his work with a young cadre of pitchers -- 21-year-olds Clay Kirby, Al Santorini and Gary Ross, along with Joe Niekro, Steve Arlin and Mike Corkins -- that made Cannizzaro a valued piece of the club.
Cannizzaro was with the Padres from 1969-71 and returned in '74. He had a .238 career batting average while with San Diego, with eight homers and 107 RBIs in 292 games. He was selected over Nate Colbert and Ollie Brown as the Padres' first All-Star, although Cannizzaro did not appear in the 1969 Midsummer Classic.