Here's each team's top AFL prospect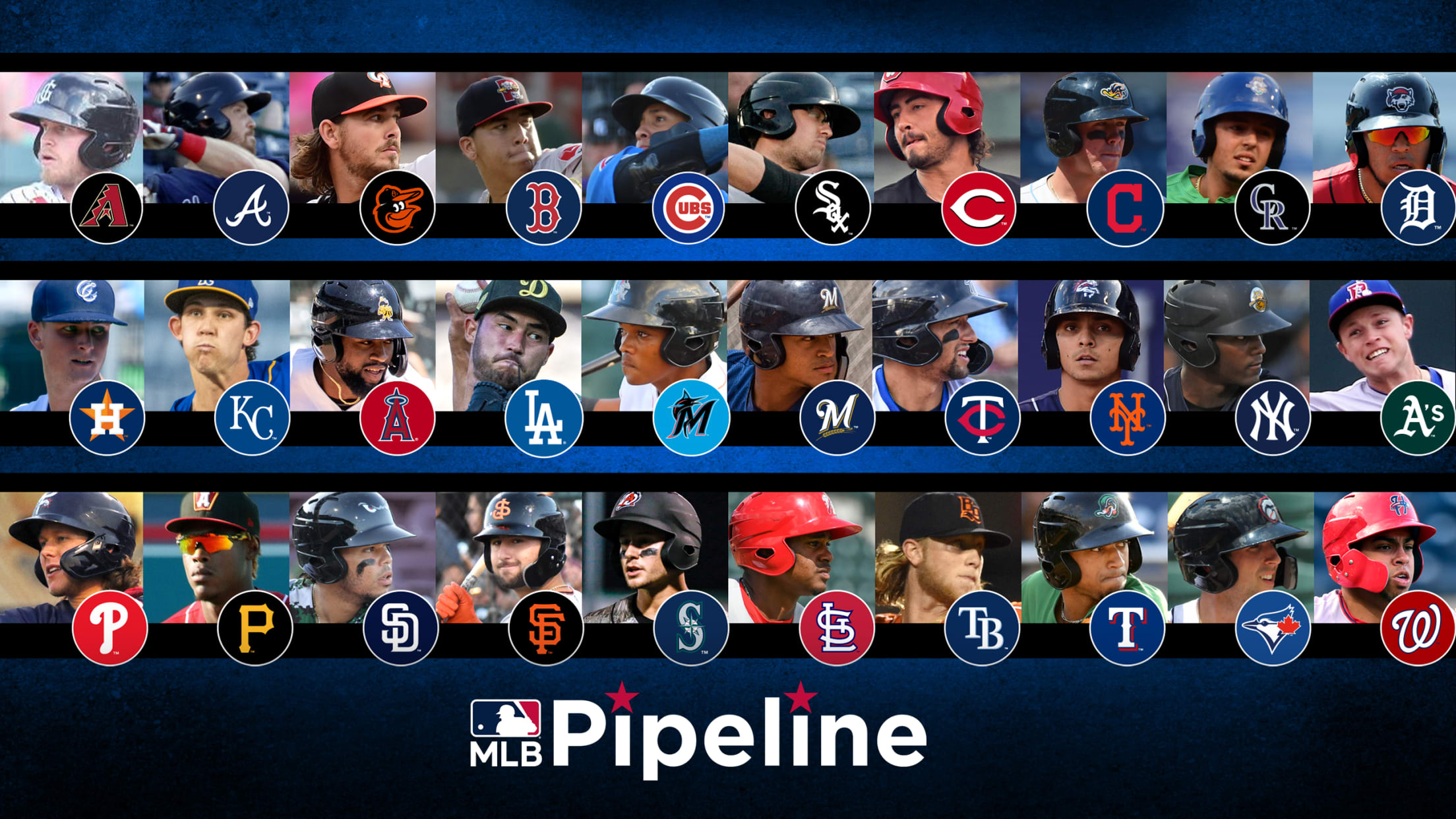 Next week marks the beginning of the 2019 Arizona Fall League, with Opening Day scheduled for Wednesday, Sept. 18. With seven players from every organization comprising six different teams, the AFL is considered a stepping stone en route to the Major Leagues because it offers players a unique chance to
Next week marks the beginning of the 2019 Arizona Fall League, with Opening Day scheduled for Wednesday, Sept. 18.
With seven players from every organization comprising six different teams, the AFL is considered a stepping stone en route to the Major Leagues because it offers players a unique chance to refine their skills against other fast-rising talents.
For fans, the Fall League provides a one-of-a-kind opportunity to view some of Major League Baseball's future stars. This year's crop of talent is particularly deep, with 18 prospects on MLB Pipeline's Top 100 Prospects list and even more Top 30 prospects from all 30 teams ticketed for a campaign in the desert.
Here's a look at every team's top-ranked prospect headed to the AFL:
AMERICAN LEAGUE WEST
Kevin Smith, SS/3B (Blue Jays No. 13)
After a breakout first full season in which he batted .302 with 25 homers, 31 doubles and 29 steals across two levels, Smith, a former fifth-round pick (2017), struggled with the move up to Double-A this year, batting just .209 with 151 strikeouts in 116 games. The good news is that he still hit for power, totaling 19 homers and 22 doubles, while continuing to earn high marks for his defense at shortstop.
Dean Kremer, RHP (Orioles No. 8)
Acquired from the Dodgers in the Manny Machado trade, Kremer led the Minors in strikeouts (178) in 2018 but opened this season on the shelf with an oblique issue. The 23-year-old righty spent much of the year at Double-A Bowie, posting a 2.98 ERA with 87 whiffs in 84 2/3 frames, and made four Triple-A starts to finish the season. In terms of stuff, Kremer's best pitch is his plus curveball, but he also shows feel for commanding four offerings.
Shane Baz, RHP (Rays No. 6/MLB No. 92)
The PTBNL in the Chris Archer trade that also netted Tampa Bay Austin Meadows and Tyler Glasnow, Baz has electric stuff and a projectable frame that underscore his high ceiling on the mound. The 20-year-old righty sits in the mid- to upper-90s with his heater and flashes plus with a power slider. His changeup is inconsistent and needs refinement, as does his overall control, but all the ingredients are there for Baz to become a force.
#Rays No. 6 prospect Shane Baz had batters off balance all day, spinning a quality start and matching his career high with nine strikeouts.

His ERA for @BGHotRods sits at 2.99 after 17 starts.

Check him out on our list of #MLB's Top 100 prospects: https://t.co/aG46Y0calQ pic.twitter.com/I8tsj3eOjm

— MLB Pipeline (@MLBPipeline) September 1, 2019
Bryan Mata, RHP (Red Sox No. 3)
The youngest pitcher (age 19) in the SiriusXM All-Star Futures Game in 2018, Mata got rocked for much of that season but bounced back to log a 3.43 ERA and strike out 111 in 105 innings this year while reaching Double-A. Signed for $25,000 out of the Dominican Republic in 2016, he now sits at 93-98 mph with hard sink on his fastball and has improved his slider and control.
Josh Stowers, OF, Yankees (unranked)
A Mariners second-round pick from Louisville in 2018, Stowers joined the Yankees in a trade for Shed Long in January, an offshoot of the Sonny Gray deal with the Reds. He lacks a true plus tool but shows the ability to hit for average, draw walks and use his solid speed to steal some bases and perhaps play center field. He batted .273/.386/.400 with seven homers and 35 steals in 105 low Class A games this year.
AMERICAN LEAGUE CENTRAL
Nolan Jones, 3B (Indians No. 1/MLB No. 37)
Signed for an above-slot $2.25 million as a second-rounder from a Pennsylvania high school in 2016, Jones has blossomed into one of the best third-best prospects in the game. A patient hitter with projectable power, he batted .272/.409/.442 with 15 homers in 126 games between high Class A and Double-A at age 21 this season.
Nolan Jones' 15th home run of the season could definitely be classified as a no-doubter.

The #Indians prospect took no shortcuts with this blast to help extend the lead for @AkronRubberDuck.

Check him out on the @Indians Top 30 prospects list: https://t.co/6P99v0ExHn pic.twitter.com/QOXeQEjD29

— MLB Pipeline (@MLBPipeline) September 2, 2019
Daniel Lynch, LHP (Royals No. 3/MLB No. 72)
After a terrific summer debut in 2018, Lynch looked every bit like an advanced college lefty who would move quickly through the system in the first half of 2019. Some minor arm issues kept him off the mound for over a month, so he's making up for some lost innings in the AFL.
Isaac Paredes, INF (Tigers No. 5)
After finishing 2018 in Double-A, the 20-year-old infielder had a so-so first half in his return to the level this year before erupting to slash .302/.383/.465 with nine homers and nearly as many walks (28) as strikeouts (30) over 65 second-half games. That penchant for making consistent hard contact is Paredes' calling card to the Majors, and the hope is that he'll tap into more power as he gains experience.
Royce Lewis, SS (Twins No. 1/MLB No. 7)
The 2017 No. 1 overall pick had a strange season in 2019. On the plus side, he made it to Double-A at age 20 and reached double-digits in homers and steals for the second straight season. On the down side, his approach suffered, as he struck out 21.7 percent of the time while walking at just a 6.7 percent rate, a regression from his 2018 numbers (15.7 and 8.0 percent).
Blake Rutherford, OF (White Sox No. 9)
Rutherford drew some Andre Ethier and David Justice comps after the Yankees made him the 18th overall pick out of a California high school in the 2016 Draft, but he hasn't hit for the power scouts expected from him. Acquired in a July 2017 trade that sent Todd Frazier, David Robertson and Tommy Kahnle to New York, he batted .265/.319/.365 with seven homers in 118 Double-A games this year.
AMERICAN LEAGUE WEST
Jo Adell, OF (Angels No. 1/MLB No. 4)
The top-ranked prospect in the AFL this season, Adell came roaring back from hamstring and ankle injuries suffered in Spring Training to reach Triple-A at age 20 and appear in his second straight Futures Game. He played in just 76 games, posting a .289/.359/.475 line with 10 homers and seven steals, so he should have plenty in the tank for Fall League action.
Forrest Whitley, RHP (Astros No. 2/MLB No. 16)
The 17th overall pick in the 2016 Draft, the Texas high school product ranked as the best pitching prospect in baseball entering 2019 but saw his status slip while his stuff and command fluctuated en route to a 7.99 ERA with 86 strikeouts in 59 2/3 innings between four stops. Whitley starred in the AFL last offseason and still has four pitches that grade as plus or better at their best, including a 93-98 mph fastball with natural life and a fading changeup.
Nick Allen, SS/2B (Athletics No. 6)
Known for his defensive prowess more than anything, the undersized middle infielder started figuring things out more at the plate in 2019. He's never going to be a power guy, but he was impacting the ball more effectively and had a .292/.363/.434 line with 13 steals as a 20-year old in the California League when he was shut down for the season with a high ankle sprain suffered in a slide in late June.
Jarred Kelenic, OF (Mariners No. 1/MLB No. 22)
A high schooler out of Wisconsin taken in the first round of the 2018 Draft by the Mets, Kelenic joined the Mariners via the Robinson Cano and Edwin Diaz deal and proceeded to hit across three levels, reaching Double-A not long after his 20th birthday. Along the way, he became one of 10 Minor Leaguers to reach the 20-20 plateau. He and fellow outfielder Julio Rodriguez are arguably the best organizational 1-2 punch in the AFL this season.
#Mariners top prospect Jarred Kelenic capping off his first full @MiLB season in style -- 2 HRs yesterday and another today in the @ARTravs' regular season finale to give him 23 to go along with 20 steals.

Here's Kelenic on #MLB's Top 100 Prospects list: https://t.co/aG46Y0calQ pic.twitter.com/IDNBljNNfO

— MLB Pipeline (@MLBPipeline) September 2, 2019
Bubba Thompson, OF (Rangers No. 8)
The former Southeastern Conference quarterback recruit is a tremendous athlete but has had difficulty staying healthy since the Rangers made him the 26th overall choice in the 2017 Draft out of an Alabama high school, including playing just 57 games this year while dealing with hamate and ankle injuries. He hit just .178/.261/.312 with five homers and 12 steals in high Class A, but he still has the upside of a 25-25 center fielder.
NATIONAL LEAGUE EAST
Greyson Jenista, OF (Braves No. 11)
The big and physical Wichita State product had an up-and-down first full season of pro ball after the Braves took him in the second round of the 2018 Draft. On one hand, he did make it to Double-A and looked like the hitter the Braves hoped they were getting in July (.333/.402/.481). But he also struck out in close to 30 percent of his plate appearances, something he'll undoubtedly be working on in Arizona.
Jose Devers, SS (Marlins No. 11)
A cousin of Rafael Devers, Jose originally signed with the Yankees for $250,000 in 2016 and went to the Marlins a year later in the Giancarlo Stanton trade. The Dominican missed much of 2019 with a forearm strain but he displayed intriguing offensive ability along with plus speed and defense while batting .322/.391/.390 in 47 games at three levels.
Andres Gimenez, SS/2B (Mets No. 3/MLB No. 90)
Gimenez, 21, was overmatched in last year's Fall League (.125 average in 19 games), but he should be better prepared for the level of competition this year after spending a full season in Double-A. He struggled at Binghamton during the first half, but finished the season on a high note, slashing .266/.312/.434 with 17 extra-base hits (5 HR) and 12 steals over his final 50 contests.
Luis Garcia, INF, Nationals (Nationals No. 2/MLB No. 76)
Garcia began the season as the youngest player at the Double-A level -- he turned 19 in May -- and unsurprisingly struggled out of the gate, batting .241 with eight extra-base hits (0 homers) in 64 first-half games. The left-handed hitting infielder found his stroke in the second half, though, and hit .272 with 22 extra-base hits, including four homers, over his final 65 contests.
Alec Bohm, 3B (Phillies No. 1/MLB No. 34)
The No. 3 overall pick in the 2018 Draft (and teammate of Greyson Jenista's at Wichita State) largely lived up to advanced billing in his first full season. The corner infielder played across three levels, spending most of his time in Double-A, and finished with a combined .305/.378/.518 line with 21 homers and 80 RBIs, all while striking out in just 13.5 percent of his plate appearances.
🚨 Alec Bohm Walk Off 🚨

Bohm sent @ReadingFightins' fans home happy with a two-run homer, his 17th of the year.

Here's Bohm atop the #Phillies' Top 30 Prospects list: https://t.co/oHR3QKQUBC pic.twitter.com/ullykv7JdZ

— MLB Pipeline (@MLBPipeline) August 5, 2019
NATIONAL LEAGUE CENTRAL
Miguel Amaya, C (Cubs No. 2/MLB No. 87)
The Cubs had planned on sending shortstop Nico Hoerner, their best prospect, to the AFL until big league injuries necessitated an unexpected September callup. Their second-best is still headed to the Mesa Solar Sox, as Amaya is one of the better all-around catching prospects in baseball thanks to his offensive potential and solid defensive ability. Signed out of Panama for $1.25 million in 2015, he has played in the last two SiriusXM All-Star Futures Games and hit .235/.351/.402 with 11 homers in 99 high Class A games this year.
Pablo Abreu, OF (Brewers No. 18)
Signed for $800,000 in July 2016, Abreu reached the Rookie-level Pioneer League at age 18 last year, but spent most of '19 battling injuries, missing time with right and left shoulder soreness. Abreu has a naturally lofty swing from the right side of the plate that the Brewers believe will translate to consistent over-the-fence pop as he matures, and the club is equally bullish on his chances of sticking in center field long term.
Elehuris Montero, 3B (Cardinals No. 4)
Montero garnered Class A Midwest League MVP honors in his first full season after he led the circuit in batting average (.322), slugging (.529) and OPS (.910), and he finished his age-19 campaign with Class A Advanced Palm Beach. Challenged with an aggressive Double-A assignment in 2019, the 21-year-old got off to a slow start before requiring surgery to repair a broken hamate bone in his left hand in late May. He made a healthy return two months later and will now use the Fall League to make up for the time he lost to injury.
Jonathan India, 3B (Reds No. 3/MLB No. 91)
The Florida Gators product was the No. 5 overall pick in the 2018 Draft and, not surprisingly, made it to Double-A in his first full season of pro ball. Playing mostly third, with some second base mixed in, India finished with double-digit home run and stolen base totals. While he did strike out 21.5 percent of the time, he also had an 11.5 percent walk rate, and both rates improved once he got to Double-A.
Oneil Cruz, SS (Pirates No. 3/MLB No. 58)
The 6-foot-6 shortstop missed two months due to a foot fracture suffered at the end of April. But the 20-year-old still returned and made it to Double-A, finishing with a combined .298/.356/.475 line in 73 games. He'll be making up for lost at-bats this fall, with tremendous upside to tap into.
From the day his @MiLB-playing dad put a glove in his crib, Oneil Cruz was bound to be a ballplayer. Now the 6'6" #Pirates prospect (named for #Yankees great Paul O'Neill) is on track to become the tallest SS in #MLB history.

More from @JesseSanchezMLB: https://t.co/yFb7AFe9nd pic.twitter.com/I6pACzfEDR

— MLB Pipeline (@MLBPipeline) August 21, 2019
NATIONAL LEAGUE WEST
Mitchell White, RHP (Dodgers No. 9)
A surprise second-round choice from Santa Clara in 2016, White has better stuff than his 2019 stats (4-6, 5.09 ERA, 105 strikeouts in 93 2/3 innings) might indicate. When he's on, he can attack hitters with a mid-90s fastball that runs and sinks, an overpowering slider and a hammer curveball.
Joey Bart, C (Giants No. 1/MLB No. 19)
A broken left hand limited Bart to 79 games in his first full professional season, yet that was plenty of time to show why he was the No. 2 overall pick in 2018 out of Georgia Tech. He hit .278/.328/.495 with 16 homers between high Class A and Double-A while also providing solid defense behind the plate.
Who else would you want at the plate with the go-ahead run aboard than Joey Bart if you're a @GoSquirrels fan?

The #SFGiants top prospect delivered a walk-off, two-run double in extras tonight. He's batting .307 in 21 Double-A games.@SFGiants Top 30: https://t.co/32RuAKsvSP pic.twitter.com/lnL03tRkjk

— MLB Pipeline (@MLBPipeline) September 1, 2019
Seth Beer, 1B (D-backs No. 4/MLB No. 96)
Arizona's key return in the four-prospect package they acquired for Zack Greinke, Beer posted a .904 OPS with 26 homers and 103 RBIs and spent much of his first full season in Double-A. Including his pro debut, the 22-year-old masher has compiled a .294/.388/.508 line with 38 homers, 38 doubles and 145 RBIs in his first 189 pro games after hitting .321/.489/.648 with 56 homers and nearly twice as many walks (180) as strikeouts (98) during three years at Clemson.
Luis Campusano, C (Padres No. 8)
One of the top breakout prospects of the 2019 season, Campusano -- the Padres' 2017 second-round pick -- was named co-MVP in the Class A Advanced California League after he ranked among the circuit leaders with a .325 average (first), a .906 OPS (second) and 81 RBIs (second). The 20-year-old backstop also enjoyed an uptick in power, hitting 15 homers and 31 doubles, and he walked (52) nearly as often as he struck out (57) over 110 games.
Colton Welker, 3B/1B (Rockies No. 3)
Welker began his first season in Double-A looking very much like the guy who won the California League batting title in 2018, hitting .356/.400/.552 in April. But his .952 OPS in April led to a .738 OPS in May and .583 in June. He spent almost a month on the injured list in July and August and will look to make up for lost time, and get back on track, in the AFL.