Best 2020 Draft prospect from each state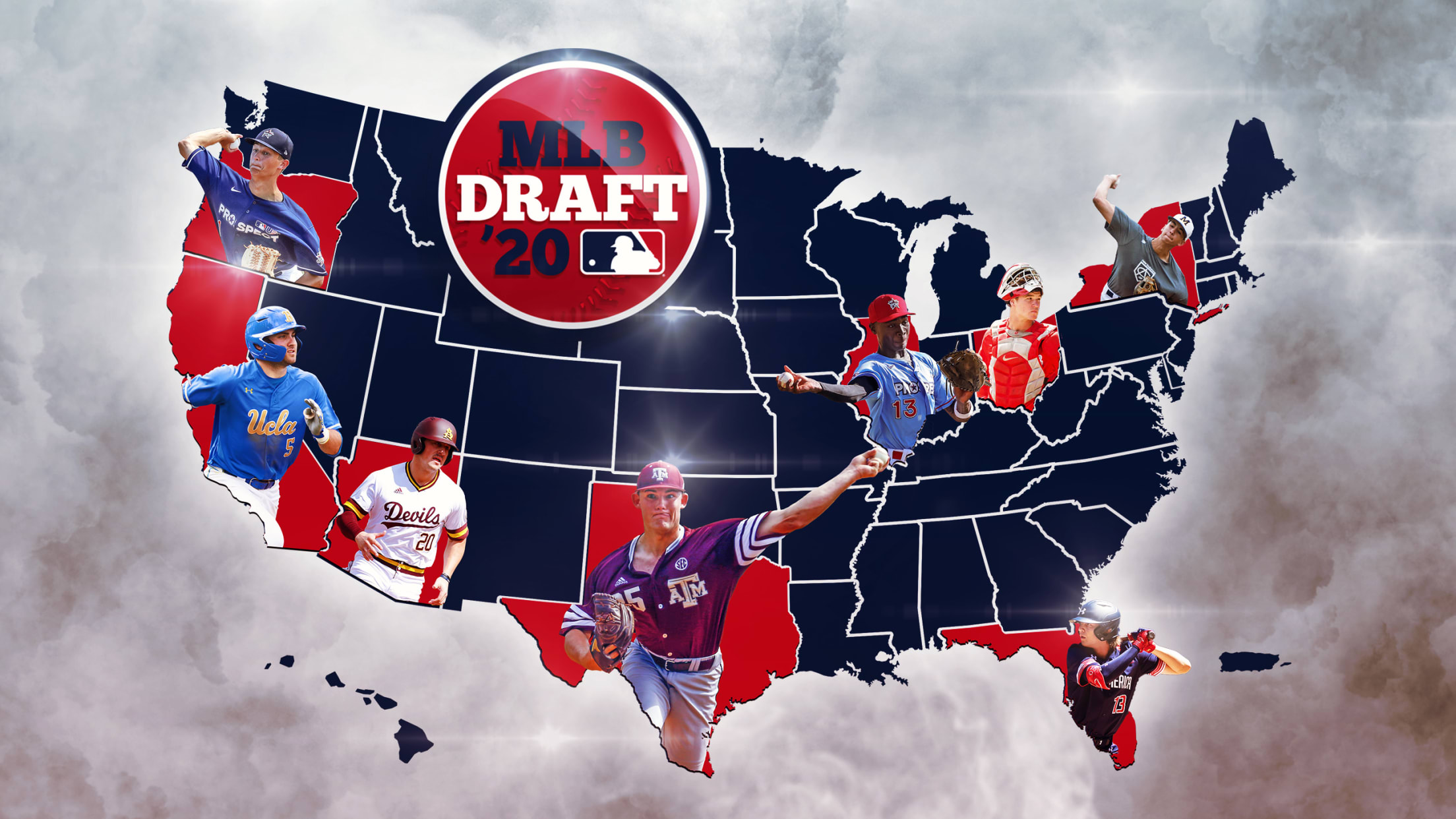 With the 2020 MLB Draft just around the corner, MLB Pipeline is continuing to break down this year's class in a variety of ways. Today, we look at the best 2020 Draft prospect from each state. Selections were based on Jim Callis and Jonathan Mayo's list of the Top 200
With the 2020 MLB Draft just around the corner, MLB Pipeline is continuing to break down this year's class in a variety of ways. Today, we look at the best 2020 Draft prospect from each state.
Selections were based on Jim Callis and Jonathan Mayo's list of the Top 200 Draft prospects. For states without a representative on the Top 200, we polled and conversed with scouts to determine its top prospect.
Go to MLB.com/Draft to see the Top 200 Prospects list, mock drafts, the complete order of selection and more. And follow @MLBDraft on Twitter to see what Draft hopefuls, clubs and experts are saying.
The five-round Draft will begin on Wednesday, June 10 at 7 p.m. ET, with both MLB Network and ESPN producing live coverage -- the first time more than one network will provide live primetime coverage of the event. The first night of coverage will span the first 37 picks, covering the first round and Competitive Balance Round A.
Coverage continues Thursday, June 11 on MLB Network and ESPN2 at 5 p.m. ET and will pick up with the start of the second round (pick No. 38) and run through the end of the fifth and final round of this year's Draft. There will be a total of 160 picks in the 2020 Draft. The Draft usually runs 40 rounds but was shortened this year in response to the coronavirus pandemic.
Alabama: Tanner Burns, RHP, Auburn (No. 28 on Draft Top 200)
Burns was beset by injuries during his sophomore year, but when he's at his best, the 6-foot right-hander can pitch to both sides of the plate with his 92-97 mph fastball and mix in a breaking ball that flashes plus.
Alaska: Leland Wilson, LHP, West (Anchorage, Alaska) HS
The Texas Tech recruit has a ton of projection remaining in his 6-foot-4 frame, making it easy to envision him tacking on even more velocity to his already lively heater.
Arizona: Spencer Torkelson, 1B, Arizona State (No. 1)
The top-ranked prospect in the 2020 Draft class, Torkelson is one of the best college hitters in recent history, with a combination of hitting ability and power that separates him from the field. Across his three seasons in the Pac-12, the junior compiled a .337/.443/.723 line with 48 homers, 29 doubles and 119 RBIs in 112 games.
Arkansas: Heston Kjerstad, OF, Arkansas (No. 10)
One of the premier power hitters in the 2020 class, Kjerstad drives the ball to all fields with authority using an aggressive left-handed swing. Some scouts believe he'll need to clean up his stroke in the pro ranks, but it's hard to overlook the .331/.412/.563 line, 30 homers and 108 RBIs he totaled during his Razorbacks career.
California: Garrett Mitchell, OF, UCLA (No. 6)
Mitchell has showcased loud physical tools, such as plus speed and above-average defense in center field, dating back to his days as a prep, but it's the arrival of his plus left-handed raw power that has thrust him into the spotlight as one of the best all-around players in the 2020 class.
Canada: Owen Caissie, OF, Notre Dame (Burlington, Ontario) (No. 76)
Caissie, a 6-foot-4 left-handed hitter, shows the makings of having prototypical right-field tools with his big raw power and plus arm strength. He's committed to Michigan.
Colorado: Jack Moss, 1B, Cherry Creek (Greenwood Village, Col.) HS
At 6-foot-5, 200 pounds, the Arizona State commit looks the part of a future slugger with his impactful left-handed bat and overall power potential.
Connecticut: Jake DeLeo, OF, Avon Old Farms
DeLeo has several loud tools in his well above-average speed, strong outfield defense, plus arm and an explosive right-handed bat that yields impressive exit velocities. That power-speed combo is a separator for the 6-foot-2, 190-pound Georgia Tech commit.
D.C.: Collin Bosley-Smith, RHP/SS, Woodrow Wilson HS
An impressive athlete who could very well play both ways should he honor his commitment to Duke, Bosley-Smith has impressed scouts with a blend of present feel for four pitches and remaining physical projection on the mound. He's also a sound defender on the dirt and demonstrates an advanced approach as a right-handed hitter.
Delaware: Billy Sullivan, RHP, Delaware
Sullivan garnered Colonial Athletic Association Rookie of the Year honors in 2018 -- he went 7-3 with a 2.97 ERA and team-high 95 strikeouts -- but hasn't taken the mound since early 2019 after undergoing Tommy John surgery. When healthy, the right-hander shows late-inning bullpen upside thanks to a fastball that reaches the upper 90s.
Florida: Zac Veen, OF, Spruce Creek (Port Orange, Florida) HS (No. 7)
Regarded by scouts as perhaps the top prep hitter in this year's class, Veen, a Florida commit, employs a smooth but explosive left-handed swing from a spread-out stance that enables him to leverage the ball to all fields. He's more hit over power during games right now, though it's easy to envision the 6-foot-4 outfielder tapping into his plus raw power at the next level.
Georgia: Emerson Hancock, RHP, Georgia (No. 4)
Hancock wasn't particularly sharp after his return from a lat injury in 2019, but the stuff and overall aptitude the 6-foot-4, 213-pound righty showed early in his Bulldogs career has helped him maintain his spot as one of the premier pitchers in the 2020 class. He has starter qualities with his size and four-pitch mix, three of which (fastball, slider, changeup) could be plus or better when all is said and done.
Hawaii: Kalai Rosario, OF, Waiakea (No. 183)
Plus-plus right-handed power is the California Baptist outfielder's calling card, and it was on full display last summer when he defeated fellow 2020 prep slugger Blaze Jordan in the Area Code Games home run derby.
Idaho: Mason Leavitt, MIF, Eagle HS
A Northwest Nazarene commit, Leavitt is an athletic middle infielder who also has seen time behind the plate.
Illinois: Ed Howard, SS, Mount Carmel HS (No. 15)
A well-rounded player who could have solid tools across the board, Howard shows natural hitting ability from the right side of the plate, with plenty of room still to grow into his projectable 6-foot-2 frame. He should have no problem sticking at shortstop and seems poised to become the first Illinois prep position player taken in the first round since Jayson Werth (1997).
Indiana: Kyle Nicolas, RHP, Ball State (No. 60)
The nephew of former NFL quarterback Todd Blackledge, Nicolas owns one of the best fastballs in college baseball, with the ability to sit in the mid-90s as a starter and reach back for triple digits in shorter stints. His power slider gives him a second swing-and-miss pitch, though his curveball, changeup and control all leave something to be desired. The 6-foot-4 right-hander helped his Draft cause by striking out 17 batters over seven one-hit frames against Sacred Heart in his final start.
Iowa: Carter Baumler, RHP, Downing Catholic HS (No. 103)
A standout athlete who also served as his football team's kicker and punter, Baumler has a clean and easy delivery that allows him to generate a 90-94 mph fastball with riding life that he pairs with an improving curveball. He's believed to have a strong commitment to Texas Christian.
Kansas: Carson Seymour, RHP, Kansas State (No. 124)
Seymour's decision to transfer from Dartmouth to Kansas State forced him to sit out all of 2019, but the 6-foot-5 righty still managed to impress in last summer's Cape Cod League, showcasing a fastball that was up to 99 mph as well as a pair of promising breaking balls.
Kentucky: Reid Detmers, LHP, Louisville (No. 8)
Detmers may stand out more for his overall pitchability than his pure stuff, though it didn't prevent the southpaw from dominating during his Louisville career. He set Cardinals records for wins (13, first in NCAA Division I) and strikeouts (167, second in D-I) while leading the program to the College World Series as a sophomore in 2019, served as the U.S. collegiate national team's best starter during the summer, then ranked second in D-I in whiffs (48) and whiff rate (19.6 per nine innings) during the shortened 2020 season.
Louisiana: Daniel Cabrera, OF, Louisiana State (No. 38)
A well-rounded left-handed hitter who projects for both average and power at the next level, Cabrera compiled a .300/.382/.520 batting line with 20 homers and 104 RBIs during his three years at LSU after turning down the Padres as a 26th-round pick (2017) out of high school.
Maine: Hunter Owen, LHP, South Portland HS
At 6-foot-5, 225 pounds, the left-handed Vanderbilt commit stands out more for his future projection than present stuff, though the latter, highlighted by a low-90s fastball, is already quite good.
Maryland: Jack Bulger, C, DeMatha Catholic HS
The Vanderbilt recruit has the physicality and tools needed to become an impact catcher on both sides of the ball. He already earns high marks for his defense behind the plate and has shown the ability to make hard, consistent contact with his right-handed bat.
Massachusetts: Jake Berger, SS, Buckingham Browne & Nichols
Listed at 6-foot-3, 180 pounds, the Harvard commit shows some impact potential from the left side of the plate, but will likely have to shift from shortstop to third base as he grows into his frame.
Michigan: Jeff Criswell, RHP, Michigan (No. 58)
After a dominant showing out of the Wolverines' bullpen as a freshman, Criswell emerged as one of the best No. 3 starters in college baseball in 2019 before taking over as the team's Friday starter in '20. The 6-foot-4 right-hander has maintained his velocity while transitioning from reliever to starter, showing the ability to work at 93-96 mph with heavy sink and a pair of solid secondary pitches, though he's still learning how to harness his stuff.
Minnesota: Max Meyer, RHP, Minnesota (No. 9)
Meyer tied Minnesota's school record with 16 saves as a freshman and led the U.S. collegiate national team with seven that summer before moving into the rotation during his sophomore year. He responded with a 2.11 ERA (second in the Big Ten Conference) before tying for the Team USA lead with a 0.69 mark. He features a pair of electric pitches in a 93-97 mph fastball that can touch higher and a wipeout 87-91 mph slider that is arguably the best in the 2020 Draft. But as a 6-foot right-hander, Meyer does come with some reliever risk.
Mississippi: Justin Foscue, 2B, Mississippi State (No. 32)
Foscue was a consensus All-America second baseman as a sophomore and helped lead Mississippi State to the College World Series in both 2018 and 2019. The U.S. collegiate national team's starter at second base last summer, Foscue has endeared himself to evaluators with his sum-of-all-parts game and intrigues with his right-handed power potential at the keystone.
Missouri: Ian Bedell, RHP, Missouri (No. 89)
One of the youngest college players (20 years, 9 months) in the 2020 Draft, Bedell posted a 1.56 ERA as a sophomore reliever last spring, dominated even more as a starter in the Cape Cod League (0.59 ERA, .383 opponent OPS, 36/3 K/BB ratio) and continued to improve in that role this spring. He repeats his athletic delivery well, demonstrating above-average control of four average-or-better pitches.
Montana: None
Nebraska: Trey Frahm, RHP, Elkhorn HS
At 5-foot-11, Frahm comes with the stigma of being a stocky, undersized right-hander. However, the Kansas State recruit opened some eyes last fall at the WWBA World Championship in Jupiter, where he ran his fastball up to 96 and flashed a quality breaking ball.
Nevada: Chase Silseth, RHP, JC of Southern Nevada
One of the more intriguing JUCO prospects in this year's class, Silseth gets dinged for being an undersized right-hander (6-feet, 205 pounds), but the Arizona commit features solid present stuff, with a fastball that touches the mid-90s and a pair of quality secondary pitches.
New Hampshire: Adrian Siravo, RHP, Gilford HS
The UConn commit has present strength as well as remaining projection in his 6-foot-4, 200-pound frame. He has feel for throwing both a curveball and changeup and is expected to add more velocity to his current low-90s fastball as he gets stronger.
New Jersey: Patrick Reilly, RHP, Christian Brothers Academy (No. 182)
The 6-foot-3, 210-pound righty has all the ingredients teams covet in a future starting pitchers with his blend of size, projection and stuff. The Vanderbilt commit has below-average command and is a bit raw overall, but there's a lot to like in his fastball-breaking ball combo and clean arm action.
New Mexico: Nick Gonzales, SS/2B, New Mexico State (No. 5)
One of the best pure hitters in this year's class, the former walk-on captured Cape Cod League MVP honors last summer (.351/.451/.630) and built upon that success with a torrid start to his junior year, slashing .448/.610/1.155 with 12 homers and 36 RBIs over his first 16 contests. He fits the profile well as an offensive-minded second baseman, reminding some of the Brewers 2017 first-rounder Keston Hiura.
New York: Alex Santos, RHP, Mount St. Michael Academy (No. 56)
A projection project at 6-foot-3, 185 pounds, Santos, a tall and lean right-hander, flashes an intriguing three-pitch mix that is highlighted by a low-90s fastball that should improve velocity-wise in lockstep with his physical gains. The Maryland recruit complements his heater with a solid slider and already knows how to turn over his changeup.
North Carolina: Patrick Bailey, C, North Carolina State (No. 17)
The top-ranked catching prospect in the 2020 class, Bailey, a switch-hitter, was named the Atlantic Coast Conference freshman of the year in 2018 after setting a Wolfpack first-year record with 13 homers. His power plays from both sides of the plate, and he's shown both a solid approach and knack for making consistent contact. Even if the bat doesn't come to fruition, the Team USA veteran provides enough defense to at least serve as a big league backup.
North Dakota: Bennett Hostetler, SS, North Dakota State
The senior infielder lacks a carrying tool and batted just .251 during his Bisons career, but he's a solid all-around player with average speed, a reliable glove and a high-contact right-handed bat.
Ohio: Dillon Dingler, C, Ohio State (No. 24)
Dingler earns high marks for his defense behind the plate thanks to his athleticism, well above-average and accurate arm and improving receiving skills. And although he batted just .267/.362/.396 during his first two college seasons, the 6-foot-3, 210-pound backstop had gotten off to a hot start this spring, batting .340/.404/.760 with five homers in his first 13 games before the season was cancelled.
Oklahoma: Cade Cavalli, RHP, Oklahoma (No. 22)
A late-bloomer who didn't pitch until his sophomore year at Bixby (Okla.) High and missed most of his senior season with back issues, Cavalli struggled on both sides of the ball as an Oklahoma freshman before shifting his focus to pitching. The 6-foot-4 righty has since developed an impressive four-pitch mix as well as a knack for generating effortless velocity in a 92-96 mph fastball that tops out at 98 and features late life. His control and command are both below average, but many evaluators expect Cavalli to improve on that front as he gains experience.
Oregon: Mick Abel, RHP, Jesuit (Cedar Mill, Ore.) High (No. 11)
Abel, a 6-foot-5 right-hander, was named the state's Gatorade Player of the Year as a high school junior after pitching Jesuit to a state title. The Oregon State recruit shows flashes of three plus pitches: a fastball that was regularly in the 93-95 mph range last summer, an 82-86 mph slider and a diving changeup that he sells with deceptive arm action, all coming from a highly projectable frame.
Pennsylvania: Austin Hendrick, OF, West Allegheny (Oakdale, Pa.) High (No. 13)
Hendrick has as much upside as any high school hitter in the class, as he generates enough bat speed and exit velocity to develop into a truly elite power hitter. The 6-foot, 195-pound left-handed hitter's power was on full display when he won the 2019 Under Armour All-America Home Run Derby at Wrigley Field. The Mississippi State commit is a capable center fielder but may be a better long-term fit in right given his strong arm.
Puerto Rico: Steven Ondina, SS, International Baseball Academy (No. 188)
Though he's undersized (5-foot-8, 156 pounds) and has well below average power, Ondina has the tools needed to stick at shortstop. He could become a solid utility player if that doesn't work out, as he's already shown that he can handle any infield position and runs well enough to play center field. Offensively, the Florida International commit struggles to impact the baseball but has good bat-to-ball skills that help him find the gaps.
Rhode Island: Tyler Mattison, RHP, Bryant
The 6-foot-4 righty struggled early in 2020 but opened eyes as a Bryant freshman and sophomore, going 14-3 with a 3.44 ERA in 133 1/3 innings between the two years. He shows feel for mixing three pitches, including a fastball that reaches the mid-90s.
South Carolina: Carmen Mlodzinski, RHP, South Carolina (No. 21)
A broken left foot derailed Mlodzinski's sophomore year, but he made up for the lost time and boosted his 2020 Draft stock with an eye-opening performance in last summer's Cape Cod League, posting a 2.15 ERA and 40/4 K/BB over 29 1/3 innings for the Falmouth Commodores that earned him honors as the league's best pitching prospect. The redshirt sophomore boasts a promising three-pitch mix, including a 92-96 mph fastball that can touch 99 and low-80s slider that he throws with power and depth.
South Dakota: Gus Steiger, SS, South Dakota State
A consistent performer for the Jackrabbits, Steiger batted .324 as a sophomore and has compiled a .318 average in three college seasons. He's lacking in the way of power but does have a good right-handed swing, albeit with some swing-and-miss issues that hinder his on-base skills. On the other side of the ball, Steiger is a sound defender capable of playing anywhere on the infield.
Tennessee: Austin Martin, OF/3B, Vanderbilt (No. 2)
The best pure hitter in the 2020 Draft, Martin led all NCAA Division I in runs (87) and the Southeastern Conference in hitting (.392) and on-base percentage (.486) as a sophomore in 2019, then opened his junior campaign by slashing .377/.507/.660 across his first 16 games. Altogether, the 6-foot, 180-pounder produced a .376/.479/.521 line in 118 games for Vandy. Regarding his future defensive home, Martin should give his future club plenty of options after he started games at six different positions as a freshman, opened last year at second base before settling in at the hot corner, then saw more time in center field as a junior.
Texas: Asa Lacy, LHP, Texas A&M (No. 3)
The top-ranked pitching prospect in the 2020 Draft, Lacy ranked third in NCAA Division I in opponent average (.162) and eighth in strikeouts per nine innings (13.2) as a sophomore, pitched well with the U.S. collegiate national team in the summer and got off to a tremendous start this spring, going 3-0 in four starts, with a 0.75 ERA and 46/8 K/BB in 24 innings. The 6-foot-4 southpaw's 92-97 mph heater, low-80s slider and devastating changeup give him a trio of plus pitches, and his curveball isn't very far behind.
Utah: Joseph Dixon, RHP, Bingham HS
A physically strong and athletic right-hander, Dixon, a Stanford recruit, operates with a running low-90s fastball and physical projection that points to future velocity gains.
Vermont: Jack Ambrosino, RHP, South Burlington HS
The Holy Cross recruit was named the 2019-20 Vermont Gatorade Player of the Year. He posted 1.66 ERA and 1.04 WHIP during his South Burlington career and led the program to the Division 1 quarterfinals in 2019, going 4-2 with one save and a 1.04 ERA.
Virginia: Ian Seymour, LHP, Virginia Tech (No. 116)
Seymour was off to a fast start for the Hokies this spring thanks to an uptick in velocity that had his fastball registering in the 90-94 mph range and 92-93 consistently. That he's naturally deceptive and also throws his heater with heavy life makes the pitch difficult to square up, and he does a good job keeping hitters off balance with an above-average changeup and a fringy slider.
Washington: Stevie Emanuels, RHP, Washington
Though Emanuels doesn't have the type of power stuff that his 6-foot-5, 210-pound frame suggests he should, he does have a plus, swing-and-miss slider that he relies on heavily. After spending his first two seasons in the Huskies' bullpen, Emanuels moved into the rotation this spring and went 3-1 with a 0.79 ERA and 15.09 K/9 in his first four starts.
West Virginia: Jackson Wolf, LHP, West Virginia
A 6-foot-7 southpaw, Wolf pitched to mixed results during his first two seasons in the Big 12 but was making strides early in his junior year, posting a 3-1 record in his first four starts. Working 25 2/3 innings in those outings, he posted a 1.05 ERA, 0.74 ERA and 27/5 K/BB.
Wisconsin: AJ Vukovich, 3B, East Troy (Mukwonago, Wis.) HS (No. 87)
One of the more notable prep sluggers in the 2020 class, Vukovich finished second to Blaze Jordan at the High School Home Run Derby at the All-Star Game last July. He has considerable projectable strength in his 6-foot-5 frame and the necessary bat speed and loft in his right-handed stroke to produce well above-average raw power, though there are some concerns about his ability to make consistent contact. He's a good athlete -- he averaged 27.8 points and 13.1 rebounds per game while making second team all state as a senior -- but faces questions about his future defensive home.
Wyoming: Hayden Sylte, RHP, Thunder Basin HS
Sylte, a North Dakota State commit, was named Wyoming's Pitcher of the Year in 2019 after pacing the Roughriders to a 62-20 season. The 5-foot-11 right-hander posted a 1.90 ERA with 84 strikeouts in 67 innings of work and also served as the Roughriders' leadoff hitter.