10 stars who are extension candidates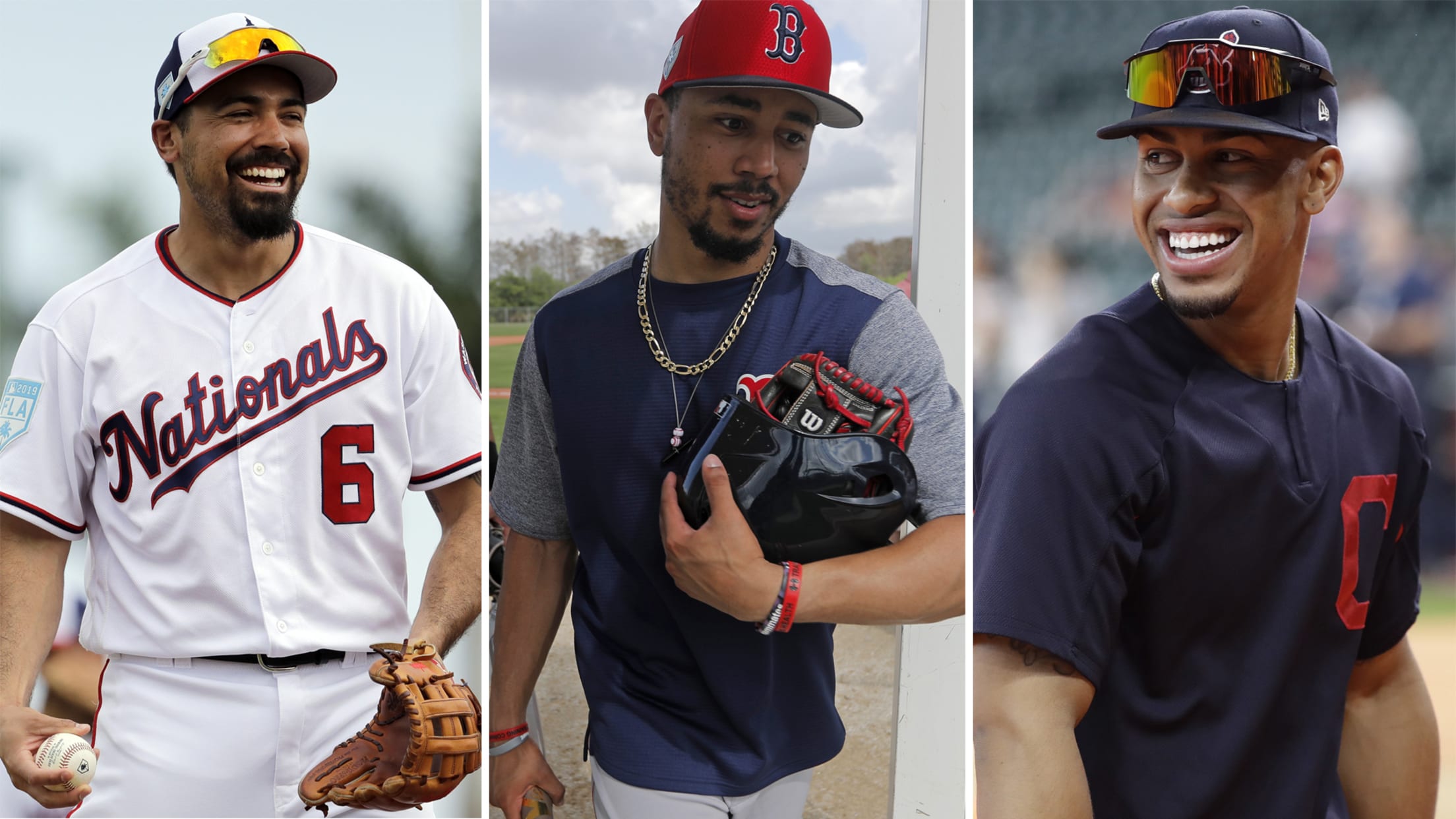 Contract extensions are all the rage. Have they replaced free agency as the best way for players to get paid? Given the news of Mike Trout's extension with the Angels -- one which will reportedly pay him a whopping $426.5 million over the next 12 seasons -- it's only natural
Contract extensions are all the rage. Have they replaced free agency as the best way for players to get paid?
Given the news of Mike Trout's extension with the Angels -- one which will reportedly pay him a whopping $426.5 million over the next 12 seasons -- it's only natural to ask: Who's next? (Besides Alex Bregman, whose own extension came to light on Tuesday night.)
Nolan Arenado inked an enormous extension with the Rockies last month, taking the biggest name out of next year's free-agent market. Trout would have been the crown jewel of 2020-21 free-agency period, but now he's locked up, too.
Here are 11 players with varying amounts of service time who could be in line to cash in with their current teams. We've grouped them based on the year they become free agents.
FREE AGENTS AFTER 2019
Anthony Rendon, 3B, Nationals
When the Nationals let Bryce Harper walk away as a free agent this winter, the natural assumption was that they would use some of that money to lock up Rendon, who is slated to become a free agent after the 2019 season. Washington has only $75 million committed for '21 and about $38 million for '22.
Will it happen? Rendon has expressed an interest in staying in Washington, and although agent Scott Boras typically likes bringing his clients to free agency, he did negotiate Stephen Strasburg's extension with the Nats. It feels more likely than not that Rendon signs before testing free agency.
Gerrit Cole, RHP, Astros
Another Boras client, Cole is coming off a superb season with the Astros, his first in the American League. The right-hander had seen his numbers decline for two straight seasons in Pittsburgh before 2018, when he finished fifth in AL Cy Young voting.
Will it happen? Top starting pitchers are still getting paid (Patrick Corbin landed $140 million this winter), and Cole could be the best starter on the market next offseason. Unless the Astros overwhelm him, Cole figures to bet on himself this season and test free agency.
Chris Sale, LHP, Red Sox
One could argue Sale will be the top starter available next offseason, though he's 18 months older than Cole and coming off a season in which he pitched only 158 innings. Sale's health could be the biggest factor in the equation, so a strong first half could prompt the Red Sox to try getting a deal done before he becomes a free agent at the end of the season.
Will it happen? Sale recently said he and the Red Sox were "mutually invested" in working out an extension, so both sides appear to be open to the idea. This one feels like a coin flip.
FREE AGENTS AFTER 2020
Mookie Betts, RF, Red Sox
The defending AL MVP Award winner stands to gain the most from Trout's deal, as Betts has been the closest thing to Trout's equal over the past few years. Per Baseball Reference, Betts' 27.0 WAR since 2016 trails Trout by only .3, while Jose Altuve is the only other player over 20 WAR during that stretch.
Will it happen? With some of the sport's top stars signing extensions, the Red Sox figure to do whatever is necessary to secure Betts' services for years to come. Still only 26, Betts could land a deal somewhere between Trout and Bryce Harper (13 years, $330 million).
J.T. Realmuto, C, Phillies
The Phillies traded for the All-Star catcher last month despite the lack of an extension. Philadelphia spent plenty of money this winter, signing Harper, David Robertson and Andrew McCutchen while also trading for Jean Segura and extending Aaron Nola. Still, the Phillies have only $70 million in commitments beyond 2021, and they're in position to add significant payroll.
Will it happen? Realmuto also figures to gain a lot from Trout's new deal, though not in a comparative sense. The popular opinion was that the Phillies would throw hundreds of millions at Trout when he became a free agent in two years, but now that he's off the market, they can allocate that money elsewhere. Extending the best catcher in the game would be a good place to start.
Jacob deGrom, RHP, Mets
Last summer, deGrom's agent said publicly that the Mets should either sign him to an extension or trade him. Neither happened. Now that same agent, Brodie Van Wagenen, is the Mets' general manager, putting him in position to make such an extension a reality.
Will it happen? deGrom recently said he was "still optimistic" that the two sides would reach a deal before the Opening Day deadline set by his representatives, so there's a solid chance it happens in the next week. The reigning NL Cy Young Award winner won't be eligible for free agency until the end of the 2020 season, so even if a deal doesn't get done, the Mets could try again next winter.
FREE AGENTS AFTER 2021
Francisco Lindor, SS, Indians
Lindor's 19.3 bWAR since 2016 trails only Trout, Betts, Altuve and Arenado, putting the shortstop among the elite players in the game. His durability (he's missed only 11 games over the past three seasons) has been huge for the Indians, who have won the AL Central in each of those years.
Will it happen? Lindor isn't eligible for free agency for three more seasons, though after settling on a $10.55 million salary for 2019, he stands to make a lot more during his final two years of arbitration. The Indians have less than $50 million committed in salaries in '20 and about $23 million in '21, so while an extension likely isn't in the cards this season, it could become a major topic next winter.
Kris Bryant, 3B, Cubs
Bryant captured NL Rookie of the Year Award in 2015, then followed that up with an MVP season in '16 and another stellar year in '17. But last season, Bryant played only 102 games and recorded more than a 100-point drop in OPS, resulting in a modest second-year arbitration raise to $12.9 million. Still three seasons from free agency, there doesn't seem to be urgency on either side to get an extension done.
Will it happen? Bryant, a Boras client, seems unlikely to agree to an extension coming off the worst season of his career, though a huge 2019 campaign could open the door for talks next offseason. Another intriguing sub-plot: With Trout to Philly no longer an option, might the Phillies view Bryant -- one of Harper's closest friends in the game -- as a long-term target?
Trevor Story, SS, Rockies
The Rockies have shown a willingness to lock up their homegrown stars, doling out big extensions to both Charlie Blackmon and Arenado over the past 12 months. That hasn't been lost on Story, who posted his best season and made his first All-Star team in 2018.
Will it happen? Both Blackmon and Arenado were a year away from free agency when they signed their extensions, so while Colorado might very well look to lock up Story at some point, he's still under control for three seasons, making it unlikely a deal will take place anytime soon.
FREE AGENTS AFTER 2022
Aaron Judge, RF, Yankees
Judge might be the most intriguing name on this list. The Yankees hadn't been in the business of giving out extensions for many years, but this offseason alone, they have extended Luis Severino and Aaron Hicks. Judge is the biggest star on the team and has been one of the most impactful players in the game over the past two seasons, but he's not even arbitration-eligible until next year, giving the Yankees some time to ponder how to handle his contract situation.
Will it happen? It's hard to imagine the Yankees will ever allow Judge to hit the open market, but that wouldn't happen until the end of the 2022 season. If Judge has another healthy, monster season in 2019, the Yankees could try to sign him to a long-term deal next winter that includes all three of his arbitration years and several years of his would-be free agency. Remember, Judge turns 27 in April and won't be eligible for free agency until the offseason prior to his age-31 season, which is older than most of the names on this list would be.
Mark Feinsand, an executive reporter, originally joined MLB.com as a reporter in 2001.