These 30 top prospects were Draft sleepers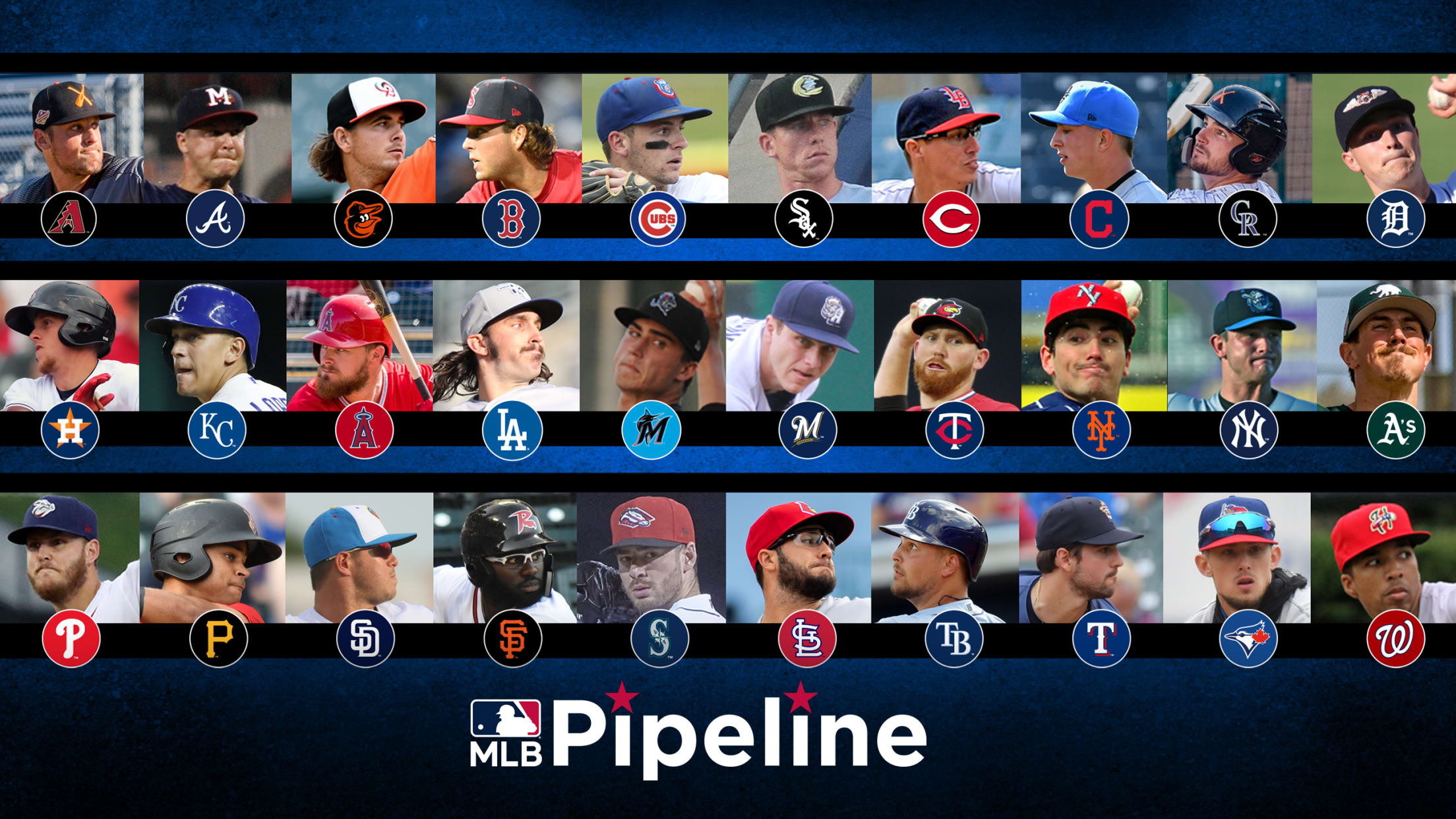 With the 2019 MLB Draft edging closer each day, there's an increasingly heavy focus on the top players in this year's class as teams aim to determine who they might take in the early rounds. But having a strong Draft involves more than a team simply doing well on paper
With the 2019 MLB Draft edging closer each day, there's an increasingly heavy focus on the top players in this year's class as teams aim to determine who they might take in the early rounds.
But having a strong Draft involves more than a team simply doing well on paper with its top picks, and it's not uncommon for teams to find All-Star-caliber talents at discounted rates as the Draft unfolds.
Paul Goldschmidt, who the D-backs took in the eighth round of the 2009 Draft out of Texas State, is a good example.
Signed for just $95,000, Goldschmidt reached the Majors two years later and became a six-time All-Star for the organization -- he was the NL MVP runner-up in 2013 and '15 -- before being traded to St. Louis in December 2018. Upon joining the Cardinals, the 31-year-old inked a five-year, $130 million extension through the 2024 season.
So as MLB Pipeline continues to roll out content ahead of the 2019 MLB Draft, which begins on June 3, we thought it'd be interesting to identify one Draft steal on each team's Top 30 list, regardless if the player was drafted by his current organization.
American League East
Blue Jays: Cavan Biggio, 2B/OF (TOR No. 9), 5th round, 2016
A light-hitting second baseman coming out of Notre Dame who signed with Toronto for $300,000, Biggio, the son of Hall of Famer Craig Biggio, has drastically improved his standing in the pro ranks by adding power to his game while also increasing his defensive versatility. After a 20-homer, 20-steal campaign in 2018 followed by a strong start this season in Triple-A, the 24-year-old is on the cusp of reaching the Majors.
Orioles: Dean Kremer, RHP (BAL No. 9), 14th round, 2016
Acquired in last year's Manny Machado trade, Kremer was drafted by the Dodgers and signed for $147,500 after a nondescript sophomore campaign at UNLV. His stuff ticked up in the Dodgers' system, thanks in part to an emphasis on improving his curveball, and he ultimately led all Minor League hurlers in strikeouts in 2018, fanning 178 batters between the two organizations.
Rays: Nate Lowe, 1B (TB No. 8), 13th round, 2016
Nate was the lesser-known, less-heralded Lowe brother selected by the Rays in the 2016 Draft, coming off the board in the 13th round ($100,000) after Tampa had taken Josh ($2,597,500) in the first round. It's been Nate who's had the better pro career, as the hulking first baseman revamped his swing en route to a monster 2018 campaign (.330/.416/.568, 27 HR, 102 RBI) across three levels.
Red Sox: Kutter Crawford, RHP (BOS No. 20), 16th round, 2017
Despite his name, Crawford didn't begin throwing a cutter until he taught himself the pitch as a junior at Florida Gulf Coast, where in 2017 he posted the second-best ERA (1.71) and third-most strikeouts (99, behind two Chris Sale seasons) in school history. His cutter has continued to rack up strikeouts in pro ball, where his fastball velocity has increased to 91-95 mph from 88-92 in college.
Yankees: Garrett Whitlock, RHP (NYY No. 16), 18th round, 2017
Whitlock slid in the 2017 Draft because of back issues and worrisome signability as a Draft-eligible sophomore. After turning pro for $247,500, he has stayed healthy and dominated with 91- to 94-mph sinkers and low-80s sliders.
American League Central
Indians: James Karinchak, RHP (CLE No. 30), ninth round, 2017
Interestingly, no one on our Indians Top 30 got drafted in the 10th round or later. Karinchak ranked second in NCAA Division I in strikeout rate (13.7 per nine innings) as a Bryant junior, yet lasted nine rounds in 2017 because he had shoulder soreness that spring. Armed with a 93- to 96-mph four-seam fastball and a 12-6 curveball, he has struck out 32 in 13 scoreless innings this season.
Royals: Nicky Lopez, SS/2B (KC No. 8), 5th round, 2016
A solid, if unexceptional, college performer at Creighton, Lopez has always been the kind of player who performed above his tools. He's making the Royals' decision to take him in the fifth round of the 2016 Draft a really good one as he's hit better as he's moved up the ladder and shown the ability to play multiple positions extremely well, all the way up to the big leagues this year.
Tigers: Tarik Skubal, LHP (DET No. 18), 9th round, 2018
Tommy John surgery cost Skrubal most of his 2016-17 seasons at Seattle University, and he struggled to throw strikes last spring even when he was healthy. The Tigers, seeing untapped potential in the 6-foot-3 lefty, signed Skrubal for above slot at $350,000, and he's already rewarded the organization with an excellent start to his pro career, even earning an assignment to Class A Advanced Lakeland for his first full season.
Twins: Zack Littell, RHP (MIN No. 21), 11th round, 2013
The Mariners did a good job of recognizing that Littell wanted to sign out of high school and got him for $100,000 in the 11th round back in 2013. It hasn't been the straightest path as the right-hander has been traded twice, but he did make his big league debut at age 22 in 2018 and is currently pitching in Triple-A waiting for another opportunity.
White Sox: Ian Hamilton, RHP (CWS No. 14), 11th round, 2016
Hamilton thrived as a closer for two years at Washington State before struggling as a starter and seeing his stuff regress as a junior in 2016. Put back in the bullpen after turning pro, he regained his mid-90s fastball and reached the big leagues in two years.
American League West
A's: Parker Dunshee, RHP (OAK No. 18), 7th round, 2017
A money-saving senior sign in 2017 who got just $25,000 to join the organization, Dunshee has provided tremendous bang for the buck. He won the system's pitching triple crown in his first full season of pro ball in 2018 and has continued dominating this season, already reaching Triple-A with his four-pitch mix.
Angels: Jared Walsh, 1B/OF/LHP (LAA No. 20), 39th round, 2015
Taken in the next-to-last round of the 2015 Draft as a senior sign out of Georgia, Walsh at first seemed like an organizational filler type of player, then a curiosity when the Angels let him hit and pitch. Then he raked in Triple-A (and appeared in five games in relief) to earn a callup to the big leagues, where he promptly went 3-for-5 in his debut.
Astros: Myles Straw, OF (HOU No. 14), 12th round, 2015
The Astros' analytics department noted Straw's .413 batting average and 8 percent strikeout rate as a St. John's River (Fla.) CC sophomore in 2015, and their scouting department liked how he looked in a pre-Draft workout. He led the Minors in hitting (.358) in his first full year as a pro and in steals (70) in 2018, when he also cracked Houston's postseason roster.
Mariners: Matt Festa, RHP (SEA No. 17), 7th round, 2016
The Mariners gave Festa $10,000 to sign out of Division II East Stroudsburg in Pennsylvania in 2016. While he began his career as a starter, his move to the bullpen in 2017 turned him into a big leaguer. He picked up 20 saves in 2018 then made his Major League debut, and he's spent time with Seattle again this year.
Rangers: Joe Palumbo, LHP (TEX No. 7), 30th round, 2013
Seven members of our Rangers Top 30 were selected after the 10th round. The best prospect among them is Palumbo, who weighed just 160 pounds and threw in the mid-80s as a New York high school senior in 2013. Signed for $30,000, he overcame Tommy John surgery in 2017 and pairs a plus downer curveball with a sneaky low-90s fastball.
National League East
Braves: Jacob Webb, RHP (ATL No. 24), NDFA, 2014
Webb became the first player in the history of Tabor College, an NAIA school in Kansas, to make it to the big leagues when he made his big league debut a month ago. He also wasn't even drafted, joining the Braves in 2014 as an non-drafted free agent, overcoming 2015 Tommy John surgery and then showing his fastball-slider combination works just fine out of a big league bullpen.
Marlins: Jordan Holloway, RHP (MIA No. 13), 20th round, 2014
Signability questions knocked Holloway down to the 20th round in 2014, but he gave up a Nebraska-Omaha commitment to turn pro for $400,000. Since coming back from Tommy John surgery in 2017, he has reached 99 mph with his fastball and flashed a hammer curveball.
Mets: Daniel Zamora, LHP (NYM No. 24), 40th round, 2015
The Pirates took Zamora in the 40th round out of Stony Brook and moved him to the bullpen, where he blossomed before joining the Mets in the January 2018 trade for Josh Smoker. The 26-year-old lefty reached the Majors for the first time that August and was back in the Mets' bullpen in early 2019.
Nationals: Sterling Sharp, RHP (WAS No. 8), 22nd round, 2016
Sharp was a two-sport standout who had offers to play college basketball before taking the baseball route. Though his college numbers were underwhelming, Sharp intrigued the Nats with his athleticism and untapped potential on the mound, leading to his selection in the 22nd round. It's already looking like a steal after he posted one of the best groundball rates in the Minors while reaching Double-A in 2018.
Phillies: Cole Irvin, LHP (PHI No. 16), 5th round, 2016
Tommy John surgery forced Irvin to miss what would have been his sophomore season at Oregon in 2014. The Pirates drafted him late after he returned in 2015, but he went back for his redshirt junior season instead. The Phillies took the pitchability lefty in the fifth round and while he's not a true "sleeper" since he got $800,000 to sign, he has provided return on that investment, being very durable, starting his second season in Triple-A this year and winning his big league debut.
National League Central
Brewers: Zack Brown, RHP (MIL No. 6), 5th round, 2016
Brown wasn't an obvious standout during his three years at Kentucky, where he bounced between starting and pitching in relief, but the Brewers believed he had potential in the former role and signed him for north of $400,000. After a solid first full season, the 24-year-old broke out in earnest in 2018 by garnering honors as the Southern League's Most Outstanding Pitcher after he led the circuit in ERA (2.44).
Cubs: Zack Short, INF (CHC No. 11), 17th round, 2016
Short led the Northeast Conference with nine homers and 33 walks as a Sacred Heart sophomore in 2015 but fell to the 17th round after he didn't perform well in the Cape Cod League that summer or as a junior. Signed for $80,000, he's an interesting mix of power, patience and versatility.
Cardinals: Daniel Ponce de Leon, RHP (STL No. 15), 9th round, 2014
The right-hander was selected in the Draft three times before finally signing with St. Louis for $5,000 after his senior year at Embry-Riddle Aeronautical University (an NAIA program in Florida). The 27-year-old righty recovered from a life-threatening injury in 2017 -- he required emergency surgery to stop bleeding in his brain after being hit with a line drive -- to make his big league debut last July. With his ability to serve as either a starter or reliever, he's proven to be a versatile arm for the Cardinals.
Pirates: Jason Martin, OF (PIT No. 10), 8th round, 2013
Ever since the Astros took Martin out of Orange Lutheran High School in Southern California in the eighth round of the 2013 Draft, he's shown off some well-rounded tools, including one 20-20 season. He was traded as part of the deal for another OLu alum, Gerrit Cole, and made his big league debut when the Pirates had holes in their outfield earlier this season.
Reds: Jimmy Herget, RHP (CIN No. 18), Reds, 6th round, 2015
Herget was a starter at South Florida, but the Reds looked at his funky delivery and thought it'd work best out of the bullpen after taking him in the sixth round in 2015. They were right, as he closed games for a couple of years and has pitched in a setup role in Triple-A, earning a spot on the 40-man roster this past offseason in the process.
National League West
D-backs: Kevin Ginkel, RHP (ARI No. 29), 22nd round, 2016
Two years after being selected out of Arizona, Ginkel broke out with one of the more dominant seasons by a reliever in 2018, pitching to 1.41 ERA with 100 strikeouts and 12 walks in 70 innings. He furthered his success in the Arizona Fall League, then received an early-season promotion up to Triple-A in 2019.
Dodgers: Tony Gonsolin, RHP (LAD No. 4), ninth round, 2016
Gonsolin starred at St. Mary's as two-way player and has taken off since focusing solely on pitching after becoming a $2,500 senior sign in 2016. His stuff made a quantum leap, even after he transitioned from relieving to starting, and he now deals with a mid-90s fastball, a devastating upper-80s splitter and a low-80s curveball.
Giants: Jacob Heyward, OF (SF No. 30), 18th round, 2016
Jason Heyward's little brother starred in the 2015 College World Series as a Miami sophomore, then slumped as a junior and signed for $50,000 in the 18th round. He has a chance for average tools across the board and is enjoying his best full season yet in Double-A.
Padres: Ty France, 3B (SD No. 30), 34th round, 2015
Signed for $100,000 after three seasons at San Diego State under then-head coach Tony Gwynn, France busted out in 2018 to post an .819 OPS with 22 homers, 30 doubles and 96 RBIs in 137 games between the Double- and Triple-A levels. He hit nine homers in 19 games this season in his return to Triple-A to earn his first big league callup in late April.
Rockies: Sam Hilliard, OF (COL No. 9), 15th round, 2015
Hilliard was known more as a pitcher early in his amateur days, but his bat took off when he transferred from junior college to Wichita State. The Rockies' flyer on him in the 15th round in 2015 looks like it's paying off as he played his way onto the 40-man roster this offseason and continued to show his power-speed combination (12 homers, seven steals) in his first 40 games in Triple-A this year.