Each team's best 1st-rounder of the past decade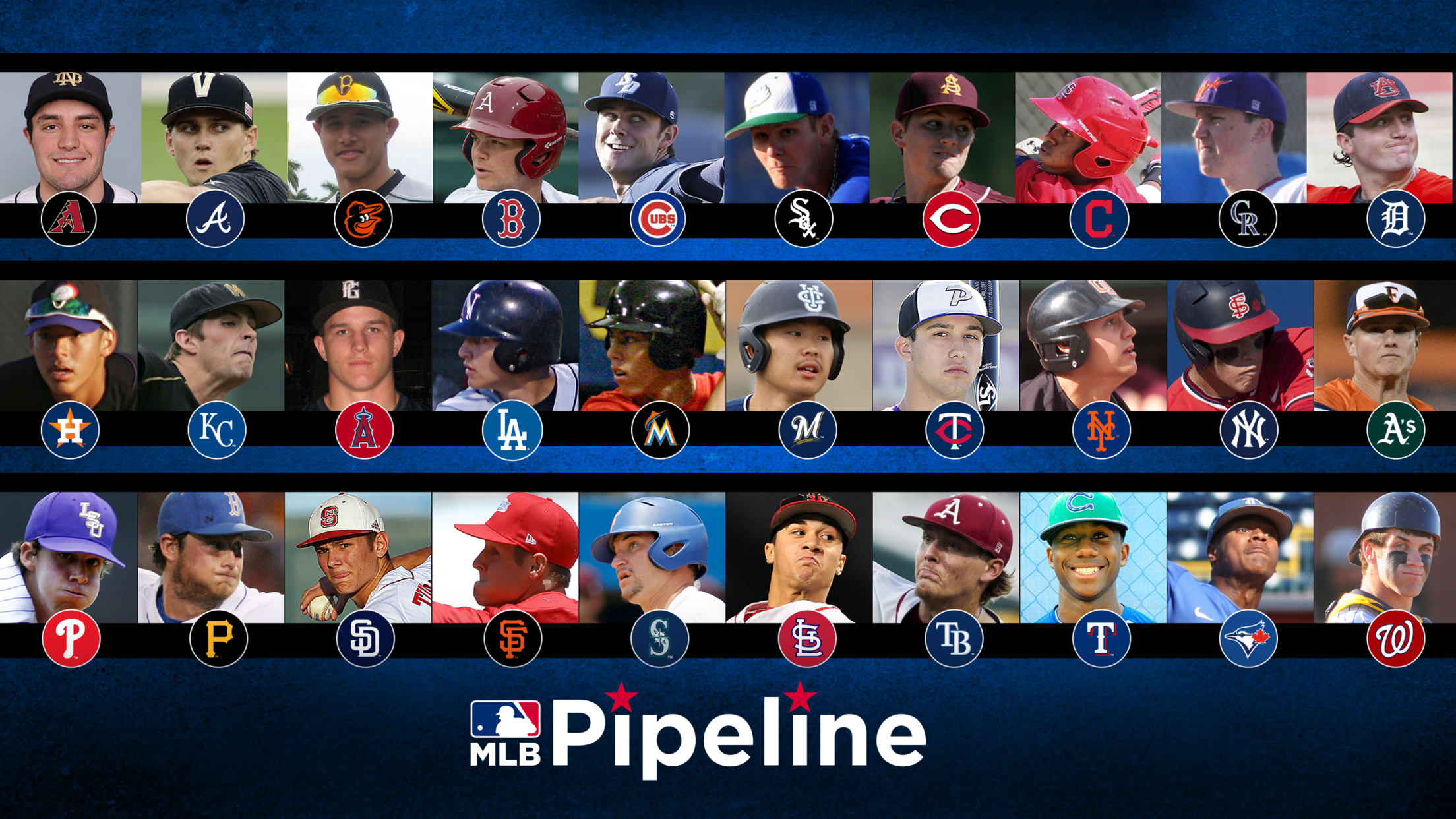 The release of the 2019 Draft Top 50 list had the MLB Pipeline staff thinking about Drafts in years past. Teams always want to get that first pick right, and there have been some real home runs hit in the first round.Who were the best first-round picks for each team
The release of the 2019 Draft Top 50 list had the MLB Pipeline staff thinking about Drafts in years past. Teams always want to get that first pick right, and there have been some real home runs hit in the first round.
Who were the best first-round picks for each team over the last decade? MLB Pipeline dug through the first rounds of the last 10 years (2009-18) and picked the top first-rounder for each organization. Only those chosen in what was the official first round each year were considered -- no supplemental picks were allowed. The 2014 Draft has been the most fruitful, with six players from that first round making the list. The Drafts from 2012 and 2009 are right behind with five selections, with the latter boasting the player who has to be the single best first-round selection over the last 10 years.
AL East
Marcus Stroman, RHP, Blue Jays, 2012 (No. 22 overall)
Stroman's profile scared away many teams in the 2012 Draft, but the Duke product has done his part to overcome the stigma associated with being an undersized right-hander. Though he regressed in 2018, while dealing with right shoulder fatigue and, later, a blister issue, Stroman posted back-to-back 200-inning seasons (2016-17) and has been worth 10.6 WAR over five seasons with the Blue Jays.
Manny Machado, SS, Orioles, 2010 (No. 3 overall)
Machado made the jump straight from Double-A to the Majors as a 19-year-old in late 2012, and quickly became a star. His 33.8 WAR is the highest among 2010 first-round position players, second only to Chris Sale, and after helping guide Baltimore to two postseason appearances as a four-time All-Star, Machado netted the organization five Top 30 prospects when it dealt him to the Dodgers this past July.
Ryne Stanek, RHP, Rays, 2013 (No. 29 overall)
Drafting in the first round has long been a problem for the typically savvy Rays, and even their selection of Stanek isn't a hands-down win for the organization, considering he was viewed as a starter (before needing hip surgery) out of the Draft. That said, the right-hander emerged as a legitimate late-inning weapon (and, at times, an "opener") for the Rays in 2018, when he compiled a 2.98 ERA, 1.09 WHIP and 11.0 strikeouts per nine innings over 66 1/3 innings (59 appearances).
Andrew Benintendi, OF, Red Sox, 2015 (No. 7 overall)
Benintendi went from unheralded Arkansas freshman to consensus College Baseball Player of the Year as a sophomore, soaring up Draft boards in the process. The Red Sox had him No. 2 on theirs (behind Dansby Swanson), which he justified by becoming a regular in their 2018 World Series championship lineup just 13 months after signing.
Aaron Judge, OF, Yankees, 2013 (No. 32 overall)
Judge was the second of three Yankees first-rounders in 2013, sandwiched between Eric Jagielo (No. 26) and Ian Clarkin (No. 33), and lasting that long because there were questions about how well his massive raw power would translate into production. After only hitting 18 homers in three years at Fresno State and 56 in three seasons in the Minors, he exploded for a rookie-record 52 in 2017.
AL Central
Francisco Lindor, SS, Indians, 2011 (No. 8 overall)
Cleveland landed perhaps the best player in a historically good first-round class, as Lindor has become one of the faces of game while totaling 23.9 WAR -- second to Mookie Betts (35.2) among 2011 draftees -- and leading the Indians to an American League title (2016) since his debut in '15, when he finished second in AL Rookie of the Year Award voting. Entering his age-25 season, he's garnered All-Star honors and finished Top 10 in MVP voting in each of the last three years.
Aaron Crow, RHP, Royals, 2009 (No. 12 overall)
The Royals haven't fared well in the first round during the last decade, though Crow made the All-Star Game as a rookie in 2011, and was an effective reliever for four seasons until he blew out his elbow shortly after a trade to the Marlins. Cristian Colon (No. 4 overall, 2010) didn't have as much sustained success but delivered the championship-winning hit in the 2015 World Series.
Casey Mize, RHP, Tigers, 2018 (No. 1 overall)
Perhaps this one is more aspirational because he's thrown only 13 2/3 career innings since being the top pick in last June's Draft, but Mize should be able to use his three plus pitches and his plus control to move quickly through the Tigers' system. Look for him in Detroit sooner rather than later.
Alex Kirilloff, OF, Twins, 2016 (No. 16 overall)
The rules for this story don't allow for a supplemental first-round pick to be chosen, otherwise Jose Berrios might be the guy. But after missing the 2017 season, Kirilloff erupted in '18, his first real full season, and is looking like one of the best hitting prospects in all of baseball.
Chris Sale, LHP, White Sox, 2010 (No. 13 overall)
After 2010's Big Three of Bryce Harper, Jameson Taillon and Machado, Sale should have been the next player taken. But teams psyched themselves out over worries about his low arm slot and desire for a big league contract (typical for top college arms at the time), allowing the White Sox to steal him at No. 13. He was saving games for Chicago by September and has been an All-Star in each of his seven seasons as a starter.
AL West
Matt Chapman, 3B, A's, 2014 (No. 25 overall)
Chapman emerged as the A's next homegrown star in his first fully healthy season, as he ranked third in WAR (8.2) among all position players, finished seventh in AL MVP voting and took home the revered Platinum Glove award as baseball's best defensive player. His 11.7 WAR in 229 career games is tops among positional players from his Draft class -- ahead of even Trea Turner (10.4), who's played 360 games.
Michael Trout, OF, Angels, 2009 (No. 25 overall)
The teams that say they had Trout No. 2 on their board are sort of like the million people who say they were present for The Shot Heard Round the World. Their loss was the Angels' gain, obviously, as he's turned into one of the game's top stars, with seven All-Star appearances and two MVP Awards.
Carlos Correa, SS, Astros, 2012 (No. 1 overall)
George Springer (No. 11, 2011) and Alex Bregman (No. 2, 2015) can also make a case, but our choice is Correa. A series of impressive pre-Draft workouts gave him late helium and made him the first Puerto Rican taken with the top choice. He won AL Rookie of the Year Award honors in '15, then received All-Star recognition and won a World Series two year later.
Mike Zunino, C, Mariners, 2012 (No. 3 overall)
Zunino struggled for several years after being rushed to the Major Leagues and hit .207 over 2,000 plate appearances with Seattle. His combination of right-handed power and strong defense behind the plate, however, became increasingly valuable, especially with the quality of the position on the decline across the Majors.
Lewis Brinson, OF, Rangers, 2012 (No. 29 overall)
The Rangers' 13 first-round picks from the last decade have produced only three big leaguers and a combined -0.4 WAR so far. An exceptional athlete who has yet to hit in the Majors, Brinson went to the Brewers in a deal for Jeremy Jeffress and Jonathan Lucroy in July 2016, and to the Marlins in a trade for Christian Yelich last January.
NL East
Kyle Wright, RHP, Braves, 2017 (No. 5 overall)
The Braves hoped Wright would move quickly when they took him with their first pick in the 2017 Draft out of Vanderbilt. Starting his first full season in Double-A was a good sign and reaching Atlanta before the year was over was ahead of schedule, even for a fast-tracker.
Christian Yelich, OF, Marlins, 2010 (No. 23 overall)
One of the 2010 Draft's better hitters as a California prep, Yelich reached the Majors in mid-2013 and received a seven-year, $49.57 million contract extension two years later. He hit .290/.369/.432 (18.6 WAR) over 643 games with Miami, and then helped the organization restock its farm system with four prospects, including Brinson and Monte Harrison, when they dealt him to Milwaukee last offseason. In his first year with the Brewers, Yelich won the batting title (.326) and powered the club to the National League Championship Series en route to MVP honors.
Michael Conforto, OF, Mets, 2014 (No. 10 overall)
It took the Oregon State product only a year to get to the big leagues, and while his performance has been a little up and down, he's hit 56 homers the last two years and has an All-Star nod already on his resume. Still only 25, he has already amassed nearly 1,400 Major League at-bats.
Bryce Harper, OF, Nationals, 2010 (No. 1 overall)
The Nationals' selection of Harper with the first pick in the 2010 Draft forever changed the course of the franchise, as it gave the club a player with near-immediate impact potential as well as generational-star upside worthy of building around. Over seven seasons with the Nats, Harper -- a six-time All-Star and the 2015 NL MVP -- hit .279/.388/.512 with 184 homers in 927 games, good for a 27.4 WAR.
Aaron Nola, RHP, Phillies, 2014 (No. 7 overall)
Nola took his combination of solid stuff and outstanding command and made a beeline to Philadelphia, joining the rotation in just over a year following his selection. And the 25-year-old is just getting going, making his first All-Star team and finishing third in NL Cy Young Award voting in 2018.
NL Central
Keston Hiura, 2B, Brewers, 2017 (No. 9 overall)
The Brewers' track record with first-round picks isn't great, but Hiura could soon help reverse that trend. After leading all Division I hitters in average (.442) as a UC Irvine junior, Hiura raked his way up to Double-A this past season and then took home MVP honors in the prestigious Arizona Fall League. He still needs some more time in the Minors, but it shouldn't be long before Hiura is driving in runs from the middle of Milwaukee's order.
Jack Flaherty, RHP, 2014 (No. 34 overall)
The Cardinals have had some solid back-half-of-the-first-round selections, like Michael Wacha and Kolten Wong, but Flaherty made it to the big leagues in 2017, then finished fifth in NL Rookie of the Year voting in '18. Flaherty will be only 23 in 2019, so the best may be yet to come.
Kristopher Bryant, 3B, Cubs, 2013 (No. 2 overall)
Bryant had a stunning junior season at San Diego, swatting 31 homers to not only lead NCAA Division I but also topping 223 of the 296 teams at that level. He raced to the big leagues, winning the NL Rookie of the Year Award in 2015 and encoring with an NL MVP Award and World Series championship the next season.
Gerrit Cole, RHP, Pirates, 2011 (No. 1 overall)
Cole's 17.4 WAR is more than double any other Pirates' first-rounder in the last decade. Perhaps his tenure with Pittsburgh was up and down, but he made the All-Star team, finished fourth in NL Cy Young voting and made three postseason starts in 2015. He's also topped 200 innings in three of the last four years (albeit the last one coming for the Astros).
Mike Leake, RHP, Reds, 2009 (No. 8 overall)
Leake spent exactly zero days in the Minor Leagues between getting drafted and his Major League debut, breaking with the Reds' rotation on Opening Day in 2010. He's compiled more WAR than any Reds first-rounder in the last 10 years (15.6) and his trade to the Giants in 2015 netted them Adam Duvall (two years of 30-plus homers) and Keury Mella, who should contribute to the pitching staff in '19.
NL West
A.J. Pollock, OF, D-backs, 2009 (No. 17 overall)
When Pollock was coming out of Notre Dame, he was a solid college performer, but one who didn't have a plus tool, so some thought he might end up a bit of a tweener. There have been some injuries, but there's also been an All-Star appearance and a Gold Glove as an everyday center fielder, one who is currently coveted on the free-agent market.
Corey Seager, SS, Dodgers, 2012 (No. 18 overall)
After taking pitchers with their previous six first-round choices -- landing Clayton Kershaw and five non-impact big leaguers -- the Dodgers changed course and went for Seager, who was one of the better all-around high school bats but also came with some signability concerns in the first Draft with bonus-pool rules. He signed for $2.35 million ($400,000 above the assigned value at No. 18) and proved well worth it, earning the NL Rookie of the Year Award in 2016 and All-Star recognition in each of his two full big league seasons.
Zack Wheeler, RHP, Giants, 2009 (No. 6 overall)
He wasn't a cornerstone of World Series championships like Giants 2006-08 first-rounders Timothy Lincecum, Madison Bumgarner and Buster Posey, but the guy who followed them has been a quality big league starter when healthy. Wheeler didn't last long with San Francisco, however, going to the Mets in a 2011 trade for Carlos Beltran.
Trea Turner, SS, Padres, 2014 (No. 13 overall)
Turner played the first half of his pro debut on borrowed time, as he'd already been dealt to the Nationals as part of a three-team trade with Tampa Bay (that netted the Padres William Myers) by the time the 2015 season began. He's emerged as one of the more impactful young players with the Nats.
Kyle Freeland, LHP, Rockies, 2014 (No. 8 overall)
The Rockies hoped for Kyle Schwarber or Nola, but the Cubs and Phillies foiled those plans and led them to Freeland, whose elbow worried some clubs because he had arthroscopic surgery as a Denver high schooler. He had bone chips removed from his elbow in 2015 but has been otherwise healthy, winning 11 games as a rookie in '17 and finishing fourth in NL Cy Young Award voting last season.