Each team's top performer from the '18 Draft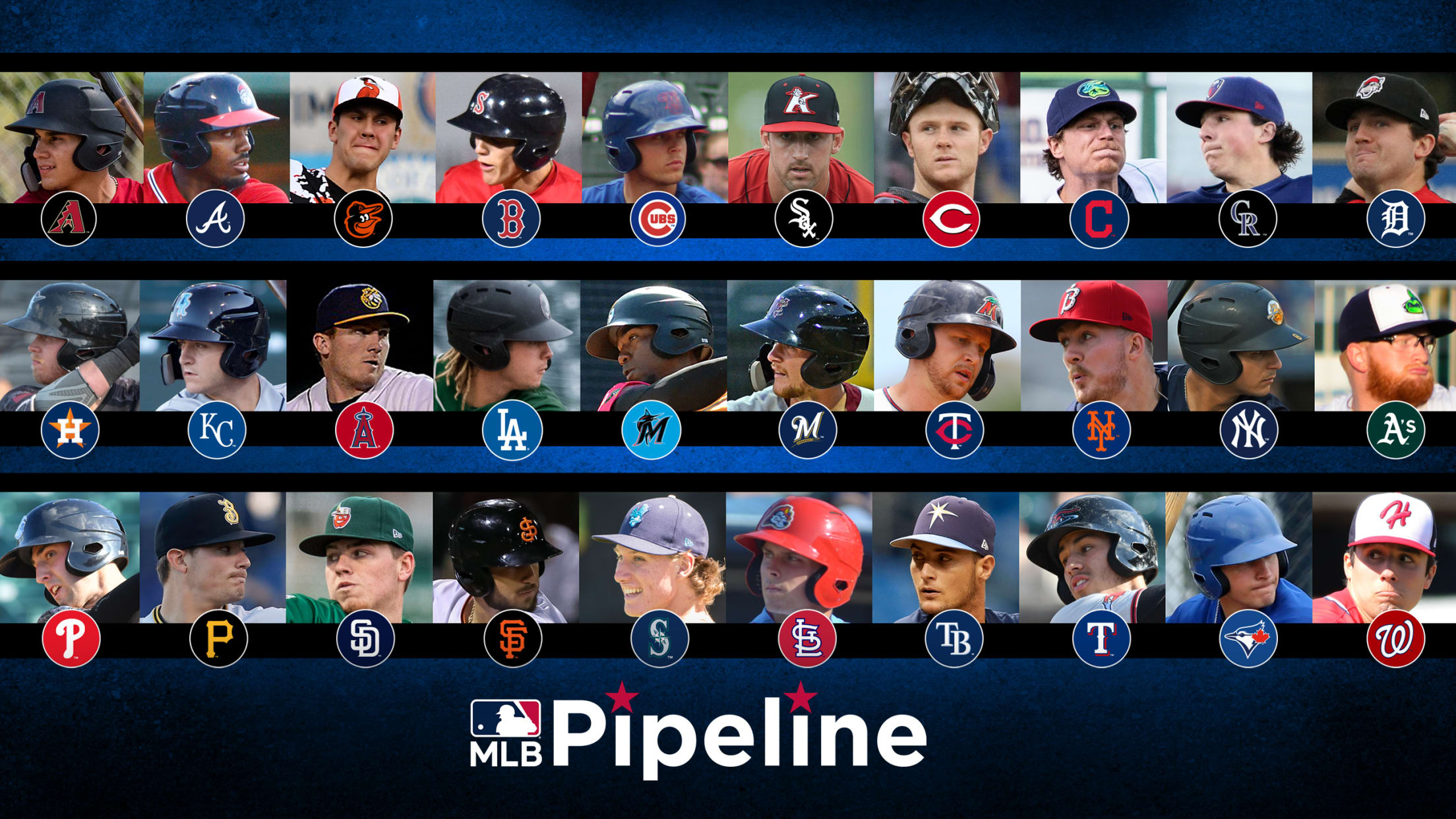 We're just over three weeks away from the 2019 Draft. From June 3-6, hundreds of amateur players will have their dreams come true by being selected over the 40 rounds of the three-day event and will embark on their pro careers. Some are seen as top talents who have the
We're just over three weeks away from the 2019 Draft. From June 3-6, hundreds of amateur players will have their dreams come true by being selected over the 40 rounds of the three-day event and will embark on their pro careers.
Some are seen as top talents who have the best chance to become big leaguers. Others will be taken in the later rounds, receive less bonus money and will have to prove themselves every step of the way.
In the end, a small percentage of players make it to the highest level. But getting off to a good start to their careers at the lower levels of the Minors can help build a solid foundation on the way up. Here is one 2018 draftee from each team, not all top prospects, who have done just that dating back from their summer debuts in 2018 up until this point of their full-season debuts.
American League East
Jordan Groshans, SS/3B, Blue Jays' No. 5 (MLB No. 98), 1st round (No. 12 overall)
While the Blue Jays' decision to take Groshans ultimately saved them money to sign some of their other picks, the Magnolia (Texas) High product has quickly proved to be much more than a cost-saving pick, hitting for average and power and showing plate discipline at every stop in his young career. The 6-foot-3 205-pounder has produced a .333/.419/.481 line with two homers this season in 21 games for Class A Lansing, giving him an overall line of .333/.419/.481 with 56 RBIs in 69 games since being drafted. Blue Jays Draft stats »
Grayson Rodriguez, RHP, Orioles' No. 5, 1st round (No. 11 overall)
A physically strong 19-year-old, listed at 6-foot-5, 220 pounds, GrayRod has done nothing but dominate since entering the professional ranks, showing the ability to pound the zone with a four-pitch mix highlighted by a heavy fastball in the low 90s and a plus slider in the low- to mid-80s. That combination of size, stuff and pitchability has made Rodriguez a force this season in the South Atlantic League, where he's 4-0 through five starts, with a 1.04 ERA, 0.88 WHIP and 41/8 K/BB. Orioles Draft stats »
Shane McClanahan, LHP, Rays' No. 11, 1st round (No. 31 overall)
Throwing strikes has been an issue for the South Florida product in his first full season, but he's had no problems with missing bats against younger hitters in the Midwest League, compiling 37 strikeouts and 18 walks in 26 innings, while fanning at least five batters in all but one of his six starts. Altogether, the 22-year-old southpaw, who features a plus fastball and above-average slider, has racked up 50 strikeouts in 33 innings (13.6 K/9) since joining the Rays' system. Rays Draft stats »
Jarren Duran, OF, Red Sox's No. 10, 7th round (No. 220 overall)
The Red Sox drafted Duran because he had plus-plus speed but did not count on his power after he had slugged just .377 in three years at pitcher-friendly Long Beach State. He has driven the ball consistently in pro ball after narrowing his stance, allowing him to hit .369/.411/.516 with 37 steals in his first 97 games. Red Sox Draft stats »
Mickey Gasper, 1B/C, Yankees, 27th round (No. 817 overall)
A $5,000 senior sign, Gasper showed the ability to hit for power and work walks in while at Bryant University. He has continued to do so in pro ball, batting .270/.392/.493 with 11 homers and 39 free passes (versus 37 strikeouts) in his first 65 contests. Yankees Draft stats »
American League Central
Robert Broom, RHP, Indians, 10th round (No. 313 overall)
A sidewinder with a 90-mph fastball and a slider that slice through the strike zone, Broom earned All-America honors as a Mercer junior after logging a 1.70 ERA and averaging 13.5 strikeouts per nine innings. He has continued to excel as a multi-inning reliever in the Indians' system, posting a 1.03 ERA and averaging 12.6 whiffs per nine in his first 32 appearances. Indians Draft stats »
Kyle Isbel, OF, Royals' No. 10, 3rd round (No. 94 overall)
This is shaping up to be a very good class for the Royals, and there are a number of pitchers who deserve mention, from first-rounders Brady Singer and Jackson Kowar to lefties Kris Bubic and Daniel Lynch. But it's hard to ignore how good Isbel has been. Despite being slowed temporarily by a hamstring issue, he's now hitting a combined .329/.394/.523 with nine homers and 29 steals in 77 games. Royals Draft stats »
Casey Mize, RHP, Tigers' No. 1 (MLB No. 16), 1st round (No. 1 overall)
Mize has surpassed the massive hype associated with being the No. 1 overall pick. It took him all of four starts this season in the Florida State League (0.35 ERA, 0.31 WHIP, 25/1 K/BB in 26 IP) to prove he was ready for a move up to Double-A, and the 22-year-old right-hander responded to the challenge by firing a 98-pitch no-hitter in is Double-A debut. He's allowed just one earned run in 40 innings (six starts) in 2019, good for a 0.23 ERA and 0.28 WHIP. Hitters have mustered a .071 average against him. He's as big league-ready as any pitching prospect. Tigers Draft stats »
Ryan Jeffers, C, Twins' No. 16, 2nd round (No. 59 overall)
Jeffers hit a bunch of homers at UNC-Wilmington, including 16 during his junior year. He's continued to show power as a pro, especially during his summer debut when he slugged .502. His overall advanced approach has made him a better hitter than expected, and he's at .326/.416/.471 for his career. He's also thrown out 36.7 percent of potential basestealers. Twins Draft stats »
Bennett Sousa, LHP, White Sox, 10th round (No. 288 overall)
Signed for $10,000 as a Virginia senior, Sousa is a sinker/slider reliever who has posted a 1.42 ERA in his first 31 pro appearances after logging a 5.50 mark in four years with the Cavaliers. He's throwing a lot more strikes, cutting his walk rate from 5.8 per nine innings in college to 2.3 in pro ball, and he has 61 whiffs in 50 2/3 frames. White Sox Draft stats »
American League West
Brady Feigl, RHP, A's No. 28, 5th round (No. 143 overall)
The younger of two Brady Feigls in pro ball (look it up!), this Ole Miss product had an outstanding pro debut (1.73 ERA, .124 BAA over 26 IP) to catapult him to a full-season debut in the California League. He's held his own in the hitter-friendly circuit and has a combined 2.91 ERA with a 9.8 K/9 rate. A's Draft stats »
Jake Lee, RHP, Angels, 9th round (No. 271 overall)
While Lee was a senior sign who got just a $7,500 bonus, he's already showing he might be more than just a money-saver. The Oakland product pitched in relief during his summer debut (perhaps his ultimate role), but has been getting the chance to start this year, and has already earned a bump up from the Class A Midwest League to the Class A Advanced California League. He has a gaudy 68/8 K/BB ratio in 49 2/3 total innings. Angels Draft stats »
Seth Beer, OF/1B, Astros' No. 10, 1st round (No. 28 overall)
Beer posted big numbers (.321/.489/.648 with 56 homers and 180 walks versus 98 strikeouts) in three years at Clemson but struggled with wood bats with Team USA during summer action. He hasn't had any issues as a pro, hitting .313/.395/.523 with 19 homers in his first 98 games. Astros Draft stats »
Former @ClemsonBaseball slugger Seth Beer clubbed his 7th HR of the season for @WoodpeckersNC in the 1st inning, his 3rd in 5 games. The #Astros first-rounder from the 2018 #MLBDraft is batting .327 on the year.

See where he ranks among @Astros prospects: https://t.co/9C1DApJNnx pic.twitter.com/dsJx7FoUSV

— MLB Pipeline (@MLBPipeline) May 7, 2019
Joey Gerber, RHP, Mariners' No. 19, 8th round (No. 238 overall)
Illinois' closer, Gerber had 14 saves as a junior in college and has continued to close in the Mariners organization. He's made the jump up to the California League for his full-season debut and has racked up a combined 12 saves, a .194 BAA and a ridiculous 14.8 K/9 rate thus far. Mariners Draft stats »
Jonathan Ornelas, INF, Rangers' No. 18, 3rd round (No. 91 overall)
As an Arizona high schooler, Ornelas drew some Javier Baez comparisons for his power and flashiness. Like the Cubs star, he has broken into pro ball with a bang, batting .317/.397/.468 with 25 extra-base hits and 20 steals in his first 74 games. Rangers Draft stats »
National League East
Justin Dean, OF, Braves' No. 30, 17th round (No. 502 overall)
Hailing from Division II Lenoir-Rhyne College and a bit undersized, Dean knows he has a lot to prove, and that's part of what fuels him. He hit his way to full-season ball during his debut and has continued to get on base and then steal them during his first full year of pro ball, leading to a career .273/.373/.384 with 37 steals in 90 games as of Friday. Braves Draft stats »
Tyler Jones, Marlins, 26th round (No. 277 overall)
Jones had a 6.83 ERA in three seasons at Wichita State before getting declared ineligible for his senior year, but the Marlins still took a $1,000 flier on him because he has a mid-90s fastball. He has dominated at the outset of his pro career, recording a 1.56 ERA with a 45/8 K/BB ratio in 34 2/3 innings as a reliever. Marlins Draft stats »
Ryley Gilliam, RHP, Mets' No. 20, 5th round (No. 140 overall)
After serving as Clemson's closer for two seasons, the 22-year-old right-hander has furthered his reputation as a late-inning force in pro ball and could end up being one of the first 2018 Draft picks to reach the Majors. After spending his pro debut in the Class A Short Season New York-Penn League, Gilliam opened his first full season in the Florida State League, making seven dominant appearances for St. Lucie to earn a Double-A promotion. He's racked up 58 strikeouts in 34 innings (15.4 K/9) between the three levels, thanks largely to his ability to miss bats both inside and outside of the zone with a plus fastball-curveball combo. Mets Draft stats »
Tim Cate, LHP, Nationals' No. 5, 2nd round (No. 65 overall)
Cate's curveball was viewed by scouts as one of the better breaking balls in the 2018 Draft. The pitch, as well as his overall feel for mixing it with an average fastball and changeup, has helped the UConn product get off to a strong start in his first full season, pitching to a 1.60 ERA over seven starts at Class A Hagerstown. The 21-year-old lefty has held hitters to a .174 clip overall, striking out 46 in 39 1/3 innings. Nationals Draft stats »
Matt Vierling, OF, Phillies, 5th round (No. 137 overall)
The Nortre Dame outfielder made quick work of the New York-Penn League last summer (.420/.453/.580 in 12 games) to earn a promotion to the South Atlantic League. He's jumped up to the Class A Advanced Florida State League for his full-season debut and has continued to hit, leading to a .311/.362/.490 career line with 11 homers and 15 steals in 92 games so far. Phillies Draft stats »
National League Central
Brice Turang, SS, Brewers' No. 3, 1st round (No. 21 overall)
Turang's draft stock dipped last spring as the result of overexposure and prospect fatigue, but he's looking more and more like a first-round steal following an impressive start to his career. He's been anything but overmatched at Class A Wisconsin in his first full-season campaign, hitting .291/.409/.369 in the Midwest League after producing a .283/.396/.352 line in his pro debut between a pair of Rookie levels. With a well-rounded set of tools and advanced baseball skills, the 19-year-old shortstop could be among the first prep position players from his class to reach the Majors. Brewers Draft stats »
Nico Hoerner, SS, Cubs' No. 2 (MLB No. 92), 1st round (No. 24 overall)
Hoerner's hitting ability got him drafted in the first round, and he has displayed more power than expected after slamming just three homers in three years at Stanford. He has batted .312/.419/.532 in 32 games -- he missed much of last summer after straining his left elbow diving for a ball -- and starred in the Arizona Fall League last offseason. Cubs Draft stats »
Nolan Gorman, 3B, Cardinals' No. 1 (MLB No. 55), 1st round (No. 19 overall)
One of the more revered sluggers in his class, Gorman's massive left-handed power has translated in pro ball about as well as the Cardinals could have hoped when they took him with the first of their two first-round picks last June. After pacing all 2018 Draftees with 17 home runs and reaching Class A Peoria in his pro debut, the 19-year-old has gone deep seven times in 30 games this season in his return to the Midwest League without it detracting from his overall feel to hit and on-base skills. Cardinals Draft stats »
Aaron Shortridge, RHP, Pirates, 4th round (No. 114 overall)
A reliever as a sophomore who was an effective starter for Cal as a junior, Shortridge looks like he might have a chance stick in a rotation. He's now made 15 starts between the short-season New York-Penn League last summer and a jump up to the Florida State League this year, compiling a 3.10 ERA, nearly a strikeout per inning and a minisclue 1.42 BB/9 rate. Pirates Draft stats »
Jay Schuyler, C, Reds, 7th round (No. 199 overall)
At the University of San Deigo, Schuyler showed the ability to play multiple positions, moving behind the plate when the team needed him while also handling left field. That's continued as a pro, as he'd played those two positions, as well as first base, capably, while hitting .278 with a .361 OBP in 87 total games between last summer and so far this year. Reds Draft stats »
National League West
Alek Thomas, OF, D-backs' No. 7, 2nd round (No. 63 overall)
Thomas grew up around the game -- he's the son of Allen Thomas, the White Sox director of strength and conditioning -- so it's not all that surprising that the 19-year-old outfielder has performed well early in his career despite several challenging assignments. After hitting .333/.395/.463 in his pro debut across two Rookie levels, the former three-sport pre standout has built upon the performance in his first full season by slashing .297/.388/.406 for Class A Kane County. D-backs Draft stats »
Niko Hulsizer, OF, Dodgers, 18th round (No. 554 overall)
Hulsizer set a Morehead State and Ohio Valley Conference record with 27 homers as a sophomore in 2017, when he also won the College Home Run Derby, but he was slowed by a broken hamate during his Draft year. His power has translated to wood bats, as he has hit .281/.415/.546 with 15 homers in his first 76 pro games. Dodgers Draft stats »
Joey Bart, C, Giants' No. 1 (MLB No. 21), 1st round (No. 2 overall)
The recipient of the largest up-front bonus for a position player in Draft history ($7,025,000), Bart has lived up to expectations so far by batting .290/.361/.581 with 15 homers in 61 games and playing solid defense behind the plate. The only bad news is that he broke his left hand when hit by a pitch in mid-April and may not return until June. Giants Draft stats »
Ryan Weathers, LHP, Padres' No. 9 (MLB No. 85), 1st round (No. 7 overall)
The 2018 Gatorade National Player of the Year, and son of former big league pitcher David Weathers, reached Class A Fort Wayne in his professional debut, after singing for $5,226,500. He's furthered his success this season in his return to the Midwest League, demonstrating advanced feel of three above-average pitches en route to a 1.82 ERA and 31/3 K/BB in 24 2/3 innings (five starts). Padres Draft stats »
Ryan Rolison, LHP, Rockies' No. 5, 1st round (No. 22 overall)
A Draft-eligible sophomore out of Mississippi, Rolison was billed as an advanced college lefty with a tremendous feel for pitching. So far, he's lived up to that description. He quickly earned a promotion from the South Atlantic League to the California League this year and in his career has a 1.47 ERA, a .184 BAA, a 9.5 K/9 rate to go along with just a 1.9 BB/9 rate. Rockies Draft stats »