Monday's top prospect performers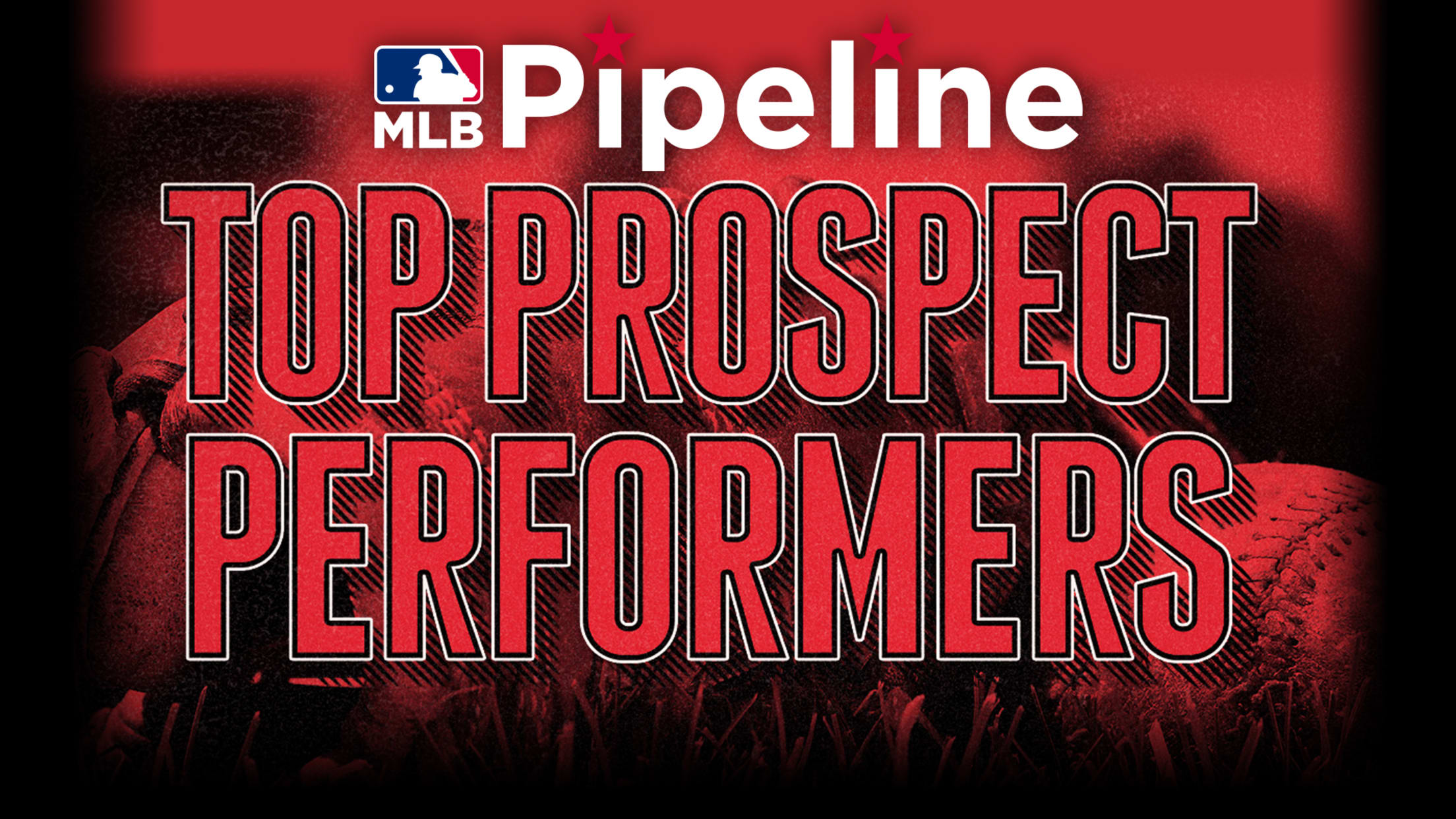 Here's a look at Monday's top Minor League performers from each team's Top 30 Prospects list: AMERICAN LEAGUE EAST Blue Jays: Jonathan Davis, OF (No. 29) -- 2-for-4, 2 HR, 5 RBI, 3 R, BB (Triple-A Buffalo) Davis isn't known for his power, but that didn't stop him from driving
Here's a look at Monday's top Minor League performers from each team's Top 30 Prospects list:
AMERICAN LEAGUE EAST
Blue Jays: Jonathan Davis, OF (No. 29) -- 2-for-4, 2 HR, 5 RBI, 3 R, BB (Triple-A Buffalo)
Davis isn't known for his power, but that didn't stop him from driving the ball out of the yard a couple of times in Buffalo's 10-6 win over Pawtucket. In fact, the two-homer game was Davis' first since 2016. Although Davis doesn't hit for a lot of power, he has been productive this season, hitting .270 through 31 games. He has also spent some time in the Majors and hit .143 over 17 games.
Blue Jays prospects stats »
Hey #SCTop10, it's been a whole 4 nights since @3_JonathanDavis was on your list...

So, he went out and did this! #Bisons #BlueJays @MiLB

Oh, and he had 2HR & 5RBI too! pic.twitter.com/2trKZJMth8

— Buffalo Bisons (@BuffaloBisons) June 25, 2019
Orioles: Mason McCoy, SS (No. 30) -- 3-for-4, BB (Double-A Bowie)
Make that three straight multihit games for McCoy, who is 7-for-14 over the past three games and hitting .333 through 43 games with Double-A Bowie. Prior to his stint with Bowie, McCoy, a sixth-round pick from the 2017 Draft, began the year with Class A Advanced Frederick, where he hit .379 over 27 games. McCoy has done nothing but hit all year and is well on his way toward a breakout campaign after he hit .266 over 124 games a season ago.
Orioles prospects stats »
Rays: Nick Solak, 2B/OF (No. 12) -- 2-for-4, HR, 4 RBI, BB (Triple-A Durham)
Another day, another homer for Solak. The 24-year-old has gone deep in four of the past five games, bringing his season total to 16 through 70 games. It looks likely that Solak will set a career high for homers and surpass last year's mark of 19. While the homers jump off the page, Solak is having a solid season all around in his first taste of the Triple-A level. The 2016 second-round pick, whom the Rays acquired via a trade from the Yankees, is slashing .283/.374/.530.
Rays prospects stats »
Red Sox: C.J. Chatham, SS (No. 8) -- 2-for-4, HR, 2B, 2 R (Double-A Portland)
Chatham, a second-round pick from the 2016 Draft, boosted his average to .318 and hit his first homer of the season. The 24-year-old has hit over .300 in each of the past two seasons and is well on his way toward doing so again. Chatham makes consistent line-drive contact and the Red Sox are hopeful he'll be able to develop some more pop as he adds strength to his frame.
Red Sox prospects stats »
Yankees: Deivi Garcia, RHP (No. 4) -- 5 IP, 0 H, 0 R, 2 BB, 9 K; Domingo Acevedo, RHP (No. 22) -- 2 IP, 0 H, 0 R, 1 BB, 2 K (Double-A Trenton)
Garcia turned in a second straight dominant outing as he fired five nearly flawless innings in Trenton's combined no-hitter, The 20-year-old right-hander fanned 15 in six shutout frames last time out and has a 2.86 ERA in nine starts since his promotion to Double-A. Acevedo, 25, has thrown well for Trenton this season and is 7-1 with a 3.86 ERA. He hasn't allowed a hit in his past four outings.
Yankees prospects stats »
Combined no-hitter for @TrentonThunder!

Garcia's final line:
5 IP, 0 H, 0 R, 2 BB, 9 K

— MLB Pipeline (@MLBPipeline) June 25, 2019
AMERICAN LEAGUE CENTRAL
Indians: Nolan Jones, 3B (No. 2, MLB No. 43) -- 3-for-3, HR, 2B, 4 RBI, 4 R, 2 BB (Class A Adv Lynchburg)
The Indians took Jones in the second round of the 2016 Draft in part because of his advanced approach at the plate and ability to use the entire field. Well, Jones has certainly lived up to that reputation and has hit .292 over parts of four seasons. This year, Jones is hitting .304 through 67 games and he's been particularly hot as of late as he has three straight multihit games as part of a seven-game hitting streak.
Indians prospects stats »
Royals: Jeison Guzman, SS (No. 22) -- 3-for-5, R, SB (Class A Lexington)
Guzman extended his hitting streak to six games with his second three-hit performance of the season. The 20-year-old, whom the Royals signed in 2015, has stood out primarily because of his defense early in his career, but he made strides offensively last year and carried that momentum into 2019. Guzman is hitting .252 through 65 games, but has been much better lately and is hitting .311 in June.
Royals prospects stats »
Tigers: Jacob Robson, OF (No. 16) -- 2-for-4, 2B, BB (Triple-A Toledo)
Robson has multiple hits in each of his past three games and at least one hit in 15 straight games. The 24-year-old has used his hitting streak to erase his slow start and is hitting hitting .274 after he he was hitting just .203 on June 7. Robson, an eighth-round pick from the 2016 Draft, has hit well through his career and hit .294 over 124 games and two levels in 2018.
Tigers prospects stats »
Twins: Griffin Jax, RHP (No. 23) -- 7 IP, 2 H, 0 R, 0 BB, 5 K (Double-A Pensacola)
Jax has surrendered one run or fewer in three straight starts and boasts a 1.69 through 11 starts with Pensacola. While those numbers would be impressive regardless, they are perhaps even more so when considering the fact that this is Jax's first Double-A experience. The 24-year-old, an Air Force product, struggled with his command early in the year, but has issued just one walk over his past five starts and has struck out 14 in that span (24 2/3 innings).
Twins prospects stats »
White Sox: Nick Madrigal, 2B (No. 4, MLB No. 39) -- 3-for-4, 2B, 3 R, BB, 2 SB (Double-A Birmingham)
Madrigal continued his assault on Southern League pitching with three more hits in the Barons' 7-5 win over Chattanooga. After a slow start to his season for Class A Advanced Winston-Salem, Madrigal, the fourth overall pick of the 2018 Draft, has been one of the hottest players in the Minors in June and is hitting .404 since his promotion to Double-A Birmingham. While Luis Robert has gotten much of the attention this season, Madrigal's name is coming up just as often lately and he might be well on his way to a September callup to Chicago.
White Sox prospects stats »
Nick Madrigal can flat out rake. The #WhiteSox No. 4 prospect went 3-for-4 tonight and is now hitting .4⃣0⃣4⃣ for @BhamBarons.

Live stats for all the @WhiteSox top prospects: https://t.co/uBQmd4kUxN pic.twitter.com/ZzgnGcYtFH

— MLB Pipeline (@MLBPipeline) June 25, 2019
AMERICAN LEAGUE WEST
A's: Sheldon Neuse, 3B (No. 9) -- 2-for-5, HR, 2 RBI (Triple-A Las Vegas)
A day after his nine-game hitting streak came to a close, Neuse got back in the hit column with a multihit effort. The 24-year-old, whom the Athletics acquired as part of a 2017 trade with the Nationals, hit his 12th homer of the season in the third inning and later added a single to bring his average up to .320 on the year. Neuse also spent the 2018 campaign at Triple-A and hit .263 over 135 games.
A's prospects stats »
Angels: Matt Thaiss, 1B (No. 6) -- 3-for-5, 2B, 2 RBI (Triple-A Salt Lake)
Thaiss has now posted multihit performances in four straight games, including back-to-back three-hit efforts. The 24-year-old, a 2016 first-round pick is hitting .279 this season and has 11 hits over his past 18 at-bats. Thaiss was regarded as one of the most advanced hitters in his Draft class and has continued to produce as a pro. The Virginia product is a .280 hitter for his career and has started to tap into his power a bit more as he hit a career-high 16 homers last year and has already gone deep 13 times this season.
Angels prospects stats »
Astros: Brandon Bielak, RHP (No. 12) -- 7 IP, 1 H, 0 R, 1 BB, 9 K (Triple-A Round Rock)
Bielak has had his share of struggles since the Astros promoted him to Triple-A Round Rock, but he had his best outing of the season on Monday. The 2017 11th-round pick threw seven shutout innings and struck out nine to earn his first Triple-A victory.
Astros prospects stats »
Mariners: Logan Gilbert, RHP (No. 3, MLB No. 68) -- 6 IP, 5 H, 2 R (1 ER), 1 BB, 3 K (Class A Adv Modesto)
The 2018 first-rounder out of Stetson recorded his second straight win on Monday, pacing the Nuts on the mound in an 11-2 win over San Jose. He's recorded back-to-back wins in his last two starts and completed six innings in both outings. Overall, Gilbert has pitched to a 2.28 ERA in 47 1/3 innings (nine starts) for Modesto and owns a 2.06 ERA in 70 innings (14 starts) across two levels this year in his professional debut.
Mariners prospects stats »
Rangers: Eli White, INF (No. 16) -- 3-for-5, HR, SB (Triple-A Nashville)
White is showing more power than ever as a pro and continued to flex his muscles on Monday. White, a 2016 draftee whom the Rangers acquired in an offseason trade with the A's, drilled his 10th homer of the season in Nashville's 6-5 win and set his career-high in homers.
Rangers prospects stats »
NATIONAL LEAGUE EAST
Braves: Cristian Pache, OF (No. 1, MLB No. 14) -- 1-for-5, HR; Tucker Davidson, LHP (No. 16) -- 6 IP, 3 H, 0 R, 3 BB, 6 K (Double-A Mississippi)
Pache's leadoff home run was his only hit and proved to be all the run support Davidson would need as he pitched the M-Braves past Biloxi, 1-0. It was his third straight scoreless start and the eighth time in 14 starts this season that he hasn't given up an earned run. The 23-year-old southpaw is having a breakout campaign in the Southern League, where he leads all hurlers with a 1.48 ERA and ranks sixth in strikeouts (78) through 73 innings. Speaking of breakout campaigns, Pache is now up to 10 home runs on the year, which is a new career high for the 20-year-old outfielder.
Braves prospects stats »
#Braves No. 18 prospect Tucker Davidson for @mbraves 👀

6 IP
3 H
0 R
3 BB
6 K
3 straight scoreless starts (13.2 IP)

Live stats for all the @Braves' top prospects: https://t.co/H9gDAitkxV pic.twitter.com/ttPrC3xGST

— MLB Pipeline (@MLBPipeline) June 25, 2019
Marlins: Monte Harrison, OF (No. 2, MLB No. 85) -- 1-for-4, 2 RBI, R (Triple-A New Orleans
Harrison extended his hitting streak to nine games with an RBI single in the ninth inning, though the Baby Cakes ultimately came up short in a 6-5 loss against Nashville. The 23-year-old's streak dates back to late May, before he had a stint on the injured list, and he's recorded exactly one hit in all five games since returning to action on June 14. After a disappointing 2018 campaign in Double-A during which his strikeout totals soared, Harrison has resuscitated his prospect stock this season by producing a .286/.373/.484 line with nine homers, 20 steals and a drastically reduced strikeout rate in 48 games.
Marlins prospects stats »
Mets: Andres Gimenez, SS (No. 1, MLB No. 58) -- 1-for-2, 2 R, BB, SB (Double-A Binghamton)
Gimenez paced the Rumble Ponies' offense out of the leadoff spot as he reached base via a single and a walk and scored a pair of runs in a 3-0 win over Erie. It's been a challenging season at the Double-A level so far for the 20-year-old, who's hitting .200/.256/.325 this month and .231/.305/.354 on the season through 54 games. It is worth noting, however, that Gimenez also scuffled out the gate in 2018 before finishing strong, with a .306/.358/.408 line over his final 52 games.
Mets prospects stats »
Phillies: No Phillies prospects had notable performances in the Minor Leagues on Monday.
Nationals: Carter Kieboom, SS/2B (No. 1, MLB No. 21) -- 2-for-2, HR, 2 RBI, 2 R, 3 BB (Triple-A Fresno); Mason Denaburg, RHP (No. 3) -- 4 IP, 3 H, 0 R, 2 BB, 5 K (Gulf Coast League Nationals)
Kieboom celebrated being named to MLB Pipeline's Prospect Team of the Week on Monday by going deep and reaching base five times in his fifth straight multihit game. He's batting .609 (14-for-23) with four home runs, 13 RBIs and 10 runs scored during his six-game hitting streak. Denaburg was every bit as advertised in his professional debut Monday as he fired four scoreless frames for the Nats' GCL affiliate. Selected with the No. 27 overall pick in last year's Draft and signed for $3 million, Denaburg -- a highly projectable, 6-foot-4, 195-pound righty -- was held out of game action last summer as the organization opted to give him additional rest after he had been bothered by a bout of biceps tendinitis in the spring. He has a plus fastball-curveball pairing and good feel for throwing a changeup, and, when combined with his size and athleticism, it all points to a high ceiling as a starting pitcher.
Nationals prospects stats »
Kieboom goes Kaboom!

Carter Kieboom, the #Nationals' No. 1 prospect, hits a two-run homer for @FresnoGrizzlies, his fourth homer over his past six games.

Live stats for all the @Nationals' top prospects: https://t.co/MC09KkQry6 pic.twitter.com/UBkESOX65j

— MLB Pipeline (@MLBPipeline) June 25, 2019
NATIONAL LEAGUE CENTRAL
Brewers: Eduarqui Fernandez, OF (No. 22) -- 3-for-5, HR, 2B, 4 RBI, 2 R, BB (Dominican Summer League)
Fernandez hit a home run and established season highs in both hits and RBIs on Monday while snapping out of a 2-for-18 funk at the plate. The 17-year-old Dominican's power potential is a big reason why the Brewers shelled out $1.1 million to sign him last July, but he also has a chance to develop average-or-better tools across the board, including an impactful power-speed combo and defensive chops that could allow him to remain in center field long term.
Brewers prospects stats »
Cubs: Cory Abbott, RHP (No. 9) -- 5 IP, 2 H, 1 R, 4 BB, 7 K (Double-A Tennessee)
Abbott, 23, struggled with his control, matching his season high with four walks, but he also matched his season-high total in strikeouts and allowed just two hits -- one of which was a solo home run -- en route to his first Smokies win since May 15. His recent control issues aside, the 2017 second-round pick out of Loyola Marymount is having a solid season in the Southern League, with a 3.39 ERA and 83 strikeouts in 77 innings (14 starts).
Cubs prospects stats »
Cardinals: Edmundo Sosa, SS/2B/3B (No. 10) -- 3-for-6, 3B (Triple-A Memphis)
Sosa extended his brief hitting streak to four games and matched his season high with three hits. The 23-year-old, whom the Cardinals signed for $425,000 out of Panama in 2012, made his Major League debut late last season and is looking to get back to the big this year. Sosa is hitting .267 through 65 games this year, but that average really took a dip in May as he hit just .187. However, the infielder is back on track in June and hitting .298 for the month. Cardinals prospects stats »
Pirates: Mitch Keller, RHP (No. 1, MLB No. 17) -- 7 1/3 IP, 6 H, 1 R, 0 BB, 6 K (Triple-A Indianapolis)
It's clear the Pirates' top prospect wants to be back in Pittsburgh and he proved it with his most recent performance. The 2014 second-round pick tossed 7 1/3 innings for Triple-A Indianapolis, allowing just one earned run and striking out six. Keller has now allowed two or fewer earned runs in nine of his 12 Triple-A starts this season and lowered his ERA to 2.89.
Pirates prospects stats »
Reds: Ibandel Isabel, 1B (No. 24) -- 3-for-4, HR, 2 R (Double-A Chattanooga)
Isabel's power is well documented at this point after he finished tied with Pete Alonso for the Minor League home run lead (36) in 2018. Therefore, it shouldn't come as a surprise that the 24-year-old is crushing the ball once again in '19, as he's now hit 17 homers in 57 games -- including three in his last four games -- so far for Chattanooga in his first Double-A campaign. With the 6-foot-4, 225-pounder's massive right-handed power comes a whole lot of swing-and-miss, as evidenced by his 259 strikeouts in 167 games over the last two years.
Reds prospects stats »
NATIONAL LEAGUE WEST
D-backs: Kristian Robinson, OF (No. 5) -- 3-for-5, 3 RBI (Class A Short Season Hillsboro)
Robinson went 0-for-7 over his past two games, but that skid didn't last long as the 18-year-old put together his sixth multihit effort in 10 games this season. Robinson, hitting .359 this season, may have the highest ceiling of any prospect in the D-backs' system. Arizona signed him for more than $2.5 million out of the Bahamas in 2017 and although it's still early in his career, he appears to be worth the investment.
D-backs prospects stats »
Dodgers: Edwin Rios, 3B/1B/OF (No. 12) -- 3-for-4, HR, 2 RBI, BB (Triple-A Oklahoma City)
Rios connected on his fourth home run in the last eight games before finishing with a team-high three hits in Oklahoma City's loss against Memphis. The homer, a two-run shot in the eighth inning, was his seventh in 20 games this month, a stretch during which the 25-year-old is batting .321 with 17 RBIs. With 13 homers through 70 games, Rios has already surpassed his home run total from 2018, when he went deep 10 times in 88 games for OKC.
Dodgers prospects stats »
Giants: Alexander Canario, OF (No. 10) -- 2-for-6, 2 HR, 4 RBI (Arizona League Giants Orange); Sandro Fabian, OF (No. 16) -- 2-for-4, 2 HR, 3 RBI (AZL Giants Black)
Canario, a 19-year-old outfielder whom the Giants signed out of the Dominican Republic for just $60,000 in July 2016, has gone deep four times in six games this season after his second career two-homer game on Monday. There should be plenty more power to come, too, as Canario possess perhaps the best bat speed in San Francisco's system. Fabian, 21, also homered twice in the AZL, where he's now five games into a rehab stint. He connected on a solo homer in the fourth inning and added a two-run shot in the seventh in what was his first multihit performance of 2019.
Giants prospects stats »
#SFGiants prospects are flexing some 💪 in the AZL tonight:

Alexander Canario (No. 10): 2-for-5, 2 HR, 4 RBI
Sandro Fabian (No. 16): 2-for-4, 2 HR, 3 RBI

Live stats for all the @SFGiants' top prospects: https://t.co/KeSUYIsNn0 pic.twitter.com/K0TnN6ty5x

— MLB Pipeline (@MLBPipeline) June 25, 2019
Padres: Ty France, 3B (No. 29) -- 2-for-4, HR, 2 RBI (Triple-A El Paso)
France slugged a go-ahead homer in eighth inning for his second home run in as many days and 17th of the season. He's reached that total in just 34 Triple-A games, too (not including the two home homers he hit in 34 games with the Padres), and therefore should have no trouble blowing past the career-high total (22) he posted last season in 134 games between Double- and Triple-A. Meanwhile, the Padres' 34th-round pick from 2014 just continues to rake, as he's now batting .382/.466/.846 in the Pacific Coast League after Monday's two-hit performance.
Padres prospects stats »
Rockies: Roberto Ramos, 1B (No. 26) -- 2-for-5, HR, 4 RBI (Triple-A Albuquerque)
Ramos' 17th home run of the season was a sixth-inning grand slam that helped extend the Isotopes' lead in a win over Reno. With the blast, the 24-year-old is more than halfway toward his career-high total of 32 homers, which he set in 121 games last season between Class A Advanced Lancaster and Double-A Hartford. The multihit performance was Ramos' second in as many days and pushed his season average to the .300 mark through 69 games.
Rockies prospects stats »