Saturday's top prospect performers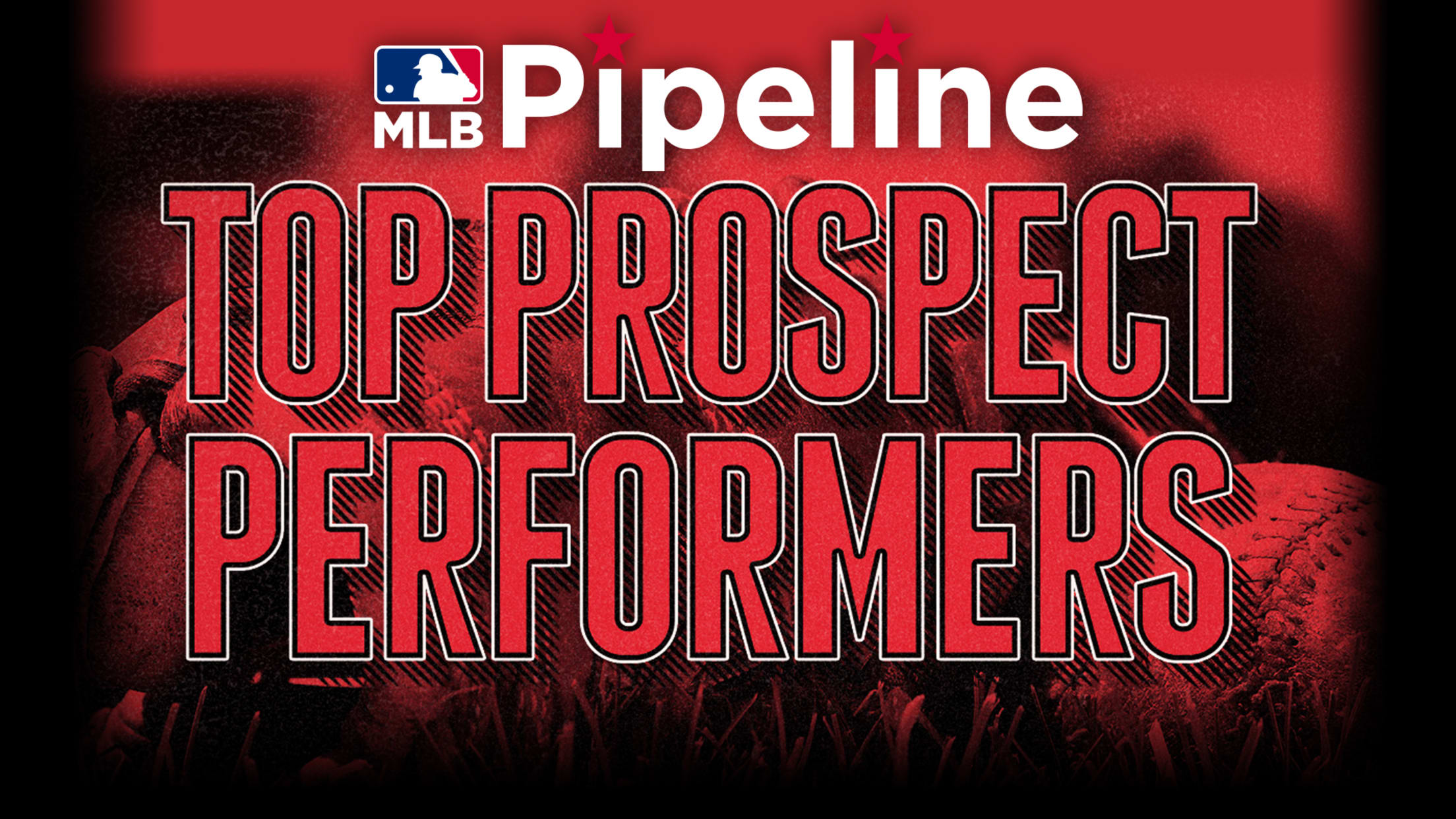 Here's a look at Saturday's top Minor League performers from each team's Top 30 Prospects list: AMERICAN LEAGUE EAST Blue Jays: Nate Pearson, RHP (No. 2, MLB No. 51) – 2 IP, 0 H, 0 R, 0 BB, 3 K (Double-A New Hampshire) The Blue Jays have been managing Pearson's
Here's a look at Saturday's top Minor League performers from each team's Top 30 Prospects list:
AMERICAN LEAGUE EAST
Blue Jays: Nate Pearson, RHP (No. 2, MLB No. 51) – 2 IP, 0 H, 0 R, 0 BB, 3 K (Double-A New Hampshire)
The Blue Jays have been managing Pearson's workload this season by having him throw either five or two innings in alternating starts. Making one of the latter, the 6-foot-6 right-hander struck out half the batters he faced while completing two perfect frames. He's allowed just one hit in his last nine innings across three starts, and, overall, has pitched to a 2.70 ERA in eight starts since joining the Fisher Cats. After logging just 1 2/3 innings in 2018 due to injury, the former first-round pick (2017) has dominated so far his first full season, registering a 1.89 ERA, 0.78 WHIP and 66/8 K/BB ratio in 47 2/3 innings (14 starts) between two levels.
Blue Jays prospects stats »
He's not working full starts every time out as the #BlueJays manage his workload, but when he's out there, he's throwing 🔥.

Nate Pearson's past three outings: 9 IP, 1 H, 0 R, 0 BB, 9 K

The @FisherCats' flamethrower is the @BlueJays' No. 2 prospect: https://t.co/fUmBi3GarM pic.twitter.com/nvYiv2JaCQ

— MLB Pipeline (@MLBPipeline) June 15, 2019
Orioles: Ryan McKenna, OF (No. 7) -- 2-for-5, 2 R, HR, 3 RBI (Double-A Bowie)
McKenna's homer was his first of the month and a welcome sight for the otherwise slumping center fielder. The 2015 fourth-round Draft pick out of the New Hampshire prep ranks had only one hit in his previous five outings prior to Saturday's two-hit outburst. Power is definitely not McKenna's calling card, so the homer is nice, but the Orioles will want to see him improve upon his .218 batting average and maybe pick up more than his 8 steals. He demonstrated the ability to get on base often and rack up the steals during his stops at Delmarva and Frederick in 2017 and 2018, and hopefully this big outing sparks a hot streak for him to do the same at Double-A.
Orioles prospects stats »
Rays: Brendan McKay, LHP/DH (No. 3, MLB No. 25) – 5 IP, 1 H, 0 R, 1 BB, 7 K (Triple-A Durham)
Entering the game in the second inning, after shortstop/right-hander Jake Cronenworth tossed a scoreless first, McKay proceeded to complete five innings of one-hit ball with seven strikeouts against a Scranton/Wilkes-Barre lineup featuring rehabbing sluggers Aaron Judge and Giancarlo Stanton. He induced a groundout to shortstop against Judge and struck out Stanton on three straight curveballs in the third inning, then struck out Judge looking on a curveball. He did the same to Stanton for a second straight at-bat while striking out the side in the sixth. He threw 67 pitches overall, 41 for strikes. The left-hander has pitched to a 1.35 ERA over 20 innings for the Bulls since his promotion from Double-A Montgomery, where he had a 1.30 ERA in 41 2/3 innings. Between the two stops, McKay has a compiled a 1.31 ERA, with 83 strikeouts and 12 walks over 61 2/3 frames.
Rays prospects stats »
Red Sox: Triston Casas, 1B (No. 1) -- 2-for-4, HR, 2 RBI (Class A Greenville)
Still only 19 years old, Boston's first-round Draft choice in 2018 is heating up during his full-season debut. After starting off slow with a .208 average and only two homers in April, he's swatted 10 more and raised his average to .270 since. Given strong grades for his power, Casas ranks fifth in the South Atlantic League in homers and second in RBIs.
Red Sox prospects stats »
Yankees: There were no notable performances from Yankees Top 30 prospects in the Minors on Saturday.
AMERICAN LEAGUE CENTRAL
Indians: Bo Naylor, C (No. 4) -- 2-for-4, HR, 2 RBI (Class A Lake County)
Brother of Major Leaguer Josh, Bo is coming into his own during his first full season as a pro player. Selected in the first round of last summer's Draft by the Indians, Naylor is having his best month as a member of the Captains. The home run was his second of June and his fifth extra-base hit, eclipsing his total from April (in which he played 8 more games). Naylor has a hit in seven straight and in eight of nine games, more proof that he's settling in to the full-season routine in his first trip through the Class A ranks.
Indians prospects stats »
Two homers are better than one.✌️

The #Indians' No. 4 and No. 25 prospects, Bo Naylor and Will Benson, teamed up to hit back-to-back home runs for the @LCCaptains.@Indians Top 30: https://t.co/8BNtXT3iN3 pic.twitter.com/edCvJC16IQ

— MLB Pipeline (@MLBPipeline) June 16, 2019
Royals: Brewer Hicklen, OF (No. 16) – 2-for-5, HR, 4 RBI; Blake Perkins, OF (No. 22) – 2-for-3, HR, 2B, 4 R, 2 BB (Class A Adv Wilmington)
The pair of Royals Top 30 prospects both collected a pair of hits including a home run, as Perkins went deep in the first inning to put the Blue Rocks on the board and Hicklen extended their lead in the seventh with a grand slam. Perkins' homer was his third of the year, while Hicklen connected on his second. The 23-year-old has been on a hot streak of late, hitting .370 in 14 games this month to improve his season average from .250 to .280. Last year, in his first full season, Hicklen posted an .864 OPS with 18 homers and 35 steals across two levels.
Royals prospects stats »
Tigers: Jacob Robson, OF (No. 16) – 3-for-4, 3B, 3 RBI (Triple-A Toledo)
Robson helped power the Mud Hens' offense from the bottom of the lineup, tallying three hits and RBIs apiece in an 11-4 win over Norfolk. He capped Toledo's five-run fourth inning with a two-run triple, then plated a run in the eighth inning with his third hit of the contest. The multihit performance was his fifth in as many games, and he's jacked up his average from .203 to .249 during his current seven-game hitting streak.
Tigers prospects stats »
Twins: There were no notable performances from Twins Top 30 prospects in the Minors on Saturday.
White Sox: Konnor Pilkington, LHP (No. 19) – 6 IP, 1 H, 1 R, 2 BB, 7 K (Class A Adv Winston-Salem)
Pilkington, 21, carried a no-hit bid into the sixth inning for the Dash before finally giving up a two-out single that also plated a run. He bounced back against the next batter to record a swinging strikeout on three pitches, tying a bow on a one-hit outing in which he threw 98 pitches (56 strikes). The 2018 third-round pick out of Mississippi State continues to pile up whiffs in his first full season, as Saturday's performance gives him 76 punchouts in 58 1/3 innings (11 starts) between two levels. He's also pitched to a 3.09 ERA, while holding hitters to a .163 average.
White Sox prospects stats »
AMERICAN LEAGUE WEST
A's: Sheldon Neuse, 3B (No. 9) -- 3-for-4, HR, 2B, RBI, 2 R, BB (Triple-A Nashville)
Neuse collected three of the Aviators' 14 hits on Saturday. After walking in his first plate appearance, Neuse connected on a solo shot in the fourth inning, a single in the fifth and a double in the ninth en route to his second three-hit effort in three games. Acquired along with Jesus Luzardo and Blake Treinen in the July 2017 deal that sent Sean Doolitte and Ryan Madson to the Nationals, Neuse endured an up-and-down Triple-A campaign last year but has bounced back in 2019 by hitting .292/.375/.498 with nine homers, 17 doubles and 47 RBIs in 62 games.
A's prospects stats »
Angels: Hector Yan, LHP (No. 29) -- 5 IP, 0 H, 0 R, 1 BB, 5 K (Class A Burlington)
Yan, as you can tell by his above line, was unhittable on Saturday, allowing just one baserunner in Burlington's 7-1 win over Peoria. The Bees came within one out of firing a combined no-hitter, only to have the bid spoiled on a two-out, RBI single in the ninth. The 20-year-old threw 71 pitches in the outing, including 41 strikes. He's allowed one earned run or fewer in three straight starts, striking out 22 batters over 14 1/3 innings in that span.
Angels prospects stats »
Astros: Kyle Tucker, OF (No. 2, MLB No. 9) -- 3-for-5, 2 HR, 5 RBI (Triple-A Round Rock)
Tucker has been a different player since the calendar turned over from April into May. After finishing the first month of the season slashing .165/.211/.388, the Plant (Fla.) HS product has torn the cover off the ball for the month and a half since. He's slashing .344/.479/.785 since May 1 and quickly approaching a career-best in homers, as his 23 on the year are just shy of the 25 he hit in 2017 ... in 57 more games.
Astros prospects stats »
Make that 23 on the year for Tucker.#MLB's No. 9 prospect went deep again and is quickly approaching his @MiLB single-season best of 25. And we're only halfway through June!

Live stats for all #Astros prospects: https://t.co/LAtWNSgi0y

— MLB Pipeline (@MLBPipeline) June 16, 2019
Mariners: Logan Gilbert, RHP (No. 6, MLB No. 93) – 6 1/3 IP, 5 H, 1 R, 1 BB, 8 K (Class A Adv Modesto)
The 2018 first-rounder had scuffled a bit across his last three starts, allowing six runs in 13 2/3 innings while failing to pitch past the fifth inning. He returned to form on Saturday, striking out eight over 6 1/3 innings in Modesto's win over Stockton. Now eight starts into his time with the Nuts, Gilbert owns a 2.40 ERA with 52 strikeouts and seven walks in 41 1/3 innings. Combined with his time with Class A West Virginia in the South Atlantic League, the 22-year-old righty, who's pitching in his first pro season, has a 2.11 ERA with 88 strikeouts and 13 walks over 64 frames (13 starts).
Mariners prospects stats »
Rangers: There were no notable performances from Rangers Top 30 prospects on Saturday.
NATIONAL LEAGUE EAST
Braves: Drew Waters, OF (No. 5, MLB No. 59) – Game 1: 2-for-4, solo HR; Game 2: 1-for-3, 2B, BB (Double-A Mississippi)
The 20-year-old switch-hitter homered for a second straight day in the opener, hitting a leadoff blast on the first pitch he saw after a 4-for-5 showing on Friday. He finished the game with a pair of hits, and added another along with a walk in the nightcap as he extended his on-base streak to 24 games. Waters is absolutely raking this year in Southern League, where he leads all players in average (.337), runs (42), hits (91), doubles (23), extra-base hits (36) and total bases (145).
Braves prospects stats »
Marlins: Isan Diaz, 2B (No. 6) – 1-for-4, RBI (Triple-A New Orleans)
Diaz bumped his hitting streak up to 16 games with an RBI single in the fifth inning that put the Baby Cakes ahead for good in their 4-1 win over Albuquerque. The 23-year-old left-handed hitter has improved his season average from .267 to .290 during his impressive streak -- the longest active streak in the Pacific Coast League – which includes six multihit efforts. With a .911 OPS, 14 home runs and 55 runs in 66 games this season, Diaz, who's already been traded three times in his career, seemingly has little left to prove in the Minor Leagues.
Marlins prospects stats »
Isan Diaz is best friends with his bat right now.

The #Marlins' No. 6 prospect extended his hitting streak to 16 games with an RBI single for @cakesbaseball. It's the longest active streak in the PCL.@Marlins Top 30: https://t.co/n3ODEPg9Gw pic.twitter.com/MvgFG7JFUQ

— MLB Pipeline (@MLBPipeline) June 16, 2019
Mets: Ronny Mauricio, SS (No. 2, MLB No. 85) -- 3-for-4, 2 R, 2B, 3B, BB (Class A Columbia)
The 18-year-old Mauricio hit a double, a single and a triple in his first three trips to the plate, respectively, but ultimately finished a home run short of completing the cycle after drawing a walk and grounding out in his final two plate appearances. The multihit effort was his fourth in nine games this month, during which he's batting .368. The hot stretch has helped boost Mauricio's season line up to .295/.339/.401 through 58 games in the South Atlantic League, where he's three and half years younger than the average player.
Mets prospects stats »
Nationals: Luis Garcia, INF (No. 2, MLB No. 62) – 2-for-4, R (Double-A Harrisburg)
Batting in the two-hole on Saturday, Garcia was one of two Senators players to tally multiple hits in their 3-0 win over Reading. He singled in his first at-bat and came around to score Harrisburg's first run of the game and added another knock in the fifth inning en route to his sixth multihit performance in 14 games this month. What's more, the 19-year-old switch-hitter is batting .353 during that stretch -- a considerable improvement after he finished April and May with averages of .239 and .198, respectively. All things considered, his .246/.280/.283 line at the Double-A level is a respectable one and underscores his room for improvement if he continues to swing the bat like he has lately.
Nationals prospects stats »
Phillies: David Parkinson, LHP (No. 21) – 6 IP, 7 H, 3 R, 1 BB, 5 K (Double-A Reading)
Parkinson, 23, turned in a quality start but ultimately took the loss, as the Fightin Phils were blanked by Harrisburg, 3-0. He gave up single runs in the first, second and fourth innings but still managed to complete six frames, striking out five on 92 pitches (63 strikes). The former 12th-round pick (2017) from Mississippi has completed at least five frames all but once in 11 starts this season, pitching to a 3.63 ERA in 62 innings overall.
Phillies prospects stats »
NATIONAL LEAGUE CENTRAL
Brewers: Mauricio Dubon, SS/2B (No. 5) – 3-for-6, 2B, RBI (Triple-A San Antonio)
Dubon's third hit of the night was a game-tying single in the bottom of the 12th inning, and the Missions walked it off one batter later on a sacrifice fly. The 24-year-old middle infielder pushed his season average above the .300 mark (.301) with the multihit performance, which was his seventh in 13 games this month. After having much of his 2018 campaign wiped out by a torn ACL, Dubon, with his .301/.339/.457 batting line, is on the cusp of reaching the Major Leagues.
Brewers prospects stats »
Cubs: Trent Giambrone, INF (No. 20) -- 2-for-5, HR, 2 RBI (Triple-A Iowa)
Make it back-to-back games with a home run for Giambrone, who tagged a two-run shot in the fourth inning Saturday for his 12th homer of the season. Hitting for power has been the only consistent part of the 25-year-old's game this season, as he's otherwise batted just .219 in 64 games for Iowa. Giambrone does, however, offer a lot of defensively versatility, having seen time at every position but pitcher and catcher this season in Triple-A.
Cubs prospects stats »
Cardinals: Dylan Carlson, OF (No. 2, MLB No. 95) – 1-for-3, solo HR, BB (Double-A Springfield)
The 20-year-old switch-hitter, batting from the right side of the plate in his first at-bat, parked the first pitch he saw well over the fence in straightaway center field for his 10th home run of the season, leaving him one long ball shy of matching the career-high mark he posted last season in the Florida State League. The former first-round pick (2016) continues to enjoy a breakout year in the Texas League, with a .287/.371/.516 batting line, 30 extra-base hits and 11 steals in 64 games.
Cardinals prospects stats »
Well that didn't take long… 🕗#Cardinals No. 2 prospect Dylan Carlson absolutely teed off on the first pitch he saw for @Sgf_Cardinals. It's the 20-year-old's tenth blast this season.@Cardinals Top 30: https://t.co/9nKH5nWB2K
pic.twitter.com/QGuN3dP9Nm

— MLB Pipeline (@MLBPipeline) June 15, 2019
Pirates: Lolo Sanchez, OF (No. 14) -- 2-for-5, R (Class A Greensboro)
Sanchez paced the offense with a pair of hits and a run scored out of the leadoff spot as the Grasshoppers blanked Kannapolis, 4-0. After struggling in his first taste of full-season ball a year ago, when he batted .243/.322/.328 in 114 games, the 20-year-old has returned to the South Atlantic League in 2019 to post a much improved line of .303/.381/.448 with 19 extra-base hits and 20 steals over 60 games.
Pirates prospects stats »
Reds: Alfredo Rodriguez, SS (No. 28) – Game 1: 2-for-4, 2B, 2 RBI, R; Game 2: 2-for-3, 2B (Double-A Chattanooga)
Rodriguez, 24, recorded two hits, including a double, in both ends of Chattanooga's doubleheader against Montgomery. His pair of hits in the nightcap accounted for the Lookouts' only two hits, as they dropped the contest, 4-0, after taking the opener, 10-4. While he's never offered much in the way of power, the Cuban product does have a knack for making contact, as evidenced by his .306 average this season, and he's widely regarded as a plus defender at shortstop.
Reds prospects stats »
NATIONAL LEAGUE WEST
D-backs: Drew Ellis, 3B (No. 14) – 2-for-3, 2 HR, 4 RBI, BB (Double-A Jackson)
Ellis powered the Generals to victory with a pair of home runs, hitting a three-run blast in the first inning and a solo shot in the sixth in Jackson's 6-3 win over Biloxi. The 23-year-old third baseman, Arizona's second-round Draft pick in 2017, pushed his season total to six home runs with the multi-homer performance, which was the first in his 229-game career. He's batting .258/.365/.423 in his first Double-A campaign after producing a .246/.331/.429 line with 15 homers and 34 doubles a year ago in the hitter-friendly California League.
D-backs prospects stats »
Dodgers: Jeter Downs, SS/2B (No. 7) – 2-for-4, HR, 2B, 2 RBI (Class A Adv Rancho Cucamonga)
Downs' two extra-base-hit performance on Saturday was highlighted by his 12th home run of the season, a solo shot in the fourth inning that helped to extend the Quakes' lead over Lake Elsinore. The 20-year-old is now one long ball short of matching his career-high total of 13, which he achieved over 120 games with Class A Dayton last year in his first full season. Acquired in the offseason trade that sent Yasiel Puig and others to the Reds, Downs is batting .249 with 45 RBIs and 17 steals this season in the California League.
Dodgers prospects stats »
Giants: Abiatal Avelino, INF (No. 17) – 2-for-4, HR, 2B, 2 R (Triple-A Sacramento)
Avelino's fifth home run of the season was a third-inning solo shot, and he added a double in the eighth inning before coming around to score the game-tying run for Sacramento. With the multihit performance, the 24-year-old snapped out of an 0-for-14 skid at the plate spanning his previous four games. After making his big league debut last season as a September callup, going 3-for-11 in six games, Avelino is batting .286 with 26 extra-base hits this season in his return to the Triple-A level.
Giants prospects stats »
Padres: Ty France, 3B (No. 30) -- 1-for-4, solo HR (Triple-A El Paso)
Ty France cannot be stopped. The 24-year-old went yard for a fifth straight game on Saturday and now has six homers in that span and 15 in 27 games on the season. France's most recent home run also extended his on-base streak to 37 games dating back to the 2018 season. With a .426/.504/.954 slash line and 41 RBIs at the Triple-A level this season, it shouldn't be long until the San Diego State product is back in the big leagues with the Padres.
Padres prospects stats »
That deserves a high five ✋#Padres No. 30 prospect Ty France has gone deep 🔥FIVE🔥 games in a row for the @epchihuahuas, tying the team record for consecutive games with a homer.

Live stats for all the @Padres' top prospects:
https://t.co/87Pdhec6OO
pic.twitter.com/hmrmjmUvW4

— MLB Pipeline (@MLBPipeline) June 16, 2019
Rockies: Yonathan Daza, OF (No. 14) – 3-for-4, 2B, R (Triple-A Albuquerque)
Daza's multihit performance on Saturday was his 10th during his 13-game hitting streak, a stretch in which he's raking at a .466 clip (27-for-58) with eight extra-base hits and 11 runs scored. That torrid stretch has helped the 25-year-old outfielder take a sizable lead in the Pacific Coast League batting race with a .387 average through 50 games. Daza has had three stints in the big leagues this season, though he's gone just 1-for-16 at the plate in six games.
Rockies prospects stats »