Thursday's top prospect performers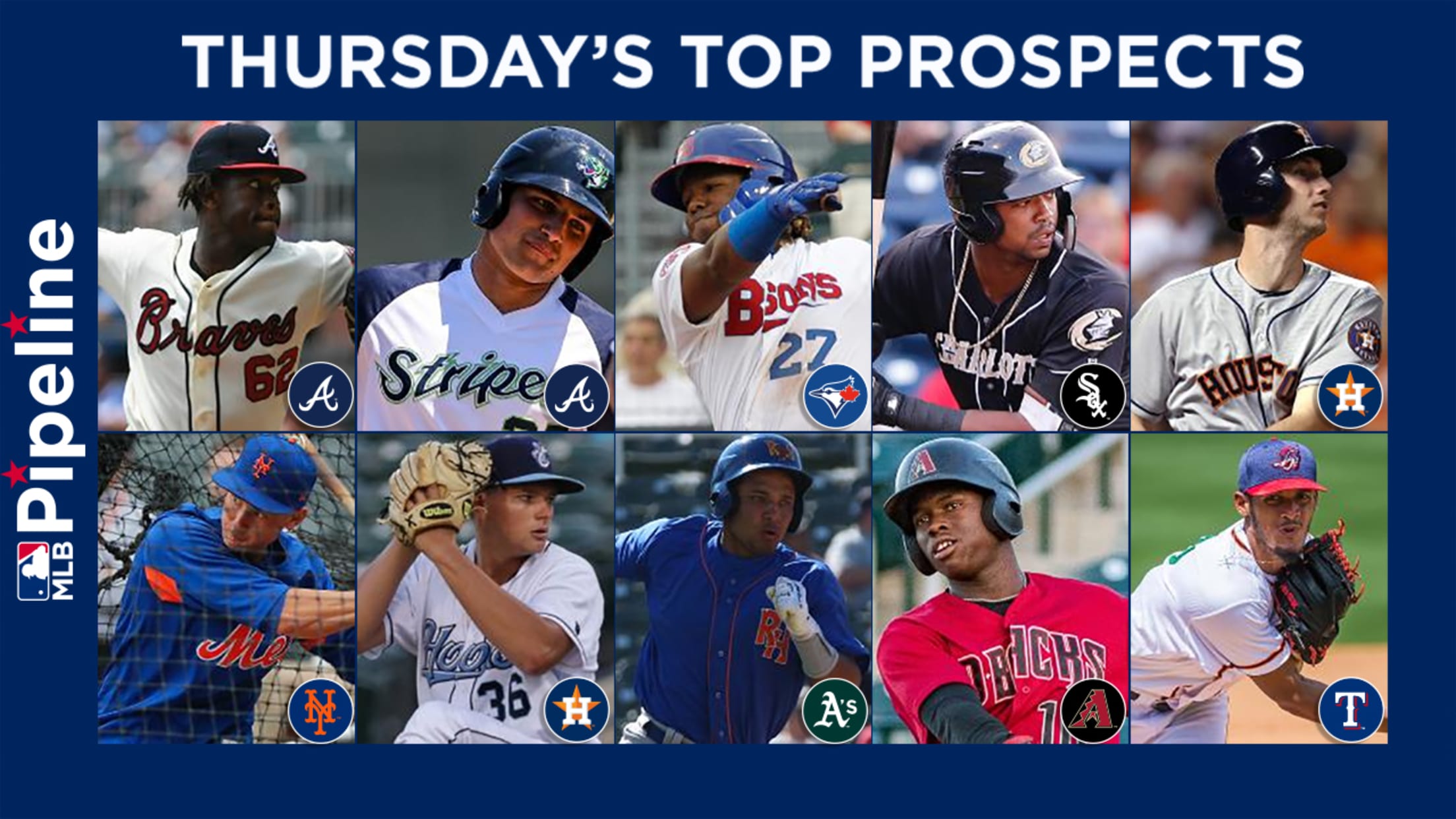 Here's MLB Pipeline's roundup of the top prospect performances in the Minor Leagues on Thursday.Touki Toussaint spun another gem on the mound and received early offensive support from Austin Riley as Triple-A Gwinnett blanked Durham, 5-0.Toussaint, Atlanta's No. 7 prospect (No. 75 overall), fired seven scoreless innings, allowing three hits
Here's MLB Pipeline's roundup of the top prospect performances in the Minor Leagues on Thursday.
Touki Toussaint spun another gem on the mound and received early offensive support from Austin Riley as Triple-A Gwinnett blanked Durham, 5-0.
Toussaint, Atlanta's No. 7 prospect (No. 75 overall), fired seven scoreless innings, allowing three hits and one walk with eight strikeouts en route to his second win in as many starts since returning from the Major Leagues. Of his 94 pitches, 64 were strikes. He's 4-0 with a 1.62 ERA in seven starts for Gwinnett.
MILB Video - Title: Toussaint's eighth strikeout - Url: http://www.milb.com/r/video?content_id=2420531083
Toussaint gave up a pair of singles in the first inning but settled in and retired the next 14 batters before issuing a one-out walk in the sixth. He finished with six swinging strikeouts and recorded multiple strikeouts in three different innings.
The Braves optioned Toussaint to Gwinnett on Aug. 14, one day after he'd allowed one run on two hits over six innings to earn the win in his big league debut. Back in the International League, the 22-year-old right-hander has permitted one earned run in 13 innings while posting 17 strikeouts against two walks.
Overall, Toussaint has pitched to a 2.49 ERA in 130 1/3 innings (23 starts) between Gwinnett and Double-A Mississippi. He's totaled 156 strikeouts in that span while limiting hitters to a .204 average.
Riley (Braves' No. 4, No. 43 overall), meanwhile, put the Stripers on the board with his two-out solo shot in the first inning. The homer was the third in five games for the 21-year-old third baseman, who finished 2-for-3 with two runs scored and also reached once via a hit-by-pitch.
MILB Video - Title: Riley's RBI double - Url: http://www.milb.com/r/video?content_id=2418311783
Riley now has eight home runs while hitting .278/.345/.437 in 64 games at the Triple-A level. He's now gone deep 15 times in 97 games overall this season after hitting exactly 20 homers in back-to-back years (2016-17).
The rest of the best performances from top prospects Thursday
:: Complete prospect coverage ::
• No. 1 overall prospect Vladimir Guerrero Jr. (Blue Jays' No. 1) tallied a pair of singles in a 2-for-5 performance for Triple-A Buffalo. It was the 19-year-old phenom's second multihit effort in three games and improved his Triple-A average to .352 through 20 games. As for Guerrero's quest to finish with a .400 average, he's currently hitting .390 with 12 games remaining. Overall, Guerrero has produced a .390/.446/.645 line with 18 homers, 25 doubles and 70 RBIs in 85 games.
• No. 3 overall prospect Eloy Jimenez (White Sox No. 1) matched his season high with four hits as Triple-A Charlotte fell to Norfolk, 9-8. He finished the game 4-for-5 with a double and RBI, marking Jimenez's second straight day with four hits after the 21-year-old slugger was a combined 4-for-7 on Wednesday during a doubleheader. With a .360 average and 11 homers in 46 games at the Triple-A level, Jimenez has nothing left to prove in the Minor Leagues.
MILB Video - Title: Jimenez drives in a run - Url: http://www.milb.com/r/video?content_id=2417862283
• No. 8 overall prospect Kyle Tucker (Astros' No. 2) stayed red-hot by going 4-fo4-6 with his sixth home run in his last six games for Triple-A Fresno. The homer, a two-run shot in the second inning, was Tucker's third in four at-bat stretch after he hit a grand slam as part of a two-homer night on Wednesday. What's more, Tucker has recorded multiple hits in seven of his past 10 contests in the Minors, a stretch during which he's batting .455 (20-for-44) with seven homers and 17 RBIs. Overall, the 21-year-old outfielder owns a .322 average with 20 home runs, 81 RBIs and 18 steals in 91 games with Fresno.
MILB Video - Title: Watch: Tucker notches 4th strikeout - Url: http://www.milb.com/r/video?content_id=2421766383
• No. 66 overall prospect Jarred Kelenic (Mets' No. 3) hit a three-run homer and posted multiple hits for a fourth straight game as he extended his hitting streak to seven games for Rookie-level Kingsport. The 2018 first-rounder had a big game, going 3-for-4 with three runs scored and two stolen bases to go along with his sixth home run of the season. Kelenic, 19, is hitting .480 (12-for-25) with 12 RBIs during his seven-game streak.
18-year-old third baseman Mark Vientos (No. 10) also homered for Kingsport in the victory, hitting a three-run shot in the seventh inning as part of a 2-for-4 performance. The 2017 second-rounder is hitting .283/.381/.498 overall, with 11 homers, 11 doubles and 51 RBIs in 55 games.
• Astros No. 19 prospect Brandon Bielak set a career high with 11 strikeouts in six innings but ultimately took the loss as Double-A Corpus Christi fell to Midland, 5-0. He allowed one earned run on three hits including a solo home run in the outing, his 10th at the Double-A level. Altogether, the 2017 11th-rounder has registered a 2.09 ERA with 128 strikeouts and 37 walks in 112 innings (24 games/16 starts) between Corpus Christi and Class A Advanced Buies Creek.
• A's No. 12 prospect Richie Martin recorded his first ever multi-homer game, connecting on a pair of solo shots in Double-A Midland's win over Corpus Christi. The 23-year-old shortstop went deep in the fifth and ninth innings before finishing 2-for-3 with a walk and three runs scored. After three underwhelming offensive seasons to begin his career, Martin, the A's first-round pick in 2015, has produced a .290/.360/.412 line with 35 extra-base hits and 21 steals over 109 Double-A games during his resurgent 2018 campaign.
MILB Video - Title: Martin homers twice - Url: http://www.milb.com/r/video?content_id=2420662983
• D-backs No. 12 prospect Kristian Robinson hit a three-run homer in the fourth inning for Rookie-level Missoula and later added a solo shot to finish 2-for-3 with a walk. It was the first career multi-homer game by the 17-year-old outfielder, who's now hit six home runs in 46 games across two levels so far in his professional debut.
• Rangers No. 8 prospectJonathan Hernandez posted zeroes over six innings for Double-A Frisco, allowing two hits and striking out eight. The 22-year-old right-hander has completed six innings in three straight starts and has permitted just three earned runs over his last 23 2/3 frames (four starts), lowering his Double-A ERA from 7.14 to 4.92.
• Red Sox No. 8 prospect C.J. Chatham has recorded a hit in seven straight at-bats after his 4-for-4 game for Class A Advanced Salem. He hit a pair of doubles in the contest one night after he tallied three singles and went 3-for-3. The 23-year-old shortstop is hitting .315 with 16 extra-base hits over 84 games in the Carolina League.
MILB Video - Title: Chatham doubles again - Url: http://www.milb.com/r/video?content_id=2420410483
• Royals No. 4 prospect Jackson Kowar was untouchable as he fired three perfect frames with six strikeouts for Class A Lexington. He fanned five of the final six batters and threw 26 of 41 pitches for strikes in the outing. The 2018 first-rounder has struck out 11 over seven scoreless innings across his last two starts after posting a 4.76 ERA with more walks than strikeouts in 17 innings (six starts) to begin his career.
• Tigers No. 21 prospect Matt Hall tossed six scoreless innings as he improved to 4-0 in eight starts for Triple-A Toledo. He allowed two hits, issued one walk and struck out three while throwing 50 of 86 pitches for strikes. The 25-year-old lefty owns a 2.28 ERA over 47 1/3 innings with Toledo and an overall ERA of 1.90 in 104 1/3 innings on the season. He's compiled 125 strikeouts against 43 walks and allowed just two home runs.