Tuesday's top prospect performers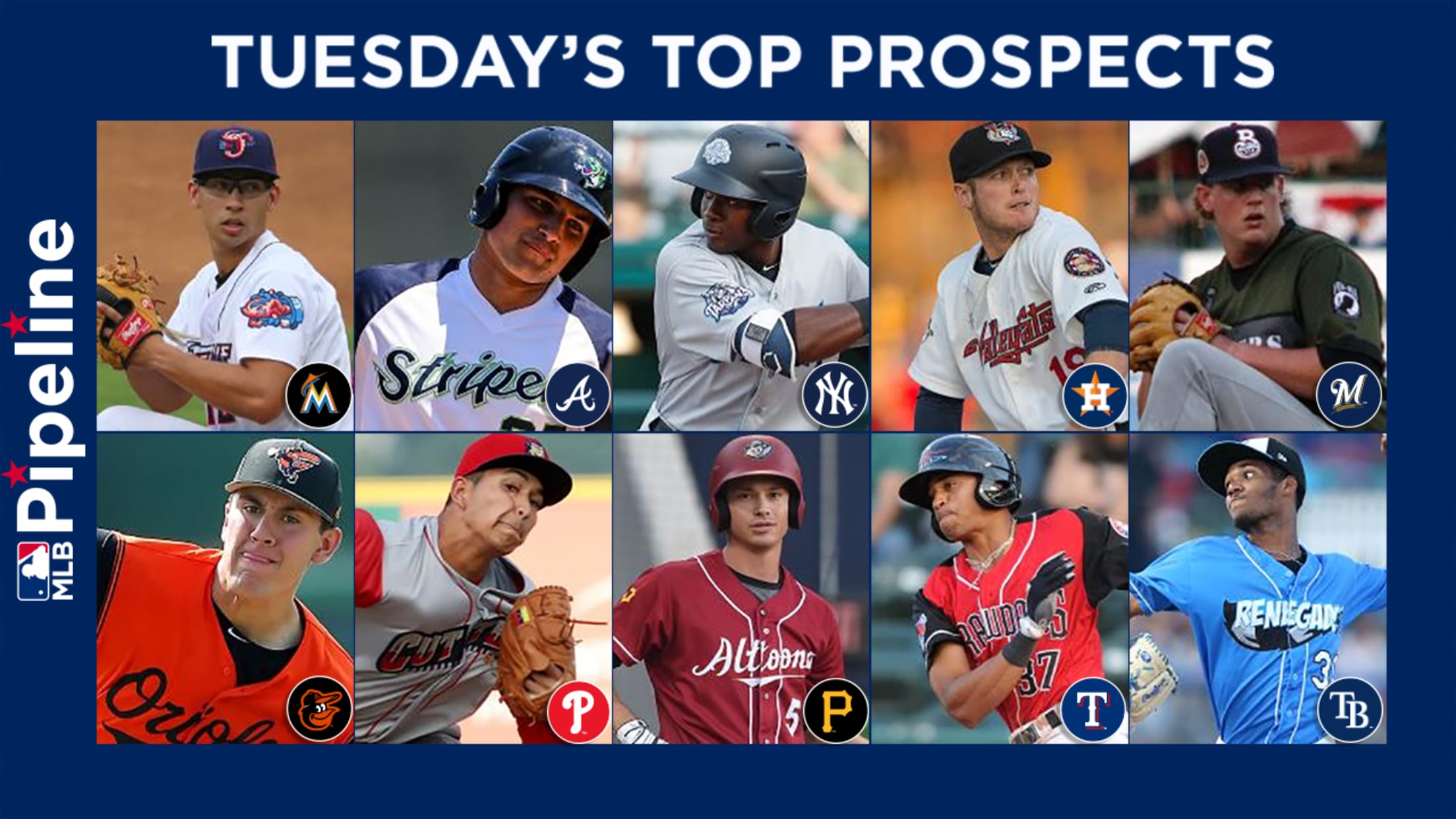 Here's MLB Pipeline's roundup of the top prospect performances in the Minor Leagues on Tuesday.Once viewed as the least-known prospect acquired from the Mariners in the offseason Dee Gordon trade, Robert Dugger has shed that distinction in his first season with Miami.Dugger, the Marlins' No. 22 prospect, set a career
Here's MLB Pipeline's roundup of the top prospect performances in the Minor Leagues on Tuesday.
Once viewed as the least-known prospect acquired from the Mariners in the offseason Dee Gordon trade, Robert Dugger has shed that distinction in his first season with Miami.
Dugger, the Marlins' No. 22 prospect, set a career high with 10 strikeouts over seven scoreless innings to lead Double-A Jacksonville past Birmingham, 3-1, and record his fourth win in five starts. He struck out seven consecutive batters at one point in the outing and ultimately allowed three hits and two walks while throwing 63 of his season-high 107 pitches for strikes.
MILB Video - Title: Dugger's 10th strikeout - Url: http://www.milb.com/r/video?content_id=2413022883
The 23-year-old right-hander struck out the side during a perfect first inning and then fanned the final two batters in the following frame. Dugger struck out the side in the third inning and posted back-to-back strikeouts to open the fourth to complete his stretch of seven straight strikeouts. Over his final 3 1/3 frames, Dugger did not record a strikeout.
:: Complete prospect coverage ::
Dugger has now tossed exactly seven scoreless innings in three of his last five starts. He's 4-0 in that span, with a 1.31 ERA and 37 strikeouts in 34 1/3 innings.
Promoted to Jacksonville on May 18, Dugger owns a 4.20 ERA with 92 strikeouts and 34 walks over 94 1/3 innings (16 starts) in the Southern League. Overall, he's registered a 3.65 ERA, with 126 strikeouts and 42 walks, over a career-high 135 2/3 innings (23 starts) across two levels.
Other top prospect performances from Tuesday's action:
• After hitting just one homer in his previous 36 games, No. 43 overall prospect Austin Riley (Braves' No. 4) homered in both ends of Triple-A Gwinnett's doubleheader against Durham. The 21-year-old third baseman went deep in his first at-bat in both contests, as he hit a first-inning solo shot in the opener and then added a two-run shot in the nightcap. He's now homered seven times in 61 games with Gwinnett and 14 times in 94 games this season.
MILB Video - Title: Riley's two-run homer - Url: http://www.milb.com/r/video?content_id=2412461183
• No. 46 overall prospect Estevan Florial (Yankees' No. 2) hit a solo home run and a double before finishing 3-for-4 with a walk and two RBIs for Class A Advanced Tampa. It marked the fourth straight multihit performance by the 20-year-old outfielder, who's hitting .381 with 10 runs scored over his last 10 games. Overall, Florial has produced a .260/.364/.372 line with three homers and 15 doubles over 65 games in the Florida State League.
• Astros No. 8 prospect J.B. Bukauskas allowed two hits over five innings en route to his third straight scoreless start for Class A Advanced Buies Creek. He struck out seven in the outing, matching his season high, but also issued four walks and threw 49 of 91 pitches for strikes. He's posted 17 scoreless frames in those three outings and owns a 0.78 ERA over his first four starts in the Carolina League.
• Brewers No. 14 prospectTrey Supak picked up his fourth straight win for Double-A Biloxi as he spun six scoreless frames. The right-hander, who struck out six and yielded three hits, has a 3.38 ERA through 14 starts with the Shuckers and has held the opposition without an earned run in four of his past six starts. Fellow Brewers prospects Corey Ray (No. 3) and Trent Grisham (No. 20) also contributed to the win as each hit a solo homer.
MILB Video - Title: Supak's sixth strikeout - Url: http://www.milb.com/r/video?content_id=2412248883
• Orioles No. 5 prospect Grayson Rodriguez, a first-round pick from the 2018 Draft, has gotten off to a fast start in his career and that continued with another scoreless outing. The right-hander struck out five and gave up two hits over three innings. While Rodriguez hasn't pitched more than three innings in any of his starts, he has posted a 1.40 ERA through 19 1/3 innings and held the opposition without a run in seven of his nine starts.
• Phillies No. 13 prospect Francisco Morales established a pair of a career highs as he racked up 11 strikeouts over six innings in a win for Class A Short-Season Williamsport. He allowed one earned run on three hits and two walks while throwing 58 of 83 pitches for strikes in the dominant outing. The 18-year-old right-hander has compiled 57 strikeouts against 29 strikeouts over 45 2/3 innings (11 starts) in the New York-Penn League.
• Pirates No. 8 prospectBryan Reynolds hit a solo home run and collected a season-high four hits to help power Double-A Altoona past Binghamton, 9-2. He also hit a double and scored three runs in the contest to finish 4-for-5. The 23-year-old outfielder is hitting .288/.370/.438 on the season, with seven homers, 17 doubles and 39 RBIs in 75 games.
MILB Video - Title: Watch: Reynolds rips solo shot - Url: http://www.milb.com/r/video?content_id=2414231083
• Rangers No. 10 prospect Bubba Thompson hit a solo home run and recorded four hits out of the leadoff spot to help lead Class A Hickory over Greenville, 14-4. Thompson led off the fifth inning with his eighth home run of the season and later added a two-run single as part of an 11-run frame for Hickory. The 2017 first-rounder is slashing .295/.350/.461 with 28 extra-base hits and 28 steals through 74 games in his first full season.
MILB Video - Title: Watch: Thompson goes yard - Url: http://www.milb.com/r/video?content_id=2414231683
• Rays No. 20 prospect Resly Linares allowed two runs (one earned) on one hit over six-plus innings, striking out seven and walking two, as he recorded his fourth win in as many starts for Class A Bowling Green. The 20-year-old southpaw surrendered a single to the first batter he faced before settling in and retiring 17 straight. He pitched into the seventh inning but was replaced after issuing back-to-back walks to open the frame. Over 15 starts, Linares has pitched to a 3.23 ERA with 89 strikeouts and 22 walks in 75 1/3 innings.
• Reds No. 20 prospect Josiah Gray allowed one earned run over 5 1/3 innings, striking out seven and walking three in a no-decision for Rookie-level Greeneville. The 2018 Competitive Balance Round B pick has allowed one or fewer earned runs in eight of his 11 starts, pitching to a 2.55 ERA with 55 strikeouts in 49 1/3 innings overall. Over his last 14 1/3 innings, the 20-year-old right-hander has given up just two hits.
• Rockies No. 6 prospect Ryan Rolison, the club's first-round pick in 2018 Draft, fired three hitless innings in a dominant start for Rookie-level Grand Junction. He struck out three and picked off the one batter he allowed to reach first base (via a walk). With 23 pro innings (seven starts) under his belt, the 21-year-old left-hander owns a 1.96 ERA with 28 strikeouts and just 12 hits allowed (.146 BAA).
• Yankees No. 8 prospect Trevor Stephan carried a no-hit bid into the fourth inning before completing five innings of one-run ball for Double-A Trenton. He ultimately allowed one hit in the outing while striking out seven and walking a pair. The 22-year-old's strong outing comes after he'd allowed 13 earned runs in 14 1/3 innings across his previous three starts.