30 intriguing Rule 5 prospects -- 1 for each team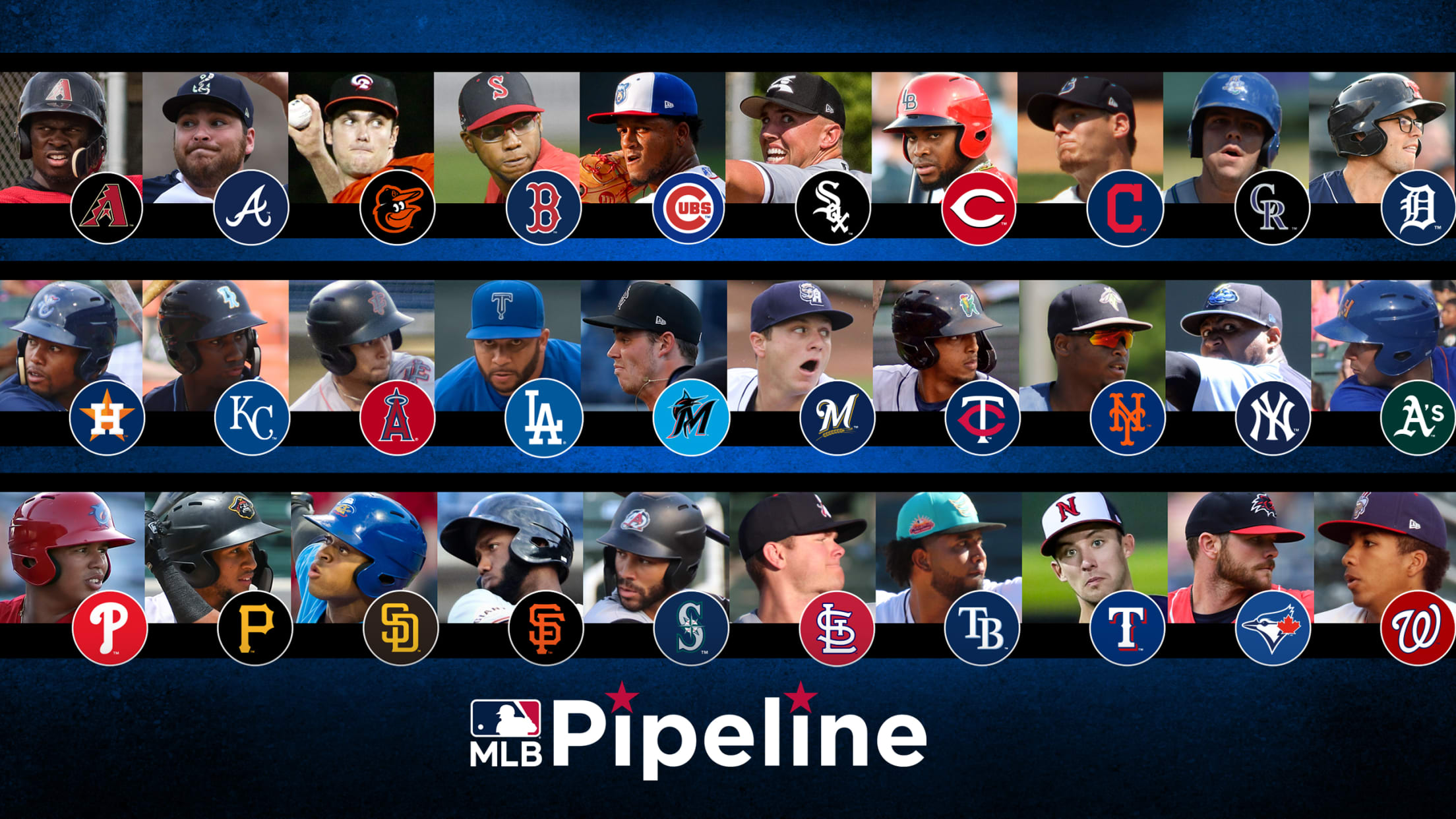 On Wednesday, teams had to decide which of their prospects merited placement on 40-man rosters. Unprotected prospects are subject to the Rule 5 Draft at the Winter Meetings if they signed by age 18 and have completed five pro seasons, or if they signed at age 19 or older and
On Wednesday, teams had to decide which of their prospects merited placement on 40-man rosters. Unprotected prospects are subject to the Rule 5 Draft at the Winter Meetings if they signed by age 18 and have completed five pro seasons, or if they signed at age 19 or older and have completed four pro seasons.
There are some nuances, but most high school and international players signed as recently as 2015 and most junior college or college players signed as recently as 2016 are eligible. Teams may select unprotected players in the big league phase of the Rule 5 Draft at the cost of $100,000, with the stipulation that they can't be sent to the Minors next year without clearing waivers and then being offered back to their original club for $50,000.
Below, we identify a notable player left unprotected by each of the 30 clubs. To be clear, this is not a list of the most appealing prospects for the Rule 5 Draft, though last year's version of this story did include Athletics shortstop Richie Martin, whom the Orioles grabbed with the No. 1 overall pick.
AMERICAN LEAGUE EAST
Blue Jays: Jackson McClelland, RHP (NR) - After going unselected in last year's Rule 5 Draft, the former 15th-round pick (2015) proceeded to climb from Double-A to Triple-A in 2019, posting a 3.77 ERA with a .215 BAA and 56/32 K/BB in 57 1/3 innings (43 appearances). A big, physical right-hander who's listed at 6-foot-5, 220 pounds, McClelland operates with power stuff in mid- to upper-90s fastball and hard breaking ball, though his strike-throwing leaves something to be desired, and he's never missed as many bats as the stuff suggests he should.
Orioles: Cody Sedlock, RHP (No. 17) - The 2016 first-rounder from the University of Illinois was plagued by injuries during his first two seasons -- Thoracic Outlet Syndrome cost him most of '18 -- but he made a healthy return last season and advanced to Double-A after a strong showing at Class A Advanced Frederick. In the absence of the power stuff he showed in college, the 24-year-old righty has learned how to be effective by locating and sequencing his four-pitch mix, albeit with command that requires further refinement.
Rays: Moises Gomez, OF (No. 12) - One of the better power hitters in Tampa Bay's system, Gomez followed up his 19-homer full-season debut with a 16-homer showing last season in the Florida State League. The 21-year-old also batted just .220 and struck out 164 times, second-most in the circuit, and considering that he's yet to reach the Double-A level, it's not surprising that the Rays felt comfortable leaving him unprotected.
Red Sox: Eduard Bazardo, RHP (No. 26) - He's purely a reliever but had success in Double-A this year (2.78 ERA, 9.7 K/9) and is a candidate to get taken next month. Signed for just $8,000 out of Venezuela in 2014, he works with a 91-96 mph fastball and a curveball that shows flashes of becoming a plus pitch.
Yankees: Domingo Acevedo, RHP (NR) - MLB Pipeline's second-ranked pitching prospect in the system three years ago, he no longer figures prominently in New York's plans after a series of injuries, a decrease in velocity and an inability to master a breaking ball. He once hit 103 mph with his fastball and has feel for a changeup and throwing strikes, but he logged a 4.35 ERA and got pounded by righties as a reliever in the upper Minors this season.
NATIONAL LEAGUE EAST
Braves: Thomas Burrows, LHP (No. 16) - The lefty reliever has always missed bats (11.6 K/9), but command has held him back (4.0 BB/9). He has been nasty against left-handed hitters at times, so a team could be looking at him as a potential lefty specialist in the Rule 5 Draft.
Marlins: Will Stewart, LHP (No. 26) - Miami reportedly considered Sixto Sanchez and Stewart the Phillies' two best pitching prospects when they acquired both in the J.T. Realmuto trade in February, and the latter was coming off a season in which he ranked second in the low Class A South Atlantic League in ERA (2.06) and WHIP (0.98). The 20th-round pick as an Alabama high schooler in 2015 saw his stuff dip from solid to fringy in his first season with his new organization, and he got knocked around for a 5.43 ERA in high Class A.
Mets: Shervyen Newton, INF (No. 8) - The highest-ranked Mets prospect to be left unprotected, Newton is unlikely to be taken in the Rule 5 Draft as a 20-year-old coming off of a challenging first full season in pro ball (.209/.283/.330, 139 K's). That said, the 6-foot-4, 180-pounder switch-hitter is a very interesting prospect, with the potential to hit for average and power once fully developed.
Nationals: Sterling Sharp, RHP (No. 13) - An oblique injury cost Sharp roughly three months during the middle of the season, but the former 22nd-round pick (2016) returned to make nine Double-A starts, then continued to make up for lost time in the Arizona Fall League. The best athlete in Washington's system and one of the premier ground-ball artists in the Minor Leagues, Sharp could be appealing to a club looking for either rotation or bullpen depth.
Phillies: Jhailyn Ortiz, OF (No. 12) - Guys with raw power and high strikeout rates who haven't played above A ball aren't typically prime Rule 5 candidates, but it's hard to completely ignore the pop that produced 19 homers in the pitching-friendly Florida State League. He needs to refine his approach but still has the upside of being a power-hitting, run producing corner outfielder.
AMERICAN LEAGUE CENTRAL
Indians: Brady Aiken, LHP (NR) - The No. 1 overall pick in the 2014 Draft didn't sign with the Astros after failing a post-Draft physical, then blew out his elbow and had Tommy John surgery before Cleveland took him 17th overall in 2015. His stuff and control have regressed drastically and he has recorded just two outs while walking six batters over the last two seasons.
Royals: Seuly Matias, OF (No. 11) - The power is legitimate, as evidenced by the 31 home runs he hit in 2018. So is the swing-and-miss. Matias struck out in 34.8 percent of his plate appearances in 2018 and that spiked to 44.3 percent in an injury-shortened 2019 season in the Carolina League. It's hard to imagine anyone rolling the dice on his power potential in the big leagues in 2020.
Tigers: Jacob Robson, OF (No. 27) - Robson, 25, reached Triple-A for the first time during a 2018 breakout campaign, only to take a step back offensively last season in his return to the level. He still managed to produce a .267/.352/.399 line across 112 games, totaling 33 extra-base hits and a career-high 25 steals. Robson's combination of hitting ability and speed, along with his ability to play all three outfield positions, could make him an interesting Rule 5 option for a team seeking a fourth outfielder.
Twins: Wander Javier, SS (No. 7) - The Twins were banking no one would take a chance on an infielder who's yet to play above the Class A level. But Javier has a ton of upside, and he still possesses the potential he had when the Twins gave him $4 million to sign in 2015. He's just had trouble staying healthy to start putting it into consistent performance.
Of course Wander Javier homered again.

🔸 Past 19 games: 4-for-67, 0 HR, 0 RBI
🔸 Today: 4-for-5, 2 HR, 6 RBI
🔸 Had more bags today (10) than he'd accumulated in his past 26 games.
🔸 Matched his season home run total.
🔸 Had half as many RBIs as he had in his first 37 games.

— MLB Pipeline (@MLBPipeline) July 15, 2019
White Sox: Alec Hansen, RHP (No. 27) - He looked like a steal when he went from the second round in 2016 to leading the Minors with 191 strikeouts in 2017, when he showcased a mid-90s fastball, 12-6 curveball and hard slider. He since has had trouble duplicating that stuff or throwing strikes (103 walks in 103 2/3 innings), and he posted a 5.45 ERA in Double-A when relegated to the bullpen this year.
NATIONAL LEAGUE CENTRAL
Brewers: Zack Brown, RHP (No. 3): After a breakout 2018 campaign in which he garnered honors as the Double-A Southern League's Most Outstanding Pitcher, Brown advanced to Triple-A and regressed on all fronts before finishing with a 5.79 ERA, 1.73 WHIP and 98/64 K/BB in 116 2/3 innings. Specifically, the 24-year-old's fastball command backed up, while his curveball, a plus pitch in '18, was less dynamic and consistent, leaving him without a put-away pitch. A team that views Brown as an easy fix could take a flyer on him in the Rule 5 Draft, though the Brewers' decision to leave him unprotected is telling.
Cardinals: Connor Jones, RHP (NR): A member of the Cardinals' Top 30 list at the outset of the season, Jones, whom St. Louis selected in the second round of the 2016 Draft, continues to generate ground balls at an elite rate and did so at a 62.9-percent clip last season across 48 1/3 Double-A innings. The 25-year-old right-hander's longstanding control issues are hard to ignore, however, and his career 4.7 BB/9 in 295 pro innings only underscores that concern.
Cubs: Oscar De La Cruz, RHP (No. 22) - Signed out of the Dominican Republic in 2012, he emerged as one of Chicago's best pitching prospects after making his U.S. debut three years later but his ceiling appears lower now after a series of injuries, a drop in stuff and an 80-game suspension for using a banned diuretic and a masking agent. He could have Rule 5 appeal because he did a better job of repeating his mechanics after moving to the bullpen in July, flashing a plus fastball and curveball while recording a 3.86 ERA with 49 strikeouts in 37 1/3 Double-A innings in his new role.
Reds: Alfredo Rodriguez, SS (No. 18) - The Reds gave Rodriguez $7 million to sign out of Cuba in 2016 with the hopes he'd be their future big league shortstop. He could defend in the big leagues right now, but he hasn't hit consistently. There's little impact with the bat, though he is coming off his best offensive season, hitting .286/.325/.347 in Double-A to earn a late promotion up a level.
Pirates: Lolo Sanchez, OF (No. 15) - Sanchez is still far away, but he did put a subpar 2018 season behind him by hitting .301/.377/.451 with 20 steals in the South Atlantic League to earn a bump up to the Florida State League. He has the chance to be a catalyst at, or near, the top of the order and play above-average defense in center field.
AMERICAN LEAGUE WEST
Angels: Leonardo Rivas, SS/2B (No. 25) - Rivas can run and he can defend, and he even added the outfield to his resume in 2019. Speed and versatility is a combination that can make for an intriguing Rule 5 pick, but he's struggled to hit consistently (.252/.380/.362), albeit with solid on-base skills
Astros: Ronnie Dawson, OF (No. 16) - Ohio State's highest Draft pick in a decade when he went in 2016's second round, he has one of the best power/speed combinations in Houston's system. But after building momentum with strong play in Double-A and the Arizona Fall League in 2018, he batted just .207/.313/.385 with a 31 percent strikeout rate in the upper Minors as an encore.
A's: Tyler Ramirez, OF (NR) - Ramirez had been on the Top 30 previously thanks to his ability to hit and get on base over his first two full seasons of pro ball. He regressed in 2019 in the upper levels (.225/.347/.346), but he has played all three outfield positions in the past to go along with what had been an advanced approach at the plate.
Mariners: Dom Thompson-Williams, OF (No. 24) - A terrific athlete who had a breakout 20-20 season with the Yankees in 2018, Thompson-Williams regressed after coming to the Mariners in the James Paxton trade with a .689 OPS and 152/35 K/BB ratio in Double-A. The power-speed combination continues to be intriguing.
Rangers: Eli White, SS/OF (No. 30) - The 11th-round pick from Clemson in 2016 broke out two years later by leading the Double-A Texas League in on-base percentage (.388), runs (81), hits (154) and triples (eight), impressing with his hitting ability, speed and versatility while drawing comparisons to Chris Taylor. After Texas acquired him from the Athletics in the offseason Jurickson Profar trade, his stock dipped when he hit just .253/.337/.418 with 14 homers and as many steals with the souped-up baseballs in Triple-A.
Eli White did a little bit of everything tonight for @nashvillesounds.

The #Rangers' No. 16 prospect homered, tripled, singled, walked, scored twice and drove in two in a losing effort. It's his third three-hit game of the year.@Rangers Top 30: https://t.co/rHGstfKOTc pic.twitter.com/l6FUDQ72bd

— MLB Pipeline (@MLBPipeline) May 26, 2019
NATIONAL LEAGUE WEST
D-backs: Anfernee Grier, OF (NR): Grier has batted just .240 in four professional seasons since Arizona made him their top pick (No. 39 overall) in the 2016 Draft, but the 24-year-old outfielder turned in his best campaign to date in '19 as he established career highs in both home runs (9) and steals (28) in the California League. The lack of hitting ability makes Grier an unlikely pick in the Rule 5 Draft, though he does possess the blend of athleticism, defensive versatility and untapped potential that team like to target.
Dodgers: Jordan Sheffield, RHP (No. 26) - He hasn't developed as quickly as expected since Los Angeles made him a 2016 supplemental first-rounder out of Vanderbilt, but a move to the bullpen in the Arizona Fall League following the 2018 season rejuvenated him and he's a prime candidate to get popped in the Rule 5 Draft. Walks are still an issue, but his lively mid-90s fastball misses bats, his curveball can be a hammer and his changeup neutralizes lefties. He posted a 3.27 ERA, .168 opponent average and 74 strikeouts in 55 innings between high Class A and Double-A.
Giants: Sandro Fabian, OF (No. 16) - The recipient of the largest bonus in San Francisco's 2014 international class ($500,000 out of the Dominican Republic), he remains one of the more intriguing hitters in the system but has yet to play about high Class A and is thus unlikely to get taken in the Rule 5 Draft. He batted .287/.353/.413 in high Class A at age 21 this season, when he missed much of the first three months dealing with a medical issue.
Padres: Buddy Reed, OF (No. 25) - Reed opened eyes last season during a strong showing in the California League, but the former second-round pick (2016) hasn't been able to replicate that success in Double-A, compiling a .213/.284/.339 line with 189 strikeouts in 164 games at the level. The 24-year-old does offer value on the basepaths with his plus speed and is revered for his outfield defense -- two traits teams look for in a potential fourth outfielder.
There was no doubt about this one.

Buddy Reed hit a solo homer to extend the @sodpoodles' lead in Game 4 of the Texas League finals.

Here's Reed on the #Padres' Top 30 Prospects list: https://t.co/z72mEGzFCU pic.twitter.com/8KEqSlXveu

— MLB Pipeline (@MLBPipeline) September 15, 2019
Rockies: Roberto Ramos, 1B (No. 27) - Ramos is limited to first base (or DH), but he's proven his power is legitimate with back-to-back 30-homer seasons. There's considerable swing-and-miss, but if a left-handed power bat from the upper levels is on your wish list, he might a guy worth looking at.