30 prospects we'll be talking about in 2021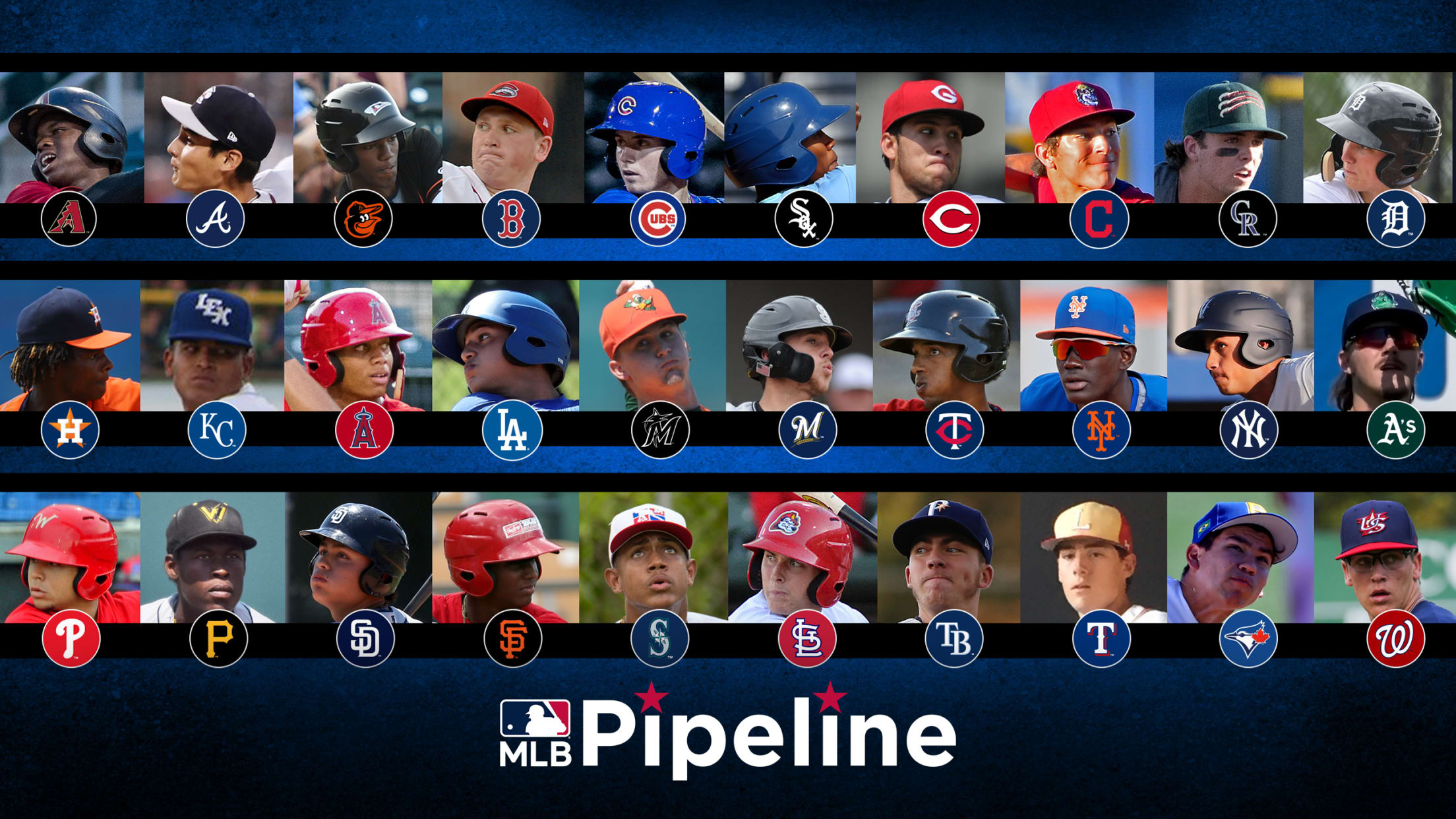 Optimism always abounds in Spring Training. Most fans can dream about October if the best-case scenario unfolds for their team. There's anticipation for the next wave of Next Big Things, with Blue Jays third baseman Vladimir Guerrero Jr., Padres shortstop Fernando Tatis Jr. and White Sox outfielder Eloy Jimenez at
Optimism always abounds in Spring Training. Most fans can dream about October if the best-case scenario unfolds for their team. There's anticipation for the next wave of Next Big Things, with Blue Jays third baseman Vladimir Guerrero Jr., Padres shortstop Fernando Tatis Jr. and White Sox outfielder Eloy Jimenez at the forefront this year.
Here at MLB Pipeline, we keep one eye on the present and one eye on the future. We're thrilled about Vlad Jr. and Co., but we're also excited about the prospects yet to come.
Who will we be buzzing about in 2021? Read on, and we'll identify the leading candidate from each organization.
AL EAST
Blue Jays: Eric Pardinho, RHP
Signed out of Brazil for $1.4 million in July 2017, Pardinho lived up to his reputation as a highly advanced teenage arm in his 2018 pro debut, when, at age 17, he posted a 2.88 ERA and finished third in the Rookie-level Appalachian League in strikeouts. His blend of stuff and feel on the mound exceeds his years and could help him move through the Minors relatively quickly.
Orioles: Jean Carlos Encarnación, 3B (No. 13 on Orioles' Top 30)
Owner of the highest ceiling of the four prospects acquired by Baltimore last July in the deal that sent Kevin Gausman to Atlanta, Encarnación has a big league body and projects to hit for both average and power, albeit with an approach that'll need to be toned down along the way. Spending all of his first full season in the Class A South Atlantic League, he produced a .273 average with 12 home runs and 46 extra-base hits in 123 games.
Rays: Matthew Liberatore, LHP
Taken by Tampa Bay with the No. 16 overall pick last June, Liberatore is a 6-foot-5 lefty who could have three plus pitches (fastball/curveball/changeup) once he's developed. He's more advanced than the majority of prep pitchers from his class, but that doesn't mean the Rays won't bring him along slowly, offering him extra time to thoroughly develop his craft.
Red Sox: Jay Groome, LHP (Red Sox No. 5)
MLB Pipeline's top-rated prospect in the 2016 Draft, Groome has worked just 62 innings as a pro and had Tommy John surgery that cost him all of last season. The Red Sox thought he was on the verge of a breakthrough when he got hurt last spring, because he was throwing more strikes with a mid-90s fastball and a power curveball.
Yankees: Everson Pereira, OF (Yankees' No. 7)
The Yankees handed seven-figure bonuses to four position players in the 2017 international class, the best of whom is Pereira. So advanced that they skipped him to the Rookie-level Appalachian League for his pro debut last year, he projects to hit for a high average while using his plus speed to steal bases and patrol center field.
AL CENTRAL
Indians: Tyler Freeman, SS/2B (Indians' No. 3)
As a 19-year-old last summer, Freeman led the short-season New York-Penn League in hitting (.352), runs (49), hits (95), doubles (29), extra-base hits (35) and total bases (138). He has elite bat-to-ball skills, developing power and keen instincts on the bases and in the middle infield.
Royals: Yefri Del Rosario, RHP (Royals' No. 12)
One of the former Braves prospects who was made a free agent as a result of their international signing violations, Del Rosario started slowly, but finished his first year with the Royals extremely well. He has a live fastball that touches 97 mph and two at least average secondary pitches, and his size and fearlessness on the mound remind some in the organization of Yordano Ventura.
Tigers: Parker Meadows, OF
Meadows already shows just as much, if not more power than his older brother Austin, the 2013 Draft's No. 9 overall pick and currently an outfielder in the Rays system. A 6-foot-5 left-handed hitter, Parker Meadows has plus raw power and a legitimate chance to stick in center field thanks to his plus speed.
Twins: Wander Javier, SS
Signed back in July 2015 for $4 million, Javier has shown glimpses of his tremendous potential, but he's had trouble staying on the field. He missed most of 2016 with a hamstring injury and didn't play at all in 2018 because a torn labrum in his non-throwing shoulder. A healthy 2019 as he hits full-season ball should allow Javier to start his path toward being one of the best infield prospects in the game.
White Sox: Bryce Bush, 3B
The White Sox have one of baseball's best farm systems, and the vast majority of their best prospects will arrive in Chicago before 2021. One exception is Bush, who dropped to the 33rd round amid signability concerns last June but signed for $290,000. He impressed club officials with his power in a Guaranteed Rate Field workout before the Draft and broke into pro ball with 19 hits in his first 43 at-bats (.442).
AL WEST
Athletics: Austin Beck, OF (Athletics' No. 5)
Considering Beck is considered to be very raw, albeit toolsy, his .296/.335/.383 line in his first full season is pretty solid, and he led the Midwest League in hits to boot. As he refines his approach at the plate (117/30 K/BB), he'll start tapping into his raw power more effectively and become a premium all-around prospect.
Angels: Jordyn Adams, OF (Angels' No. 6)
The Angels have gone aggressively after premium athletes, both in the Draft and internationally, and have had success with draftees like Jo Adell and Brandon Marsh. Adams was signed away from playing baseball and football at North Carolina and while it might take a while for him to use his incredible raw tools consistently on the diamond, the wait might well be worth it.
Astros: Freudis Nova, SS
One of the best all-around talents in the 2016 international class, Nova is a potential 20-20 shortstop with a cannon for an arm. He made his U.S. debut at age 18 last summer and batted .308/.331/.466 with six homers and nine steals in 41 games in the Rookie-level Gulf Coast League.
Mariners: Julio Rodriguez, OF (Mariners' No. 5)
The Mariners are trying not to get too excited about Rodriguez's potential, considering he's just starting his professional career. But he has massive raw power and a better approach than most hitters his age. There once was concern about how he would handle his conditioning, but he showed up this year in tremendous shape, ready to make a huge leap forward in his United States debut.
Rangers: Cole Winn, RHP (Rangers' No. 3)
The Rangers drafted Winn 15th overall last June and had him focus on conditioning and instruction during his first pro summer, so he won't make his debut until later this year. He already possesses two plus pitches in a 92-97 mph fastball and a 12-to-6 curveball, owns a potential third in his low-80s slider and has promising fade on his changeup.
NL EAST
Braves: Freddy Tarnok, RHP
That's right, another pitching prospect coming up the ladder. The Braves went way above slot to sign Tarnok in 2017 and he started to show why in '18. Big and projectable, he has the chance to have a solid three-pitch starting pitcher mix, starting with a fastball that touches 96 mph and gets on hitters in a hurry because of his excellent extension.
Marlins: Braxton Garrett, LHP (Marlins' No. 8)
Garrett went seventh overall in the 2016 Draft -- the highest for an Alabama high schooler in 45 years -- but made just four pro starts before having Tommy John surgery in June 2017. Before he got hurt, he had a low-90s fastball, a standout curveball and an advanced changeup.
Mets: Ronny Mauricio, SS (Mets' No. 3)
Ranked as MLB Pipeline's No. 11 international prospect before he signed for $2.1 million in July 2017, Mauricio flashed his immense potential during his 2018 pro debut, which he finished as a 17-year-old in the Rookie-level Appalachian League. As an athletic shortstop who could develop both a plus hit tool and plus power, Mauricio has one of the highest ceilings in the Minors among players yet to reach full-season ball.
Nationals: Mason Denaburg, RHP (Nationals' No. 4)
Washington's 2018 first-rounder (No. 27 overall) has the physical building blocks of a big league starter, with a strong, athletic frame, good delivery and quick arm. The 6-foot-4 right-hander's stuff is plenty good, too, as he throws a fastball and curveball that both grade as plus pitches, as well as a changeup that should be at least average at maturity.
Phillies: Rafael Marchan, C (Phillies' No. 14)
Developing catching is hard, but the Phillies think they have a good one in Marchan. Signed back in July 2015, he's coming off a very strong New York-Penn League season. In his brief professional career, he's hit .302, though without power, and thrown out close to 36 percent of potential basestealers. Combine that with his strong leadership skills and he has big league regular backstop written all over him.
NL CENTRAL
Brewers: Brice Turang, SS (Brewers' No. 3)
The Brewers continued their stockpiling of teenage up-the-middle prospects in 2018 when they drafted Turang with the No. 21 overall pick. While he doesn't project for much in the way of power, Turang is an advanced hitter for his age, with plus speed and the defensive chops needed to remain at shortstop. He reached the Rookie-level Pioneer League during his pro debut and has the potential to keep moving quickly relative to most of the other prep picks from his class.
Cardinals: Nolan Gorman, 3B (Cardinals' No. 2)
The Cardinals gave Gorman $3.2 million as the 2018 No. 19 overall Draft pick based on his massive power potential. The organization didn't have to wait long to see if it would translate in the professional ranks, as Gorman crushed 17 homers -- the highest total among 2018 Draftees -- en route to full-season Class A Peoria in his pro debut.
Cubs: Cole Roederer, OF (Cubs' No. 5)
Roederer earns Andrew Benintendi comparisons for his all-around game, yet lasted 77 picks in the 2018 Draft because he injured his non-throwing shoulder as a high school senior and had a strong commitment to UCLA. With his bat-to-ball skills, quick lefty swing and advanced approach, he could blossom into a .300 hitter with 25 homers on an annual basis.
Pirates: Oneil Cruz, SS (Pirates' No. 4)
The Pirates didn't exactly know what they were getting when they got Cruz from the Dodgers in the 2017 Tony Watson trade, but they knew he had some upside. Can someone that is 6-foot-6 stick at shortstop? That's unlikely, but he started showing his enormous offensive potential in the South Atlantic League last year, finishing with double digits in homers and steals. He's in the Top 100 now; he could be close to the top by 2021.
Reds: Lyon Richardson, RHP
The Reds have had success in taking savings from signing their first-round pick for below pick value and using it to get high-end talent later. That's exactly what they did in the 2018 Draft, using savings from Jonathan India's signing to get Richardson in the second round for $2 million. Relatively new to pitching, he's athletic and projectable, with a ton of ceiling.
NL WEST
D-backs: Kristian Robinson, OF (D-backs' No. 5)
A Bahamian outfielder whom the D-backs signed for $2.5 million in 2017, Robinson has an exciting package of tools, headlined by massive raw power that could soon make him one of the more revered sluggers in the Minors. He also has plus speed, arm strength to match and a chance to stick in center field. He batted .279/.363/.428 with seven homers and 12 steals between two Rookie leagues as a 17-year-old making his pro debut last summer.
Dodgers: Diego Cartaya, C
MLB Pipeline's No. 1-rated prospect in the 2018 international class, Cartaya gets compared to Salvador Perez for his big frame, defensive ability and strong makeup. He has advanced hitting ability and receiving skills for a teenager, as well as a strong arm and 15-homer potential.
Giants: Marco Luciano, SS (Giants' No. 3)
Signed for $2.6 million out of the Dominican Republic last July, Luciano is the Giants' best international prospect in years. Scouts considered him the best all-around hitter in last year's international class, and he also has a strong arm and solid speed.
Padres: Tirso Ornelas, OF
Hailing from the same Mexico Red City Devils team that produced Luis Urias and Andres Munoz, Ornelas signed for $1.5 million in 2016. Playing last season as an 18-year-old in the Class A Midwest League, he once again demonstrated plate discipline as part of an approach that belies his years. He already has natural feel to hit from the left side of the plate, and there should be plenty of power to come as he grows into his projectable 6-foot-3, 200-pound frame.
Rockies: Terrin Vavra, SS (Rockies' No. 14)
The son of Tigers coach Joe Vavra, Terrin was the Rockies' third-round pick in the 2018 Draft. All the guy does is hit, including his .302/.396/.467 line during his pro debut in the short-season Northwest League. Look for him to hit his way up the ladder, with some sneaky pop, while playing multiple positions.