Top-ranked TCU hangs on vs. No. 4 LSU
Tournament being held at Houston's Minute Maid Park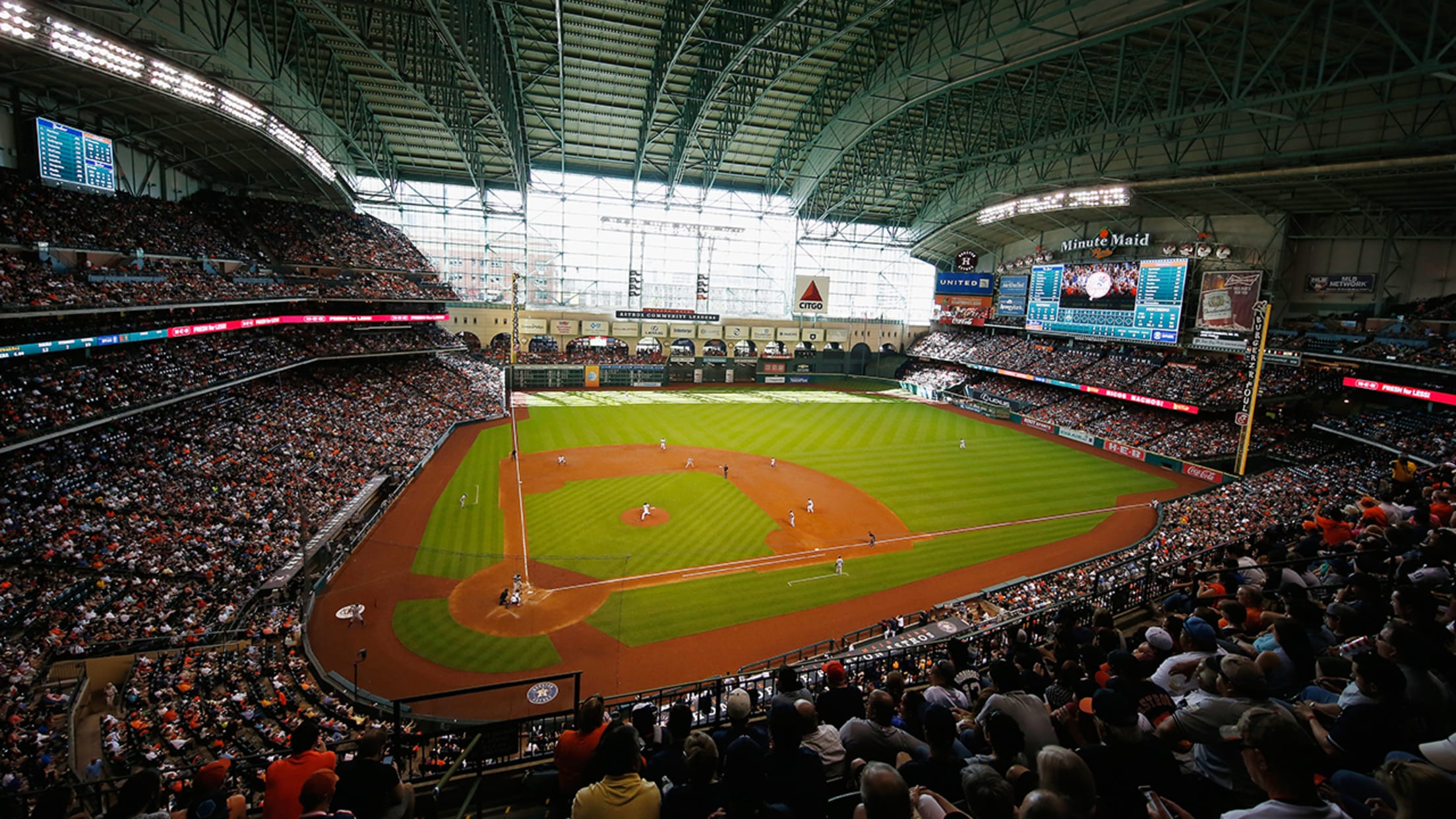 Top-ranked TCU, Baylor and Texas A&M posted victories in the College Classic at Minute Maid Park on Friday. (Getty)
HOUSTON -- Being an experienced team, Texas Christian University isn't fazed by falling behind. Even against a talented Louisiana State club.The Horned Frogs, ranked No. 1 in the country, bounced back after a four-run LSU first inning to beat the fourth-ranked Tigers, 9-6, at Minute Maid Park.In the marquee game
HOUSTON -- Being an experienced team, Texas Christian University isn't fazed by falling behind. Even against a talented Louisiana State club.
The Horned Frogs, ranked No. 1 in the country, bounced back after a four-run LSU first inning to beat the fourth-ranked Tigers, 9-6, at Minute Maid Park.
In the marquee game of the three-day Shriners Hospitals for Children College Classic, it was the Horned Frogs who prevailed, aided by second-inning homers from Austen Wade and Luken Baker and Evan Skoug's four hits.
• College Classic information
"We feed off each other's energy," Skoug said. "When we're hitting like that, it's a lot of fun. We know it's what we can do. It continues throughout the lineup."
TCU's win concluded opening day play in the three-day classic. Total attendance for Friday's three games was 17,145.
A five-run second inning by TCU was highlighted by Wade's three-run shot to right field and Baker's two-run homer to left. Baker's fourth home run of the season, into the Crawford Boxes, gave the Horned Frogs a 6-4 lead in the second inning and chased LSU starter Alex Lange (2-1).
"I was proud of our guys' at-bats, obviously against Lange, but even throughout the game," TCU coach Jim Schlossnagle said. "When we didn't get hits, we had good deep count at-bats." Brian Howard (2-1) recovered after LSU's five-hit first inning to get the win.
Cole Freeman had three hits for LSU (8-2). Greg Deichmann and Jordan Romero had two hits each for the Tigers.
Baylor 4, Ole Miss 0
Baylor came into the tournament as the only unbeaten and unranked team among the six participating schools in the field.
The Bears continued their winning ways on Friday, opening up the three-day tournament with a victory over No. 20 Ole Miss at Minute Maid Park.
"It's all good. We try not to worry about rankings," said Baylor starter Nick Lewis (3-0), who allowed only two singles in seven innings as the Bears improved to 10-0. "We just go out there and give it our best and try to get a win."
Baylor center fielder Richard Cunningham had two of the Bears' eight hits and scored twice. Cunningham threw out a runner at third base for the first out of the top of the sixth -- a huge momentum shift -- and shortstop Tucker Cascadden, who had an RBI, snagged a liner to end the eighth.
"We had a couple of pitchers that were able to dominate the bottom part of the zone, and [that] allowed our defense to play," Baylor coach Steve Rodriguez said.
Lewis, who had an ERA of 6.41 last season, was superb against the Rebels (7-2). The right-hander constantly pounded the bottom of the strike zone and had an effective changeup. Lewis struck out nine, including the side in the seventh, his final inning.
"I went into [the seventh inning] knowing I was getting a little high on the pitch count," Lewis said. "So I threw some good changeups, some of the best ones I threw all day. It helped me get out of that and I struck out the side to finish it."
Kyle Hill relieved Lewis and threw two innings without allowing a hit. Steven McLean, Kameron Esthay and Josh Bissonette also drove in runs for the Bears.
Ole Miss starter David Parkinson (2-1) allowed three runs and seven hits in four innings to take the loss. Second baseman Tate Blackman had three of the Rebels' five walks.
Texas A&M 9, Texas Tech 0
For a team that generated two home runs and seven extra-base hits, and shut out its opponent, it may have been a second-inning pickoff double play that carried the Aggies.
Logan Foster's home run was one of his four hits, and fellow freshman Braden Shewmake's two-run homer was part of a three-run third inning. But a pickoff started by Brigham Hill ended a Red Raiders threat after the first two batters got on base.
Hill (3-0), who allowed only three hits, got Josh Jung to line out to second base. Then a 1-6-5-6-5-4 pickoff that resulted in a double play ended the top of the third inning with the Aggies (9-1) up by only a run.
"That was big," Texas A&M coach Rob Childress said. "We scored a run and then they set it up the next inning, and just like that, two pitches later he's got three outs. A lineout and we get two outs on the pickoff attempt. Kind of kept the momentum in our dugout."
In addition to his four hits, Foster scored three runs and had two doubles. Joel Davis, with three hits, also collected two doubles for the 25th-ranked Aggies (9-1), who amassed 15 hits in the second games of the Classic.
"We were ready to play," Childress said. "I felt we were the aggressor. It started with Brigham on the mound, we played great defense and offensively, 1-9 we had a great approach."
Landon Miner pitched two innings without allowing a hit in relief of Hill, who had eight strikeouts.
"I just threw strikes and had fun out there," Hill said.
Davis Martin (1-1) started for Texas Tech (9-2), ranked No. 21, and couldn't get out of the fourth inning. Ryan Long doubled and Hunter Hargrove and Tanner Gardner singled for the Red Raiders' three hits.
Richard Dean is a contributor to MLB.com based in Houston.