Best of the best: Top tools at Futures Game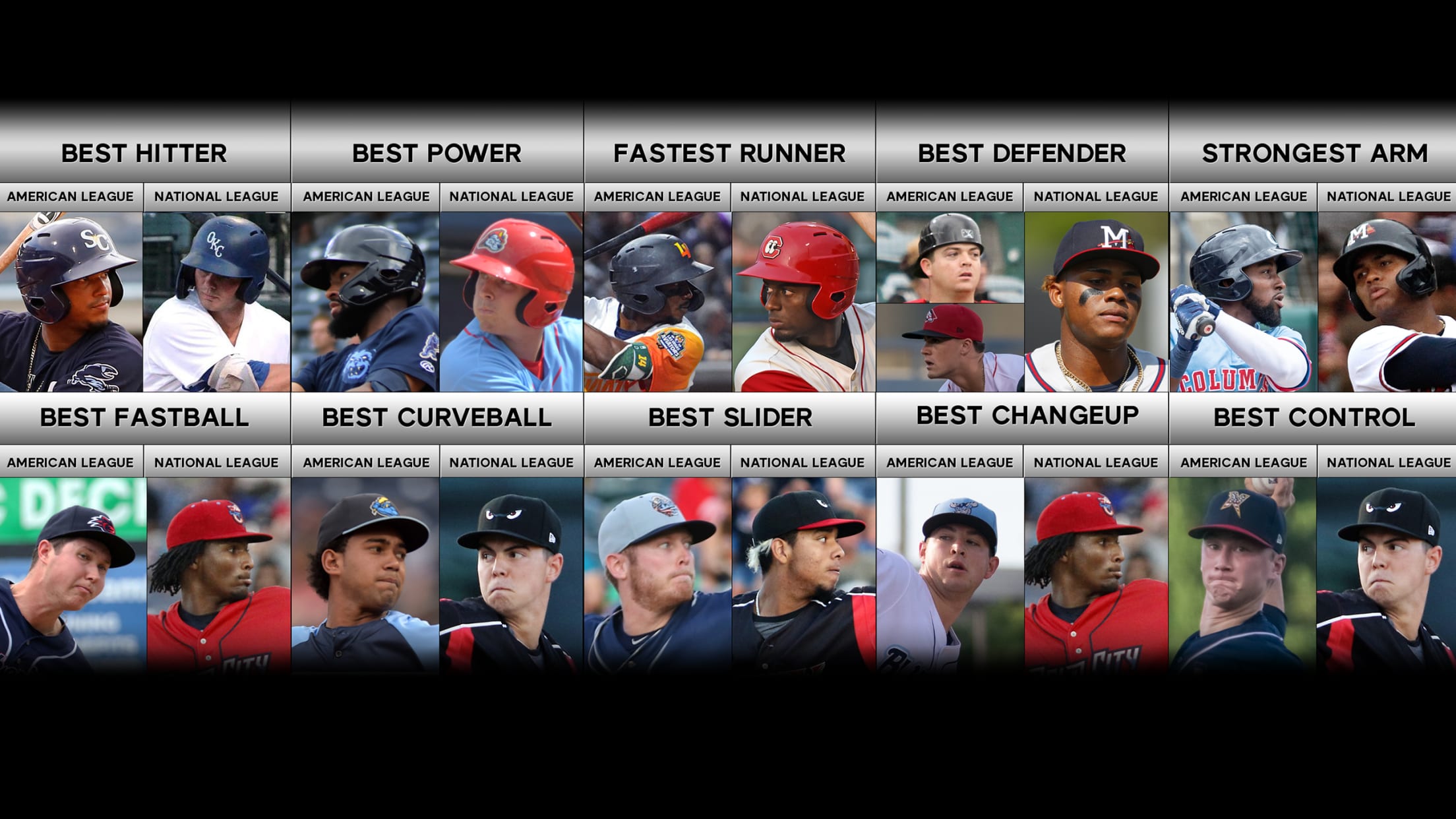 Last year's SiriusXM All-Star Futures Game turned out to be a preview of Major League Baseball's 2019 rookie class. In total, 23 of the 50 players from the game already have either reached or are currently playing in the big leagues -- a group that includes a pair of N.L.
Last year's SiriusXM All-Star Futures Game turned out to be a preview of Major League Baseball's 2019 rookie class. In total, 23 of the 50 players from the game already have either reached or are currently playing in the big leagues -- a group that includes a pair of N.L. Rookie of the Year candidates in Fernando Tatis Jr. and Pete Alonso.
• Futures Game: Tonight at 7 p.m. ET on MLB Network and MLB.com
The crop of talent in this year's event might be even more impressive, as there are 36 players from MLB Pipeline's Top 100 Prospect list -- up from 28 in 2018 -- set to showcase their talents when they take the field tonight at Progressive Field in Cleveland.
MLB Network will exclusively televise and MLB.com will live stream the Futures Game at 7 p.m. ET. Greg Amsinger, Harold Reynolds and Jim Callis will call the action, with Heidi Watney providing reporting from both dugouts. The game also will be available to SiriusXM subscribers.
These are the loudest tools that will be on display:
Best hitter
American League: Wander Franco, SS, Rays
MLB Pipeline's No. 1 overall prospect is a truly gifted hitter, with elite bat-to-ball skills and barrel control, as well as plate discipline that's netted him more walks (62) than strikeouts (39) in his short career to go along with a ridiculous .341/.410/.560 batting line. He hits the ball with authority from both sides of the plate and rarely swings and misses (he's yet to strike out in eight games since being promoted to the Florida State League).
National League: Gavin Lux, SS/2B, Dodgers
Lux scuffled at the plate in his first full pro season, but rebounded in 2018 to lead Minor League shortstops in all three slash categories (.324/.399/.514) while reaching Double-A at age 20. This season, the former first-round pick (2016) has continued to rake his way up the ladder, as he recently was promoted to Triple-A after batting .313/.375/.521 with 13 homers in his return to Double-A. What's more, he's collected 14 hits over his first six games in Triple-A while batting .519.
Best power
AL: Jo Adell, OF, Angels
Taken 10th overall in the 2017 Draft, Adell led U.S. high schoolers with 25 homers as a senior and smashed 20 in his full pro season while reaching Double-A at age 19. He has massive raw power to his pull side but also can drive the ball out of the yard to all fields, showing good pop to right- center field when he gets his arms extended.
NL: Nolan Gorman, 3B, Cardinals
Regarded by scouts as the top prep slugger in the 2018 Draft before the Cardinals made him their first-round pick, Gorman showcased his prodigious power by swatting 17 home runs in 63 games during an impressive pro debut (tops among '18 Draftees) that included a promotion to the Class A Midwest League. He's added 11 more home runs to his total in 2019 while advancing to the Florida State League.
Fastest runner
AL: Jorge Mateo, SS, A's
With apologies to Jarren Duran (Red Sox), Luis Robert (White Sox) and Royce Lewis (Twins), who are all plus-plus runners, Mateo is the fastest player on this year's AL squad and in the overall event. His top-of-the-scale speed has allowed him to wreak havoc on the basepaths, as he stole 82 bases back in 2015 and 52 in '17. With two more steals in 2019, he'll record his fifth straight season with at least 20 steals.
NL: Taylor Trammell, OF, Reds
Last year's Futures Game MVP is back for another year. A plus-plus runner, he was Georgia's 2015 Class A football offensive player of the year after rushing for 2,479 yards and 36 touchdowns and turned down college football opportunities to begin his career on the diamond.
Best defender
AL: Jake Rogers, C, Tigers; Evan White, 1B, Mariners
Rogers and White are both considered the best defensive players in the Minors at their respective positions. Rogers is an outstanding receiver and framer with a plus, highly accurate arm and superb catch-and-throw skills that enable him to shut down the running game, as he threw out 46 percent of attempted basestealers in his first full season, followed by 56 percent (50 of 90) at Double-A Erie in 2018. This season, he's cut down attempted basestealers at a nearly 53 percent clip (21 of 40) across two levels. White is a future Gold Glover at first base, where his footwork, range and hands have led to some evaluators bringing him up as one of the best defensive prospects, period, in the game.
NL: Cristian Pache, OF, Braves
Similarly, there's no better defensive outfielder in the Minors than Pache, who can run down everything in center and is fearless going up against the wall. He's an elite defender in all regards.
Strongest arm
AL: Daniel Johnson, OF, Indians
Johnson has a wide range of tools, including plus raw power and speed, though it's his strong left arm that earns the highest grades (70) from scouts. That plus-plus arm strength helped him tally 11 outfield assists in just 92 games in 2018.
NL: Pache
In addition to his tremendous range and defensive chops in the outfield, Pache also has a cannon for an arm. In his first full-season campaign, back in 2017, he racked up 17 outfield assists from center field.
Best fastball
AL: Nate Pearson, RHP, Blue Jays
Pearson typically sits in the 96-100 mph range as a starter, but he's shown the ability to dial it up to 103-104 mph with surprising ease while working in short bursts, which is exactly what the 6-foot-6 right-hander did last year during his legendary outing in the Arizona Fall League's Fall Stars Game.
NL: Sixto Sanchez, RHP, Marlins
Sanchez throws both a two- and four-seam fastball, the former thrown with a lot of sink to get ground-ball outs and the latter cranked up to triple digits at times. Not only can Sanchez maintain velocity deep into starts, the fastball plays up because of movement and his feel for spotting the pitch.
Best curveball
AL: Deivi Garcia, RHP, Yankees
Garcia's best pitch is a high-spin curveball that he's learned to land in the zone for strikes this season, and it continues to net him a ton of whiffs, both in and outside the zone, against hitters on both sides of the plate. It's an absolute hammer.
NL: MacKenzie Gore, LHP, Padres
Gore's curveball has had scouts drooling dating back to his prep days, before the Padres made him the No. 3 overall pick in the 2017 Draft. The 6-foot-3 southpaw throws his deuce in the mid-70s and demonstrates outstanding feel for spinning the pitch, which in turn gives it big depth and hard downward action that enables him to miss bats.
Best slider
AL: J.B. Bukauskas, RHP, Astros
Bukauskas' best offering is his high-spin-rate slider, which combines mid-80s power with late, sharp bite that gets him ugly swings and misses. He throws it a lot, too, albeit at the expense of his feel for throwing his fastball.
NL: Luis Patino, RHP, Padres
Patino's power slider in the upper 80s is a swing-and-miss offering, one that he throws with considerable depth and it plays well when thrown off of his plus fastball.
Best changeup
AL: Kris Bubic, LHP, Royals
Bubic's success is rooted in his impressive fastball-changeup pairing, though there isn't a ton of velocity differential between the two pitches. His fastball will sit 91-93 mph while his changeup checks in at 84-85 mph, but it's his deceptive arm speed and fading action on the latter that makes it a true out pitch for him.
NL: Sanchez
Sanchez's changeup is a weapon because he pairs it extremely well with his triple-digit heater, throwing it with the same arm speed as his fastball while imparting late tumbling action as it nears the plate. He's aggressive in throwing against right-handed hitters, too.
Best control
AL: Brady Singer, RHP, Royals
Singer's slightly lower arm slot gives him excellent control and command of his three-pitch mix. After issuing 2.3 walks-per-nine as a three-year starter at the University of Florida, he's posted a similar rate (2.4) this year in his pro debut while reaching Double-A.
NL: Gore
Gore was flooding the zone with strikes last year, even while pitching through a recurring blister issue, so it shouldn't come as a surprise that the former No. 3 overall pick (2017) has been even better in that regard so far in 2019, issuing 2.3 BB/9 while absolutely dominating hitters in the offense-heavy California League.