Toronto hosts 21st annual Golf Classic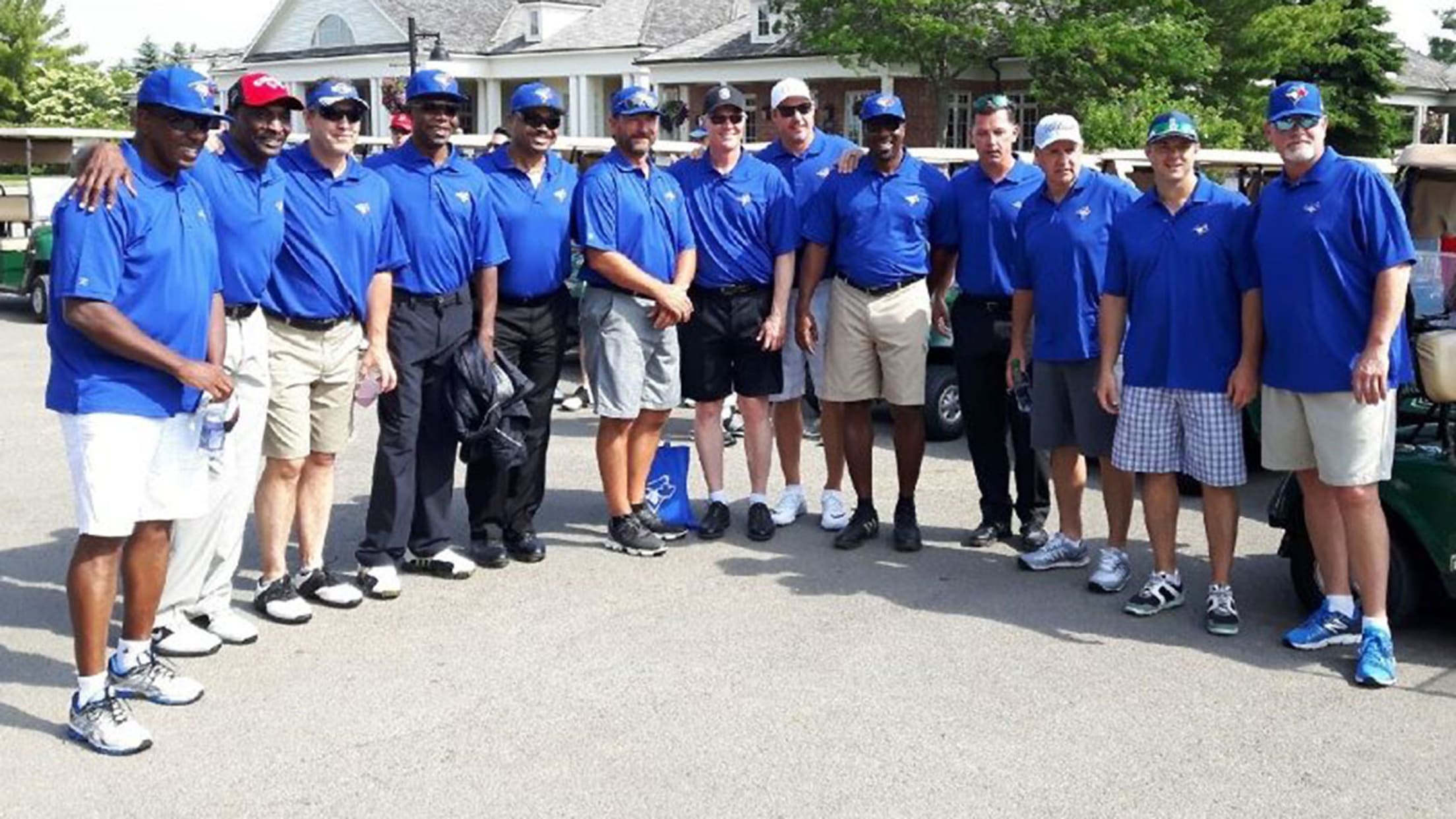 Seventy-five foursomes, consisting of alumni, players and special guests, took part in the event at RattleSnake Point Golf Club. (Jays Care Foundation)
TORONTO -- It was a day on the links instead of a day on the diamond for many members of the Blue Jays family on Monday, as the organization held one of its largest and most important fundraising events, the 21st Annual Jays Care Golf Classic, raising funds in support
TORONTO -- It was a day on the links instead of a day on the diamond for many members of the Blue Jays family on Monday, as the organization held one of its largest and most important fundraising events, the 21st Annual Jays Care Golf Classic, raising funds in support of the Jays Care Foundation.
Seventy-five foursomes, consisting of alumni, players and special guests, arrived bright and early at RattleSnake Point Golf Club before grabbing a bite to eat and heading out for 18 holes of light-hearted competition.
And with the Blue Jays celebrating their 40th season, it was also a time to reflect on both the achievements of the Jays Care Foundation and the newfound heights the charitable arm is looking to reach.
• Learn more about the Jays Care Foundation
"I've been able to see Jays Care reach across this country and impact kids all around Canada," said former closer Duane Ward, who pitched nine seasons -- including an All-Star campaign -- for Toronto. "That, to me, is what this is all about; being able to give back to the communities. As long as we alumni can be a part of that, we'll be at their beck and call to do as much as we can to spread the word of the Blue Jays and spread baseball across this country."
That word has certainly spread throughout Canada in a hurry, as more than $850,000 was raised at the Jays Care Golf Classic, money that will help bridge the opportunity gap for children and youth. Creating lasting social change, the organization has also continued to achieve unprecedented growth thanks to the success of the current roster, the strong volunteer core behind its numerous initiatives and the continued steady presence of team alumni.
"It's a great feeling, because they're all coming out to support great causes," said Robert Witchel, the executive director of Jays Care Foundation. "They understand what their time here with Jays Care does and they've personally met and worked with the kids, so it's always nice to see their enthusiasm and continued support."
"We're working together," added Lloyd Moseby, who spent 10 years patrolling the outfield for the Blue Jays. "A lot of organizations do this or do that, but we come together and we talk about what's really needed. We're trying to bring the community together.
"Jays Care is really what it says. The Jays really care about our community."
General manager Ross Atkins echoed similar sentiments and has become a huge supporter of the multiple charitable efforts in his first year with the team.
"I think it's probably elite in Major League Baseball, for sure," Atkins said. "Having been around one other organization, but hearing about multiple others, I think what people aspire to do in professional sports is actually occurring here in Toronto. Jays Care is a phenomenal example of what it means to involve yourself as a professional baseball team in the community."
Having grown since its inception, the Jays Care Golf Classic has transformed into a day-long festivity. Presented by Samsung, Cisco, Ericsson, Rogers and Huawei, the event also features a group lunch, a cocktail reception, dinner and a chance to win exclusive auction packages.
Once again featuring a sellout number of guests, this year's Jays Care Golf Classic was attended by Cito Gaston, Jesse Barfield, Juan Guzman, Devon White, Tony Fernandez, Pat Hentgen, Buck Martinez, Tanyon Sturtze, Pat Tabler and Frank Catalanotto, with Martinez serving as emcee.
"When you see the kids' faces, and they get to do things they can't afford to do, it just makes you feel good to be a part of it, and we want to continue to be a part of it," said Gaston, who managed the team to consecutive World Series championships in 1992 and 1993. "It just keeps getting better. They keep doing more for the kids and the community, that's the great part about it. I think it's just a super thing to do. It's always nice to give back, and I really like doing that myself."