MVP Hall among players named to T12 All-Star team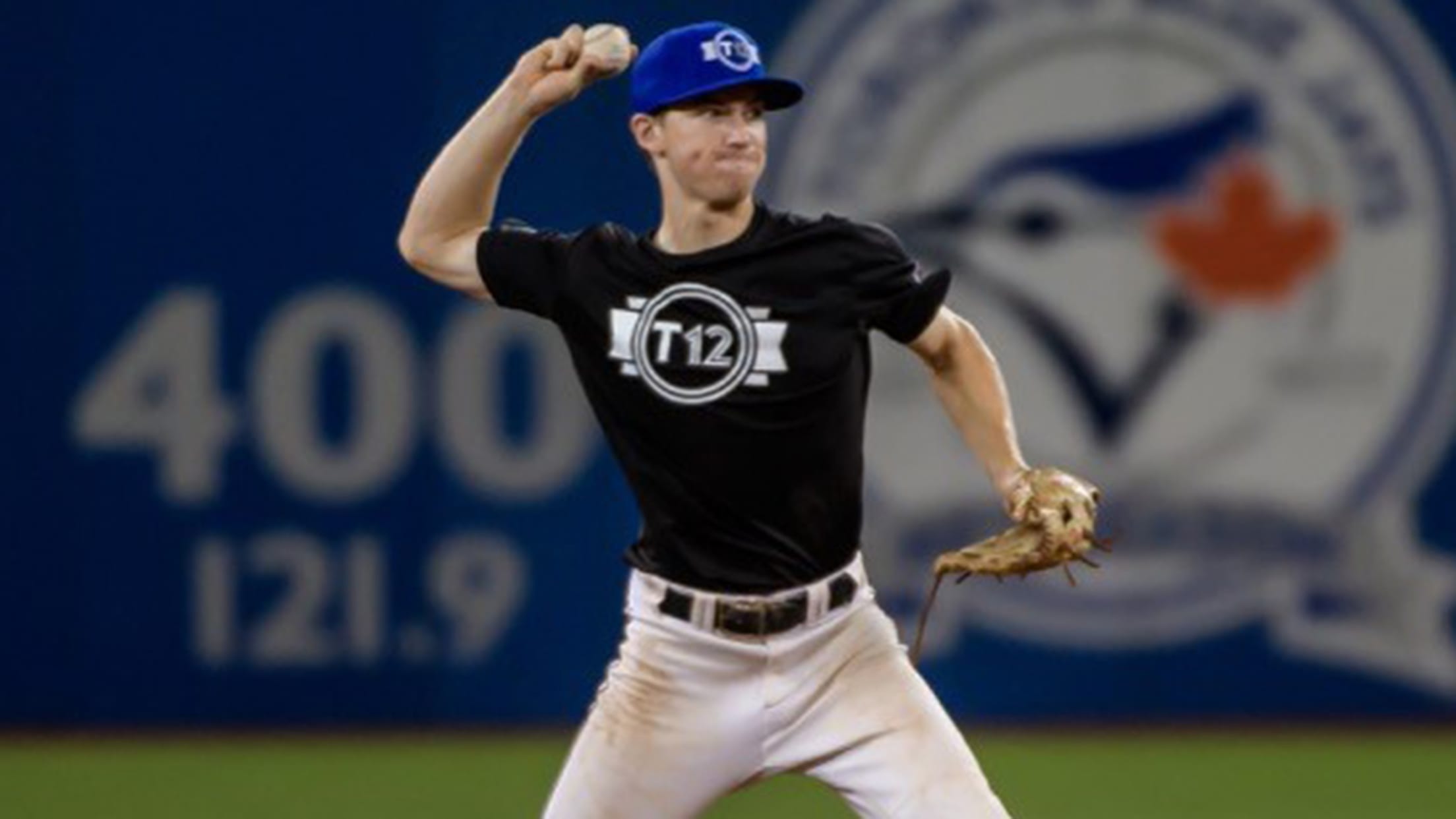 T12 MVP Adam Hall was also named to the tournament's All-Star team. (Michelle Prata / Toronto Blue Jays)
After last week's fourth annual Tournament 12 presented by New Era, which ended with Ontario-Black coming out on top, the Blue Jays Baseball Academy named an All-Star team.The most notable name on the roster is Adam Hall from Ontario-Black, who was also named Most Valuable Player of the tournament. Hall
After last week's fourth annual Tournament 12 presented by New Era, which ended with Ontario-Black coming out on top, the Blue Jays Baseball Academy named an All-Star team.
The most notable name on the roster is Adam Hall from Ontario-Black, who was also named Most Valuable Player of the tournament. Hall batted .444 with six RBIs, seven runs scored and eight stolen bases. Tournament commissioner Roberto Alomar was extremely impressed with Hall's all-around performance.
"He was always on base and played very solid defensively." Alomar said. "He was fun to watch, and I look forward to following his career for years to come."
Joining Hall on the All-Star team from Ontario-Black is utilityman Daniel Carinci and outfielder Rashad Collymore. Carinci batted .308 for the tournament and was great on the defensive side. Collymore used his good mix of power and speed to hit .429 for the eventual champions.
"Daniel is a very solid all-around baseball player, and he showed that this week. Rashad came up big for us late in the tournament" said Ontario-Black coach Chris Robinson. Tournament 12 runner-up BC-Orange had two players named to the team, infielder Michael Stovman and outfielder Rhys Cratty. The two players combined for 13 hits and drove in six runs to lead the BC offense.
"Both guys swung the bats extremely well," said BC-Orange coach Corey Eckstein. Ian Jordan of Future-Navy, the catcher named to the team, batted .375 for the tournament.
"Ian was great offensively and defensively all week" said Futures-Navy coach Nigel Wilson.
The rest of the infield is made up by Declan Buckle of Atlantic-Maroon, who batted .308 and played very solid defensively, and Edouard Julien from Quebec-Blue, who batted .273 with three extra-base hits and three RBIs. Joining Collymore and Cratty in the outfield is Jameson Hart from Ontario-Green, who batted .444 in 13 plate appearances with five RBIs.
The pitching staff for the team consists of four standout arms: Garrett Nicholson from Atlantic-Maroon, Landon Leach from Ontario-Green, Noah Skirrow from Ontario-Black and Cade Smith from BC-Orange. Nicholson led the tournament in innings pitched and strikeouts, and he did not allow a run. Leach's velocity was 90-92 mph with both a great slider and good command. Skirrow made two scoreless starts, including four innings in the championship game. Smith had a great start for BC-Orange, going five scoreless and striking out 10 batters.
The Coach of the Tournament honour went to Pete Orr of Ontario-Black. Orr led his club to a 5-1 record and the 2016 T12 Championship.
"I am happy to give recognition to the 13 players who were selected as Tournament 12 All-Stars" Alomar said. "I'm looking forward to next year."
T.J. Burton is a contributor to MLB.com.