1 tantalizing trade chip for all 30 teams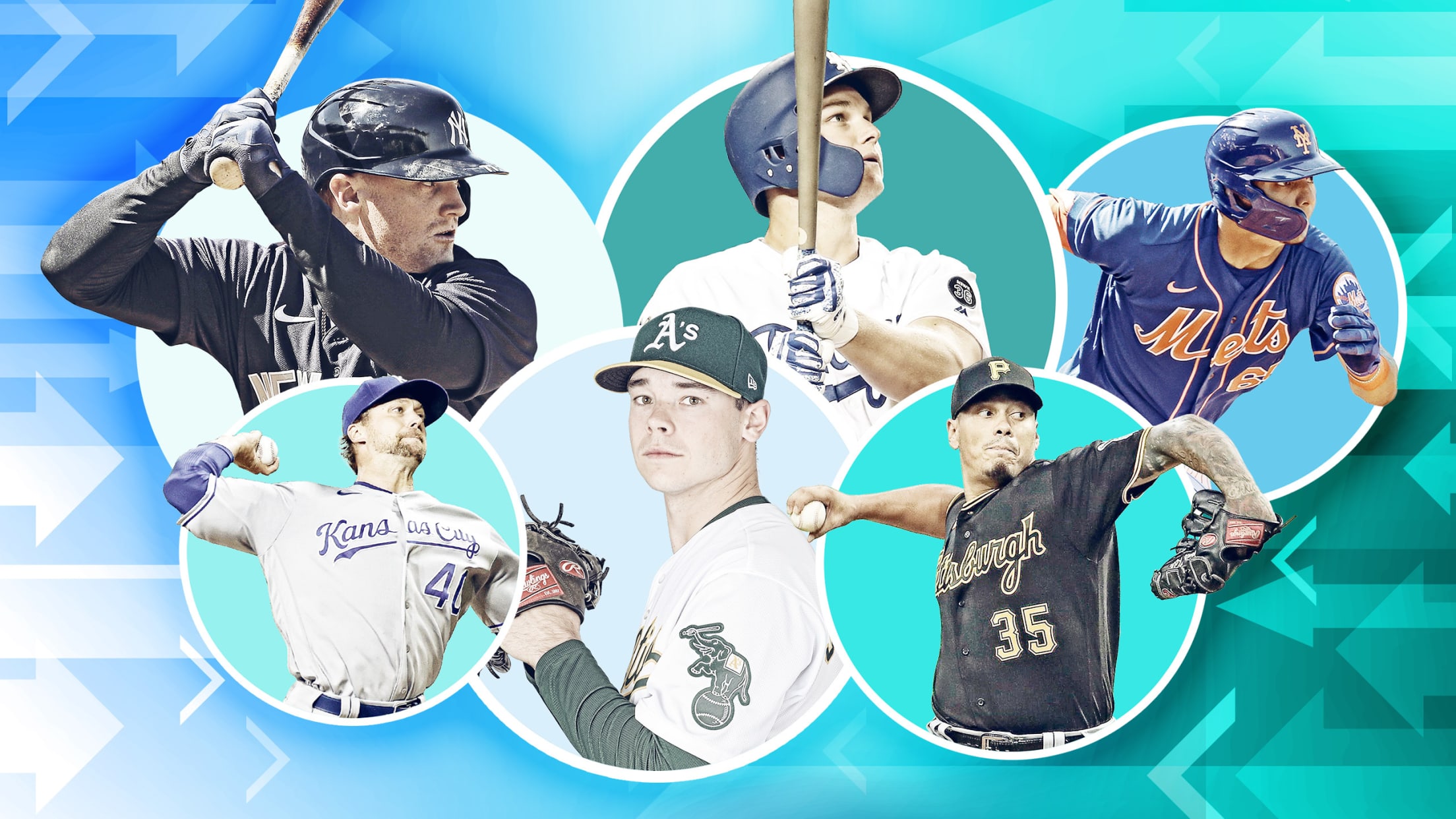 General managers around the Majors have a lot of work to do over the next two-plus weeks. As teams begin to position themselves, either for a 2020 postseason run or the '21 season and beyond, those very executives will have to determine whether to buy, sell or stand pat by
General managers around the Majors have a lot of work to do over the next two-plus weeks.
As teams begin to position themselves, either for a 2020 postseason run or the '21 season and beyond, those very executives will have to determine whether to buy, sell or stand pat by the Aug. 31 Trade Deadline. One wrinkle for 2020 is that only players in the 60-man player pool are eligible to be traded during this season. In other words, you can't throw in lower-level prospects to sweeten an offer.
We'll hear plenty of names thrown around as the deadline draws near, but which players might realistically be moved? MLB.com takes a look at the best trade chip for each club, which is not to say the best player or the one most likely to be dealt, but rather the one that might convince an executive to close a deal.
AMERICAN LEAGUE EAST
Blue Jays: Anthony Bass, RHP
Under club control through: 2020
As always, a number of teams will be seeking bullpen help for the stretch run, making Bass an appealing trade candidate. The 32-year-old is headed for free agency at the end of the season, and given his solid performance in the closer role to this point, the right-hander could bring back a decent prospect in a deal. Matt Shoemaker -- another impending free agent -- could also be a trade chip if he's able to string together a few good starts this month.
Orioles: José Iglesias, SS
Under club control through: 2021
Baltimore's strong start has some wondering whether EVP/GM Mike Elias will be a buyer or seller. But the Orioles are still in the early phases of a rebuilding plan, making it likely that veterans on short-term deals will be available. The 30-year-old Iglesias is off to a great start (.953 OPS through Thursday's games), is making less than $1 million this season (prorated from his $2.5 million salary) and has a $3 million club option ($500,000 buyout) for 2021.
Rays: Lucius Fox, SS
Under club control through: at least 2026
Fox, who was acquired as part of the 2016 Matt Moore trade, played in the Futures Game in '17 and was headed on an upwards trajectory the following season. The switch-hitter struggled in 2019, but he is considered an athletic, above-average shortstop who can get on base. Fox (the club's No. 26 prospect per MLB Pipeline) is unlikely to bring back a big return on his own, but the Rays have a deep system loaded with middle-infield talent, so clearing some space on the 40-man roster by packaging two or three players (perhaps No. 18 prospect 3B Kevin Padlo) to help the club down the stretch would seemingly make sense.
Red Sox: J.D. Martinez, OF/DH
Under club control through: 2022 (has opt-out clause after '20)
Trading Martinez just months after shipping Mookie Betts to the Dodgers wouldn't be popular in Boston, but the Red Sox -- who could still be a buyer if they're able to turn the season around -- might find themselves in the position of packing it in for 2020 to focus on next season. Martinez has an opt-out clause at the end of this season, and while he appears unlikely to trigger it, there's a chance the Red Sox could lose him in a few months. We've seen the type of impact Martinez can make in a pennant race, so a team looking for a big bat might make a play for the slugger, who will be 33 by the Trade Deadline.
Yankees: Clint Frazier, OF
Under club control through: 2024
The Yankees have two very appealing trade chips in Frazier and Miguel Andújar, though Frazier feels like the leading candidate. With Aaron Judge and Aaron Hicks locked into their outfield spots, left field is the only potential opening for Frazier -- assuming Brett Gardner isn't back in 2021. Still, the Yankees love Mike Tauchman, who could be seen as the heir apparent to Gardner. Frazier has proven he can hit in the Majors and could become an immediate starter on several teams.
AMERICAN LEAGUE CENTRAL
Indians: Adam Plutko, RHP
Under club control through: 2024
Too much pitching is a problem every team would like to have, but the Indians are one of the few that actually fit in that category -- depending, of course, on how the situation with Zach Plesac and Mike Clevinger shakes out. Shane Bieber has emerged as one of the best pitchers in the league, while Clevinger, Plesac and Aaron Civale have seemingly cemented themselves as staples in the rotation for years to come. Plutko, 28, would strengthen many rotations around the league and could bring back to Cleveland some sorely needed offensive help -- assuming that Plesac and Clevinger are welcomed back at some point.
Royals: Trevor Rosenthal, RHP
Under club control through: 2020
Playing in one of the game's most competitive divisions, the Royals will be likely sellers by the end of the month. While Kansas City would love to shed the remainder of Ian Kennedy's salary, Rosenthal is the reliever who would bring back the best return. The 30-year-old is in the midst of a resurgence, looking like his old self for the first time since undergoing Tommy John surgery in 2017. Rosenthal is earning less than $750,000 this season (prorated from his $2 million salary), making him a low-cost, high-end bullpen option for a contender.
Tigers: Spencer Turnbull, RHP
Under club control through: 2024
Matthew Boyd is another name who could hit the trade block, and he has three weeks to bounce back from his rough start. But the way Turnbull is pitching, general manager Al Avila has to be intrigued by what teams might be willing to give up for the 27-year-old right-hander, whose stuff ranks high on scouting reports and analytics databases alike. With four more years of control and his game on the upswing, he's the type of pitcher most teams wouldn't think about dealing, but the Tigers' pitching depth in the pipeline makes them one of the few organizations which can afford to even consider such a move.
Twins: Brent Rooker, 1B/OF
Under club control through: at least 2026
The Twins' 60-man player pool doesn't have many intriguing trade chips that would bring back big-time talent, but Rooker could be an interesting option for teams seeking power. Rooker has solid on-base skills (.398 OBP at Triple-A in 2019) and plenty of pop, though he doesn't have a natural fit with Minnesota going forward. Rooker's defensive skills are questionable, but with the universal DH in play in 2020 (and possibly in the future), the 25-year-old is an MLB-ready bat.
White Sox: James McCann, C
Under club control through: 2020
The White Sox are unlikely to make any major moves, but with Yasmani Grandal behind the plate and Zack Collins seemingly lined up to be his future backup, McCann could be dealt if a team tries to overwhelm Chicago with offers. McCann is earning $2 million (prorated from his $5.4 million salary) in his final year before free agency, making him affordable for any team.
AMERICAN LEAGUE WEST
Angels: Brandon Marsh, OF
Under club control through: at least 2026
The Angels' outfield depth is among the best in the game, with Mike Trout, Justin Upton, Brian Goodwin and now Jo Adell, the club's top prospect and one of the most promising young players in the game. Marsh is the club's No. 2 prospect per MLB Pipeline, which notes his plus speed, arm and overall defense. The Angels remain on their seemingly eternal search for pitching, and Marsh might be the prospect to help them obtain an arm.
Astros: Forrest Whitley, RHP
Under club control through: at least 2026
Barring a complete collapse, the Astros figure to be buyers despite a sluggish start. Houston has used nine rookie pitchers out of necessity this year, some of whom could be used as trade chips, but Whitley -- the club's No. 1 prospect who hasn't even appeared on the 40-man roster to this point -- has the highest ceiling of the team's young arms.
Athletics: Daulton Jefferies, RHP
Under club control through: at least 2026
Jefferies (Oakland's No. 9 prospect) is one of three young arms that could be dangled as trade bait, joined by fellow righties James Kaprielian (No. 13) and Grant Holmes (No. 17). The A's have done a good job building up strong starting-pitching depth in their system, giving them options if they see a win-now move to make. Infielder Sheldon Neuse (No. 7) is another possibility, as he's MLB-ready and has both versatility and a strong bat that could be attractive to clubs.
Mariners: Kyle Seager, 3B
Under club control through: 2022
Seager is off to a stellar start, posting slash-line numbers far above his career averages. A solid defender at third base and a strong clubhouse guy, Seager would be an impactful addition for any contender. The Mariners are in the midst of a youth movement, so while Seager stands as an important veteran piece in their lineup, moving him for more prospects could be an appealing option for GM Jerry Dipoto, who has never been shy to pull the trigger on a big deal. One major hurdle could be Seager's contract, which contains a clause that turns a $15 million club option for 2022 into a player option if he's traded.
Rangers: Sherten Apostel, 3B
Under club control through: at least 2026
Four of the five AL West teams were under .500 entering play on Friday, which will present some tough decisions for front offices. The Rangers entered the season with the hope of being a contender, and with a number of talented, young players in their 60-man player pool, there are plenty of names that should draw interest. Apostel possesses "two loud tools in his well-above average raw power and arm" according to MLB Pipeline, which ranks him as Texas' No. 10 prospect. With No. 1 prospect Josh Jung blocking his path, Apostel is expendable if the Rangers want to add a player down the stretch.
NATIONAL LEAGUE EAST
Braves: Drew Waters, OF
Under club control through: at least 2026
If the Braves are to acquire a much-needed front-line starter, GM Alex Anthopoulos will have to part ways with one of his top prospects. No. 1 prospect Cristian Pache's presence makes Waters (No. 2 and the game's No. 27 overall prospect) expendable.
Marlins: Jerar Encarnacion, OF
Under club control through: at least 2026
The Marlins have no interest in dealing any of their top prospects, even if they find themselves in the playoff picture, so inhabitants of their top 10 seem off limits. The 22-year-old Encarnacion (No. 17) could intrigue some teams with his raw power and strong arm, while the Marlins' outfield depth in the pipeline would allow them to move him.
Mets: Andrés Giménez, SS
Under club control through: 2025
The Mets' No. 3 prospect, Giménez has performed well this season, already starting games at second base, third and shortstop to raise his stock around the league. A natural shortstop, Giménez is a man without a position given the presence of Amed Rosario at shortstop, Robinson Canó at second and Jeff McNeil at third. When you factor in that the Mets' top prospect (Ronny Mauricio) is also a shortstop, Giménez could be used in a deal to address other needs.
Phillies: Damon Jones, LHP
Under club control through: at least 2026
The Phillies might be under .500, but given the current state of the NL East, we may not know which teams will be buyers or sellers until the Trade Deadline draws nearer. Philadelphia is unlikely to part with its controllable players, but if the club find itself in a race, it has a group of second-level pitching prospects from which to deal. Jones, a 6-foot-5 lefty, is ranked as the club's No. 16 prospect, bringing a good fastball and nasty curveball that could help the Phils land a proven reliever for the stretch run.
Nationals: Michael A. Taylor, OF
Under club control through: 2021
Taylor's numbers haven't been pretty this season, but he's the odd man out in Washington's outfield, stuck behind Juan Soto, Victor Robles and Adam Eaton. Taylor can play all three outfield spots and comes with a moderate price tag (he's making roughly $1.23 million in prorated 2020 salary and is arbitration-eligible for a fourth time this coming offseason).
NATIONAL LEAGUE CENTRAL
Brewers: Brice Turang, SS/2B
Under club control through: at least 2026
Turang was the Brewers No. 1 prospect before Garrett Mitchell, the club's first-round Draft pick in June, knocked him down to No. 2. The 20-year-old Turang hasn't yet reached Double-A and remains a work in progress. But if the Brewers believe they're a piece or two away from making a deep October run, the speedy infielder could help them make a trade.
Cardinals: Seth Elledge, RHP
Under club control through: at least 2026
It's tough to know what to make of the Cardinals' virus-interrupted season, but St. Louis is unlikely to move any of its top prospects whether it's in a pennant race or not. The Cardinals have plenty of games to make up, so they'll need both pitching and infield depth. Elledge, the team's No. 28 prospect, is a big 24-year-old who has racked up 11.6 strikeouts per nine innings during his three seasons in the Minors.
Cubs: Miguel Amaya, C
Under club control through: at least 2026
The Cubs' catching depth at the Major League level is solid with Willson Contreras and Victor Caratini, allowing them to consider moving Amaya, the team's No. 4 prospect. The 21-year-old played in the Futures Game in both 2018 and '19, though he hasn't yet played above the Class A Advanced level. Outfielder Brennen Davis (No. 3) would probably be more attractive to teams, but the Cubs are unlikely to deal him.
Pirates: Keone Kela, RHP
Under club control through: 2020
Manager Derek Shelton named Kela the Pirates' closer after their first Spring Training workout, but the hard-throwing right-hander has pitched just one inning this season. Kela, who missed all of Summer Camp due to testing positive for COVID-19, was finally activated this week for the first time this season. He still remains the Pirates' most realistic trade chip because, with his back-end stuff and track record, he could bolster any contender's bullpen. Kela will be a free agent at the end of the season, so he is strictly a rental. The Pirates need to add young talent to their system, and Kela seems like their best opportunity to do so since they traded Starling Marte in January.
Reds: Jonathan India, 3B
Under club control through: at least 2026
Eugenio Suárez and Mike Moustakas are both signed through at least 2023, blocking India's path to Cincinnati. The 2018 Draft's fifth overall selection, India has shown strong on-base skills and above-average defense during his two Minor League seasons. The Reds' best shot at a deep postseason run might be this year, as Trevor Bauer and Anthony DeSclafani are both headed for free agency. The 23-year-old India, who ranks as the club's No. 5 prospect, could bring back a piece to bolster Cincinnati's chances.
NATIONAL LEAGUE WEST
D-backs: Robbie Ray, LHP
Under club control through: 2020
Ray has not gotten off to the type of start he was hoping for in his contract year, going 1-2 with a 10.59 ERA through his first four starts. Still, Ray's past performance -- as well as a revved-up velocity this year -- should be enough for a team to try and acquire the 28-year-old for the final month of the season if Arizona makes him available.
Dodgers: Joc Pederson, OF
Under club control through: 2020
Pederson was seemingly on his way to the Angels in February before the trade fell through, so why wouldn't he be available again in August? The 28-year-old hasn't gotten off to a great start in 2020, but he's a power threat who can provide immediate help to many lineups, and he's eligible for free agency this winter. The Dodgers are overloaded in the outfield, so if they're in need of an arm with an eye on October, he could be dealt without impacting L.A.'s lineup.
Giants: Kevin Gausman, RHP
Under club control through: 2020
Gausman has pitched well thus far in 2020, his fastball averaging 95.3 mph and topping out at 99. The 29-year-old is on a one-year, $9 million deal (he'll earn a prorated $3.33 million), so he could provide an inexpensive trade option for teams looking to help either their rotation or bullpen.
Padres: Wil Myers, OF
Under club control through: 2023
Depending whether San Diego ultimately winds up as a buyer or a seller, Myers could be part of any trade. He's off to a hot start (.965 OPS, 5 home runs through Thursday's games) and makes a ton of money (he's owed $40 million from 2021-22, plus a $20 million club option for '23 with a $1 million buyout). So if the Padres have a chance to move him, they would likely jump at it whether it brings back prospects or useful big league players.
Rockies: Colton Welker, 3B
Under club control through: at least 2026
The Rockies' scorching start has them thinking about the postseason, making the club potential buyers by the end of the month. GM Jeff Bridich could look to bolster the outfield and/or bullpen, using the organization's corner-infield depth to make that happen. Welker, a 22-year-old ranked the organization's No. 9 prospect, played at Double-A last season and showed signs of progress this spring, displaying on-base skills and some pop in his bat. Tyler Nevin (No. 15) is another corner-infield prospect who could be used in a deal.
Mark Feinsand, an executive reporter, originally joined MLB.com as a reporter in 2001.