Who needs what as Trade Deadline approaches?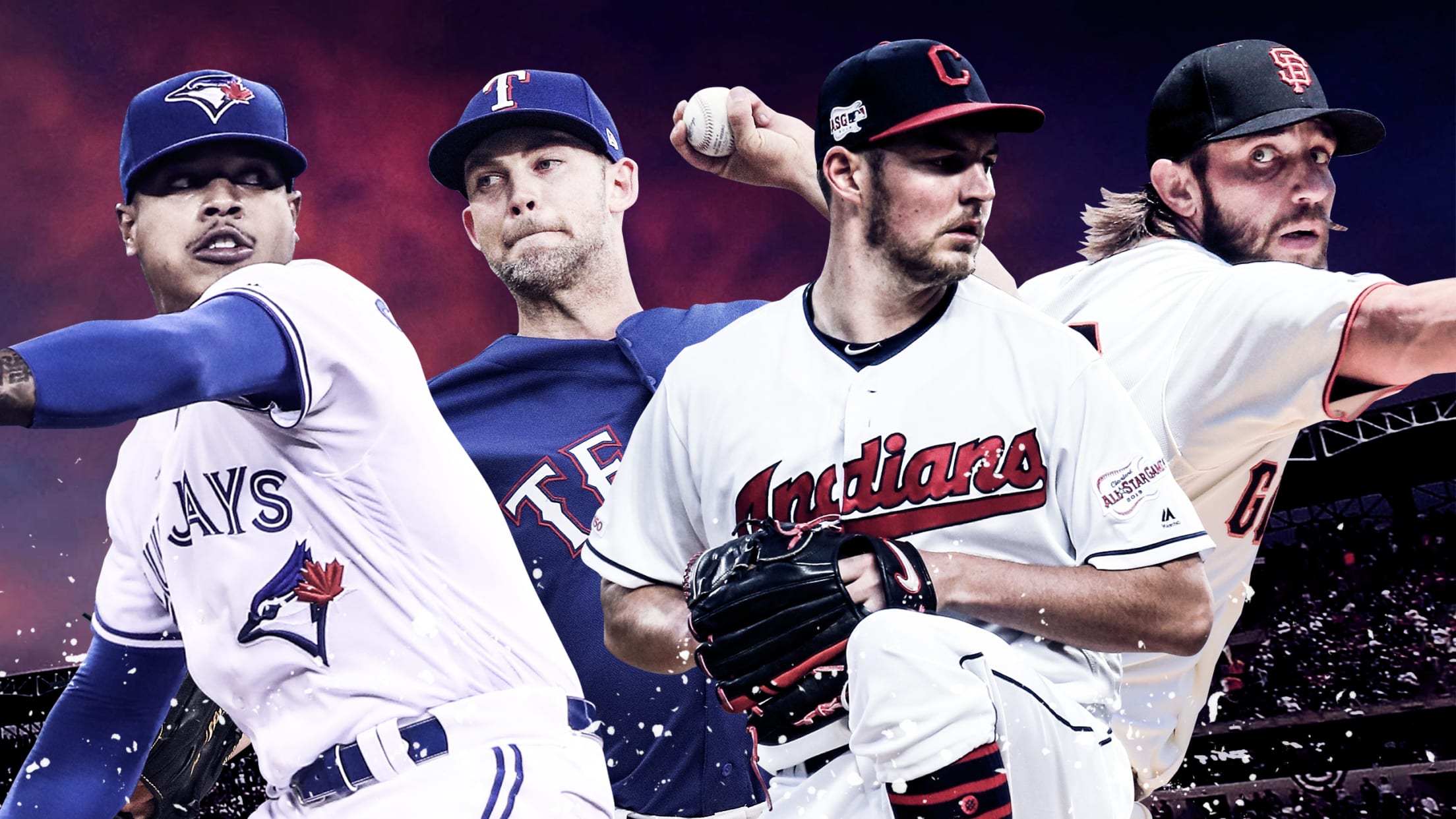 With the July 31 Trade Deadline a little more than six weeks away, earnest dealing dialogue has begun in the industry. The teams on the fringes of the playoff race have to make that difficult determination of how aggressively they should pursue a potential one-and-done Wild Card entry, but the
With the July 31 Trade Deadline a little more than six weeks away, earnest dealing dialogue has begun in the industry. The teams on the fringes of the playoff race have to make that difficult determination of how aggressively they should pursue a potential one-and-done Wild Card entry, but the biggest moves will likely come from the clearest contenders. The latter is the group of teams we're going to focus on in this piece.
As I write this, there are -- conveniently, for internet list purposes -- 10 teams given at least a 40-percent chance of making it to October. Here's what those 10 teams are looking for.
Clubs are listed in order from most pressing to least pressing need.
1) Phillies: An outfielder … and/or a starter … and/or a reliever
The Phillies invested about $475 million of new money into their present and future roster prior to Opening Day, and apparently that kind of money doesn't stretch as far as it once did. Because between the injuries to acquisitions Andrew McCutchen and David Robertson, the less-than-anticipated impact of Bryce Harper and Aaron Nola (and, really, the rotation as a whole) and Odubel Herrera's administrative leave, this club suddenly has question marks all over the place.
The all-right-handed rotation could certainly use a left-handed boost (I know a guy), the lineup that lost McCutchen's presence atop the order could use an on-base threat or, at the least, a defensively capable center fielder, and an injury-riddled bullpen is like almost every other bullpen in baseball right now in that it would benefit from some more stability.
Philadelphia might not have the farm system to address all of these areas, but one thing it does have is financial flexibility below the luxury-tax threshold, and that could be a difference-maker in what is shaping up to be a bit of a buyer's market.
Potential targets: Madison Bumgarner, Mike Minor, Jarrod Dyson, Leonys Martin, Kevin Pillar, Ken Giles, Alex Colomé, just to name a few
2) Red Sox: A closer
Yes, the Red Sox remain a clear contender because even if the American League East is in serious doubt for them, the AL Wild Card picture isn't exactly overflowing with entries. This Boston club has lacked a certain edge on offense, and the rotation -- sans Nathan Eovaldi -- hasn't been the strength it was last year. But the ninth inning is the biggest bugaboo, as evidenced by these ERA readings (entering Friday):
7th inning: 3.86 (10th in MLB)
8th inning: 3.34 (6th)
9th inning: 5.67 (26th)
Alex Cora told reporters this week that he doesn't believe there's a difference, mentally, between getting outs in the ninth vs. other innings, and, well, he needs to tell that to his relievers. Because the committee hasn't worked, and Boston, despite already being over the luxury-tax threshold and being somewhat compromised in the farm system, could sure use a closer.
Potential targets: Brad Hand, Shane Greene, Will Smith, Kirby Yates, Mychal Givens, Greg Holland, Colome, Giles
3) Brewers: Starting pitching
Milwaukee's Opening Day starter, Jhoulys Chacín, is on the shelf. So is its in-season acquisition, Gio Gonzalez. This from a team that entered the year with rotation questions to begin with. The Brewers proved last year that you can advance in October with a non-traditional rotation, but you'd still feel a lot better about their chances of fending off the Cubs (and others) again if they made an upgrade in this area. As a frame of reference, the Brew Crew has the fourth-highest rotation ERA (4.67) in the National League with the second-fewest innings pitched (341) entering Friday.
Of course, we can't rule out the possibility that the Brewers just try to lengthen the relief corps and leave the rotation alone again.
Potential targets: Bumgarner, Trevor Bauer, Minor, Aaron Sanchez, Marco Gonzales, Matthew Boyd, Tanner Roark
4) Yankees: Starting pitching
Patrick Corbin was widely expected to become a Yankee over the winter, but his six-year, $140 million pact with Washington was one year and about $40 million more than the Yankees' reported offer. Dallas Keuchel was widely expected to become a Yankee this month, but the Yankees' reported prorated offer of around $11 million to $12 million was just shy of the $13 million he'll get from the Braves.
So the Yanks still need a starter, likely above and beyond what they hope to get from Luis Severino after the All-Star break. Because even before Domingo Germán hit the shelf last week with a hip strain, the Yankees weren't reliably getting depth from their starting five, and that puts more pressure on a bullpen already affected by the absence of Dellin Betances. The knees of James Paxton and CC Sabathia don't inspire a lot of confidence, either.
Potential targets: See Brewers list
5) Dodgers: A reliever
The three-year investment in Joe Kelly sure hasn't worked out so well in Year 1 (he has an ERA north of 7), and after coming up short in consecutive World Series, the Dodgers -- even with a big NL West lead -- have to consider pulling out all the stops to make this a great October team. The bullpen has a 4.41 ERA and is the obvious area of potential upgrade for one of the deepest teams in baseball.
Though the Andrew Friedman-led front office has a reputation for being protective of its prospects, the Dodgers did what it took to land Manny Machado at last year's Trade Deadline, and Yu Darvish the year before that. So it shouldn't be a surprise if L.A. goes big in the relief department this summer.
Potential targets: See Red Sox list
6) Twins: Pitching insurance
The AL Central race is effectively over. But will that stop the Twins from making an impact move (or moves) that improve their odds in October? This could be a situation similar to the Indians in 2016, when their Central standing didn't have much doubt, but they made the Andrew Miller trade (and very nearly made a Jonathan Lucroy trade) to truly maximize their window.
Minnesota could operate similarly because it has three starting pitchers (Jake Odorizzi, Kyle Gibson and Michael Pineda ) approaching free agency. So it might behoove them to take advantage of a trade market that could have several starters controllable in 2020. Or they could just beef up the bullpen. Or they could do both, because the Twins do have a strong farm system and some financial flexibility at this Deadline.
Potential targets: Controllable starters like Bauer, Minor, Marcus Stroman, Sanchez; plus the relievers from the Red Sox list
7) Braves: Bullpen help
Thanks in part to the in-season acquisition of Anthony Swarzak, this unit is not quite the five-alarm fire it was early in the season. But still, with 12 blown saves on the season and with the rotation need addressed by the signing of Keuchel (which cost nothing but money), the Braves are in position to dip into a system deep on pitching talent to make an impact move in the 'pen. If Atlanta can turn this area of question into a genuine strength, it will be as well-rounded an October unit as exists in the game today.
Potential targets: See Red Sox list
8) Cubs: A left-handed reliever
After a big in-season financial investment in Craig Kimbrel, the Cubs, whose farm system is simply not the strength it was a few years ago, might not make another impact move at this Trade Deadline. But if they did, another bullpen arm -- preferably a left-handed one -- would be the likely target.
Potential targets: Smith, Oliver Pérez, Jake Diekman, Tony Sipp
9) Rays: Bullpen help
This need is not as pronounced as it is in other places, but the Rays acknowledge that their group, anchored by José Alvarado and Diego Castillo, could use reinforcements. It's why they aggressively pursued Kimbrel just before he signed with the Cubs.
The Rays are actually carrying a payroll around $16 million lower than their 2018 outlay, so there is room to take on salary, and there is plenty to offer down on the farm.
Potential targets: See Red Sox list
10) Astros: Rotation depth
There are no perfect teams, so the Astros' spot on the bottom of this list is not meant to imply that they shouldn't be aggressive at this Trade Deadline. But with a comfy division lead, Houston's biggest need at the moment is a healthy return for George Springer, Jose Altuve and Carlos Correa. It would obviously feel pretty good about rolling out Justin Verlander and Gerrit Cole in the first two games of a short series, while Wade Miley has also been fantastic for them this season. The Astros have the second-best rotation ERA in the AL.
But yes, they are certainly open to the idea of adding on. Getting beaten by Boston in last year's American League Championship Series has not distilled the dynastic ambitions of the Astros, and they could be aggressive again.
Potential targets: See Brewers list