Debut Trainer Partnership showcase draws raves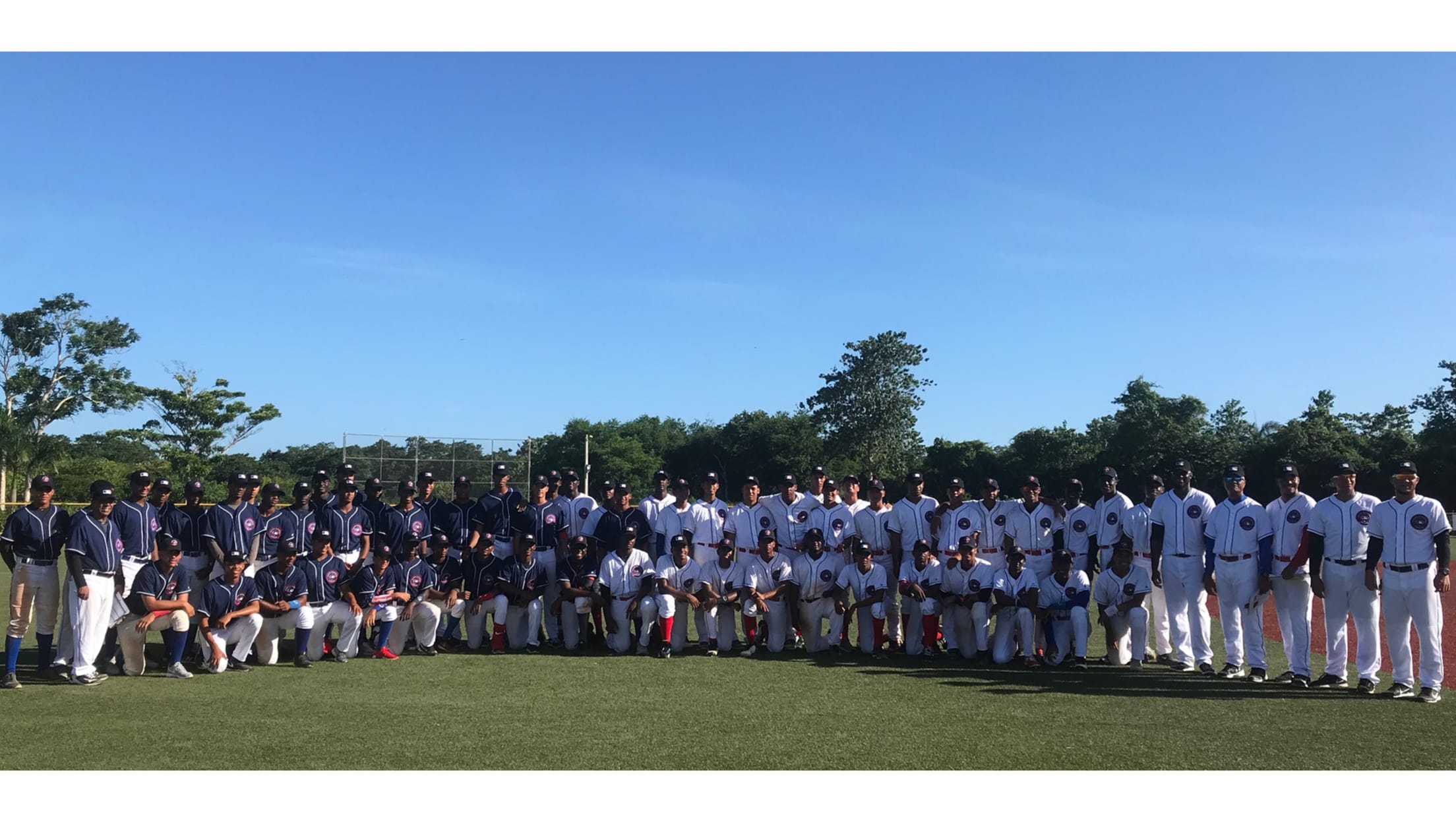 BOCA CHICA, Dominican Republic -- It was just past 9:20 a.m. on Thursday morning, and teenaged shortstop Armando Cruz was busy chasing his big league dream.Six other groups of prospects in his class of 2020 had already run the timed 60-yard dash as part of MLB's national showcase for prospects
BOCA CHICA, Dominican Republic -- It was just past 9:20 a.m. on Thursday morning, and teenaged shortstop Armando Cruz was busy chasing his big league dream.
Six other groups of prospects in his class of 2020 had already run the timed 60-yard dash as part of MLB's national showcase for prospects on the island. Cruz, who is known for his solid defense, was in a full sprint seconds after his name was called.
The ultimate goal for international prospects is to sign with a Major League club when eligible at the age of 16, but for players like Cruz, 14, who won't be eligible for 16 months, the first objective is to get noticed for all facets of his game.
Mission accomplished.

Cruz was one of 45 prospects from the 2020-21 class to work out in front of scouts from every team on the third and final day of the MLB showcase, the first under the new Trainer Partnership Program between MLB and trainers on the island. The first two days of the event showcased prospects eligible to sign during the 2018-19 and '19-20 signing periods.
"We are thrilled with how the event went," said MLB senior vice president of league economics and operations Morgan Sword. "We had all 30 clubs in attendance and heard unanimously from all the clubs, trainers and players that it was something they'd never experienced. We are committed to do many more of them in the future."
This week's showcase featured the 60-yard run, infield and outfield drills, along with batting practice. There was an eight-inning game on Tuesday, and there were two games on Wednesday. Rain slowed parts of Thursday's program and forced the prospects to hit in the batting cages, but it could not deter them from pursuing their dreams. A highlight of the three-day event was a visit from top White Sox prospect Eloy Jimenez, but what made it stand out was the use of advanced technology to evaluate the prospects in an international setting for the first time.
:: Complete prospect coverage ::
The showcase used a camera during batting practice to measure exit velocity, launch angle, ball spin and projected distance. Additionally, there was one camera designated to record video in the bullpen, with another used to track types of pitches, velocity and spin rate. Prospects also had sensors attached to the bottom of their bats to measure bat speed, barrel speed, and other swing analysis metrics.
Laser sensors were used to time the 60-yard run.
"We got a lot of good feedback on tweaks we can make to the format and the way we select players and also just giving more people advance notice going forward," Sword said. "But as it was, we were able to get more than 200 scouts here. We did spend lot of time listening this week."
The showcase also provided the opportunity for MLB officials, including Deputy Commissioner of baseball administration and chief legal officer Dan Halem, and trainers in the program to discuss the details of their partnership. Both sides emerged from an hour-long meeting on Wednesday feeling optimistic about the future.
"I feel the event has been a success overall, and the members of the Trainer Partnership Program are extremely satisfied with the way MLB is working with us and in their efforts to put the past behind and work hand-in-hand to address current and future issues," said Eddie Fontana, a prominent trainer in the Dominican Republic. "Dan's presence and efforts to assure us MLB will be a good partner satisfied us."
A Trainer Partnership Program showcase for Venezuelan prospects is scheduled for later this fall, likely in Colombia or Aruba. Another showcase for D.R. prospects is also in the works.
"At the end of the day, MLB and the teams have a responsibility to the kids," one National League scout said. "It's great to see MLB more involved and giving teams more access. Everything we do should be with the mindset of protecting and the ensuring the futures of the next [Ronald] Acunas, [Juan] Sotos, [Miguel] Andujars and [Gleyber] Torreses. It's the reason any of us are in this in the first place."