Shaw (wrist) using stint on IL to 'reset'
Nottingham uses technology to improve defensively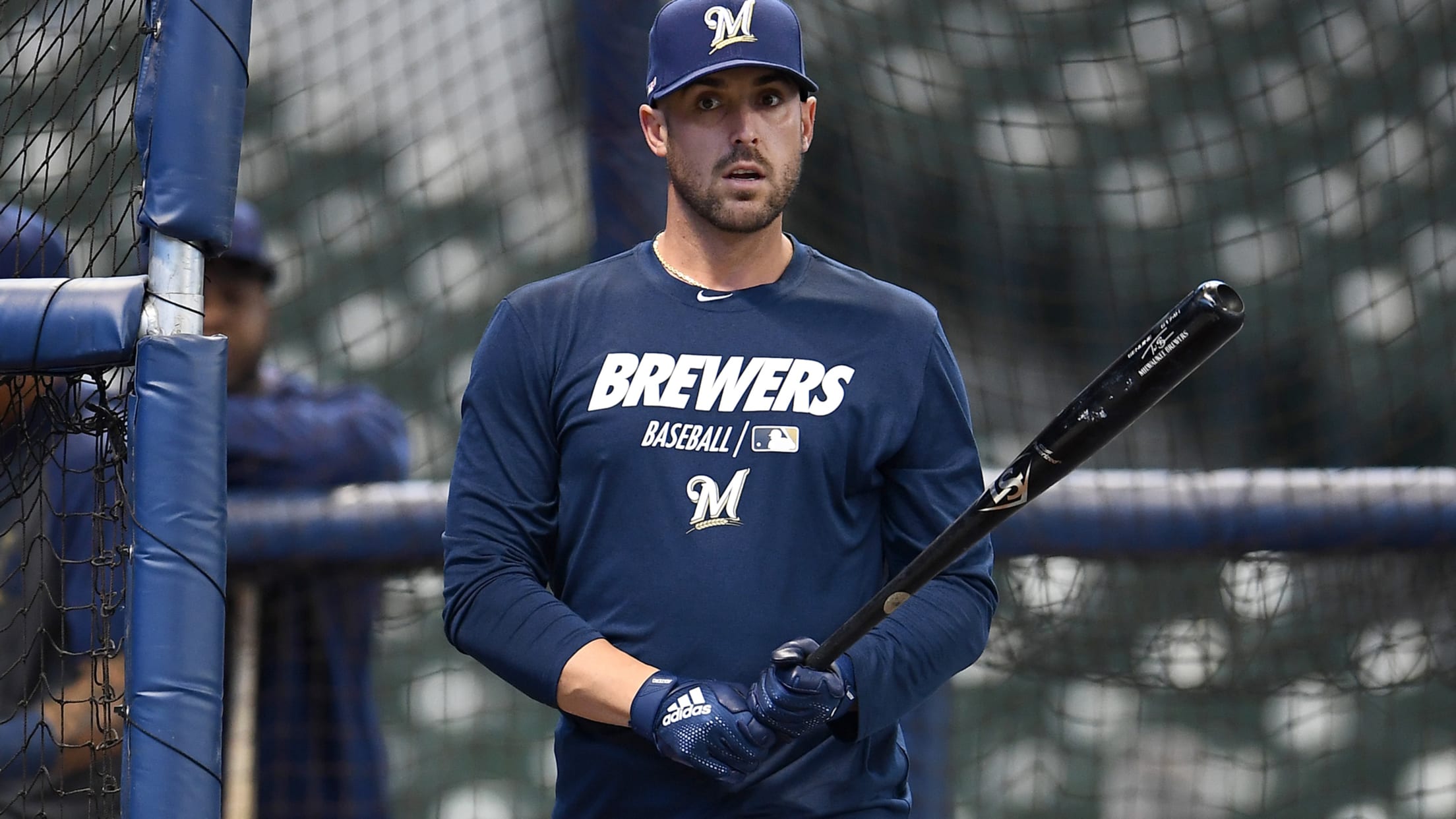 ATLANTA -- Brewers third baseman Travis Shaw was already back in action on Friday, taking 25-30 swings at SunTrust Park, three days after landing on the 10-day injured list with a sprained right wrist. Shaw will graduate to batting practice in the cages and throwing to bases in the field
ATLANTA -- Brewers third baseman Travis Shaw was already back in action on Friday, taking 25-30 swings at SunTrust Park, three days after landing on the 10-day injured list with a sprained right wrist. Shaw will graduate to batting practice in the cages and throwing to bases in the field on Saturday, putting him on a path toward a Minor League rehab assignment sometime next week that will allow him to test his health and to start over after a brutal start to his season.
It's a "reset," Shaw said.
"I know what I can bring to this team," he said. "It's going to take some time, obviously, for the numbers to look OK again, but I know I still have a lot to offer to this team offensively and defensively. Just reset and basically use this as a new Opening Day."
Shaw is hitting .163/.266/.281 through his first 40 games of the season. He tweaked his wrist in Monday's loss to the Phillies, opening a spot for top prospect Keston Hiura's promotion to the Major Leagues.
It's the same injury that dogged Shaw last June, sapping his power for the three weeks preceding the All-Star break.
"I'm not a person who mentions anything. I usually play through a lot of stuff," Shaw said. "It was literally the exact same spot as last year, so that's why I just -- just to make sure. Because last year, I should have gone on the [injured list], and I didn't. And I wasn't very good. There's no reason to do it again this year."
Defense on Nottingham's mind
Long considered more of an offensive prospect, recent Brewers callup Jacob Nottingham said he redoubled his efforts at Triple-A San Antonio to be a top-flight defensive catcher. Technology is a significant part of that effort.
"They have the same data they do here, with the Trackman stuff," said Nottingham, who was promoted to the Majors on Thursday when catcher Manny Pina went on the injured list. "They kind of taught me the system in Spring Training. Every day we kind of go over the pitches that I've gotten and the hot zones.
"It was cool to actually see such a good improvement. You're competing against the other catchers [in the league] every day. You can kind of go off their score and yours. That was pretty cool to see how many more strikes you get than the other catcher. You lose points, too, so if there was a pitch that was a strike that you turned into a ball, you get negative points. It definitely shows you what pitches you need to work on. … My receiving numbers have improved so much, and it's fun to see."
The Brewers plan to lean on No. 1 catcher Yasmani Grandal in Pina's absence, manager Craig Counsell said, but Nottingham has represented the next line of defense after the Brewers traded out-of-options veteran Erik Kratz to the Giants at the end of Spring Training.
"I think the important thing for Jacob and for young catchers is to understand that it's so meaningful -- you're really a servant for the pitchers and you can make your career by just being a great servant for your pitchers," Counsell said. "And that starts with a mindset: 'That's my No. 1 job.' It's learned. For Jacob, he's made a big effort in trying to learn that and make that who he is."