Standout players from Cleveland's triumph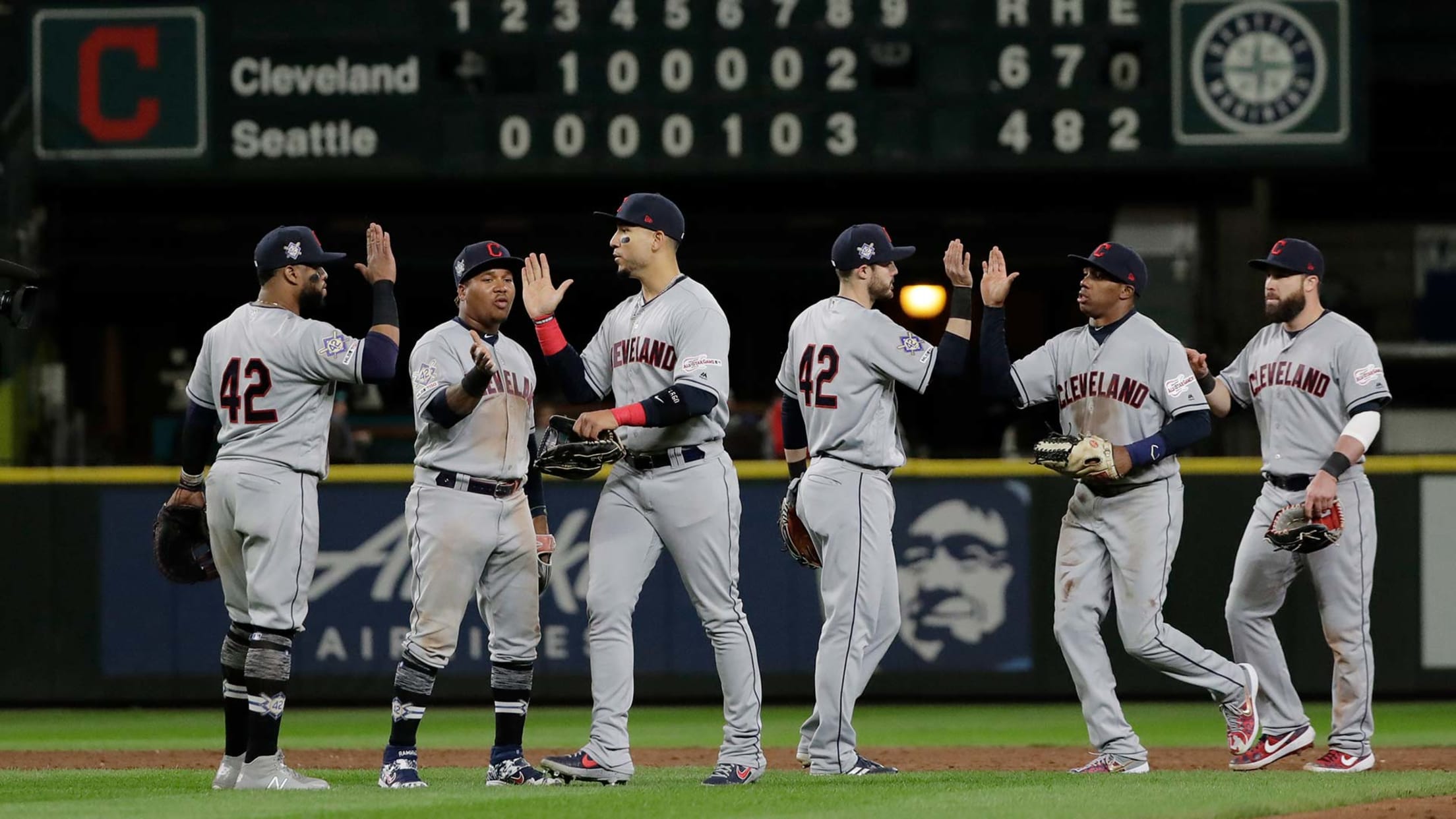 SEATTLE -- Trevor Bauer gave the Indians exactly what they needed on Monday: length and limited damage. Bauer gave up only one run while overcoming a rocky outing last Wednesday in Detroit and taming what has been -- at least, prior to last weekend -- a red-hot Mariners offense in
SEATTLE -- Trevor Bauer gave the Indians exactly what they needed on Monday: length and limited damage.
Bauer gave up only one run while overcoming a rocky outing last Wednesday in Detroit and taming what has been -- at least, prior to last weekend -- a red-hot Mariners offense in a 6-4 victory.
The right-hander was the main cog for the Indians, but there were four other key players that propelled Cleveland to its ninth win in its 16th game. Here is a breakdown of how each contributed.
Bauer
Bauer tallied eight strikeouts and surrendered just one run, marking the third time in four starts this year that he's limited opposing offenses to a run total that low. The righty registered punchouts across his six-pitch arsenal and showed improved command of his changeup, which he said eluded him during his last outing in Detroit, arguably his worst since last July against Texas.
In his most critical sequence of the game in the fifth, when Bauer had allowed his first two batters to reach, he came back and struck out the side.
"They've got a ton of guys swinging the bat really, really well. So you've got to work for everything," Indians manager Terry Francona said. "I thought he [Bauer] did a good job."
Bauer also walked three batters to bring his season total to 11, which is tied for the fifth most in the Majors. The free passes have manifested into a 10.4 percent walk rate, well above his eight percent mark in each of the past two seasons.
"I walked three people, which I'm not very happy about. It's got to stop," Bauer said. "But I thought my stuff was sharp and I'm happy with that."
José Ramírez
Mired in perhaps the worst offensive rut of his career, Ramirez rebounded on Monday and was the Indians' most influential player on offense.
Ramirez snapped a 58 homerless at-bat streak with a moonshot to lead off the third, walked twice, stole two bases -- giving him five this season -- and scored an insurance run in the eighth by advancing to third and home on two wild pitches by Connor Sadzeck.
"It was nice to see him hit the ball out of the ballpark, but you see what he does when he gets on base," Francona said of Ramirez. "He makes things happen all over the place."
Entering Monday, Ramirez, who finished third in last year's American League Most Valuable Player award voting, was batting .202 and slugging .379 since last year's All-Star break, which ranked 301st and 232nd, respectively, among 335 hitters with at least 100 plate appearances in that span.
"I'm still looking for that adjustment," Ramirez said through an interpreter. "I'm still 100 percent there at the plate. But I'm still working on that, trying to enjoy the game. That's what I'm trying to do."
Ramirez rediscovering an elite caliber of offense would greatly help the Indians' lineup, which received a jolt Monday with the activation of...
Jason Kipnis
Kipnis returned from a right calf strain and made his 2019 debut with an RBI single in the first that scored Carlos Santana and helped the Tribe build an early lead that they wouldn't relinquish.
The Indians have badly needed Kipnis back in their lineup -- and All-Star shortstop Francisco Lindor -- particularly with the glaring struggles of middle infield fill-ins Max Moroff and Eric Stamets, who is now 2-for-41 (.049) after going hitless in three at-bats Monday. Brad Miller had been more offensively productive, but he was designated for assignment on Monday to clear a roster spot for Kipnis, thus eliminating their need for a left-handed-hitting utility infielder.
Kipnis, the Tribe's longest tenured active player, is coming off a career-worst season, and he acknowledged the importance of 2019, particularly given that it could be a contract year if the club does not exercise his 2020 option.
"I personally am excited about being back and I know everyone will be excited when Frankie gets back," Kipnis said. "But keep in mind that these guys who have been here have done a pretty darn good job to be where they are right now. I think they didn't really match the record."
Adam Cimber
Cimber escaped a bases-loaded jam in the seventh while Cleveland was clinging to a two-run lead -- and against the Mariners' best hitter, Mitch Haniger.
The sidearming righty was forced to enter the inning because Tyler Olson walked his only batter on four pitches. Such a pitching change would not be allowed under the new three-batter minimum rule set to be instituted next season.
Cimber has yet to allow a run in nine appearances this year.
Greg Allen
Allen made an epic, two-out catch in the bottom of the eighth that halted a mounting Mariners rally and all but solidified the Indians' win. Edwin Encarnacion and Omar Narvaez had just hit back-to-back homers to pull Seattle within one run when Ryon Healy hit a 97.2-mph liner to the right-center-field warning track, where Allen laid out for the one-handed grab.
Allen had to go 87 feet in 4.8 seconds, and he did so with a sprint speed of 29.2 feet per second, near the elite threshold of 30 feet per second. In all, the converted play had just a 15 percent catch probability, making it a five-star catch -- the most elite among Statcast's classifications.
Here's a look at the final @statcast numbers on Greg Allen's rally-halting, inning-ending catch for the #Indians tonight in Seattle.

Opportunity time: 4.8 seconds
Distance needed: 87 ft.
Sprint Speed: 29.2 ft/sec
Catch probability: 15% pic.twitter.com/LFVA3jVVlB

— Daniel Kramer (@DKramer_) April 16, 2019
"A lot can happen in those split seconds, especially as that ball is closing in," Allen said. "That can be the difference between being able to get to a ball and not. So I really was just fortunate. I was just trying to do the best I could to get back to that spot as quick as I could. I was fortunate to be able to lay out and put a glove on it."