Reds not expected to flip Bauer before Deadline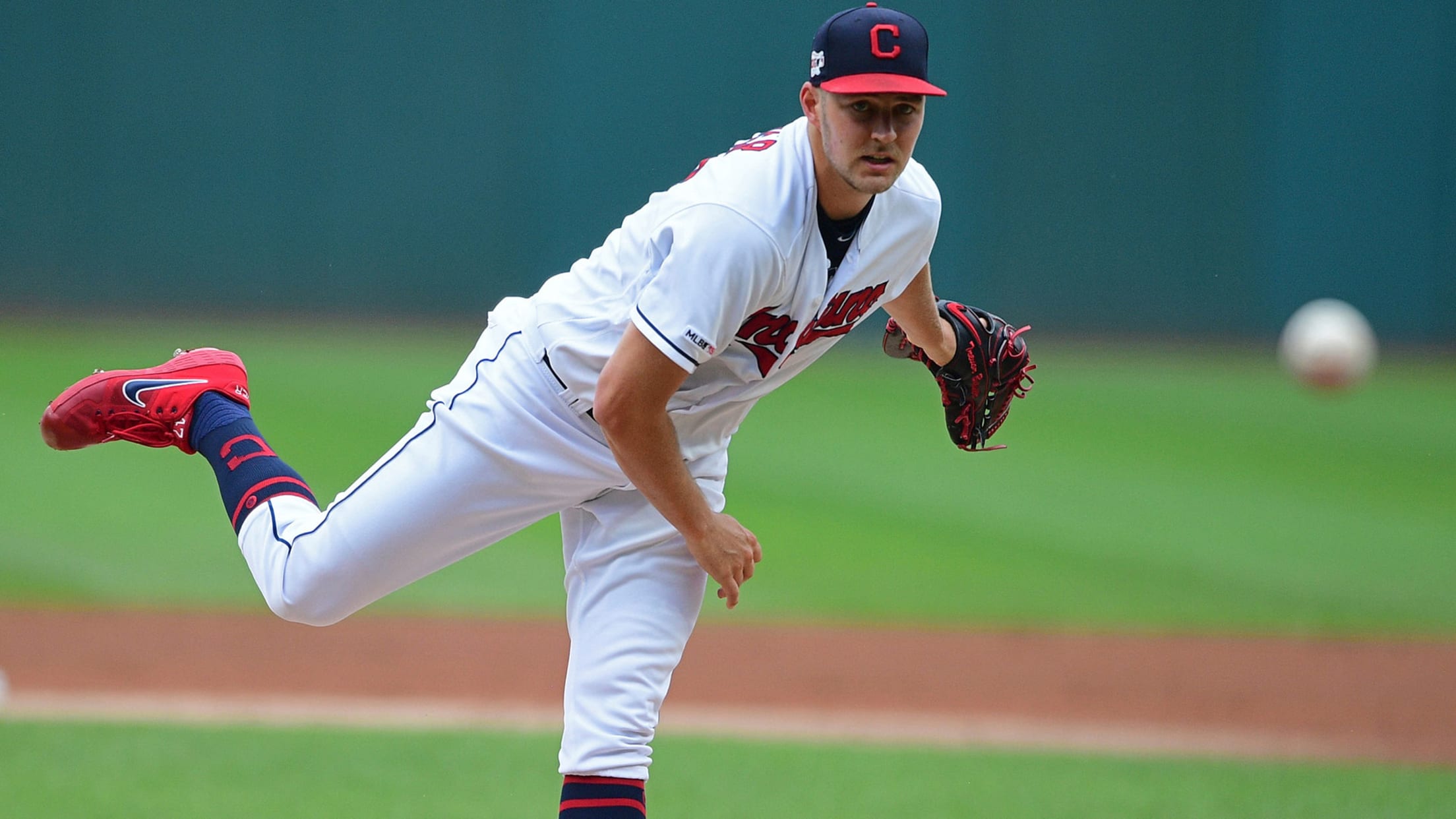 MLB.com is keeping track of all the latest news and trade rumors surrounding Trevor Bauer right here. • Watch MLB Network for around-the-clock Trade Deadline coverage
MLB.com is keeping track of all the latest news and trade rumors surrounding Trevor Bauer right here.
• Watch MLB Network for around-the-clock Trade Deadline coverage
Reds unlikely to flip Bauer
July 31: With the Reds sitting 7 1/2 games back in the National League Central and 6 1/2 out in the NL Wild Card standings, there's been speculation that the club could look to flip Trevor Bauer on Wednesday after acquiring him from the Indians in Tuesday's three-team deal that also involved the Padres.
However, MLB.com's Mark Feinsand has heard that Cincinnati is unlikely to do so from a source with knowledge of the club's plans.
The Reds may be a long shot to make the playoffs this year, but Bauer is under control through 2020, and Cincinnati surrendered its top prospect -- outfielder Taylor Trammell -- as well as Yasiel Puig and Minor League left-hander Scott Moss to get him.
If the righty is retained, the Reds would have the makings of an impressive rotation headlined by Bauer, Luis Castillo and Sonny Gray.
Have seen some speculation that the Reds could flip Trevor Bauer elsewhere on Wednesday. "Probably not," according to a source with knowledge of Cincinnati's plans.

— Mark Feinsand (@Feinsand) July 31, 2019
Tribe gets Puig, Reyes, more for Bauer (sources)
July 30: Sources told MLB.com's Mark Feinsand and Jon Paul Morosi on Tuesday night that the Indians are sending Trevor Bauer to the Reds as part of a three-team deal with the Padres.
The Reds are sending outfielder Yasiel Puig and, according to MLB.com's Jonathan Mayo, Minor League left-hander Scott Moss to Cleveland. The Padres are shipping outfielder Franmil Reyes, lefty Logan Allenand infielder/outfielder Victor Nova, according to MLB.com's AJ Cassavell, to the Tribe.
Outfielder Taylor Trammell, the Reds' No. 1 prospect per MLB Pipeline, and No. 30 overall, is headed to San Diego.
None of the clubs involved have confirmed the deal. More >
Sherman: Bauer now 'more likely than not' to be traded
July 30: In the wake of Trevor Bauer firing a ball over the center-field wall on Sunday, the Indians experienced "a definite uptick in the interest level" in the righty on Monday, a source told MLB Network insider Ken Rosenthal, as teams undoubtedly were checking to see if the incident increased Cleveland's desire to move him.
"The Indians are getting tempted," Rosenthal writes in an article for The Athletic (subscription required).
In fact, MLB Network insider Joel Sherman has heard from "multiple execs" who believe that it now is "more likely than not" that Bauer will be on the move.
Have spoken to multiple execs who say the believe it is now much more likely than not that #Indians trade Bauer

— Joel Sherman (@Joelsherman1) July 30, 2019
Among the teams most linked to the right-hander, the Astros appear to be at the forefront. They have had "recent communication" with Cleveland, according to MLB.com's Jon Paul Morosi, and seek to land one of Bauer, Madison Bumgarner or Zack Wheeler to beef up their rotation, per Sherman.
The Yankees also are in the mix, and the Reds surprisingly look like a contender, according to Rosenthal, who suggests that top outfield prospect Taylor Trammell -- Cincy's No. 1 and MLB Pipeline's No. 30 overall -- has been discussed. Could Cincy also look to send Yasiel Puig, who is a free agent after 2019, to Cleveland as a way to entice the outfield-starved Tribe to unload Bauer, who comes with another year of club control?
#Indians almost certainly will require major-league help in any deal for Bauer. If a deal transpired, Trammell could be among players going to Cleveland. He would not be the only one. https://t.co/sEdipARgpk

— Ken Rosenthal (@Ken_Rosenthal) July 30, 2019
It's also fun to point out that the Reds were involved in a three-team blockbuster back in December 2012 in which Bauer went from the D-backs (who drafted him No. 3 overall in June 2011) to the Indians, who sent Shin-Soo Choo to Cincy, with Didi Gregorius going to Arizona.
While some have questioned whether Bauer's antics over the years could impact whether certain teams would be turned off from acquiring him, they aren't the primary reason the Indians are considering dealing him. Rather, the cost-conscious club is more concerned about the financial ramifications of keeping him. The 28-year-old, who can become a free agent after the 2020 campaign, is expected to receive another sizable raise in his final year of arbitration eligibility after earning $13 million in '19.
With Corey Kluber, Carlos Carrasco and Danny Salazar expected to return from the injured list at some point, the team may have enough pitching to get by without Bauer down the stretch. Cleveland currently holds the top AL Wild Card spot and is three games ahead of the next closest competitor. The Tribe also is just two games behind the Twins for first place in the AL Central.
Granted, the Indians aren't facing a situation where they have to trade Bauer now to avoid losing him for nothing. The club could keep Bauer for one more postseason push and then look to move him in the offseason, though Cleveland would be risking a reduced return.
Did Bauer's outburst on Sunday impact trade market?
July 28: Trevor Bauer's frustrations boiled over Sunday against the Royals, culminating in the Indians right-hander firing a ball from the pitcher's mound over the center-field wall prior to his removal. Although he was contrite after the game, his actions obviously did not paint him in the best light.
ESPN's Buster Olney notes that there has been "lots and lots of industry speculation" about how Sunday's incident impacts Bauer's trade value. However, multiple Major League execs have chimed in to say that the stunt is unlikely to significantly affect his market with the Trade Deadline just days away, according to MLB.com's Mark Feinsand.
"Don't think so -- if you didn't think he had that in him you haven't been following him for very long," an American League exec told Feinsand.
"Honestly, I doubt it," said a National League exec. "I suppose if a team was on the fence it could, but I think we all know what he is and what he isn't. Don't get me wrong, I don't like it … but if we were on the verge of acquiring it wouldn't change my personal opinion. That's just me. I'm sure for some out there it changes things. He doesn't surprise me anymore."
A bigger question might be whether this increases the Indians' desire to move Bauer. The 28-year-old can become a free agent after the 2020 campaign, and he is expected to receive another sizable raise in his final year of arbitration eligibility after earning $13 million in '19. It's been speculated that the club could look to trade Bauer to cut costs and improve its future standing while still attempting to make a playoff run this season.
Could surging Indians still move Bauer?
July 26: The Indians continue to surge. They have won 10 of 12, and their 32-13 mark since the start of June is the best in baseball. They enter play Friday just two games behind the Twins as they seek to storm back and claim their fourth straight AL Central crown.
All of which is to say: Despite the months of speculation that the small-market Indians could unload Trevor Bauer, they can't deal the MLB innings leader -- a 28-year-old who has posted a 3.15 ERA, a 1.15 WHIP and a 10.9 K/9 mark since June 1 -- now ... can they?
Zack Meisel of The Athletic (subscription required) breaks down why a Bauer swap could be tricky to pull off. Among a number of factors -- including Bauer's projected $18 million to $20 million salary via arbitration in his final year of club control for 2020 -- Meisel highlights the simple fact that Bauer suitors "have to possess what the Indians are seeking, and they still hold some leverage because they could ultimately keep Bauer and dangle him yet again this winter."
As for what Cleveland covets? A package of young and controllable talent, which ideally would include at least one big league-ready player, and better still, an outfielder.
With fellow right-handers Corey Kluber and Carlos Carrasco making progress toward returning (perhaps in August) to a rotation that also features All-Star Game MVP Shane Bieber, the Indians are primed for a strong stretch run. It's hard to imagine that in the very thick of the postseason race they would just jettison their most durable starter, isn't it?
On Saturday, MLB Network insider Ken Rosenthal pointed to another matter that would complicate a Bauer trade: His presence in the Cleveland clubhouse.
🚨 TRADE TALK🚨 @Ken_Rosenthal with the latest trade updates with the deadline right around the corner. pic.twitter.com/IzE99izgdJ

— FOX Sports: MLB (@MLBONFOX) July 27, 2019
While Rosenthal notes that trading Bauer might be the right move for Cleveland long-term because of his impending salary, he is also closely connected with some of the Indians' up-and-coming starters like Shane Bieber and Mike Clevinger.
"Even if his personality isn't for everyone," Rosenthal said of Bauer, "everyone in that clubhouse knows how good he is. If the Indians are going to make such a move, the return better be something special."
Phillies, Indians have discussed Bauer trade
July 25: The Indians' success since the start of June has made it more unlikely that the club will move Trevor Bauer before the Trade Deadline, but Cleveland is apparently still fielding offers for the right-hander.
Sources told MLB.com's Jon Paul Morosi that the Indians have discussed a Bauer trade with the Phillies, even though general manager Matt Klentak on Tuesday downplayed the chances of Philadelphia making a blockbuster deal.
Bauer is under control through 2020, so Philadelphia would be able to slot him into its rotation alongside Aaron Nola next year in addition to benefiting from his presence this season. The Phils are just a half-game behind the Cardinals for the second National League Wild Card spot.
Bauer's expected salary in his final year of arbitration (potentially around $20 million) has been mentioned as a possible deterrent for some suitors, but that's less of a concern for the deep-pocketed Phillies.
#Phillies and #Indians have discussed a possible Trevor Bauer trade, sources say, as I reported on @MLBNetwork this morning. @MLB

— Jon Morosi (@jonmorosi) July 24, 2019