Yet another honor in 2018: 'Trevor Hoffman Way'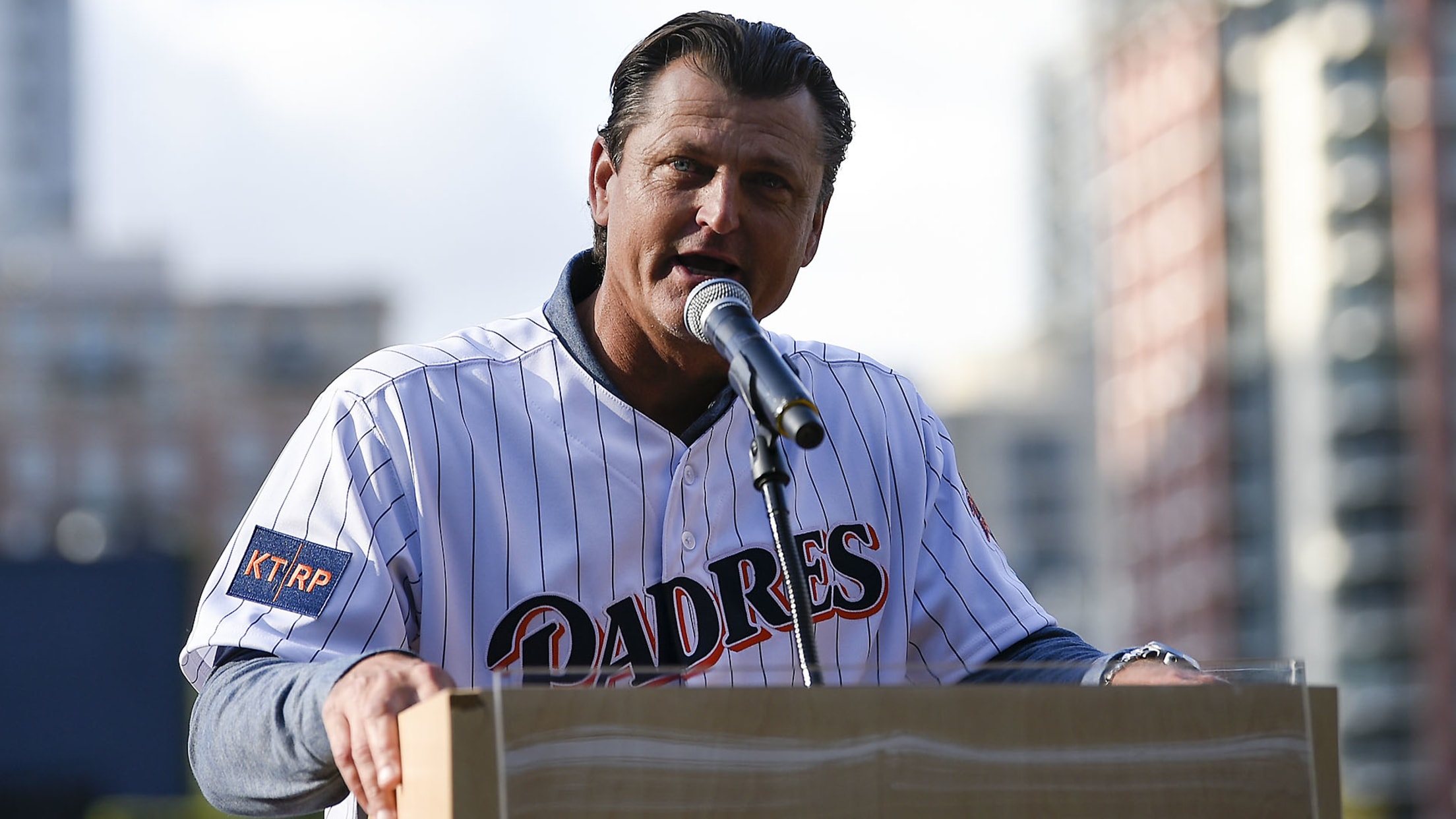 Former San Diego Padres relief pitcher Trevor Hoffman speaks to the crowd with the 1998 National League Championship team to induct former Padres General Manager Kevin Towers into the Padres Hall of Fame, prior to the Padres' baseball game against the St. Louis Cardinals in San Diego, Saturday, May 12, 2018. (AP Photo/Kelvin Kuo) (Kelvin Kuo/AP)
SAN FRANCISCO -- The summer of Trevor Hoffman will wrap up in a big way on Friday night at Petco Park.On Monday, the San Diego City Council announced that a one-block stretch of Park Avenue -- the block adjacent to Petco Park's home-plate entrance -- will be renamed "Trevor Hoffman
SAN FRANCISCO -- The summer of Trevor Hoffman will wrap up in a big way on Friday night at Petco Park.
On Monday, the San Diego City Council announced that a one-block stretch of Park Avenue -- the block adjacent to Petco Park's home-plate entrance -- will be renamed "Trevor Hoffman Way." That renaming will officially occur in a pregame ceremony on Friday.
Hoffman, who spent 16 seasons in San Diego and posted a 2.87 career ERA while racking up 601 saves, was inducted to the National Baseball Hall of Fame in July. In August, the Padres unveiled a statue of their legendary closer beyond the right-center-field bullpens during a weekend-long celebration of Hoffman.
As for "Trevor Hoffman Way," it'll make up the block of Park Avenue between Imperial Avenue and Tony Gwynn Drive.
"We're thrilled that Padres fans will forever be able to visit the iconic intersection of Trevor Hoffman Way and Tony Gwynn Drive at Petco Park," executive chairman Ron Fowler and general partner Peter Seidler said in a statement. "They are two of the greatest individuals to ever wear a Padres uniform, and we're thankful to the city of San Diego for recognizing their contributions."
Hoffman will be on hand for the ceremony, as will San Diego mayor Kevin Faulconer, who said in a statement:
"We couldn't be more thrilled to honor Trevor Hoffman for his contributions to the game, his entry into the Baseball Hall of Fame, and the joy he has given so many San Diego fans."
Green on Guerra starting: 'Earn that right'
Freddy Galvis started at shortstop again on Monday night. The Padres recalled young shortstop Javy Guerra earlier this month, but he's made just three starts since, and he's only played one full game.
The reason? In the eyes of manager Andy Green, Guerra hasn't yet earned that playing time.
Guerra was excellent defensively in the Minor Leagues, but he batted just .223/.269/.398 for Triple-A El Paso this season. His offense hasn't developed like the Padres hoped it would, and his presence with the big league club is mostly as a depth defensive option.
"When you get here to the big leagues, there's something to earning your right to be on the field," Green said. "Putting up numbers in the Minor Leagues gives you that opportunity to earn that right. He's here right now as a depth guy. There hasn't been that domination of the Minor Leagues like you've seen with Luis Urias and some other [callups].
"It's not knocking Javy, but if you come up to the big leagues and have run through what he's run through in the Minor Leagues, you're fortunate to be here, fortunate to get the experience, and when you get on the field, you get on the field."
Green did acknowledge, however, that Guerra would likely get a start or two before the end of the season.
Noteworthy
• Green confirmed his plan to use a bullpen day on Wednesday, though he hasn't yet named a starter. That means this trip through the rotation will be the last of the season. The Padres' race for starting jobs is expected to be wide open next spring, and Green confirmed as much Monday afternoon:
"We see all these guys that are starting for us right now as candidates to be in the rotation next year, with no real guarantee to any of them that the job is theirs," Green said. "Probably Joey Lucchesi has the inside track above everybody else with the way he's pitched throughout the course of the season. Everybody else has shown flashes of things to like, but growth is needed from everyone, and I'm certain [general manager] A.J. [Preller] will go out and tests things in the free agent market and the trade market."
• Luis Perdomo is slated to pitch in the Dominican Winter League this year. The 25-year-old right-hander took a major step back this season, posting a 7.56 ERA and a 1.99 WHIP in 11 big league appearances.
"This was a tough year for him," Green said. "He started in our rotation and didn't throw the ball very well. We want him to just to go attack, compete, find his footing, and rattle off a few good starts."
• The Padres haven't finalized plans with any other players regarding winter ball, though they expect a few others to take part. It's an option for Urias, MLB Pipeline's No. 22 overall prospect and top second baseman. But Urias is recovering from a left-hamstring pull, and the Padres will obviously proceed with caution.
"We've talked about that with him," Green said. "But until he heals fully and we know where he's at, we're probably not going to disclose if he is going to play or isn't."