Trevor's Time: Wildcat baseball
Hoffman first started thinking of pitching while playing SS at Arizona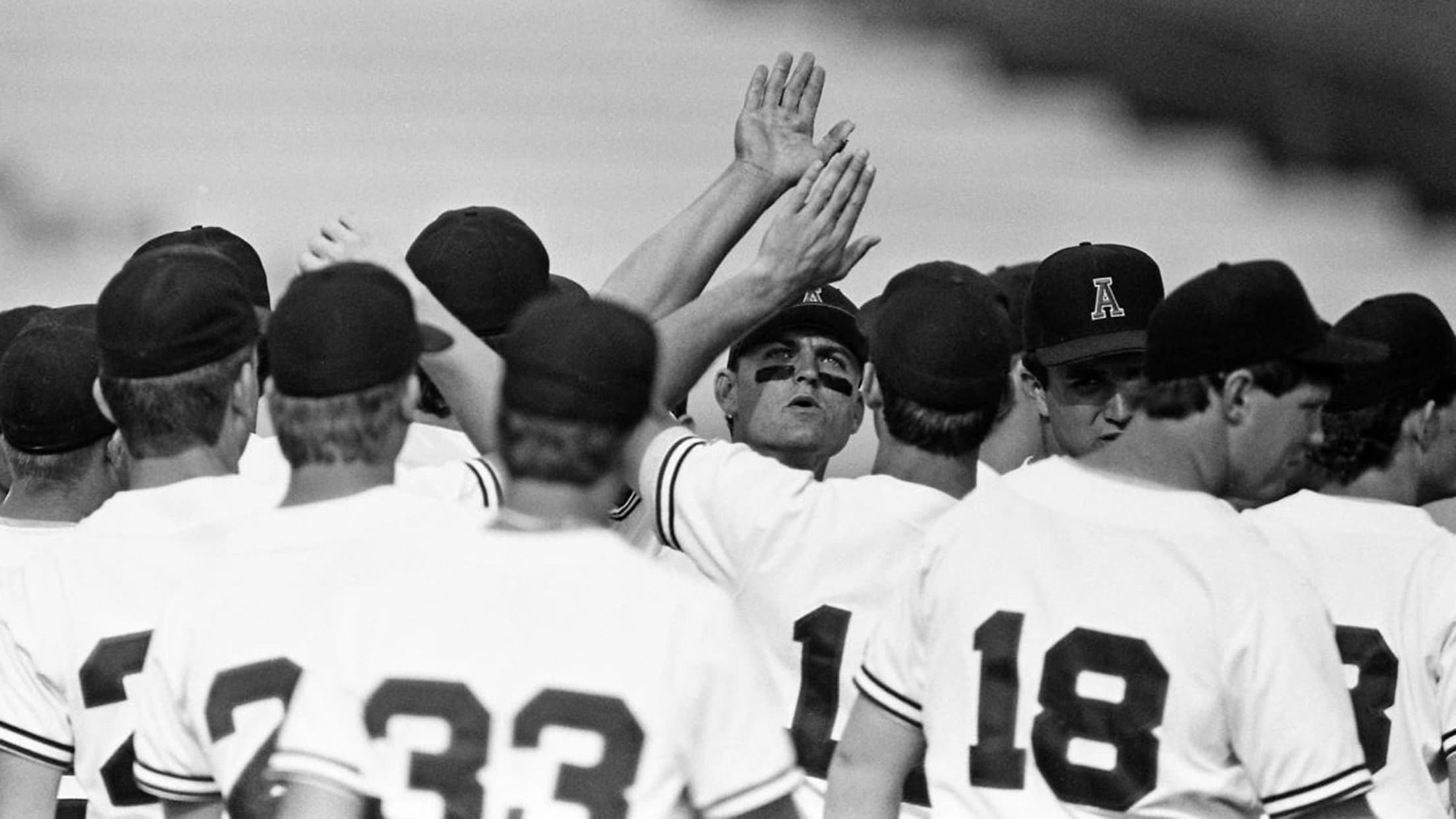 Bill Center, longtime sportswriter for U-T San Diego, is an employee of the Padres.Although Trevor Hoffman didn't start making the transition from shortstop to pitcher until 1991 while playing in the Cincinnati Reds' Minor League system, the seed had been planted two years earlier."I started thinking about pitching while I
Bill Center, longtime sportswriter for U-T San Diego, is an employee of the Padres.
Although Trevor Hoffman didn't start making the transition from shortstop to pitcher until 1991 while playing in the Cincinnati Reds' Minor League system, the seed had been planted two years earlier.
"I started thinking about pitching while I was at the University of Arizona," the Hall of Fame closer said recently.
As a sophomore in 1988, Hoffman earned All-Pac-12 Conference honors as a shortstop and led the conference in hitting with a .377 mark -- which was 35 points higher than another future Major Leaguer named J.T. Snow.
But Hoffman's junior season wasn't going quite as smoothly. He hit .280 and missed some time with an injury.
"I didn't know if I was going to be drafted as a player," Hoffman said recently. "But I knew I wanted to keep playing, so I started thinking about ways to keep playing after college … of doing something different to sign as a free agent if I needed to."
One of the options was transforming himself from a shortstop to a pitcher. After all, his arm was strong, so he started watching two Wildcat pitchers who would ultimately reach the Major Leagues -- Scott Erickson and Lance Dickson.
"I started watching them to see what they did, mostly Erickson," said Hoffman. "He was a great example. Scott worked hard. He worked really hard. Running. Training. I watched how he prepared himself."
"Honestly, when I started pitching, I copied a lot of things I picked up from Erickson about preparing your mind and body. Running gave him this strong lower body and I saw how it helped him pitch. That became a very important example of how it should be done."
"I started thinking about pitching when I was a sophomore at Arizona. I hadn't pitched since Little League, but I thought about it because I could throw hard."
An honored defensive shortstop at Arizona, Hoffman will become the first Wildcat inducted into the National Hall of Fame on July 29 -- of course as one of the premier closers in the history of Major League pitching.
The fact that Hoffman even made it to the University of Arizona was something of a miracle.
As an infielder, he was not recruited out of high school. But he blossomed at Cypress College, where he grew three inches and earned All-Empire League honors. It was Cypress coach Scott Pickler who championed Hoffman with famed Arizona head coach Jerry Kindall.
But there were two hurdles to clear in Tucson.
At first, Arizona balked at giving Hoffman a scholarship, because he had lost that kidney as an infant. Hoffman convinced Arizona that the kidney he lost was on the right side and not exposed to pitchers as a right-handed hitter.
"They bought that argument," said Hoffman.
But the bigger problem was the competition. Arizona had also recruited second-round and third-round Draft picks out of high school as shortstops.
"The second-round pick didn't come to Arizona," said Hoffman.
And Hoffman won the "Fall Hustle Award" during early Wildcat practices to earn the job.
After two seasons at Arizona, Hoffman was taken in the 11th round (290th overall) of the 1989 Draft by the Cincinnati Reds as a shortstop.